Two Attributions and Two Dates
John Haber
in New York City
Diego Velázquez: Two Portraits
Museums depend on great artists and great work. They depend on them for their very existence, but also for their mission—of bringing art to the public and the public to art. Of course, they also depend on them for their livelihood, whether to sell tickets or to raise money. In fact, they depend on original art to sell reproductions and souvenirs.
As 2009 came to an end, the Met displayed a portrait as the work of Diego Velázquez, exactly thirty years after writing it off as a workshop production. A year later, the Frick Collection displays another newly cleaned Velázquez portrait—along with strikingly relit and refurbished galleries, more like today's big-ticket galleries and museums. Does that mean culture is just a creation of museums, and is originality just a myth?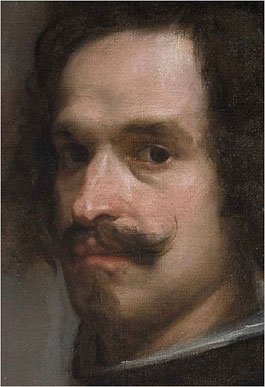 Thomas Hoving would have known better, but he died just as the Great Recession was cutting back the blockbusters he pioneered. If museums rule, no one else did so much to extend the Met's rule to a wider public. As director from 1967 to 1977, he brought the Temple of Dendur to the Met, but he never treated a museum as a temple. As parks commissioner, he helped change Central Park from my private forest to a place for concerts, theater, and long runs. Growing up in New York, I loved every moment of it. It took me till adulthood, but I learned to like museums as well.
I love controversy over Velázquez, too. Culture is a sprawling, messy, glorious thing, and everyone contributes to it. Originality is hard to define, but attributions and influence can still matter. They even help explain why art and its public keep changing. Someone always gets to reinvent and reinterpret the myths.
An uncertain artist . . .
The Metropolitan Museum's most intriguing display has just one painting and two time lines, and just two dates stand out. Ah, but first the painting. It hangs in the gallery for seventeenth-century Spanish painting, as part of the permanent collection, where it has never looked better. But does it look good enough?
The first time line tells its story—from its creation in roughly 1630 through 1949, when it was bequeathed to the museum. Along the way, it passed through the hands of a count, a king, and Joseph Duveen, a formidable dealer. Its last owner paid over a million for it in 1926. The tales ends with its triumphant reappearance, as the work of Diego Velázquez. It hangs today between Velázquez portraits of a queen's daughter, Maria Teresa, and Juan de Pareja, the son of a slave. Another male portrait, definitely by the artist's workshop, hangs nearby, too.
The bust-length portrait back on view shows a slim, alert man of perhaps thirty-five, exactly the artist's age. His high forehead, loose black hair, flaring mustache, and sharp eyes create the impression of intelligence and vigor. Whoever painted it gave special attention to those black eyes angled to the right and to white highlights, which pick out the arched nose. Little else distracts one from them. One sees a face and vaguely defined black shirt against a neutral background of light brown and darker shadows. He looks quite at home between the Infanta and the artist's friend and assistant.
The same face looks out from the side of The Surrender of Breda, finished not long after, in 1635. The scene commemorates a victory over the Dutch in the Eighty Years' War. (Spain scuttled that war, the Dutch won their freedom, and the age of Rembrandt really got going.) It also shows Velázquez at his most formal, as a history painter in service to royalty. The second time line covers his career, as the artist who most gave Europe a taste for Spanish painting.
I have in mind, though, two other dates, from the first time line. In 1979, after more than one attempt at restoration and fresh varnishing, the Met downgraded Portrait of a Man to the artist's workshop. In 2009, newly cleaned, the Met upgrades it again. Those dates are no accident. Back then museums played the role of final authority, as gatekeepers to civilization after decades of "discoveries" by Duveen and others. Now curators like Keith Christiansen are making those discoveries again and again.
I can spare you another recap of the Met's lousy attributions—and, more important, the museum politics behind them under outgoing director Philippe de Montebello. Something in finances, institutions, and careers surely has changed the role of curators since 1979. Anyone who missed the supposed Michelangelo, painted at age twelve (perhaps the same year he joined the Teenage Mutant Turtles), can catch his supposed teenage sculpture downstairs. Now this. These and more strange claims happened within a year for a good reason. They do not necessarily rule out the upgrading to Velázquez, but they do oblige one to look closely.
. . . And an unknown man
Compare both the workshop portrait and the new upgrade to Juan de Pareja, painted in 1650. The latter gives complexity and dignity to a half-caste, while the other two paintings run swiftly past a face. Juan de Pareja integrates a man's pose into the creation of an entire space, where the other two have a suspicious brushed line separating the mundane clothing from the background. The great portrait works quiet color into every shadow of a man's face, while the other two lend brilliance to one thing alone, the eyes. In short, Portrait of a Man is a "face painting," and Velázquez is not just a face painter. He is probing the nature of class, character, friendship, and painting.
Again, though, someone would have brought this to completion, and that someone might be Velázquez. It might have become a great portrait. It bears considerable resemblance to the same man in The Surrender of Breda, right down to spots on the bridge of his nose. It has the great artist's technique of a palette knife filled out by wispy brushwork, which quickly creates the man's collar as a translucent oval in perspective. It also has the approval of Jonathan Brown, a sane Velázquez scholar. I just do not know.
It might help if one knew its subject. Traditionally, a history painting's sole figure making eye contact is a self-portrait, and who would have painted a solo portrait of Velázquez if not the man himself? If not, the figure in the history painting is often a patron, but King Philip should have commissioned The Surrender at Breda—although the general initiating the siege defied the crown. However, convention in Spain probably rules out giving an artist a major role in a history painting. Velázquez does include himself in the greatest court painting of all, Las Meninas (the subject of a beautiful video by Eve Sussman and also interpretations by Picasso in black and white and Yasumasa Morimura in photographs). That, though, came far later, so one cannot pin much on the resemblance.
Fortunately, these time lines are not the end of the matter. The portrait will remain at the Met for a very long time to come. Just do not take the claims at face value. Do not take at face value either, when the press recites the press release and joins in. For now, one has a glimpse at the process behind a very good but very incomplete Baroque painting. After 1979 and 2009, who knows what it will look like in another thirty years?
The dates tell another story as well. Thomas Hoving, who engineered the arrival of Juan de Pareja, stepped down as director of the Met in 1977. He died only weeks after the mysterious portrait went back on view. As director, he drew both awe and derision for the purchase. The price, an auction record in 1971, now looks like a steal. As director, too, he introduced the showmanship and blockbusters that define the modern museum—and that push up auction prices.
However, he did it out of populism, not careerism. He cared so much about art that he wanted others to care as well. It was a more idealistic age for sure, and he never fully confronted what he had helped set loose. However, he had worked in the quiet of the Cloisters, too, and he never forgot how to look. What did he think of the new attribution? I have no idea, but he would have loved the portrait's intensity all the same.
Two illusionists
The Frick Collection began spring cleaning early. On a wintry late November morning, everything within seemed brighter. A friend kept insisting that a portrait from 1631 had been cleaned. I denied it, but we were seeing early Rembrandt at his most confident, when the world seemed bright indeed. At twenty-five he was landing commissions left and right, and he pulls off at least five different shades of white—in the merchant's broad lace collar, the highlights that give his rich fur its texture, the heavier oil on the bridge of his nose and forehead, the pool of light on the wall behind him, and the slip of paper in his left hand, which just happens to contain the artist's signature. I like to think that Nicolaes Ruts is presenting Rembrandt with a check.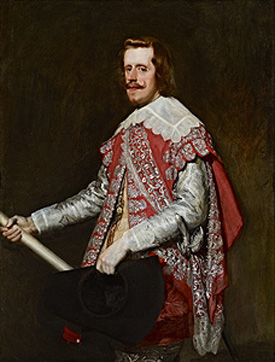 Nothing has changed but the lighting, but with art lighting is a very big deal. Some may think of the Frick as old and musty, like the Barnes Foundation without the Renoirs and the ego trip, and some like me may actually like it that way. (No, you may not bring your children, at least if they are under ten.) The Rembrandt hangs in the museum's longest and largest hall, Frick's original picture gallery, and there things do look different. Even The Polish Rider looks a little less mysterious. The Boucher room has also reopened after new paneling and lighting, and the Rococo sunlight looks more naturalistic, while the brushwork in blue medallions between the top and bottom scenes looks freer. Not that François Boucher is any less inane, but he and his patrons were definitely having fun.
One painting, however, has been cleaned, and it hangs for two months just past the garden court as a show to itself. The portrait of Philip IV of Spain, one of at least nine by Velázquez, anchored Velázquez in New York museums here a decade ago. Now one can appreciate the distinctions between Philip's red hair, red coat, and warm shadows on the wall—or the silvery embroidery, an illusion created entirely by dabs of white. My insistent friend was sure that the artist had mixed metal with paint. X-ray studies through the course of restoration, by Michael Gallagher of the Met, also confirm changes over the three sittings that the king allowed. But Velázquez always composed as he painted, part of why he does not appear downstairs, in a show of Spanish drawings.
He worked so quickly because Philip was on a mission, somewhere between leadership and propaganda. He and his entourage went to in Catalonia in 1644, where Spanish troops faced a rebellion backed by France, and he wished to present himself as both monarch and general. That explains the phallic lance, as well as the artist's care to dignify it and the pose by raising the black hat above the crotch. The king had windows knocked out for a makeshift studio, which then needed rebuilding before they could set to work. When the Spanish won, the portrait's return to Madrid was part of the triumph.
The Met's cleaning of another Velázquez portrait led to that recent upgrade in its attribution, from the workshop. This cleaning has fewer surprises and even a little poignancy, in the thinning of paint over time for the shadow on the king's hand. It also leaves the artist's studied objectivity as inscrutable as ever. He could play the court painter, even as he gave equal dignity to dwarves and jesters. Historians have called him a toady, a subversive, a determined realist, a dismantler of painting's fictions, or simply a man whose only allegiance was to his work. Cleaning or strong lighting always puts art's ambiguity at risk, and I have to thank my and my friend's mistakes as reassurance that this renovation comes off.
Such changes, like any scholarship, are acts of interpretation, subject to the prejudices of their time and place. Right now museums everywhere are brightening the picture, as in restoration and expansion of another cherished enclave, the Morgan Library. I have co-workers who go the Renzo Piano central hall there for lunch, just because they like the skylight. I cannot imagine the changes without the influence of contemporary architecture, the need for museums to attract a wider public, the pull of scientific methods in art history, and the growth of the white cube as a gallery standard. Once, years ago, as a cloud passed over the Frick's long hall, darkness fell across a Descent from the Cross by Gerard David as if part of the story—and I wonder if I shall ever feel that hush again. For now, though, the Frick and Velázquez can both take credit as illusionists.

The portrait attributed to Diego Velázquez went back on view at The Metropolitan Museum of Art on November 17, 2009, and the accompanying display ran through February 10, 2010. Thomas Hoving died December 10, 2009. The portrait of Philip IV of Spain went back on view at the Frick Collection on October 23, 2010, and the accompanying display ran through January 23, 2011.