Block That Blockbuster?
John Haber
in New York City
Gustave Caillebotte and Museum Blockbusters
When is a New Yorker a tourist? Try a stop this past spring for Paul Cézanne at the Philadelphia Museum of Art.
You could have it all, and it all adds up fast. You could break out of your habit of placing New York's galleries—or a nearby bar—at the center of the known universe. You could have Amtrak, at up to $129 for the Acela, although I once made it on the cheap via bus, New Jersey Transit to Trenton, SEPTA, and my feet. (It took three hours.) You could have a hotel or dinner (if you choose to travel off-peak), a stop for Sun Ra at the ICA (free), an air of superiority to Philly artists (priceless), and reserved tickets to "Cézanne and Beyond" at $24 a pop. I could have bought Manhattan for that.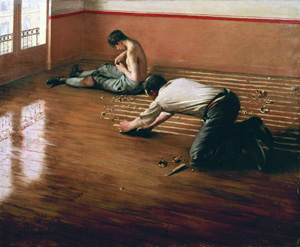 Tyler Green, the blogger, wants his wampum back. Museum prices have already skyrocketed in recent years, along with the lines to pay them. Here a family of four, he complains, would pay nearly a hundred dollars. (Actually, students pay less most days, children and seniors all the time, but I like round numbers, too.) If it costs that much more to mount blockbusters, the museum should look instead to staff cuts for savings. If that fails, dump the blockbusters.
It sounds good, because outrage always does—but will it work? Consider what happens when a museum tries to cut corners. The Brooklyn Museum turns to Gustave Caillebotte for the one sure crowd pleasure, Impressionism. It with fresh insights, but also some duds. In other words, it ends up with a blockbuster on the cheap. Related reviews look at museum crises and a resourceful use of a museum's permanent collection, for a low-budget survey of Claes Oldenburg.
A family affair
Anyone can share outrage at museum prices, especially since Thomas Hoving created blockbusters to bring art to the public. When MoMA reopened in 2004, it sure had me counting my pennies. (I joked then that its $20 admission fee came with a free audio tour of America's ownership economy.) It also had me wondering if public access to art was funding the museum's luxury real-estate empire, rather than the other way around. At the Guggenheim under Thomas Krens, costly expansion plans and high prices took precedent over art. Yet every museum should be scrutinizing its practices.
It matters when museum-going is no longer an everyday affair. Art suitable only for families, holidays, and special occasions stops taking chances, much like Broadway and Star Trek. It also stops taking the long view. A friend and I lingered in relative quiet for Philly's Cézanne retrospective years ago. (The new show focuses on his influence.) Those days are not coming back, now that art fairs are big money and tours pass through Chelsea, but art still resists summing up in special events—big or small.
Blockbusters can teach, as they have taught me about Paul Cézanne. They can situate the present in history, with Cézanne or Jan Vermeer. They can rivet attention on a shifting target like Modernism, through Jackson Pollock, Mark Rothko, Robert Rauschenberg, or Matisse and Picasso. They can build a wider public for the museum, enhance its prestige, and attract public funds and private patrons. If well chosen, they help sustain other exhibitions and collections. If not, they can lose money at a reasonable rate to an important end.
At least they can in principle, which is why museums love them. And that is just what Tyler Green gets wrong. It is not obvious that blockbusters will suffer most from a harsh economy, and it is not obvious that they should. Either way, much of the real action lies elsewhere. Already museums have cut staffs and salaries. I had not noticed a demand for art-history majors (or for me), and pleas to cut the fat sound suspiciously like Republicans in Congress.
Rather, the worst museum exhibitions come about from precisely the opposite failing—from catering to money. One can see it happen with blockbusters, mindless streams of them. Curators stake a career on that once in a lifetime retrospective. They love to trot out "The Treasures of X," where you fill in the blank. It hardly takes a free-market fanatic to know that they are crowd pleasers. It hardly takes a Marxist, in turn, to know that money and not altruism is often driving bad decisions.
Philadelphia is charging more, shamelessly, not because it has to do so, but because it can. Besides, if it were simply trying to cover costs, it could raise ticket prices across the board. Often enough lately, museums have had to do just that. I have lost track of the competition for the highest price. Could a little cost saving take up the slack? Sometimes, but consider the Brooklyn Museum's attempt to cash in. As it happens, it takes as its subject art by and for the middle class.
The ultimate Impressionist
When people think of Impressionism, they think of the ultimate bourgeois idyll. They may not think of the subway to Eastern Parkway, not even to catch Gustave Caillebotte. Yet no other Impressionist comes so close to the ultimate bourgeois.
You probably have your own image. It might be Claude Monet in a field of flowers or Sunday in the park with Georges Seurat and Seurat drawings. It might be Manet at the Folies Bergère, Pierre-Auguste Renoir at the theater, or their dark underside in van Gogh's Night Café. It might be an excursion up the Seine to Argenteuil. For T. J. Clarke, it was "the painting of everyday life." To the Marxist historian, that meant the life of an emerging middle class.
Caillebotte knew them all. He shares Manet's or Renoir's love of black—and of Paris. He painted everyday workers scraping apartment floors, the steel weave of the Pont de l'Europe, and the broad boulevards that redefined the city. He sailed up to Argenteuil in a boat of his own design. His show in Brooklyn even includes a few hulls. And he had money, from the family business in military textiles.
History rarely runs in straight lines. When not fighting one another, the Impressionists held eight exhibitions—and the only painter to appear in them all, Camille Pissarro, was a socialist and a Jew. Caillebotte, younger than the others, first joined them for the second Impressionist exhibition and never quite nailed the style. Bright, unmixed colors are surprisingly rare in his work, the juxtaposition of contrasting colors rarer still. Rather than paint on the spot, en plein air, he worked from preliminary studies. An apparently abstract composition in white captures the flagstones for his best-known painting, of Paris in the rain.
Caillebotte was painting history, however, right up to his death at age 45, in 1894. When he returns to the boulevards and open squares, he is tracking Baron Haussmann's transformation of Paris, much like Charles Marville in photography. Nothing beats the crisp modernity of that bridge's blue-gray steel. When he paints those floor scrapers, he is waiting for its new occupants. Instead of eternal sunshine, he prefers the city in rain and snow, because weather, too, means change. His calm river scenes seem lifeless by comparison, even when they contrast the towns on facing banks.
He may sound like a realist, and at his best he was. A dog crosses that steel bridge, and a couple with an umbrella dominates the picture plain of his most famous rainy day. He even based his floor scrapers on Gustave Courbet. Realism, though, had a social agenda beyond Caillebotte's history of everyday life. He observes class differences without drawing lessons, just as a son or daughter of privilege now attends to dress codes as a matter of course. Where realism imbues everyday objects and rituals with weight, he cares more for raindrops and falling snow.
Because it can
One can see what drew him to Impressionism. He may not have followed how Monet created his illusion of light and space. Yet he, too, sought out the moment. When he lingers over reflections on that new wood floor, the rest of the empty room opens up. Ship design might lead one to expect an architect, and Caillebotte fills his paintings with marks of perspective. It is, however, a strange perspective, as transient and unstable as the changing city.
Lines of trees break off somewhere in the distance. The bridge plummets toward the picture plane, and the couple with an umbrella step right out of it. Another man and woman share a picture, as isolated from one another by a sudden shift in scale as by the act of reading. Haussmann's traffic circles look isolating and strange, at the center of streets without obvious direction and, as for Rackstraw Downes today, a panorama without an edge. The museum makes them look stranger still with a curving white wall, for the ship hulls, in the center of the first gallery. The small show can hardly help looking awkward anyway, with no better excuse for its existence than a large work in the permanent collection.
Exhibition costs have forced desperate measures on LA MOCA. Already the Whitney is falling back on its permanent collection, for Claes Oldenburg and half-empty shows on themes like "Synthetics" and "Sites." When the Met trumpets "The Philippe de Montebello Years," it may have found the most ingenious solution of all: it is repackaging the permanent collection as an event. However, none of these measures has much to do with the past blockbusters. They just show museums with active programs and tight budgets.
Ditching the high-profile shows is some of the best news of 2009, but it alone will not cut through the hype—or end the entanglement of art, institutions, and money. The worst excesses can come in the cheapest and most profitable shows. When the Brooklyn Museum turns over its galleries to the Rubell family, for its collection of Hernan Bas, it is saving a fortune. It is also making a young artist's fortune, not to mention a collector's. When a museum mounts yet another survey of young, emerging artists, it is feeding the system as well. When the Guggenheim exhibits motorcycles or a fashion designer, it is fiscally responsible, and it is pandering.
Brooklyn cannot mount a full-scale retrospective, because it already had one in 1977, and it mounts this show simply because it can. Perhaps its best excuse of all is the artist's difficulty fitting in. He painted less and less after his already late start. He had his races to Normandy and retreats to the family estate. Other dark, cramped interiors show his academic bent and his insensitivity to Impressionist color. They also look ahead to something stranger and more modern still, in Edouard Vuillard and even symbolism.
Patronage has always shaped art, and it should remain a focus of criticism. Museums now have a larger institutional structure, a larger public, and a larger overlap with mass entertainment than the avant-garde could ever have imagined. That makes art a regular part of life for more and more people, while also making it harder for them to afford it. The paradox, in turn, feeds the vitality of contemporary art, but also its unlimited spectacle and limited expectations. I do not have an alternative, but I am more concerned for young artists struggling with the past than for families splurging on a rare holiday. Great shows restore art to the fiber of cultural experience, and they come in all sizes.

"Cézanne and Beyond" ran at the Philadelphia Museum of Art through May 31, 2009, Gustave Caillebotte at the Brooklyn Museum, through July 5. Tyler Green was writing in May 2009.