And Dead All Over
John Haber
in New York City
Picasso in Black and White
Matisse is color; Picasso is line. As clichés go, one just falling in love with modern art could do worse. Who did more with color alone than Matisse? And who made line take as many sudden directions within a single work as Pablo Picasso? With Cubism, even the black and white of newsprint counts.
Now the Guggenheim takes the next step: when it comes to Picasso, it ditches the color. Or rather, it takes that as a pretext for an eccentric retrospective, with well over a hundred works, many from rarely seen private collections or the Reina Sofía in Madrid. With "Picasso Black and White," it claims to have found the real impulse for an entire life—and, by extension, for modern art itself. Still, a cliché is a lousy premise for any exhibition, and "the real impulse" makes a mockery of the impulsive reality of Picasso and modern art. The result is black and white and dead all over.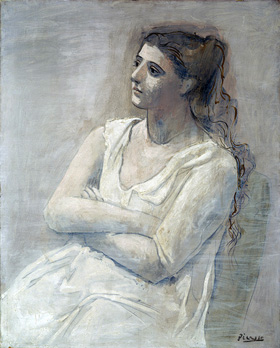 Cutting back
Of course, there is more to Henri Matisse than the green stripe on his wife's nose—the stripe of La Raie Verte in 1905 that divides her entire face, festers along her lips, penetrates the sockets of her eyes, and upsets everything one knew about portraiture, realism, light, color, and art. There is more than the blue of Blue Nude, the entirety of Red Studio, or the flat backdrop of Dance. For one thing, there is the circle of joined hands in the dance. And there is a lot more to Matisse and Picasso than a rivalry, like art as sports event or high-school popularity contest. Still, the colors are hard to forget.
Pablo Picasso, though, is a different story. He could boast now and then of reducing painting to what matters. (He could boast now and then of practically anything.) And he did have a habit of starting over, beginning as a young artist from Barcelona, a perpetual reinvention that itself helps to define Modernism. Casting out resources is very much part of that—including, David Sylvester has argued, casting out color. Maybe he had an awkward but heated relationship with color all along, like his long chain of problematic relationships with women.
One can point to the Blue and Rose Periods as muted in color, like Joaquín Torres-García in Barcelona before him, and the museum does. One can see the fragmentation of Analytic Cubism and Picasso sculpture as a progressive development from Paul Cézanne through the clashing planes of Les Demoiselles d'Avignon in 1907 and still life by Picasso and Georges Braque in 1909. Or one can see Picasso and Braque as dropping the masks to find the structure of the known world in the vibration of light and dark alone. Then come lettering, newsprint, and a settling into middle age. His most famous later work (and a great loss to New Yorkers) was in black and white, Guernica of 1939. The curator, Carmen Giménez, also points to the dark grays of Still Life with Blood Sausages in 1941 or The Charnel House in 1945 as expressing the horrors of Fascism and war.
Another artist might take a step back in crises, too, but in a different way. He could work through the thoughts in his head on paper. And he did, but part of Picasso's impact lay in destroying the distinction between the inner and outer world—or between sketches and painting. Surrealism, Surrealist drawing, and Action Painting, here we come. All this puts a great deal of weight on black and white, as if it freed Picasso to discover himself in the turn from color, like Mark Wiener in contemporary art. But will the show bear up under that weight, and why does it look so predictable?
The problem is not the size of the show or a prolific artist's glibness. For once, painting along the ramp looks unhurried and approachable. The Frank Lloyd Wright tilted bays never make life easy for art, but the hanging is terrific. The problem is that the whole show is a cliché, pandering to a public that, the Guggenheim hopes, cannot get enough of a name artist. It is an excuse to show more, just as Warhol's influence is an excuse for the Met to trot out more of Andy Warhol. It is art as tourism and commerce.
Like most clichés, too, it is also a half truth or simply a lie. The half truths start with the obvious need for drawings and sculpture. Sure charcoal, pen, plaster, and bronze can have a patina of black and white, and so what? Most of the show dares to stick to painting, but that only makes things worse. The sheer reliance on private holdings suggests a forced thesis. It also makes the most famous artist of his century look almost second rate.
The absence of color?
Black and white is not simply an absence of color. One speaks of a Blue and Rose Period for a reason, and the 1904 Woman Ironing includes yellows as well. Les Demoiselles, not on view, has its own green stripes down a woman's cheek. A dryad with the influence of African art and primitivism has a sharp orange, Cubism its gradations of brown. A standing nude from the Albright-Knox in Buffalo twists off-center and dissolves into abstraction, and the Guggenheim's Accordionist in 1911 is more daring still thanks to its blues and greens. With Neoclassicism in 1923, the Met's Woman with Folded Arms has her share of pink.
By now, the newsprint has yellowed to brown, and one can hardly see it any other way. Could that explain why the exhibition has so little from all those crucial years—and so little from major museums? In older histories, Picasso filled the rest of his career with casual color, after the sentimentality of his early work and Cubism's austere revelations, but at a cost. John Berger once built a book around that history, The Success and Failure of Picasso. Here, paradoxically, a history turns away from austerity in search of black and white, and it ends reinforcing the failure. Paradoxically, too, it has to leave out the most intense black, in thick brushstrokes that thrived alongside bright color, because Picasso never simply painted by number after outlines in black and white.
The color is of passion, from all those relationships. A 1996 show of "Picasso and Portraiture" tried to rescue him from the accusation that he used clashing colors to demean women. Recent shows of Picasso's last decade and his years with Marie-Thérèse Walter found his amour fou in red. No wonder his love affairs here seem so bloodless. Scene after scene depicts the easy entertainments of tumblers, swimmers, and beachballs. Walter herself looks passive or asleep.
One can see exceptions, as Picasso turns from love to labor and war. A Milliner's Workshop from 1926 is an intricate play of grays. A tumbler of forks bars the way to the blood sausages. In the largest of dozens of interpretations of Diego Velázquez, from 1957, the painter at his easel in Las Meninas cannot control his own show. An outsize caricature, he presides over a flood of white from the windows and in the broad dress of a princess. The perspective plummets past him toward the shadowy presence in a doorway. No one is in command of this art, not least the walrus face of the king in a mirror.
One gains insight earlier, too, when black and white may seem most an afterthought. White serves not so much for highlights, but rather as the layer and texture of fabric and skin. Even its marvel, though, helps to undermine the show. In old master drawing, line is a window onto the artist's thought or a more disciplined realism—as in the technique of grays called grisaille. With Georges Seurat, the colorist to end all colorists, drawings in Conté crayon unfold tonality and flesh as the mystery of two and three dimensions. The Guggenheim, in contrast, can never articulate the uniqueness of black and white.
One sees mostly laziness, and it is tempting to see a fatally lazy artist. I prefer to see a compulsive one, who could never dream of when to quit, and an unceasing experimenter, on the way toward a greater adventure. Sometimes, late in life, the black as watercolor even starts to drip. Rather, the lazy party is the museum, out for a cheap buck and a good time. The 1980 Picasso retrospective at MoMA seemed never to end, because it kept hitting one with another shock, long after Berger had promised only failure. This show goes quickly, because real life is never a matter of black and white.

"Picasso Black and White" ran through January 23, 2013, at The Solomon R. Guggenheim Museum.