Continental Divides
John Haber
in New York City
Belkis Ayón, Tania Bruguera, and the Caribbean
Starting in 1988, an avowed atheist devoted her art to a West African religion in Communist Cuba. No wonder her subjects struggle to emerge from the darkness. With "Nkame," El Museo del Barrio surveys the all too brief career of Belkis Ayón. Meanwhile a Caribbean Cultural Center in Harlem traces its roots to Africa—and its future to a diaspora in the Americas, and Tania Bruguera at the Museum of Modern Art recreates an installation that had to give way in Cuba.
Ayón began with clashing colors, but they sat awkwardly, she felt, with her equally clashing compositions. By 1991, color appears only as a black woman's golden yellow shirt on a still blacker throne. Her white scepter and blank white eyes make the darkness all the harder to penetrate. In no time, even that touch of wealth and pride is gone.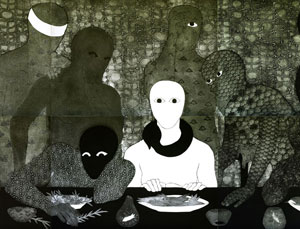 Yet it leaves a dizzying variety of stark silhouettes and shades of grey. In Ayón's most majestic work, the central figure has become a mere outline in white, set amid sinister and luminous surroundings. It could be as corporeal and ephemeral as those of Bruguera, who transplants the remains of sugar plantations, the Castro regime, and an emerging art movement to New York.
An atheist at the Last Supper
Belkis Ayón calls the work La Cena (The Supper), but this is no happy family gathering. Its title comes from The Last Supper in Italian, but it can manage at most eight apostles or betrayals. Where Leonardo da Vinci captured a moment of suspense and revelation, Ayón sees only languor and lurking. The central figure faces front, with no features at all beyond haunting and haunted eyes. Others lean darkly over each other or the table, leaving three plates of fish untouched and a fourth reduced to bare bones. One figure turns away in profile, but it seems just as frightening and as mysterious that the others will remain.
What looks like a mural is really a print—or rather adjoining prints, any one of which tells only part of the story. Ayón claimed, modestly or jokingly, to have stuck to them because she was so bad at drawing. I would not underestimate her talents, but even as prints go she chose a process closer to assemblage than to the fine line of engraving or the brushwork of lithography. Known as collagraphy, it layers paper and ink on sandpaper and other materials before running them through a press. It allows her to control her many shades and textures. It also allows her to extend a composition from the floor to a wall, like the passage between this world and the next.
Often as not, the central figure is a woman, with a clear resemblance to the artist. The museum tries to reassure visitors that they need not worry unduly about the details of Abakuá, her guiding myth brought from Africa with the slave trade. She did not believe in it either. The show has a dizzying amount of wall text for the curious all the same. Do not even try to find an explanation for the show's title, a word of welcome half-buried in the verbiage. Still, Abakuá for her mostly boils down poignantly to that woman and her fate.
She discovers a fish, which turns out to incarnate a royal ancestor and a manifestation of god. As others learn about it, they demand her death, but she is not going down without attaining a foot in both worlds. She sits alongside that god and beneath a cross. She takes on the fish's scales as her skin, her cloak, her jester's motley, or her armor. They could pass, too, for leaves as a sign of growth and renewal. Her whiteness makes her at once a reversal of darkness and the embodiment of death.
As with the fish and the passage to divinity, Ayón often looks for parallels in Christianity—but with a black woman in place of a white male savior. She has a goat at her feet, for an African trickster or a sacrificial lamb. Does she also disguise a commentary on Cuba? The curator, Cristina Vives, notes the need for Latin American art to hide meanings under the Castro regime. She notes, too, the nation's insecurity as the Communist bloc crumbled. For Ayón, even catching a plane for the Venice Biennale took some doing.
Her suicide in 1999, at age thirty-two, may have caught friends by surprise, but death was never far away. If Afro-Cuban evokes joyful rhythms, here joy and motion are hard to find. One series describes rites of initiation to, after all, a secret society that she could never join and a spiritualism that she could never quite embrace. The very last prints, just one to a sheet, isolate her in turbulent circles without hope of a resurrection. They place her at the very center of what an earlier show called "Caribbean: Crossroads of the World." Still, anyone who crosses here may never leave.
More than lost souls
When art turns to refugees, should it see more than lost lives and lost souls? With Julio Bittencourt and Naeem Mohaiemen, it sees the dispossessed and homeless, even on the edge of a western city or a great airport. With Paul Anthony Smith, it sees fences, with no going forward and no going back. With Richard Mosse, it sees camps in the harsh infrared gaze of their overseers. With "Perpetual Revolution" at the International Center of Photography, it sees a crisis. John Akomfrah has filmed a crisis as well, in the tide of races and peoples fleeing for Europe.
What happens, then, when an institution sees not just the loss of a homeland, but the birth of a cultural resource? The Caribbean Cultural Center African Diaspora Institute (or CCCADI) dedicates itself to education and activism as well as the arts. And it sees those programs as the collective discovery of personal and creative identities. With "Liminal Spaces," it portrays that process as ongoing and uncertain, but hardly impossible. With space for just sixteen artists, all of Guyanese heritage, it finds itself between continents, on the way from Africa to South America and to a thriving community in New York City. It does not, though, think of that as such a bad place to be.
The institute's very name sounds as if it has lost punctuation on its way across continents. Its location, too, places it on the border between Harlem and East Harlem. Its artists are not concerned for a post-black or post-African identity, since few of them have set aside the past and not all of them are African American. The curator, Grace Aneiza Ali, favors young artists, but for a diaspora spanning more than fifty years—since Guyana's independence from the British in 1966.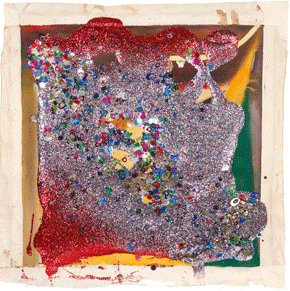 The exhibition title is ambiguous as well, with a sense of both thresholds and limits. Its vocabulary also shows it at ease with Postmodernism as well as tradition.
The artists have a vocabulary independent of both. A video by Mason Richards is neither a documentary nor new media. It follows a child's arrival in a new land, moving between thoughts of his grandmother and the poetry of everyday life. Karran Sahadeo photographs a teenager immersed in her laptop, but in a dark interior out of a gothic romance. Red curtains blow inward without disturbing the stillness, crossed by shadows that align with those on the girl's shirt. For all these artists, a liminal space includes both external forces and the mind.
Some speak directly of their roots and anxieties. Stanley Greaves adopts Surrealism for his Bread Man. Christie Neptune photographs a woman crocheting. "I had a hard time adapting to this culture," the text says, but which culture? Keisha Scarville all but smothers herself in her mother's clothes. Dominique Hunter allows a woman's silhouette in wild flowers a more graceful dance.
Some photograph literal borders, like a coastline for Michael Lam or the horizon for Khadija Benn, whose girl lies in a field out of Andrew Wyeth and Christina's World. More often, though, they feel most at home in painting. Kwesi Abbensetts means his abstractions as This Old House, but one would never know it apart from the wood slats between canvases. Damali Abrams slips in a mermaid and Suchitra Mattai a woven fish, Donald Locke uses arrows for ascending and descending mountains, Victor Davson converts glitter into flags, and Carl Hazlewood compares his large canvas to a song, with perhaps the pins that cross it as notes. Arlington Weithers places acrylic and beads beneath a horizontal and empty wall—and he could be speaking for others when he calls it Crossing.
Art is scary
Video art is scary. I do not just mean that it makes art all too easy, although it sure seems that way these days. I do not just mean either that it draws on the same tools as the surveillance state—or that, like any art, it can border on madness. No, I mean that moment when one steps behind the curtain unaccustomed to the dark, afraid of walking into something dangerous or tumbling to the floor. With Untitled (Havana, 2000), Tania Bruguera latches onto every one of those fears and never lets go. You may not feel safe even after you leave.
At the very least, you will not feel safe until you come out again into the light. Bruguera recreates her installation for the 2000 Havana Biennial, set within an old fortress used for torture, imprisonment, and mass executions before and after the Cuban Revolution. By then, it held just another art fair, which come to think of it is scary, too. It followed the Clinton administration's opening to Cuba, with Americans flocking to see what they could before a Republican backlash. The Castro regime was welcoming, up to a point. It closed the work within hours, because it did want to remind people of its terrors.
Here, too, one enters past imposing walls into silence and near total darkness, like an Infinity Room for Yayoi Kusama in reverse. MoMA admits only four visitors at a time, and they must power off and pocket their cell phones—or slip them into black cases that the museum provides. There is no looking for guidance or relief. Every step requires risk taking, for Bruguera lays down a thick carpet of pulp from crushed sugarcane, and its scent does not exactly sweeten the air. Maybe you will make out a small source of light high and in the distance, and maybe you will manage to approach it. You will still be in danger of falling as you crane your neck to view the monitor overhead.
It displays a short video of Castro and more Castro, basking in adoration. Fidel swims, smiles, speechifies, embraces, and exposes his chest again and again. He could be the soldier pointing to what he suffered on behalf of the cause—or the resurrected god pointing to his wounds. In fact, he is showing off his going among the people as one of them, without a bullet-proof vest. Images of the fearless leader were always suspect, but what drew censure is what accompanies them. Depending on your adjustment to the light as you begin a slow walk back to the exit, you may see a performance element that bares its chest, too.
I have already revealed too much, but Bruguera herself cannot stop redescribing the work. Nothing for her is without meaning. She made earlier art from her body in performance, and now she puts yours and that of others on the line, much like the regime. Does a limit on visitors produce lines? Cubans are used to waiting for hours through shortages. The show has an unusually short run for a museum, but she might respond that its first run was even shorter.
The lack of title, too, is meaningful, although Postmodernism might argue that Untitled is always a title. Bruguera alludes to the erasure of the work's original title, Engineers of the Soul, while adding in parenthesis the specificity of time and place—and while adopting the practice of another Cuban artist, Félix Gonzáles-Torres. This Caribbean art combines sensory overload and sensory deprivation. It depends on immediate experience, shared histories, the artist's associations that one might never guess, and crucial elements that one may never see. It is vague or broad enough to target Communism and colonialism. It collapses under its own weight, but you can still fear that it might fall on you.

Belkis Ayón ran at El Museo del Barrio through November 5, 2017, "Liminal Spaces" at CCCADI through October 26. Tania Bruguera ran at The Museum of Modern Artthrough March 11, 2018. I single out Ayón in my best of 2017.