Too Much in the Sun
John Haber
in New York City
Doris Salcedo and Under the Same Sun
Latin American Art Today
Doris Salcedo begins her retrospective as casually as a yard sale. Commonplace objects lie exposed, stripped of everything but dust. It takes only a moment, though, to realize their true cost in the lives that they once knew. Clothes, sewing needles, household furniture—they all once belonged to presences that survive only as skin and bones, human hair, and terrifying memories. She knows how hard it is to let go.
One enters off the ramp at the Guggenheim, as if wandering off the main road and onto territory both private and secure. Identical wooden tables lie in pairs, one inverted atop another, as many as the room will hold. Grass sprouts here and there from their surfaces. Maybe this really is a yard, and maybe the earth can still claim it as its own. The work is Plegaria Muda, or silent prayer. Here even silence is a step toward recovery—or is it?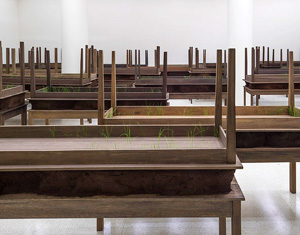 What finally begins to take shape as nearly regular rows has gaps, too, so that one can penetrate. It is not so easy, though, to leave. What had seemed so casually tossed aside becomes a maze, and the long dark wood seems as confining as coffins. Maybe this is not a yard sale after all, but a graveyard. For some thirty years, Salcedo has made art about lives prey to death squads and drug lords in Colombia. It asks where objects leave off and memories begin.
Younger artists have questions of their own as well. Are Latin America and the north, as the Guggenheim put it in a group show less than a year before, "Under the Same Sun"? And what happens when artists begin to ask? Is there a return to abstraction or a heightened conceptualism, after the exhilaration of the 1960s? Or is there rather a turning away from the privileged realm of art, toward the demands for emancipation, participation, and political activism? Is it fair for a museum like the Guggenheim to ask?
Has Latin America abandoned the whole idea of fine art in hope of something more? Or has it found a purpose in the museum? Has it discovered in Modernism "an incomplete project" or "an unattainable goal," like Joaquín Torres-García in Montevideo decades before? Has its art found its voice in a "tropical sensibility," if only in postcards and museum artifacts? Or does it reach beyond borders for a fresh engagement with "modernities"? Can it to this day embrace them all?
Skin and bones
Doris Salcedo thrives on everyday things and excruciating memories, but whose? In her bare furniture, sometimes shoved into the wall, should one think of Robert Gober in America and the cost of AIDS? Not really, but she calls other tables Unland, after Paul Celan's poem about the Holocaust. Their subtitles, including Irreversible Witness and The Orphan's Tunic, quote Celan again, but on behalf of orphans and witnesses closer to home. Still other work crosses continents, from the intimacy of the Guggenheim's tower galleries to more than fifteen hundred chairs piled high between buildings in Istanbul—or to cracked concrete running the length of Tate Modern. Salcedo keeps returning to death and displacement in Colombia as if they belonged to everyone as well, but how?
For starters, she proceeds by indirection. The number of tables stands for the numbers of los desaparecidos, or "the disappeared," where mere representation risks reducing atrocities to statistics. Doors bent slightly off their rise become La Casa Viuda, or "the empty house." Another sculpture preserves wood grain in stainless steel, but for chairs thrust together and splitting apart like bodies. Humanity appears yet again as men's dress shirts, in starched white stacks pieced by rebar, and as women's blouses of silk thread and needles. Who knew that it takes twelve thousand of them to assume so human a scale?
She also proceeds by repetition and variation, both within a work and throughout her career. Early work appropriates shelves and hospital beds, while more recent sculpture accumulates much the same furniture, encased in concrete and steel. Where human hair covers roughly half the tables in Unland, the blouses in silk and needles stand in for hair shirts. The retrospective originated at Chicago's Museum of Contemporary Art, curated by Madeleine Grynsztejn and Julie Rodrigues Widholm. It fits the Guggenheim so well, thanks to the artist and Katherine Brinson, that old work looks newly site specific—or what Robert Irwin, would call "site conditioned." It is hard even to know when to call something an installation or a series.
Salcedo relies on words, too, to pierce the silence, much as a concurrent show of the museum's collection relies on text. A Flor de Piel could mean "under one's skin" or "on my sleeve," like my heart—but of course flor is also flowers, and Salcedo has sewn a carpet of rose petals. She adopts a disused language to evoke another kind of absence, in Atrabiliarios, which she translates as "the defiant ones." It sets women's shoes in wall niches behind the stark translucency of animal skin, surgical stitches, and museum lighting. When she turns to English, for Disremembered, one had better attend to the pun on dismembered. She calls the tables case in steel Thou-less, attesting to absence but also to the power of art to address others intimately, as equals.
Like nearly everyone since Modernism, Salcedo also reflects on art. Born in 1958, she began just when others were developing their own local responses to Minimalism, like Joseph Zito with his own household furniture, Mono-ha in Japan, Group Zero in Europe, or Lygia Pape in Brazil, and her early hospital bedsprings retain the grid. She left them untitled at that, like a proper formalist. She comes closer, though, to the pain of the body in Post-Minimalism, as with Eva Hesse, or in Surrealism long before that. In a room of bedroom cabinets, glass doors covered in black go back to Marcel Duchamp and his 1920 Fresh Widow. Pigeonhole this as Latin American or political art at your peril.
Should you even try to pin it down? Are the hair shirts a sign of torture or grieving, and are the rose petals a blanket or a shroud? If Salcedo's meanings threaten to slip away, like the lives they recall, it is paradoxically because she relies on common objects and concrete experience. In an art scene of overblown installations, she sticks to the everyday. Her list of materials, in the Guggenheim's wall text, ends in dust. No doubt all art gathers dust, even in the best of circumstances, but not everyone remembers to look.
Is all politics local?
The Guggenheim proposes all my questions as themes for art from Latin America today. The surprise should not be the slippery categories for the roughly forty artists in "Under the Same Sun." A show like this, one of many in search of global alternatives, could easily have outgrown its two tower galleries to include such artists as Belkis Ayón—although the museum's UBS MAP Global Art Initiative limits itself to recent acquisitions. No, the surprise is how hesitantly the art approaches anything at all, perhaps especially politics. From the moment one enters, to a riff on Alexander Calder and a and Calder mobiles composed of cymbals, by Carlos Amorales, one can see the wit and ambition. One may also have to settle for a soft rumble rather than the loud clash of art and ideas.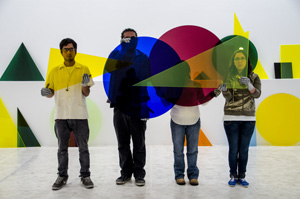 One expects Latin American art not to divorce itself from the world, no more than black abstraction in the United States, Francisco Oller as a Puerto Rican in Paris in the nineteenth century, or Regina José Galindo in Guatemala. One expects it to blend North American and European models with what Pablo Leén de la Barra, the curator, calls "local knowledge" and "found materials," like Lygia Clark in Brazil. Adriano Costa sure does with Straight from the House of Trophies, like a Carl Andre floor piece but with gold place mats instead of steel tiles. Damián Ortega fashions his abstract sculpture from tortillas—and the closest thing to hard-edge painting comes with Federico Herrero and Gabriel Orozco, in their memories of native mountains and plants. A whole room of colored acrylic by Amalia Pica comes alive in performance, as actors hold the geometric shapes against another to illustrate mathematical union and intersection. And that in turn alludes to the banning of those terms in education by a dictatorial regime in Argentina with something other than symbolic logic in mind.
As with Pica, much of the art depends on wall labels and subtext, a suspiciously northern strategy of distancing. Alejandro Cesarco's index for an imagined book leans to entries like Derridean and Andrea Rosen (the Chelsea dealer) that would be at home anywhere in the world. If you did not recognize "Modernity: An Incomplete Project" as the title of an essay by Jürgen Habermas, the German social scientist (in a pioneering anthology on the subject of Postmodernism, edited by Hal Foster), return immediately downtown and to the back of the class. And while the show is largely contemporary, the handful of artists from the 1970s appear precisely because of their presence in New York. Back then Alfredo Jaar designed an electronic Logo for America for Times Square, Marta Minujín proposed covering the Statue of Liberty with fast food, and Rafael Ferrer stenciled ARTFORHUM on the walls of the Whitney—at once Artforum, Art Ho-Hum, and Art for Whom? More recently, Iván Navarro has wheeled his shopping cart of fluorescent lights around the gallery scene, like a glowing Judith Scott or a homeless Dan Flavin.
These artists are way too knowing to descend to outrage, much like an artist not in the show, Farley Aguilar. When it comes to politics, Javier Téllez actually prefers a parade to a protest. When Téllez stages one in Tiajuana while volleying cannonballs north of the border, he leaves no one angry at anyone. And when Donna Conlon and Jonathan Harker play "The Star Spangled Banner" on glasses of Panamanian beer, they could have anyone singing along. Wilson Díaz's neon Movement of the Liberation of the Coca Plant has little to say about the drug trade, while Wilfredo Prieto's electric fans nodding gently up and down have little to say about anything at all. Carlos Motta's Brief History of US Interventions in Latin America Since 1946 would be more telling, too, if it did not equate Reagan-era support for right-wing murderers with Kennedy's restraint in the Cuban Missile Crisis and Clinton's restoration of democracy in Haiti.
Not all is without sadness, warmth, and dreams, no more than from a Colombian artist not in the show, Mateo López. One feels them all when artists confront art history—like Runo Lagomarsino, who finds beauty in the cracks of architectural pavilions by Oscar Niemeyer and Roberto Burle Marx in Brazil, or Luis Camnitzer, whose old-fashioned slide carousels project only light. One feels them in a porous wall from Gabriel Sierra, as a transitional space between borders, or Armando Andrade Tudela's golden mirror, covered with a plastic drop cloth and a grid. Paulo Bruscky and Daniel Santiago place a Village Voice classified ad to propose coloring the clouds. Tania Bruguera fights Cuban repression merely by allowing people to speak, although she also feels free call on soldiers to yank them away. At least for a moment, they will have felt a dove on their shoulder.
As for postcards, they belong to Rivane Neuenschwander, who found local businesses that take their name from elsewhere around the globe. And the museum artifacts appear in sketches by Raimond Chaves and Gilda Mantilla, as well as on storage racks for Mariana Castillo Deball. Jonathas de Andrade creates posters for a Museum of the Northeastern Man that devolves way too quickly into homoerotic porn. Perhaps only Juan Downey truly immersed himself in living history, among the Yanomami people along the Amazon. The video in his 1979 Circles of Fire is immersive to this day. Anyone who finds that intensity throughout is settling for having Latin American art enter the museum—and anyone who misses the high points is blinded by the sun.

Doris Salcedo ran at The Solomon R. Guggenheim Museum through October 12, 2015, "Under the Same Sun: Art from Latin America Today" through October 1, 2014. A later review of the UBS MAP series turns to art of the Middle East and North Africa.