The Second-Best Bed
John Haber
in New York City
Drawing and Controversy: 2017 Art in Review
Did you know that Shakespeare left his wife the second-best bed? Maybe he did not love her all that much, which would explain his long absence in London, or maybe that was their bed, the one they shared on his retirement—from the theater and for the night. He had made his bed as an artist, and he could now lie in it.
Or maybe he just hated "best" lists, and he wanted to put them in their place. I know I do, and I leave it to others to pick winners. If I can help you see, then after that, truly, you know best. Once again, then, allow me the quirkiest of listicles. As you will see, 2017 had many highlights, and I link whenever I can to past reviews. As you will see, too, if you ask the right question, then it can be hard in a year of sometimes bitter controversy to tell the worst from the best.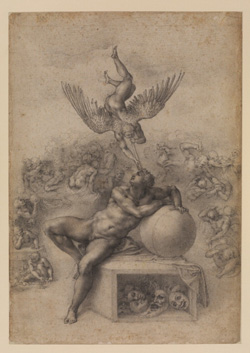 1. Best way to look back
When it comes to art's history, the year had few blockbusters. It had the shockingly intimate pleasures of "Caravaggio's Last Two Paintings," which made me feel guilty just to look at them—much as Caravaggio exorcised his demons in painting them. It had the sharply focused attention of "Seurat's Circus Sideshow," portraits by Anthony van Dyck and Bartolomé Esteban Murillo, and Rembrandt's Abraham. It had the sheer chaos of Francis Picabia, leaving it less clear than ever whether he was a modernist, a postmodernist before his time, a sideshow, or a sellout. It had Robert Rauschenberg among friends, not to mention among more art forms than you can count. As he suggests, some of the best looks back have come in other media than painting.
The year in photography included Irving Penn in and out of fashion, August Sander between portraiture and a typography of German life, and Joel Meyerowitz and Raghubir Singh in color. It had Stephen Shore and his turn from photography to Instagram. It had architecture and design from Frank Lloyd Wright and Ettore Sottsass, but also a less-heralded glass house by Pierre Chareau, with a thrilling exhibition design by Diller Scofidio + Renfro. It had drawing—including the Morgan's Thaw collection and French drawing, the Met's Lehman collection, and Jean Honoré Fragonard. Best of all, it had Michelangelo.
Critics fell over one another to praise his drawings, as if they were encountering him for the first time. Yet anyone could feel the Renaissance artist as new. It comes with the turn from familiar works to works on paper, not to mention the Met's biases. It comes, too, with Michelangelo's struggles with his own choices each time he took up a project or the pen. No doubt the PATH station Oculus did a service over the summer, by taking reproductions of the Sistine Chapel to a wider public. Here, though, a museum returned him to the context of his art.
2. Best show I almost overlooked
It happens every year. I try to see too much, and often I turn away without a word. I have to respect silence, because I want to write only when I have something to say beyond the listicles. The revival of painting, especially abstract or near abstract painting, can leave anyone fumbling for words. So many things look good, but when exactly do they have something to say as well? Would their signature motifs have gone down in art history had they lived fifty years earlier, or could they paint like this only because greatness has come and gone?
Time will tell, but I managed only a passing mention of the largest and most dynamic work yet by a true original, Cecily Brown. I passed over entirely a recreation of a show by Mel Kendrick from 1993. Its large sculpture works on its own terms—and as blown-up models of the woodblocks used to execute equally intriguing drawings. I passed over blue paintings by Ad Reinhardt, having said enough about him in black. I passed on trying to write once more about Lee Krasner, and Arshile Gorky. Their galleries caught peak years of American art and Gorky's poignant memories of home.
Elizabeth Murray would have me at a loss for words even had I not seen her retrospective, drawings, and paintings from the 1970s before. And she still takes my breath away, with a gallery's look at the 1980s. It builds on four paintings from museums in and beyond New York, with a dozen others of nearly equal size and stature. Notebook pages confirm their origins and her restless imagination. With nearly every painting running across several fragments of shaped canvas, who can speak of her art as ever coming together once and for all? As I conclude in revising a past review, no one painting has the iconicity of black stripes from Frank Stella, but her work has served as not even his could, as an iconic starting point for painting today.
3. Best artist I could no longer overlook
Diversity has become an obvious priority, and so has recovering often overlooked artists from the recent past. Call it the one-two punch of political correctness and the art market, but also call it a relief. Nor is it solely a matter of political art. The year had "Trigger" at the New Museum about art and gender, but also a more famous gay male, David Hockney, in the lap of luxury.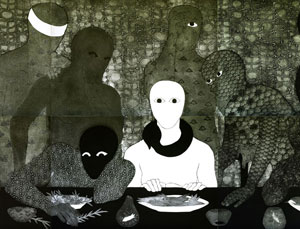 It had "Black Radical Women" in Brooklyn, but also the very different radicalism of women in abstraction at MoMA. Indeed, the real breakthrough may well be the diversity of artists who have entered galleries and museums for no other reason than themselves.
Anyone used to decrying the paucity of women in museums would have found them everywhere in 2017. Even a short list would include Agnes Martin, Beverly Buchanan, Florine Stettheimer, Virginia Overton, Carmen Herrera, Laura Owens, and Alma Thomas. Only Marilyn Minter, Carolee Schneemann, and arguably Louise Bourgeois were boasting of and piercing the feminine mystique. The point was more that they could no longer be overlooked. Nor could such artists from the Americas as Lygia Pape, Hélio Oiticica, and Cristóbal de Villalpando long before them. Nor, too, could the African diaspora as reflected in the paintings of Toyin Ojih Odutola, among others.
Women, the Caribbean, and Africa may seem to point in three very different directions. Yet Belkis Ayón belongs with them all. She was also a new name to me with a mythology all her own, so let me give her the nod here as best in show. She also required an infrequent trip to El Museo del Barrio, where a new director now has more on which to build. These groups do not take away in the least from the demands of others, including straight white males. They also do not have a monopoly on controversy—which is where the best starts to become harder to tell from the worst.
4. Best overheated controversy
The year did not lack for loud voices at gallery and museum gates. Surely the most justified and rewarding were African Americans confronting the still louder sounds of gunfire. Arthur Jafa, Lonnie Holley, Sanford Biggers, and Nina Chanel Abney all reflect the urgency of Black Lives Matter. Kara Walker called her own show "The most Astounding and Important Painting" of the season—and she could well be right. She also spoke out to defend another woman whose art cries out against racism and a mother's loss. That woman, of course, is Dana Schutz—and a reminder that art does not just address live issues.
It also generates controversy and then wades right in. Does a white woman like Schutz have what it takes to represent the death of Emmett Till, the subject of a painting in the 2017 Whitney Biennial? Can the Guggenheim fairly represent art in China since 1989 without live animals fighting and dying? Can the Met stand up to protests against Balthus, with a morally and sexually ambiguous depiction of adolescent awakening? I found all three controversies trumped up. Yet they got people thinking, and they called attention to the best biennial in years.
The Balthus controversy was particularly silly. It first appeared in a right-wing tabloid, and could it be a set-up to mock liberal pieties? And liberals waded right in. The silliest controversy of all, though, comes down to art for art's sake—and for big bucks. Did Leonardo da Vinci paint a Salvator Mundi that sold for more than $450 million? (For comparison, the Frick Collection has an operating budget of $13 million in spending from its endowment.)
Obviously the buyer, a Saudi prince on behalf of the new Louvre Abu Dhabi, has a stake in proving his mastery of western culture. And obviously the auction house and the conservators have a stake in cash and legitimacy as well. They also made little effort to show that anything has changed in the decades since scholars first dismissed the painting, from a time when Leonardo routinely delegated religious paintings to his workshop. They ignored the bland face, stiff pose, uncertain background, and leaden shadows typical of Leonardo's lesser followers. They ignored, too, the lack of contemporary accounts, a telling omission when it comes to the most talked about painter in history. Take it from me, though, that art can still be about more than money—or take it from the best of 2017.

Of course, this site has reviewed pretty much all this and more at length. Mel Kendrick ran at David Nolan through November 4, 2017, Ad Reinhardt at David Zwirner through October 21, and Arshile Gorky at Hauser & Wirth through December 23. Lee Krasner ran at Paul Kasmin through this coming January 13, 2018. Other dates and locations appear with fuller reviews. You can now also see year-end reviews for 2007, 2008, 2009, 2010, 2011, 2012, 2014, 2015, and 2016.