Making a Scene
John Haber
in New York City
William Wegman and Club 57
Dumping on William Wegman is like cruelty to animals. So who am I to object to more of the same?
Yet another show of the artist and his pet may amount to pandering, but every so often I, too, get the cutes. The Met, though, wants to recover Wegman not just for dog lovers, but for a California art scene that he quickly left behind. Meanwhile MoMA tracks Club 57 as a New York scene that may or may not have emerged from a basement to influence East Village art. Maybe museums are just desperate for the vitality of the 1970s, but they have a point: if Modernism was losing momentum, it is because it was making not too few but too many scenes.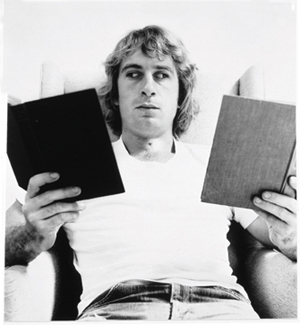 Conceptualism's best friend
Not that William Wegman has lacked for an exhaustive retrospective, at the Brooklyn Museum in 2006, and he shows regularly at a respected gallery. Still, if animal rights suffice to keep work out of "China After 1989" at the Guggenheim, they should permit a look back at art in collaboration with a dog. Besides, the Met has an excuse, in the gift of dozens upon dozens of videos. Even a selection, many as short as a few seconds, runs for ninety minutes. The show also places him in context of California conceptualism in the 1970s. Call it "Before/On/After," but the accent is firmly on the moment.
Wegman had just three years in LA, starting just out of school, but they provoked a torrent of photos and videos. So did his co-star, a Weimaraner named Man Ray, after you know who. It was a match made in heaven, if only because it could not back then have been made on Instagram. Even when the dog does no more than allow its face in the camera and roll its eyes, what is not to love? Yet there is more to love, in the artist's pointed humor and conceptualism. When Man Ray and a seeming twin move their heads in perfect synch, they do not just double but deconstruct the love.
At his best, Wegman turns that deconstruction on late modern art. If painting is dead, why not abandon art in favor of dog tricks? If, as the public so often thought, your three-year-old child could do that, why not a four-legged friend? In the photos that lend the show its title, the dog steps on and off a narrow podium while training its eye on plain geometry. It treats Minimalism as not the promised end of art, but a circus act. So do doodles that label similar shapes meat and vegetable.
Yet if man's best friend was art's best student, Wegman was also making light of conceptualism. He could adopt the stunts of John Baldessari and the text art of Lawrence Weiner without their solemnity. It made him the footnote to the 1970s that almost nobody mentions, no more than Facebook or calendar art, but everybody enjoys. It also makes the show's aggregation of California art from the Met's collection look imponderable. It has Baldessari, but also those as different as Bruce Nauman, with a drawing of Normal Desires in fiery or melting letters. It has too little to do with Wegman as well.
The curator, Doug Eklund, makes little effort to tease out conceptual art and its variations. Ed Ruscha turns up as closed books in glass cases that one can barely view. Nor does he convincingly pair others with Wegman. Allen Ruppersberg and Robert Cumming riff on the region's most famous industry, with reverse film credits (sometimes to famous artists) and photographs of sound stages, but their pop culture seems a world away. The inclusion of David Salle is illuminating, before that artist's painted allegories and eclectic essays. Too much else is not.
The small show also cuts Wegman down to size. The sheer number of videos sounds impressive, but here they seem less a burst of creativity then signs of a short attention span. Too often they boil down to a drugged-looking guy in his twenties cuddling his dog. (Salle claims that Matt Mullican made performance art under hypnosis, so maybe for once the Met has uncovered a connection.) A more daring show might have placed the entire lot online, like photos by Stephen Shore or the selfies that they almost are, so that one could dip in and out. Speaking of cruelty, a boring presentation could be the most unkindest cut of all.
Shattered
For a time, artists had a cheap place to hang out. Every now and then, they might even have made art. MoMA sure thinks so, but you never know. A show's very title, "Club 57: Film, Performance, and Art in the East Village," makes art almost an afterthought, and it unfolds not in a gallery, but in the lobby of the museum's theater, where some of its products and performances play out as well. The space may never have looked so much like a theater lobby before at that, with posters more than painting. If the display looks more crowded and disorganized than the multiplex nearest you, this was a wild scene.
It might not have been your scene, but that says something, too. It opened in 1978, when the buzz from CBGB was already fading, and Modernism was breaking apart. You could have been a striver, determined to be the next Frank Stella or on the rise in Soho, even if nobody was buying your beliefs or your art. You could have been asking to reinvent painting in your own image, like the Neo-Expressionism of Julian Schnabel and Robert Longo soon to come—or you could have been looking to kill it once and for all, like the "Pictures generation." You could have been partying or performing elsewhere, like Alan Vega at the Mudd club or Andy Warhol at the Factory. That dispersal still defines art, with Modernism not so much irrelevant as shattered into warring but overlapping camps.
If "anything goes" applies to art now, it applies in spades to Club 57. It had a basement on St. Marks Place, when rents were dirt cheap and the street was still the heart of the East Village, rather than one souvenir stand after another. Ann Magnuson, its main organizer and a sometime artist, describes it as a dance hall and a watering hole as much as a gallery or theater.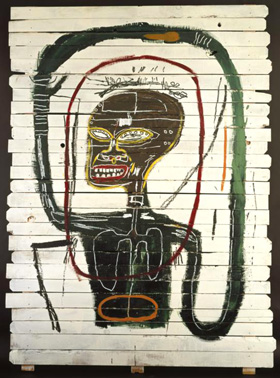 Or maybe it was always a theater, with its audience as the cast. She also curates this exhibition, along with Ron Magliozzi and Sophie Cavoulacos of the Modern's film department. She shared direction then with Keith Haring, when he and Kenny Scharf were taking street art indoors.
From them alone, you know that art could be fun, accessible, and way cool, at the expense of having much to say. That, though, was about to change, between the election of Ronald Reagan and the AIDS epidemic. Art here may not get any more profound, but it does get angrier and more painful. Few are as glib as John Ahearn, with his hyperreal sculpture, but his sordid characters put a warm face on a city in crisis. You know, too, that politics will mostly mean sexual politics, if mostly through the eyes of men. The club's most prolific poster artist took the name John Sex.
As with Sex, the show has mostly unfamiliar names. True, David Wojnarowicz confronts the AIDS crisis, while Richard Hambleton, Donald Baechler, and Jean-Michel Basquiat contribute a painting apiece. None of them, though, are large, mature, or representative work (like the Basquiat from barely a year later shown here). They stick to figures contorted or dancing. You could call the whole affair a throw-away. Yet it still helps explain what was happening to art while Mick Jagger sang "Shattered" on the radio and films played in an East Village basement. By the time the club died, in 1983, there was no looking back.
So is this art? I want to take the show seriously, despite its closing on April Fool's Day. Then, too, I am happy to leave it to passer-bys on the way to a movie in the museum. What could suit it more than another dark basement? Club 57 did not encompass art's response to AIDS or the explosions of East Village art, but rather the damage and success did it in. Others ever since are busy picking up the pieces of modern and postmodern art.

William Wegman and California conceptualism ran at The Metropolitan Museum of Art through July 15, 2018, "Club 57" at The Museum of Modern Art through April 1, with additional posters at Alden Projects through February 11. Related reviews look at Wegman in retrospective and East Village art.