Outrage Sells
John Haber
in New York City
David Wojnarowicz and Hide/Seek
Art has a problem, or make that two problems. The culture wars are not over, but outrage sells.
Of course, artists thirty years ago would have begged to face problems like that. Yet the furor over David Wojnarowicz was real. A show at the National Portrait Gallery, of portraits of and by gays, included his video with ants swarming over a crucifix. An attack by the Catholic League found a few of the usual right-wing echoes in Congress—and the Smithsonian caved. Thankfully, the news was not all bad. The video withdrew, only to find a groundswell of support.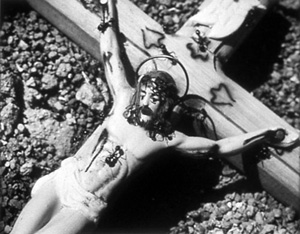 The controversy helps in understanding both threats to the arts and the temptations of publicity. In the end, it also helped bring not just attention, but acceptance. And the group show has its own revelations about culture and society. "Hide/Seek" can hardly claim to survey gay art or its impact. It would only be more sprawling and incoherent than it is. What it can do, wonderfully, is to probe the limits of acceptance.
Beyond outrage
Censorship and threats of censorship persist, and Ai Weiwei still went to prison, but some over-the-top artists thrive on the publicity. George Condo keeps playing the bad boy as Old Master, and international collectors eat it up. A retrospective of Paul Thek centers on his sculptural illusions of raw meat and dismemberment. The usual suspects represent their nations at the 2011 Venice Biennale, while Jeff Koons curated the sellout of the New Museum to a donor's collection only months before. When the Brooklyn Museum drew threats from New York's mayor in 1999, it was hosting a private collection, too. These days, Marcel Duchamp might be pasting an actual nude into Nude Descending a Staircase, and he would be laughing all the way to the bank.
Not every artist is laughing, however. Some do get shut out by censorship or loss of funding, and the market shuts out many more. Many more, too, just go about their business, and for them controversy is not an outrage, but a sideshow. For all the complaints about big installations, I have argued, most galleries still exhibit familiar styles and familiar media. And that has its drawbacks, too, for all the demands for alternative spaces and the arts in Bushwick. Those who demand a return to the handmade should have to suffer through all the group shows and open studios devoted to painting.
In other words, "anything goes"—but stylistically more than morally. The threats are still real, but threats to art rather than decency, including the threat of success. It means both opportunity and drift, and it does not mean a liberal hegemony or too much Postmodernism. When a gallery presents Robert Mapplethorpe as a portrait of America, it shows how provocative he remains and how vital he has become. Yet with the death of the avant-garde can come a loss of urgency, even as teen angst by Laurel Nakadate at MoMA PS1 comes with warnings of adult content. And thankfully, with diversity can come acceptance.
I have trouble enough imagining what the Smithsonian was thinking when it removed Wojnarowicz from "Hide/Seek." A Fire in My Belly had inspired little public furor. Indeed, without the December 1, 2010, censoring and the assistance of the Conservative News Service, few would have heard of the video—and in no time the outcry against censorship went viral. It also led to two reviews in one day in The Times, objections from both curators, a resignation, a display of the video at P.P.O.W., free access on the gallery's Web site, and screenings elsewhere as well, including the lobby of the New Museum. The controversy even led to an unplanned national tour for "Hide/Seek," as the Brooklyn Museum and Tacoma Art Museum embraced it. Without the fury, I would never have seen the show, and now I see its undercurrents as essential to more than a century of art, culture, and community.
As with Mapplethorpe in 1988, Chris Ofili in 2000, and Amy Greenfield this past year, controversy soon blows over, even as support for the arts hangs by a thread. With Wojnarowicz gone, not even the right was moralizing. And that bears celebrating all by itself. The show takes such American icons as Grant Wood out of the closet. In the lushest and darkest of abstractions by Jasper Johns, In Memory of My Feelings, it finds his sense of loss after breaking up with Robert Rauschenberg. It treats the AIDS epidemic as heartrending, not as an indictment of gay lives and gay identity.
And no one complains. In fact, the entire show recasts the origins and course of American Modernism through gay eyes. It moves from Thomas Eakins through the Harlem Renaissance to the 1990s. It pictures American expatriates in Paris like Betty Parsons, the future dealer for Jackson Pollock, as a lesbian circle. It shows another side to Charles Sheeler than America's response to both Cubism and the industrial heartland, in a watercolor of sailors strutting their stuff. It succeeds by not flaunting outrage—and that is remarkable all by itself.
Hiding in plain sight
If "Hide/Seek" sounds like little more than greatest hits, it is. Even for individual artists, one can largely predict the selections—like Mapplethorpe as S&M Nazi or with a death's head. If it sounds all over the map, it is that, too. It defines portraiture as anything remotely confessional in any medium, from Sheeler's group scenes and Johns's abstraction to a pile of candy by Félix Gonzáles-Torres. Several artists in the show are not gay, and the show's very title could equally apply to a coming retrospective of Francesca Woodman.
Sometimes, in fact, it is hard to tell who is gay, and that, too, is part of the story. In the very first painting, by Eakins, a boxer struts his stuff before an adoring and very respectable male crowd. The artist's psychobiography may never be fully told, but that may be the point as well.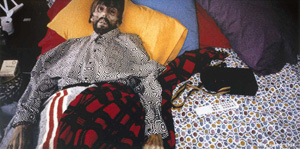 For Eakins, who married (and also painted his wife looking slightly bored), the nude meant the truth, and he would have painted women he knew in the nude but that they and Philadelphia society refused. Yet he also shifted attention from traditional female nudes to the male body, which his taut and obsessive drawing lent a special tension. For him and for the entire boxing arena, an unspoken sexuality appears to course through heterosexual society.
And, the show claims, it helped give birth to twentieth-century sensibilities. Another crowd scene makes the same point, with Ashcan school dockworkers by George Bellows. Sexuality lurks in the background, like Alice B. Toklas behind Gertrude Stein or a man behind Marsden Hartley, in a photograph after his love object's death. It lies in or behind masks, like the black and white masks framing a top hat for Janet Flanner, the correspondent who defined Paris for decades of American readers. Yet she herself, as photographed by Berenice Abbott, hides nothing. Nor does Carl Van Vechten as the gay writer, patron, and photographer cruised Harlem in search of a new literature and art.
Tensions remain, most surprisingly with Grant Wood. Arnold Comes of Age is, of course, a coming-of-age picture, but without a happy ending. A bare tree picks up Arnold's lean face and limbs, and pale sheaves echo small naked figures behind him. They are definitely not amber waves of grain. Tensions run through Hartley's whole life, including the nasty militarism in his painting of World War I insignia, inspired by an infatuation with a German officer. Mapplethorpe makes a point of the tensions, in photographing Roy Cohn as the McCarthyite lay dying of AIDS.
Mostly, though, the show lives with rather than explores roles, fashions, and tensions, even after Stonewall. By ending with AIDS, it holds its themes at a distance from the present. It has a patron saint, in Frank O'Hara. Hartley, Larry Rivers, and Alice Neel all paint portraits, and Johns takes his title from O'Hara's poetry. It memorializes suffering, rather than hides it, but it suggests an official history. With its baggy structure and safe selections, that becomes identified with twentieth-century history and art.
I wanted to dislike a generic history, and I wanted to admire the Brooklyn Museum, which fills out works that could not travel with photos and wall labels. Mostly, though, I got caught up in the paradox of safety and surprise. Often artists respond to one another, as with an agonized Felix Parte on his deathbed by AA Bronson, both of the Canadian collective General Idea. The huge scale and lacquer on vinyl gives it the color, texture, and immediacy of a shower curtain. Patterns clash, but they also make one strangely at home in the horrific bedroom. And then thankfully there is the hero or villain of the moment, in David Wojnarowicz.
A signature in blood
I have trouble making sense of the outcry over his video in the first place, for all Catholic League's crusade against homosexuality and all the GOP hatred of funding for the arts, period. Had the League's president, William Donohue, simply heard that a four-minute excerpt defiled Jesus and then let his fears run wild, the way phrases like "death panels" take on a life of their own? Had he forgotten the excruciating images from centuries of Christian art—or the whole idea of a god dying for the sins of mankind? Or were he and his supporters really more upset that a dying gay male could identify the suffering of Jesus as his own? Maybe the artist would have understood. He had no room for ambiguity, but plenty for ambivalence.
Wojnarowicz called the original thirteen-minute version finished in 1987, but it opens with red paint spelling out A Work in Progress, like a signature in blood. The disputed few seconds come only in an additional seven minutes from his estate. The first version starts much like a documentary, zooming in on a map of Mexico and continuing with footage from a moving car. With its Mexican street scenes, masked wrestlers, cock fight, and circuses, it offers a sympathetic portrait of a slightly mad and very poor society. Near the end, the video abruptly shifts to ancient pyramids. Other tourists pull out their cameras as well, for no one here can resist regarding the pain of others.
Everything is way too disjointed, way too long, and way too explicit, but also gripping, and it does not take long to notice Wojnarowicz's obsessions. A spinning globe, like the logo for a TV newscast, is actually a human eye with bright-red veins. A gaunt young man breathes fire, and a dancing puppet collapses under the weight of its sombrero. A bandaged hand releases and receives coins, a woman pets a chicken before preparations for the cock fight, and the Mayan ruins combine eerie, open expanses with shadowy gargoyles. Gears in a dark machine and a tarot deck rule over all, before a paint gun finally puts the puppet out of its misery. Wojnarowicz depicts people caught up in ritual, oppression, and violence, but also fascinated by them.
That includes the artist, who has become so much a part of the spectacle that the tourist cameras and paint guns may as well have turned on him. It applies even more to the later, much tighter video, which opens with the gears and goes for blood. The pan down the street now comes alive in color. The coins fall into a crimson liquid as if directly from the open hand of Jesus, the crucifix seems to blink, and preserved human remains accompany the ruins. The artist now so identifies with his subject that he cuts from Jesus to a syringe, to his own naked torso, and then to sides of beef. At the end the spinning globe, the map, and the puppet all go up in flames.
Wojnarowicz was obviously not the first Catholic torn between rebellion and submission—or the first to depict homosexuality as at once criminal, spectacle, private, desperate, and a matter of pride. He had, after all, been reading Jean Genet, and the coins could stand for a gift or, as in the Gospels, a betrayal. The ants in their mechanical motion could be abasing Jesus or redeemed by him, and the artist anticipated his own censorship. In 1990, he sued Donald Wildmon of the American Family Association for photocopying his work and sending the results to Congress as part of a "campaign for decency." No wonder the seven-minute clip cuts between the puppet strings, strings sewing together a loaf of bread, and bloody lips sewn shut.
If anything belongs with "Hide/Seek," Wojnarowicz does. He made his video inspired by the work in Mexico of his lover, Peter Hujar, who then died of AIDS. Wojnarowicz may be deceased, as is Thek, but his video still has its bite, and others are living off its sting. The threat of censorship remains, along with support for the arts, but boys with their toys still get attention. Is phony transgression like Condo's, then, safer after all? If "Hide/Seek" is right, maybe, just maybe, the answer is no.

David Wojnarowicz's video ran at P.P.O.W. through January 19, 2011, and through January 23 at the New Museum. "Hide/Seek," came to the Brooklyn Museum through February 12, 2012, after its run at the National Portrait Gallery. "Fever: The Art of David Wojnarowicz" ran at the New Museum through June 20, 1999, and it is the subject of a separate review, along with Peter Hujar and Paul Thek.