Burning Bright
John Haber
in New York City
William Blake and His World
William Blake left a reputation as a poet, a madman, a Romantic, and a visionary. He also left fluid, glowing watercolors. Yet for much of his earliest work, he chose a demanding medium in black and white, engraving. And for two of his earliest engravings, he copied Michelangelo and Watteau.
Already an accomplished draftsman, he has no trouble at all with Michelangelo's striding, weighty pose. He poses Watteau's women at ease in the countryside, like a summer picnic. Should one link him instead, then, to Renaissance classicism—or to Rococo sweetness and light?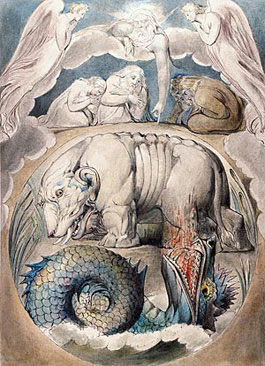 Not quite, but Blake embraced opposites. He also spun them into myths all his own, only loosely based on his favorite sources in the Bible, Milton, and Dante. At the Morgan Library, he also challenges one to tell them apart.
I saw a Devil in a flame of fire
From Michelangelo, he takes a mysterious figure from The Crucifixion of Saint Peter, painted around the same time as The Last Judgment. By then, the paragon of the High Renaissance had become a stubborn visionary himself. Michelangelo may have meant a self-portrait, and it resembles a weary old man in a sculpture, bearing the weight of a dead Jesus. And Blake reinterprets the figure as the center of an even wilder myth. He calls it Joseph of Arimethea, who in legends tended to the burial of Jesus, landed in England, and founded a Christian nation. If that sounds fanciful, complicated, and triumphant even for Blake, the huddled old man shivers in pain.
As for Watteau, Blake pairs scenes of morning and evening. It does not take much to see a lifelong obsession with opposites—God and Satin, Songs of Innocence and Experience, The Marriage of Heaven and Hell, the Prophecies of Europe and America, Milton's Allegro and Il Penseroso. Blake illustrated them all, and his display at the Morgan Library gives a remarkably complete look at his career. To make matters worse (or better), the two engravings after Watteau look much the same. Morning and evening are all but indistinguishable. These women have had a long day.
Blake never makes things easy. As here, he is always having visions and making myths—many of them clear only to him. They involve polar opposites and a maniacal insistence on right and wrong. He is also a skilled artist, enormously well read, and not at all a loner. And his opposites always attract, repel, mingle, and even obliterate each other. No wonder he takes such pleasure in hell.
He started early. God appeared to him at age four through a window and set him screaming. As he walked London, he regularly spoke with angels. He issued his books in small editions, to still smaller sales and sometimes damning reviews. Still, he showed talent as a draftsman as a child, apprenticed to an engraver, and had much in common with other leading English artists. His emphasis on line resembles the famous illustrations of Homer by John Flaxman, and he dedicated an engraving of Satan to another fantasist, Henry Fuseli.
Although born to a well-to-do hosier, Blake had an intense sense of injustice. "Can I see another's woe, / And not be in sorrow too?" It led him to observe well his native London and to greet with excitement the French Revolution, but also to draw back with horror from what it became. He mourned the early death of his younger brother, but he married and sought out other artists. The Morgan shows him at work until his death in 1827, at age seventy. Coleridge's addictions and agonies make him look sane by comparison.
In other words, one calls him a madman at one's peril. His Satan for Fuseli has eerie white eyes and a scary low vantage point, but also heavy jowls and perfect perspective. One should not make too much of those first engravings either. With his plates after Watteau, he had just struck out on his own, and he wanted to sell. He failed, but Jean Antoine Watteau had his dark side, too, on the way from Rococo to Revolution. Only in Blake, though, do the light and dark get so confused.
Exuberance is beauty
Does it make sense to speak of a stubborn visionary? Maybe the term describes all artists, but it sure applies to Blake on the cusp of the machine age. He experimented all his life, including prints for which he altered the plate by hand, somewhere between engraving, drypoint, and monotype. In his most famous image, Urizen wields a compass like a trained artist to part clouds and create a world. Blake meant the impulse to subject nature to mathematics as evil, but for most people the image has come to stand for God. Besides, the poet created more than enough systems himself.
He also broke his own rules. He insisted that all art comes down to drawing, and he hated oil painting. Yet his work thrives on the contrast between the white of the paper and watercolor. He denounced religions that insist on the literal truth of their texts. Yet he wrote and illustrated plenty of texts himself. His last drawings crowd that much more text on the page, almost squeezing the image between the lines.
The curators, Anna Lou Ashby and Cara Denison, do not quite display his work chronologically. First come the engravings of around 1890, then a short wall for influences and followers. Then come the first hints of color, in the firm lines and soft washes illustrating the book of Job. Color darkens and spreads for the Prophecies and then his homage to Milton. Never mind that Job, completed around 1810, followed the Prophecies.
Job serves perfectly as the exhibition's centerpiece—all twenty-one sheets, along its long wall. The Morgan has all twelve sheets, too, for Milton's Allegro and Il Penseroso. Partitions display less complete books, while tables hold manuscripts and volumes of poetry. No other museum could pull this off, with such a full career from its own holdings. It keeps labels to scholarship, unlike the Met's boosterism, although you might need me to explain Joseph of Arimethea. For good measure, Jeremy Irons reads aloud online, and Patti Smith will perform, too.
The breakdown in chronology makes sense anyway. Blake dealt in opposites rather than in progress. Wordsworth takes apart the process of thought. His Prelude equates poetry itself with the stages of observation, emotion, loss, self-examination, recollection, and recovery. For Blake, experience follows innocence, but neither obliterates the other. He all but deconstructs himself.
Thus wept the Angel voice, & as he wept the terrible blasts
Of trumpets blew a loud alarm across the Atlantic deep.
Instead of tears, though, one sees a deep red face and a look of terror, and "no trumpets answer." And a fanfare of trumpets greets Job's resolution. Flames engulf that same angel, as they do the fall of Satan. They also consume an image variously interpreted as Sodom or the French revolution. Yet they flare upward from Job's hair in his final transcendence.
Where man is not, nature is barren
Job tells the story all by itself. Naturally Blake expands the book to a parable of his own making. He identifies Job's challenge to God with an insistence on the Bible's promise. And a bit of Hebrew text turns up halfway through. Job has to get over that literalism, you see, before his hair catches fire. Job's comforters, who receive more attention than God's reply, never do.
For Blake, the Old Testament parable encompasses a risen Christ and a fallen Satan. Yet here, too, he deconstructs a Christian ending. Job himself becomes Christ-like—his raised arms both a gesture of triumph and an echo of the crucifixion. Has Job put his sufferings behind him, as God restores wealth, family, and peace of mind? Or has he taken on the sufferings of the world? A productive, respected, and reviled poet probably wondered the same thing about himself.
Without the text of poetry to share the page, Blake achieves special economy. The book's thin lines and pale watercolors actually make the contrast of white and color stronger. Here, too, opposites multiply and carry unexpected meanings. White stands at once for mass and light. Shadow stands both for muscle—and so for activity and power—and inertia. Overlap produces not a massing, but a flattening, into a deadening cluster of faceless silhouettes. Arced figures in space merge easily into the arch of a cave or the flow between heaven and earth.
Nature rarely butts into this prophetic landscape, beyond Leviathan in his cave, or into other books as well. Wordsworth and Coleridge walked the Lake Country, and Byron swam the Hellespont, but Blake spent Romanticism within a few blocks of the Thames. (The Morgan has a map of where in London he lived.) Where Milton describes the "dappled dawn," Blake's page for Milton's verse shows darkness dappled only by stars. He might as well have been illustrating his own early "Night":
The sun descending in the west,
The evening star does shine;
The birds are silent in their nest,
And I must seek for mine.
In the same lines, Milton hears the lark. The closest Blake comes is in another book entirely, with gaunt black birds on the branches of a dead tree. Woods and fields on display by John Linnell and Samuel Palmer make nature's stark silence all the more striking. Once in the Prophecies, human and animal lie on the ground—like the foe in Blake's Songs of Experience, outstretched beneath a poison tree. They cling together, almost indistinguishable, in mutual solace or mutual defeat. As Woody Allen said, "The lamb and the lion will lie down together, but the lamb won't get much sleep."
For Blake, art and poetry make strange bedfellows, but he kept at them anyway. Something of his nuttiness extends to Francis Bacon, Damien Hirst, and British art today, and so, alas, does his generation's idea of art as illustration. Fortunately, his nuttiness thoroughly permeates the illustration. "If it were not for the Poetic or Prophetic Character," he wrote, "the Philosophic & Experimental would soon be at the ratio of all things, and stand still, unable to do other than repeat the same dull round over again." Blake contradicts himself over and over again, and it makes the round a lot less dull.

"William Blake's World: 'A New Heaven Is Begun' " ran at The Morgan Library until January 3, 2010.