The Look in His Eyes
John Haber
in New York City
European Painting from the Cleveland Museum
You may not remember what he is wearing, but you will remember the look in his eyes. His lips curl as if twisted shut, shadow divides his face as starkly as a Picasso mask, and his eyes are wide with fear. He could use a haircut, but who cares? He is the young Isaac, and he wears nothing at all, and he is about to die.
The Frick Collection borrows fourteen European paintings from the Cleveland Museum of Art. As a postscript, it offers a fascinating study in telling a copy after Nicolas Poussin from the original. More important, it allows one to feel the history of Western art as a personal experience. Maybe that is why I have to start with a painting that stares right back.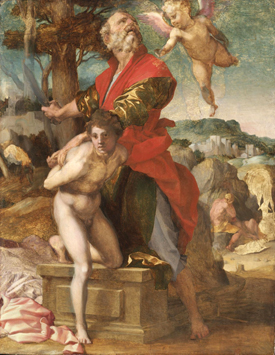 Perhaps you know from art history how Western art since the Renaissance privileged the viewer. Perhaps you knew about its special illusion, in single-point perspective, onto a world beyond. At the Frick, one can see hat world unfold, two eyes at a time. One can even see how, in some critical periods even before Modernism, the conventions fell apart, and the subject stared back. Long before Edouard Manet's Olympia or Pablo Picasso's Demoiselles d'Avignon, he break's the scene's "fourth wall." And he does it just by looking.
Art at the moment of collapse
Isaac does not cry out, and he kneels in acceptance of the blow, for it comes from his father, as a sacrifice to God. The late Renaissance would have expected Abraham's rich, red cloak, the shot fabric beneath, the lifelike curls of his beard, and the equally contemporary landscape behind him. A Florentine like Andrea del Sarto had to compete with the splendors of northern Italian painting. His workshop spawned such progressive artists as Jacopo da Pontormo and Rosso Fiorentino. With his Self-Portrait in a Convex Mirror, Parmigianino, another founder of Mannerism, left perhaps the most probing exemplar of Western painting as mirror and the subject's stare to this day.
Renaissance patrons would have understood Abraham's taut gesture a moment before impact. They would have understood his sudden look toward heaven—somewhere between questioning, anxiety, surprise, and relief. After all, an angel has just tapped him on the shoulder, and his costly clothing identify him and his emotions very much with their own. They might not have expected Isaac's eyes and that direct engagement with the viewer.
If Western tradition thinks of painting as a mirror of reality, this one supplies a dizzying double reflection. The patron might have seen himself in the protagonist. Abraham stands at the center of the painting, and he dresses the part. Yet his son looks out with a more fearful honesty, like a face in the mirror.
Later versions of The Sacrifice of Isaac, by both Rembrandt and Caravaggio, dwell on Abraham's reaction alone. They describe a human drama with ethical, religious, and artistic implications. Andrea's stolid art generally has more in common with classicism, but not here. His dueling centers of attention place him in a far less certain time than the Baroque. They point to the 1520s and the birth of Mannerism.
So does my almost forgetting Isaac's nudity—and not just because a young man's private parts sound like shock art now. The painter has taken a heroic nude, with his broad shoulders and tightly defined muscles, and turned it against the confidence of early Raphael or Michelangelo. So does Isaac's pose, his right leg angled toward the painting's center, in parallel to his father's. It removes one side of the High Renaissance pyramid, as if the boy may yet collapse upon himself. You can see why, by analogy to Postmodernism, I think of Mannerism as a post-Renaissance.
The nude speaks of Mannerism's self-conscious reflection on past art and past values in another way, too. It identifies Isaac with another heroic sacrifice, that of Jesus. He kneels on a classical stone pedestal, recalling Jesus's tomb as well as a sacrificial altar. An odd swirl of brown gives the tree behind him the horizontal of a cross. Even his spooky stare may have its closest parallel in a Risen Christ by Piero della Francesca. If Caravaggio and Abraham present flawed human action, Andrea describes something at once human, inhuman, and superhuman.
Friends and neighbors
Andrea would eventually have supplied the animal that miraculously will substitute for Isaac, but he never completed this version, the first of three. Its unfinished state brings one close to a turbulent time quite as much as Isaac's eyes or Abraham's perplexity. One can see the thin, looping lines that trace out a horse in the middle distance and an attendant's troubled sleep. One can see the painter as he tinkers with the position of the angel. One can see an artist's working methods—from drawing, to positioning his actors, to harsh shadow, to thin layers of iridescent color. One can see that much more, too, because the painting has brought along a few close friends.
Of course, Cleveland has a few items left. It had better, as yet another expansion project occasioned the loan. Like the Whitney, the Cleveland Museum believes that it has outgrown its Marcel Breuer building. Like the de Young Museum, the Museum of Modern Art, the Morgan Library, and many others in just the last few years, it has hired a flashy architect, Rafael Viñoly. Yes, the museum has more than enough holdings from Europe and beyond. My own pilgrimage there, before art meant such big business, sought a monster landscape by Frederic Edwin Church. However, the choice at the Frick would form the core of any major museum.
The show's arrangement helps. Set in a tight semicircle at the end of the garden court and in the small next room, it offers a brief history of Western painting, but also an extended family. One can compare Isaac's anguished acceptance to kneeling saints from the early Renaissance, set by Filippo Lippi in a colorful, ideal garden. One can compare Abraham's flowing robe and proximity to the heavens to the compact energy of an El Greco Holy Family. One can seek out many other eyes, for almost everything on display feels like a portrait, whatever its subject.
Samson, by Valentin de Boulogne from around 1630, sure looks like one, despite the jawbone of an ass near his elbow. He, too, wears fashionable clothing. Compared to Andrea, however, the shadows have deepened and grown coherent—or at least conventional. He leans on one powerful arm, almost at ease, but his eyes look up in anticipation, a bit like Abraham's. The Mannerist man in confusion has become a Baroque man of action.
A finer loan gives the model for this vigorous darkness and the central instigator of the Baroque itself, Caravaggio. His Saint Andrew struggles not to free himself from the cross but to remain a martyr. My sympathy lies with his troubled supporters. The peasant woman, a frequent model for the artist, looks compassionate but weary, and the man fiddling with Andrew's bonds could equally well be lashing him to the cross. The fabulous light piercing the night and reflecting off a man's armor seems to have come from nowhere. One can see the artist's typically disturbing state of mind, and no other late Caravaggio remains in such fine shape in the United States.
George de la Tour, too, builds on Caravaggio's mix of divinity and peasant humanity, natural and artificial light. Saint Peter Repentant, too, looks almost like a portrait, by an artist known for his confusion of genres. As in his card sharks and other morality plays drawn from everyday life, he gives well-defined individuals the contemplative stillness of religious art.
Just looking
Francisco de Zurbarán does almost the reverse in his depiction of Mary and the young Jesus, who pricks himself while weaving a crown of thorns. It brings out how rarely Jesus turns up as an overly self-confident adolescent rather than the New Testament infant, adult, or god. The desktop looks more like a still life than like hidden symbolism. The Spanish artist adds his own two light sources—a miraculous flood over Jesus's head and a cloudy window over Mary's. However, he does not often allow himself so much space and color.
A Boy Drinking, too, could pass equally for portrait or local color. Annibale Carracci might have set it down on canvas seconds ago. Everything speaks of spontaneity—the light off the carafe, the head tilted back, the whole pressed right up against the viewer, and the remarkably thin paint. Executed around 1585, strikingly ahead of its time, it defines that key moment of discovery between Mannerism and the Baroque. It makes a nice comparison with the layered technique of Andrea del Sarto. So, in a different way, does Burning of the Houses of Parliament by J. M. W. Turner centuries later.
A few works really are portraits. Frans Hals certainly painted one, and Jacques Louis David used one for the face of his Cupid, gleefully slipping out of Psyche's bed. As late David goes, it is not too unbearably silly. A court jester carrying a pinwheel almost surely is one, too, although no one can say for certain what other meanings he may hold. Regardless, it shows Diego de Velázquez at his frankest and most empathetic. He presents the jester as an obvious simpleton dwarfed by his own stool, but also a dignified and capable moral teacher, with the painting's shallow space and measured gradations of light fully at his command.
Nicolas Poussin pulls the show's elements together, in easily the darkest of his holy families. The pyramid of The Holy Family on the Steps displays his usual obsessive balancing act. The French Academy is supposed to demand this piety, this grandeur, this care with figure painting and classical architecture. Yet this once Poussin allows more than a token humanity, and it makes the painting all the more disturbing. He sinks the hag-like profile of Mary's mother in shadow. Joseph gets the dignity of a full family member and even a writer, but he, too, lies in darkness.
Why, oh why, oh why, oh why did these paintings leave Ohio? The curators have a story to tell, about the founding of the Cleveland Museum, early ties to the Frick, and an exhibition back then that never came off. One can lap it all up, deconstruct the artistic impulses of two robber barons, or just forget the whole thing. One should not expect a theme underlying all of Western art.
However, together with finest permanent collection of European paintings in New York, they add up to quite a day. Throw in Tiepolo drawings downstairs, early Renaissance panels by Cimabue in the cabinet room, and a still life by Paul Cézanne temporarily lurking down the hall. Perhaps Western art really is about something after all—about looking. No wonder I kept returning to the intimacy and engagement in Isaac's eyes.
A postscript: watch your step
What, then, about that possible copy? In the weeks before Cleveland's most mysterious painting returned home, as it happens, one could also visit Washington for a show of Renaissance diptychs. And there the permanent collection holds a second version of The Holy Family on the Steps. Seeing the two in short order makes it more mysterious still.
Anthony Blunt, the noted Poussin scholar, once considered the Washington version the original. Howard Hibbard wrote a whole book about it, and no one who has read him can dismiss Poussin as cold and academic. The two paintings look all but identical in reproduction. Together, they offer a rare insight into how attributions change, why they matter, and what they might say about Poussin. Which painting of the steps should one call the stepchild?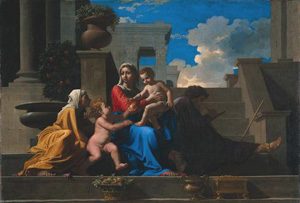 The one in Cleveland (seen here) has more naturalistic touches—such as Mary's less bloated hands, more careful anatomy in Joseph's toes, and less regular fruit and flowers. But could a copyist have improved on Poussin's first draft? In Cleveland, Mary's eyes look slightly downward and to the side, and the copy adjusts that. Yet Hibbard preferred its heavenly detachment. In person, the Washington version has chilly skin tones, and smoother masonry walls lack the clear outlines of stone. Could abrasion or fading account for that, too?
The paper trail has faded. Documents allow one to trace each version's history—but only if one can match sale descriptions to paintings. The further one goes back in time, the harder that gets.
In the 1990s, radiographs at Cleveland revealed many changes from the painting's first layers to its final appearance. A copy necessarily appears cleaner. (The Washington version has a few pentimenti, too, last-minute changes that fooled Hibbard.) Moreover, the finer flesh tones turn out to arise from Poussin's underpainting and glazes. A copyist goes straight for the results, with thicker surface layers.
The discoveries solved one mystery, but they set off a heated search for other signs. In a 1999 exhibition, Diane de Grazia and other scholars uncovered an entire artistic process. They could now trace Poussin's changes of mind in the whole structure of background architecture. In the original, one can see the tiny incisions where Poussin traced his complicated perspective. The copy lacks those, and in fact its vanishing points do not properly converge.
Stairways to heaven
All this examination showed the complexity of Poussin's architecture. It includes implied steps below the frame, as well as several overlapping buildings. One step does not quite line up beneath Elizabeth and Joseph as one scans from left to right. Perhaps Poussin has set Joseph more deeply into space, or perhaps the step jags upward a bit.
Joseph himself holds the compass and tablet of an architect or geometer rather than a carpenter. They identify him with the painting, the painter, and the Enlightenment. The likely copyist, Jacques Stella, would have approved. A friend of the artist, he had the skill to fool so many eyes. He also could have supplied the model for a print by a close relative. It diverges from both versions—but less from the one in Washington.
The copying does begin with Stella either. One can trace the theme of Mary as a stairway to heaven back to Michelangelo and his Madonna of the Steps. Poussin could have found the Madonna's pose in Raphael's Madonna of the Fish, Elizabeth's nasty profile in a sibyl on the Sistine Ceiling, or Joseph in shadow in Andrea del Sarto. The arches derive from Poussin's own image of the temple in Jerusalem.
One can even locate Poussin's many experiments with the Holy Family. One early drawing already shows the group's strong motion toward the right. For all the geometry, this painting will not sit still.
Does all this solve the painting's other mysteries? Joseph's outstretched leg and staff physically bar the way up the steps, and so does the darkness. Presumably real people can still ascend to heaven, but only via Mary herself. The vanishing point rests on her foot, with Jesus at the painting's exact center.
Still, as a reader, writer, and mere mortal, my sympathies lie with Joseph. They also lie with all these presences so close to the picture plane. Perhaps Poussin could put his faith in both Christianity and humanism, but could turn to neither for hope. Call him art's apostle for the academy, perfection, and repose. He would have disdained Andrea del Sarto's Mannerism. Yet for him, too, painting reflects the anxiety in Isaac's eyes.

"Masterpieces of European Painting" from the Cleveland Museum of Art ran through January 28, 2007, at The Frick Collection.