Behind the Lines
John Haber
in New York City
Jean Antoine Watteau at War
Arlene Shechet and Rococo Porcelain
Pierre Gouthière: Virtuoso Gilder
Perhaps you go to the Frick to escape this world. Perhaps you go to the Rococo for the same reason, with all that period's overindulgence and flights of fancy. Now, though, the museum returns to the very founder of the Rococo, Jean Antoine Watteau, only to find a world at war.
How can a museum welcome contemporary artists if it will not accept five-year-old children? The Frick may not allow children under ten to enter its quiet realm, but it has brought in a living artist, in Arlene Shechet.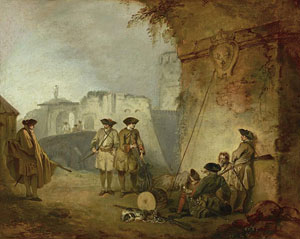 And she turns to a side of the Rococo that visitors might easily overlook, in porcelain. She also takes it as a prod to her own flights of fancy. She even returns to a setting that Watteau made famous, the garden. Meanwhile Pierre Gouthière takes the decorative arts in France through a revolution, as a gilder.
The first world war
The Frick still has the stately beauty of its Fifth Avenue mansion and a precious quiet even when it is full. (Indeed, no children!) It rewards contemplation rather than rushing from room to room. You may find echoes of yourself in a saint in contemplation of nature and divinity at that, thanks to Giovanni Bellini or to Jan van Eyck and Petrus Christus. For now, though, the Frick has Europe at war. And Watteau was there to witness it.
The War of the Spanish Succession has been called the first world war, although some might argue for the Sixty Years War during the Reformation. While the conflict largely skirted France, whose king was attempting to replace the king of Spain, Watteau had ample opportunity to go behind the lines, while still in his twenties. He could observe soldiers as not just agents of war but men. They could indulge in a moment to socialize or to themselves, in idleness or fitful sleep. The artist had little patience for images of valor anyway—like world leaders on horseback for Diego Velázquez in painting before him or Jacques-Louis David to come. In the process, he invented the moment to moment record of world events in art and photography today.
This being Watteau, it was always an extended moment. "Watteau's Soldiers" brings together four paintings and a dozen drawings, most from around 1710, to show him observing closely and reassembling his observations, without a compositional study in sight. The process helps account for his work's enormous intimacy and sadness, grounded in empathy and realism. He combines two or three figures on a single sheet, at times the same man. Then he recombines them in oil, where their gazes cannot meet. The drawings seem accomplished and composed, the paintings a panorama of isolation and inaction.
The Frick has a special fondness for the Rococo along with more stately pleasures, as with "Watteau and His World" before. It has its period rooms for the period's sillier side, with Jean Honoré Fragonard and François Boucher. And Watteau invented an era along with its antidote, starting with the freedom of his harlequins and women. Even his scenes of military life have the picturesque along with their frankness—a striking contrast to Fragonard drawings on display at the Met this very year. One may associate Watteau, music, and theater, but of course drummers do accompany the troops, and this is a theater of war. One may not expect women in their company, dressed for a day in the country, but they were present, too.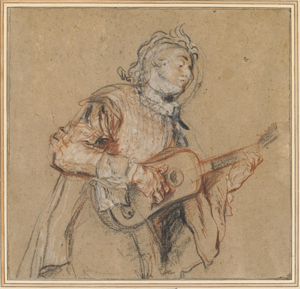 In one painting the line of war lies beneath trees, with an eye across a grassy plain to smoke and fire far in the distance. In another the supply train has darkened, with broader areas of heavy color. At times their actors interact, like a threesome that could almost be dancing or a procession on its way to safety or to hell. Just as often, though, they fall apart into a series of disparate stories—at ease, asleep, or maybe even dead. Their mix of dignity, helplessness, and reticence appears in the painted faces, with eyes as little more than points, and in the sketches, almost exclusively from the back. The show includes a Flemish precursor, Philips Wouwerman, and two followers, but there is no mistaking Watteau's honesty and rapid gestures.
On paper they run to parallel strokes in red chalk, often with the addition of darker and narrower curves to lend clarity and weight. On canvas they may range within the space of an inch from detailed figure studies to something more like cartoons. In a painting from the Frick itself, The Portal of Valenciennes, the outline of a face and disheveled hair thrown up against a wall could be shrieking in horror or pain. In chalk, a man face down could well be crying, and a kneeling figure could be praying or awaiting the whip. Still, other men have arms akimbo, pipe in hand, or rifles to their side at obvious ease. They all belong to the pageantry of war that history may choose to forget.
Bull in a china shop
O.K., artists are not quite children, although it sometimes seems that way. Jeff Koons plays the somewhat older child—at the age when he cannot quite give up his fishtank and birthday balloons but has begun to giggle at sex, booze, and money. Some critics even mistake that ambivalence for complexity. Still, who knew that the Frick would ever display contemporary art? Now it gives Arlene Shechet access to a promised gift and to the portico gallery, overlooking its Fifth Avenue garden. In the process, it may even help an artist to finish growing up.
Not that anyone can doubt Shechet's maturity. Now in her sixties, she has done much to bring ceramics into the mainstream. While art has been assaulting the idea of "that's not art" for a long time now, going back at least to Marcel Duchamp, she reflects a broad interest in craft, folk art, and of course feminism. Now an entire show can survey contemporary ceramics or tapestry, and Tom Sachs can bring his tea ceremony to the Noguchi Museum.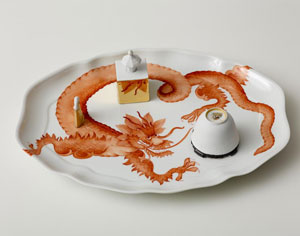 Still, Shechet has celebrated the medium's impish side, with clotted and clunky surfaces, broken edges, tart colors, and even tarter imagery. She has also brought it close to abstraction, but in clear contrast to the smoothly rounded forms of someone like Ken Price.
This time, though she is not playing the bull in a china shop. Rather, she began by entering the Royal Meissen manufactory near Dresden from 2012 to 2013, in order to study and to practice its techniques. She took up its painted and gilded hard paste from plaster molds, as well as its place in a sideboard or at the table. The manufactory's founding, in 1710, followed quickly upon the European discovery how to produce white porcelain, imported earlier from China. Back in New York she serves as curator, for roughly a hundred examples from the Henry H. Arnhold collection, pretty much all from before 1745. Are you surprised that she includes herself as well?
Are you also suspicious? Shechet is entering a precious enclave. It comes at a time when museums are giving too much space to payback to donors, by exhibiting their collections. It also comes with pressure, as Ben Davis points out, to flatter the interest of their donors in contemporary art—by museum expansions to display it. The Morgan Library has already asserted its stake in living artists, with Andy Warhol and Lucas Samaras. Is the Frick, then, just showing off?
Probably, but it is also speaking across centuries. The portico gallery alone marks the museum's gentle expansion, in place of plans to build out into the garden itself. Shechet makes use of the garden, too, siting three pieces cast from eighteenth-century molds out of doors, where they play a good game of hide and seek. She brings out the playfulness in the dignified originals, while they in turn bring out her restraint. One becomes aware of older images of dragons overrunning their place at the center or border of a dish. Her dishes look much the same, although her dragons and insects loom dangerously larger.
She also has a playful installation. Works appear in groups high on the walls, as well as in cabinets and on tables—in accord with both contemporary installations and an older era's rococo excess. Cards to locate items, rather than wall labels, challenge one to guess which belong to her. (Maybe that justifies the show's title, "Porcelain, No Simple Matter.") If you spot a figure with a jester's motley for a face, a nightcap on its head, or legs sticking out as "two right feet," you can bet on her. If the whole thing seems a little precious, it does justice to two problematic centuries at once, and no bull.
Gilding the laurel
Pierre Gouthière played a role in the foundation of the Louvre. It was not the role he wanted. In late 1797, the French Ministry of Finance ordered the sale of two alabaster vases "of mediocre quality" to help fund the museum. That description may not ring true today for the gilded mounts that Gouthière had fashioned some twenty years before. The Frick goes so far as to claim that they "capture . . . blossoming laurel . . . as if cast from nature." Yet the master gilder had seen his patrons dead, his finances in ruins, and his art a thing of the past.
It takes a leap into the past even to describe his art as nature. His subjects included the fantasy or exoticism of nymphs, dromedaries, African heads, and ambiguous gender along with leaves, snakes, door knobs, and ram's heads. They grow so intricate as to all but dissolve into a weave of gold. Gouthière may have been gilding laurel, but he was surely also gilding the lily. He met standards of realism that Revolutionary France had begun to set side, in favor of Neoclassicism. A show of him as "Virtuoso Gilder at the French Court" brings that style to life.
It offers a welcome lesson or two, even for someone like me with little love of excess. The Frick has always held furniture and the decorative arts, although one might walk right past them on the way to paintings. A commission here once shared a room with the museum's holdings of Fragonard. As its first sampling of a living artist, it has invited Shechet into its portico gallery. Now, though, it installs the gilding downstairs, in rooms more often dedicated to prints and drawings. It shows the gilder at work and on the make.
That first lesson comes with effective use of new media, from a museum that has often leapt ahead of others with its Web site. A video explains Gouthière's craft, and a touch screen allows one to flip through the results. They introduce vocabulary like firedogs (or the public face of andirons), thyrsi (or the staff of ivy and pine that Bacchus carried), and dégraissage (or paring back, from an artist with no penchant for restraint). He had a hand every step of the way, from the creation of a wax mold for bronze to gilding and burnishing. For him, chasing meant cutting into metal with tool after tool—not just to shape it, but also for a wealth of detail. That intricacy only increases over the course of his career.
Gouthière did work from designs by architects and classical models, because he played well by the game. Born in 1732, he quickly took over a patron's workshop and married the man's widow. He went around the merchant who had secured him work from the future king of Poland, put down the silversmith with whom he had partnered, and became gilder to the king of France in his mid-thirties. Where the court divided between supporters of Marie Antoinette, such as Elisabeth Vigée Le Brun, and the king's mistress, Gouthière succeeded with them both. Yet key patrons died soon after the revolution, stiffing him, and he hardly worked again until his death, bankrupt, in 1817.
He shows no sign of fatigue. The curator, Charlotte Vignon, opts for neither chronology nor theme. Like Gouthière, she pretty much piles it on. One can spot clearer masses early, but in time Greek porphyry, green marble, and Chinese porcelain must compete with fine leaves and chains. A dromedary's hair rises like flames, as if from Gouthière's sconces, incense burners, and firedogs. "Form follows function" is a distant dream away.

"Watteau's Soldiers" ran at The Frick Collection through October 2, 2016. Arlene Shechet and the Arnhold collection ran through April 2, 2017, and Pierre Gouthière through February 19. Related articles look at "Watteau and His World," more on Jean Antoine Watteau, and a concurrent exhibition of Guido Cagnacci.