Out of the Margins
John Haber
in New York City
Eugene J. Martin and Black Abstraction
Melvin Edwards, Barbara Chase-Riboud, and Kianja Strobert
This has been a time of rediscovery for artists too long on the margins. The subject of renewed attention since his death, Eugene J. Martin appears at ease with both Modernism and a particularly African American art. Characters slip in and out of his abstractions like old friends.
Melvin Edwards and Barbara Chase-Riboud are two further reminders to treat African Americans as critical to the mainstream, even were the followers of Donald J. Trump not determined to shut them out. They, too, are grounded in Modernism and resolutely abstract. Yet they in turn ground Modernism in a broader history, from slavery to Malcolm X. They appeared in "Witness," a show about the 1964 Civil Rights Act at the Brooklyn Museum, and both were in their mid-twenties at its passage.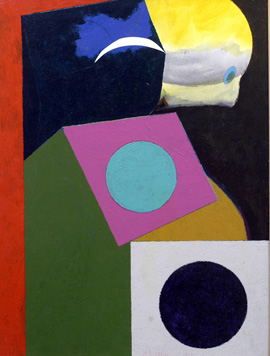 Fifty years later they are still bearing witness, in gallery exhibitions on a scale that a museum would envy, only much of what they see lies within. As a postscript, a generation later Kianja Strobert asks to be resolutely modern.
Passing through abstraction
Black artists may have been marginalized, but one can no longer dismiss them as outsiders. They have been as central to Abstract Expressionism as Charles Alston or Norman Lewis, whom the Jewish Museum has paired with Lee Krasner. They have been as central to the shaped canvas of the 1960s as Al Loving or Sam Gilliam. They have been as central to the space between abstraction and representation as Hale Woodruff or Beauford Delaney. They have been as central to the full recognition of women artists as Howardena Pindell or Alma Thomas, and they are central to art today. They have become stars in their own right, like Nick Cave.
The distinction takes on special urgency for a black Southern artist only now gaining his due. Eugene J. Martin almost fits the fashion for outsider art, and if that will help others discover him or Stanley Whitney, terrific. Yet nothing is half as naive as it may seem. Martin sometimes described his art as "satirical abstraction," knowing full well that it is not at anyone's expense. Still, the label does get at the seriousness, the comedy, and the eclecticism. It gets at his enigmatic figures and the defiantly abstract space in which they live.
Born in 1938, Martin studied at the Corcoran in Washington, D.C., and his work makes plain his knowledge of Cubism, including its spatial density and collage technique. Yet he also knew the bolder colors and outlines of a postwar American art that begins and ends in abstraction. His drawings, in overlapping curves of graphite or pen and ink, treat black and sepia as the rich colors they are for him as well. Black Southern art can hardly avoid questions of identity, and Martin's color contrasts also resemble those of Jacob Lawrence and Romare Bearden. He started out playing jazz, and one could call that a key influence, too, as with the artists in the Whitney's "Blues for Smoke." He worked quickly in both acrylic and collage, like a born improviser bouncing off others in a band.
For him, art cannot leave personal experience behind. That may be why a figure keeps making an appearance in Martin's work, even at its most abstract. Truth be known, he does not look much like the artist, but then Martin had more than his share of personalities within a single work, and they get along just fine. He is the frog peeping out from the side way back in 1969, the black silhouette lording it over an oval in 1972, and the man in a bow tie caught up in clashing geometry from 2000. To judge by early titles like Detective Jones or Food and Drugs, he could be on either side of the law. He could be wielding what looks like a hammer, in another work from 2000, before deciding whether abstraction can survive the blows.
Now that abstraction is back, big time, but often touched by representation, Martin's questioning is newly relevant. One could imagine his canvases as Martin Puryear in two dimensions. Or one could draw a direct line to geometric abstraction by such black artists as Odili Donald Odita. Like many younger artists, black and white, he might have leaped straight from the clarity of an earlier Modernism to American Pop Art and the graphic novel. (Well, some of those floating fields of color do have a parallel in Hans Hoffman.) One can see him putting abstraction through its paces, but with plenty of interruptions along the way.
Paintings from the 1990s, just before and after Martin moved to Louisiana, have a newfound energy, but also a greater simplicity. Their ground now looks like a grid, although a line of one color might leap across a rectangle, over a brushier green, to land on the other side. In his last years, before his death in 2005, his art becomes sparer, purer, and also less regular. Its subject might be a single descending brushstroke, but then Martin's real subject was painting all along. Does that just add to the ongoing riddle of whether one can distinguish an African American abstraction—and how? One might look for answers starting here.
Still bearing witness
Melvin Edwards and Barbara Chase-Riboud have both worked on public monuments, although Chase-Riboud also intends her series as sculpture for its own sake. Edwards completed his Homage to Poet Léon-Gontran Damas in 1981, for the State University of New York at Purchase. Damas, a founder of the Négritude movement of the 1930s, sought to affirm black identity in opposition to French colonialism. The monument's circle, touched by uprights of welded steel, quite literally looks to Africa, taking its orientation from the sun. And his latest show attests to over forty years of engagement with Africa, in his travels and with a studio in Senegal since 2000. He incorporates machetes and shackles in small constructions hung from the wall spanning fifteen years alone.
Chase-Riboud, too, exhibits two broad bodies of work. Pencil sketches from 1997 proposed public monuments, while steles of bundled silk and bronze from roughly 2007 pay tribute to Malcolm X—as do bolder and larger monuments woven and cast for a second show three years later, in 2017. A patina of black, red, or gold brings a shine to fine threads and thickly knotted cords, which mask the work's support. Other steles take fabric as their subject as well as material, with a majestic robe for Chairman Mao or the stripes of a golden flag. She calls the earlier of her two shows "One Million Kilometers of Silk." I lost count, but I can well believe it.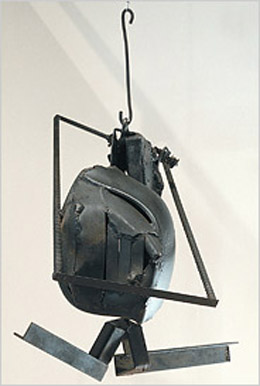 Both remain close, too, to late Modernism, much like another African American sculptor, Richard Hunt. Edwards relies on the same processes as Mark di Suvero. He also shares with di Suvero, a founder of Socrates Sculpture Park in Astoria, Queens, a dedication to communities. For all his allusions to Africa and the slave trade, his materials belong to urban America as well. One recent series clusters its welded parts at the center of four-by-four wire grids, another on disks curving outward like hubcaps. They relate both to formalism and to the streets.
Chase-Riboud shares her dark mysteries with white artists herself, like the steles and Surrealism of Louise Nevelson or the craft and knotted fabric of Sheila Hicks—and she has lived in France for much of her career while casting bronze in Italy. Does she assert a woman's pride as well as an African American's in exile? Does all that blood red and shimmering gold have something to do with sex? A writer as well as a sculptor, she is best known for a novel about Sally Hemmings, Thomas Jefferson's mistress and slave. And the subjects of those unfinished monuments run to the Marquis de Sade along with Nelson Mandela. Signs of bondage have more than one history.
Among the LA artists in "Now Dig This" in 2013 at MoMA PS1, Edwards was at his most abstract. Yet the title of his contribution alluded to the Watts rebellion. Chase-Riboud has her share of white role models, with proposed monuments to Lady Macbeth and Oscar Wilde as well as Malcolm X. Yet her overpowering sensuality also parallels African totems in women's shoes for Willie Cole. Their reshaping of materials brings Edwards and Chase-Riboud closer to one another as well. Her silk takes on the solidity of his steel as if it were the work's base, while he called a work from 1966 Cotton Hang-Up.
The question keeps recurring: is there a uniquely black abstraction, and is it then any less black or any less abstract? These artists move easily between Post-Minimalism and the world, with no apologies for either one. Her monuments may have no obvious relationship to their subjects, but her silk and bronze still trap one in their tangles and their shine. Both artists deserve much more credit alongside their white peers. Now, at last, Chelsea takes note.
Black materials
Kianja Strobert makes abstract painting the old-fashioned way, with surfaces to die for. Her powdery blacks recall the days when artists ground their own colors—and her gold when nothing less would do. Pigment presses to the edge and then some, as an extension of her own hand. One can see her traces in lighter compositions, like finger-painting, with signs of a tabletop or a horizon line. One can see them, too, in the thickest and brightest colors, often red, their irregular outlines like an impulsive afterthought. They allow her, as one title puts it, her Archaism and Ecstasy.
Her surfaces imply a certain impulsiveness, too, in how they get started. What look like oils on canvas are works on paper, and the ground black is powdered graphite. Strobert might have started with working sketches, in pencil, and refused to let go. That refusal has led to a density of materials, practically none of them amenable to a brush. They include ink, graphite, acrylic, oil stick, and enamel, but also sand, dirt, pumice, beeswax, and bone. If they have anything in common, it is an appeal to the sense of touch.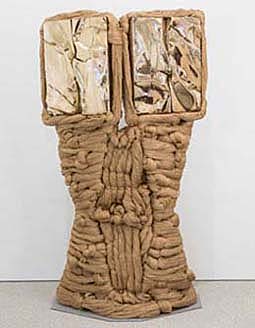 Strobert's two dozen works the size of modest canvas date entirely since 2010. The oldest are relatively flat and bright. Some then thicken, with more powder and impasto, while others thin out, exposing paper according to the movement of her hand. The most recent add glitter, as well as the occasional title. Fifty-one smaller sheets on brown paper look more obviously like drawings. Their descending strokes rarely stick to straight lines.
Some recent work also adds imagery or words. The imagery hints at people. Still, the people probably have more to do with the artist's presence than narrative, and ampersands leave things open-ended. Even when she paints on newsprint, the result looks resolutely abstract. The text, too, appears to refer to the artistic process and emotions, as with asplinter. Maybe yet another artist has arrived—and she did exhibit among emerging artists at the Studio Museum in Harlem and in the 2012 art fairs.
Is there a distinctly black abstraction? Not necessarily, although such artists as Edwards have no trouble using formalism to assert their African American identity. For Strobert, though, the question seems hardly even an issue. She appeared in a show of conceptual art in Harlem, with a wine stain, but her primary reference point is still "action painting." Chicken bones could refer to dietary practices, but mostly they just look bare and exposed, much as the powdery graphite can look like ashes. These are surfaces to die for.
Strobert's old-fashioned exuberance makes it hard for her to stand out, amid a wealth of abstraction both derivative and conservative. For all the repeated verticals and imagery, her strength lies in neither formalism nor imaginative leaps between abstraction and dreams. Pigment matters more than compositions, and the transformations are still first and foremost of materials. They supply the discoveries, and they make one aware of someone behind their presence on paper, but are they enough? Her surprises may turn to be a part of a longer search for an artistic identity. Four years of surfaces may be only a start.

The essay on Eugene J. Martin appeared in a slightly different form in the catalog to accompany "Eugene James Martin: Favorite Blues" at Beta Pictoris / Maus Contemporary through October 31, 2014. It replaces an earlier review of Martin's first New York solo exhibition, at ASC Projects / Gallery 304 through September 30, 2013. Melvin Edwards ran at Alexander Gray through December 13, 2014, Barbara Chase-Riboud at Michael Rosenfeld through January 10, 2015, and Kianja Strobert at the Studio Museum in Harlem through March 8. Chase-Riboud's powerful series for Malcolm X ran at her gallery through November 4, 2017. The review of Strobert first appeared in a different form in Artillery magazine.