Projecting Bearden
John Haber
in New York City
The Bearden Project, Kira Lynn Harris, and The Block
When Romare Bearden looked at the black community, he looked with passion but not reverence. He looked at Modernism the same way. "The Bearden Project" and Kira Lynn Harris look to him for inspiration. Together with his own The Block, they help sort out whether his community and his Modernism still matter to the present. As a postscript, I sum up what came after—a stripped-down version of "The Bearden Project" and the other projects in "Shift."
Bearden did look to the community and to Modernism. (A related review looks in depth at how he did it, in a 2005 Whitney retrospective and in collage.) He took Cubism's crisp edges and sudden leaps of the imagination, and he gave them jazz rhythms. He rooted art and jazz in a place and time, but a shifting place in time, from North Carolina to Harlem streets. And he saw them not solely as an odyssey, but as a different kind of journey altogether—into the space of memory. As much as anyone, he could present the lives he lived and the lives he knew as an African American culture.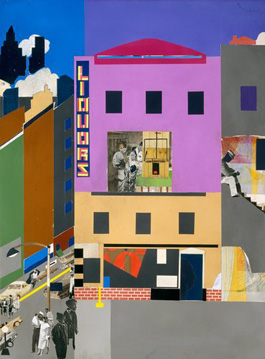 Influence as history
"The Bearden Project" looks at him in very much the same way, too. The project gathers a single work each from a panoply of living artists (nearly fifty so far and growing), all inspired by Romare Bearden. While it missed his September 2 centenary, portions will remain on view through that date next year, and the online selection will continue to change as well. It sounds like a formula, and it is. At least it would be anywhere but at the Studio Museum in Harlem, which propelled the careers of more than a few contributors. If it seems like just another survey of African American art or just an extension of the permanent collection, that is the point.
Of course, a show like this raises an old question, especially after Bearden's own practice of collage and appropriation. Does a copy or a tribute say more about the original or the present? Derrick Adams even calls his work Self-Reflective, and his customary animations put that, too, in quotes. Or does the distinction vanish over time as the presence of the original grows stronger? "The Bearden Project" makes the case for just that. It seeks not the anxiety of influence, but its breadth.
The two lone works from Bearden himself point in at least three directions, as well as to both the generation after him and to the present. Set beside an image of two women, his Conjure Woman belongs to the sequence he called Prevalence of Ritual, and three more examples from 1974 just happen to hang in a show upstairs. Back downstairs, its resounding blackness leads straight to Jack Whitten's dark clotted 1988 painting, marked by tire tracks and footprints. It also hangs near Robert Pruitt's 2011 Conjuring Woman, with a communications tower sprouting from her head. Together, they show Bearden at his most Homeric and spiritual, abstract and painterly, and contemporary and fantastic. In different ways, too, they reflect on the "Spiral" black artist collective from the 1960s, of which Bearden and Whitten were a part.
Naturally the older artists pay tribute the old-fashioned way. Faith Ringgold frames a portrait of Bearden, with (I presume) his cat, with her folk-art style and the words We Love You. John Outterbridge mixes collage, biography, and African American history, with allusions to slavery in rural shack, African emblems, and a poster warning escaped slaves. For younger artists storytelling predominates, but the stories grow more elusive. Leonardo Drew assembles a Polaroid grid of faces on a black curve of wood, perhaps a former chair back, and Vincent Johnson has mere silhouettes. Rashid Johnson presents a couple in a snapshot torn from a reproduction. Oh, the lives they led, but one can only imagine where they lead.
Some of the artists seek a shared history, sometimes beyond a uniquely black or southern art. In Sleepy Time Down South, by Rodney McMillian, a bare hint of the full moon shines through thick dark latex, vinyl, and acrylic. Glenn Ligon devotes his collage to Pittsburgh, where Bearden lived, with military presences that may allude to the older artist's World War II service. Both men, they seem to say, once dreamed of an elsewhere—like Jacob Lawrence with his own African American odyssey. If the entire show serves as tribute and confession, Lyle Ashton Harris identifies with that, too. His narrative stretches across three pages, like collage disassembled, ending in a fan letter to him.
Politics is present, but one has to look for it, and like Bearden it tends to leave anger behind. Stacy Lynn Waddell has a sailing ship out of the slave trade, but under a blue sky. Her tropical isle sketched in brown curls may also hint at St. Maartans, where Bearden sometimes lived and worked. Meleko Mokgosi has a grainy print of a "boy" being fingerprinted, while Edgar Arcenaux pictures a wall with an opening and a light tower—like a border crossing to somewhere known and unknown. Sanford Biggers inscribes his work May 1, 1865, after the first Decoration Day, when freedmen celebrated beside the graves of the fallen. A silhouette darts across a flag composed of small colored circles and far too many stars.
Block parties
A few prefer media and installations that Bearden never experienced. The collective called Matriarch scatters shells at the foot of a "skyscraper" of stacked books, clouds, stock-market quotes. Charles Gaines's stenciled text may quote Bearden, but in an unreadable blur that derives from both Dorothea Tanner and the "Pictures generation." Nadine Robinson merely supplies the URL for an audio montage. Kori Newkirk sets out small paint cans, each hand painted and attached to the wall by strings. One can see art itself as a game of telephone between Bearden, the artist, and the viewer.
Most, however, work in collage, like their hero in the decades before his death in 1988. And that is where one sees most clearly how much has changed since African American artists like Bearden or Eugene J. Martin. For one thing, the world has grown brighter. Shinique Smith is light, colorful, and personal. Julie Mehretu uses collage for a rare touch of color across her graphite weaves. David Driskell's Palm Sunday has the translucency of stained glass.
For another, it is more of an inner world, with Bearden's conversational tone giving way to reflection. Dominique Moody even calls her scene Windows to the Soul, and it looks onto a baby and a bird along with the street. For still another, it is far less a man's world, and women are far more than mythic conjurers. They include Kerry James Marshall with Woman at a Window and Mickalene Thomas framed photos of one woman, perhaps herself. They include Lorna Simpson heads with hair flowing not in tight black curls but outward and upward in colored ink. In David McKenzie's Nefertiti's Holiday, they have become queens.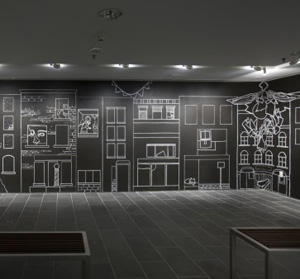 They may want another Harlem Renaissance, but for a larger and younger black middle class. Hank Willis Thomas updates Bearden's The Block with paper cutouts for modern row houses and joggers. It has become a real neighborhood, with the isolation of the ghetto left behind. Xaviera Simmons gives Bearden's politics and music the urgency of now. Her two prints come together like mug shots, but with the faces masked by a book by Malcolm X and a record by Nina Simone. Even in their echoes of the past, Njideka Akunyil old-fashioned couple dancing are innocent and alive.
It would take more shows to expand on the possibilities—and there are and will be more for the centenary. The project Web site lists quite a few. Yet the show has a sense of an ending where one would least expect it. Downstairs, the museum's project space has another imagining of The Block. Kira Lynn Harris takes on all these themes, updating Bearden's 1971 mega-collage for a contemporary setting. Make that a contemporary setting twice over, as site-specific art and a more familiar New York.
It is also black twice over, in its subject and in white lines on four black walls in place of Bearden's sharp color, like chalk on a blackboard. Bearden represented a church, a grocery store, a barbershop, apartment buildings, and the people of Harlem. The Block (Bellona) has them all, but as glimpses of private lives in the night. They include lovers, a woman leaning out in contemplation, the lives behind a window shade, and an angel descending. One can almost hear the sounds of passing traffic, but also the silence. They take Bearden so far into the present that sleep will come like an eraser to sweep them away.
Blockbuster
After the tributes in "The Bearden Project," one just has to see again the real thing. And the Met has an entire block, as its part in the Bearden centennial. Make that The Block, in all its six panels and eighteen feet. One expects to go back in time or into myth. One expects to see people together, because Bearden saw entire lives as a thousand rituals. And one finds them, too, but one may not expect the rough edges or the darkness.
As eighteen-foot murals go, this one looks quite small. Maybe it has to, with Lennox Avenue (seven blocks north of the Studio Museum today) transported to the stately Upper East Side. Maybe it has to, too, in a corridor outside the twentieth-century wing, like the one that a floor above serves as a gift shop. Surely it has to after Harris's riff on it uptown, on four surrounding walls. Still, Bearden must have meant the intimacy, in breaking things down into separate works on paper. He had learned early on from the Mexican muralists, like Diego Rivera, but he will not elevate day-to-day suffering by identifying the work with the wall.
Of course one expects the color, for this is Bearden and collage. One may not expect how often he muted it, whether in black-and-white clippings or, especially in the second and third panel, scraping things down. Not just at a funeral, but also in their moments of leisure, men and cars are in black. From the silhouette of buildings beyond the rooftops or the people in bed, it could be night. From the color, the activity, the boy and girl playing tag, or a mother and child on the street, it could be day. From the figure sleeping out on the sidewalk or the yellow circle of sun or full moon, it could well be either one.
It is by no means a simple journey into and out of night, like another version of his Odyssey. One does not expect Harris's dreaminess and inner lives, for Bearden was an extrovert in his art, but this time he omits the jazz musicians and jazz rhythms. Crowds never quite come together, and the funeral mass sways as in a slow dance. One does not expect the contemporary community in the cutout block in "The Bearden Project," by Hank Willis Thomas, for this is Harlem forty years ago, but here Bearden leaves out his prophets and conjure women in favor of a liquor store and a barber shop without a quartet. Each scene could be a collection of case studies, and at age sixty the artist was only recently still a welfare case worker. He must have paid attention.
Harris turns out to pick up pretty much all her motifs after all—the diagonal traffic, the couple making love, the figure leaning out, the shades pulled down, and even the descending angel. In fact Bearden throws in a good seven angels, in one surrounded by four more like a Baroque Madonna, another above seated on the roof, and yet another invading someone's room. Still, the first seems more comedy than salvation and is all but rubbed out, the last is reduced to argument, and the one above is just taking a rest. The faces in the windows are half barred by the shades, desperate, or impassive, and a head like an Easter Island totem bars a door. The lovemaking comes close to violence, and others in bed are not getting much sleep. The only kids with time to relax are watching TV.
One can see Harris and Bearden as both representing silence, but for one the silence of reflection and the other of muteness. Even Bearden's Baptist Church looks silenced. Collage or abrasion makes pretty much everything else, too, look peeling or boarded up. The flea-bag above the liquor store has a giant mousetrap and a man in boxing gloves. One knows all the elements, the colors, and the rituals, but the glibness of just another Bearden pretty much vanishes up close. For all that, nothing boils over into conflict, and a full block has all the components of sustained life.
A postscript: life after Bearden
Even a museum needs a break now and then. "Shift," feels less like an exhibition than spring break, and its "Projects | Perspectives | Directions" feel left over from something larger. And mostly they are, but the others on display are just hanging out as well. If the seven "autonomous projects" are not all projects or autonomous, fine. If the one project not formally part of the exhibition fits quite well, cut them a break there, too. It does, after all, represent a collaboration with a space alien.
No doubt the artists deserve a break. Nayland Blake has been giving the appearance of innocence a mean streak for a long time now. He finds funny, sadistic, and sexual undercurrents in childhood toys that would do Freud's dreams proud, from a makeshift noose at the end of a sock to full-scale bunny suits. Here, though, the sketches in The Grind are just that, sketches, and he seems not so much to be thinking aloud as not thinking aloud. Jacolby Satterwhite has a more contemporary style of play, like a video game for the artist alone. He models his digital environment, somewhere between a disco and a playground, after his mother's drawings, before inserting himself multiple times dancing. He means Country Ball 1989–2012 as an exploration of black motherhood, madness, and his own gay sexual identity, but it has a hard time carrying that weight.
The museum, too, deserves a break. It has kept discovering artists and giving them space to work—or, in the case of a video this winter by Rodney McMillian tearing apart a futon, a place never to rest. It has reached out to a remarkable number of artists, as part of the Bearden centennial, and the side room still has a stripped-down version of "The Bearden Project." While the remaining tributes to Bearden are nice enough, like a blue abstraction by Demetrius Oliver no doubt related to his optical distortions, they also seem less relevant now to Romare Bearden. Another "project," selections from the permanent collection hung Salon style on just part of one wall, could have turned up anywhere. At most it has a slightly more contemporary slant, even with a big piece by Norman Lewis, than the collection in its usual place downstairs.
Sisters, by Lorraine O'Grady, is cut down, too—a selection of four diptychs from her 1994 Miscegenated Family Album, which pairs photos of ancient Egyptian sculpture with portrait photography. Maybe I am just imagining it, but even the change of name goes with its piety, as labored as her pairing of Michael Jackson and Charles Baudelaire in the 2010 Whitney Biennial. As for the space alien, he looks not so much silent as lost. Ralph Lemon met up with Walter Carter in Mississippi, at nearly one hundred, and made him the star of a video—walking a long road in an improvised space suit and dancing slowly with wife. I would like to say that it makes more sense than it does, and I would like to say that the accompanying photos look less like mere documentation of the video, afraid not.
John Outterbridge can at least claim a little autonomy. The Rag Factory is cut down only in the sense that it travels directly from citywide projects in LA. Colored rags form a pillar or partition, connected to facing walls by twisted black cloth. Draped over a small pool of white and color, it has the peace, fragility, and ambition of his self-portraits in hair. Something even more mysterious descends from floor to ceiling, two parts of a thin blue line that meet above eye level. One has to go upstairs to discover that they are audio cables, like the loops of black cables knotted against the wall. Jennie C. Jones, who was among the museum's emerging artists in 2001 (with more coming up in the very next show, "Fore"), plays with Minimalism's geometry and industrial materials, but with a personal touch as well associations with music that "The Bearden Project" might emulate.
A pedestal has silvery Song Containers, in brushed aluminum that also goes beyond Minimalism or music. Jones chooses the parts of obsolete media that held liner notes, accentuating the silence. The imitation album covers, paper inserts for cassette tape, and eight-track boxes come in pairs that make them spookier still. Yet the winter's one surviving installation holds the starkest silence. Kira Lynn Harris's The Block looks even better now, maybe because I have since seen Bearden's original at the Met. Somehow, she picks up only his motifs, in chalk-like white, while giving the four black walls over to a more contemporary city and the night.

"The Bearden Project" ran at the Studio Museum in Harlem through March 11, 2012, Kira Lynn Harris and "Shift: Projects | Perspectives | Directions" through May 27. "The Block" ran at The Metropolitan Museum of Art through January 8. A related review looks at more of the work of Romare Bearden himself.