The Photographer as Curator
John Haber
in New York City
Emmet Gowin and Piotr Uklanski
Two impressive exhibitions take the long view of western civilization and the earth. In one, a distinguished professor of visual arts guides one through a museum's seemingly limitless collection, from ancient Syrian and Mesopotamian reliefs to the present, with particular depth in European drawing. The other surveys an influential photographer who taught at Princeton for thirty-six years until his retirement in 2009. He draws on a deeply felt affection for his wife, his children, and the plain sense of things, but also a formal sense and an urge to experiment.
Both shows introduce bodies of work little known to a wider public—or even to many with an interest in art and photography. Oh, and did you guess that they are the same show? At least they share the same gallery at the Morgan Library, sometimes uneasily and sometimes with startling insights. "Hidden Likeness" intersperses nearly sixty objects apiece from the Morgan and Emmet Gowin. Nor it is alone in allowing a photographer to play guest curator. At the Met, Piotr Uklanski gets both to show off his photographs and to dive into the collection—but there in separate displays and with little but the artist's ego to gain from both.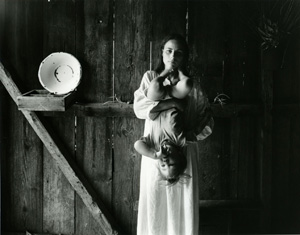 Out from hiding
The title "Hidden Likeness" quotes Jacob Bronkowski, the biologist and historian of science, who argued for art and science as ways of making sense of the chaos and multiplicity of the natural world. Its hidden unity is out there, waiting for humanity "to seize it" and "to make it for ourselves." Of course, that points to hidden likenesses between art and science, too. Now Gowin and the Morgan look for likenesses between each of those and photography as well. They make clear that photography has long been in service to both art and science. And then they look back to ask what images and ideas shaped the collection and the photographer.
Born in 1941, Gowin studied with Harry Callahan and Aaron Siskind, with further influence from the restless eyes of Robert Frank and Henri Cartier-Bresson. Like Callahan, he focuses on family portraits and landscape. He came to attention with frank but sensitive photographs of his wife, Edith—some twenty years before Sally Mann put her family on display in much the same rural Virginia. Like Callahan, too, he has experimented with double exposures and other devices to make the familiar strange and the strange familiar. Like Siskind, who photographed peeling walls and details from nature, he favors contrasting light, shadows, and textures in black and white. They have had him crossing the continent by air and closing in on the rain forests of the Americas butterfly by butterfly and leaf by leaf.
Gowin calls them "working landscapes," with the land as his workspace and the landscapes as a work in progress. They are working landscapes, too, in the sense that nothing he sees escapes a human imprint. His aerial photographs could almost represent a single place, but they range from farms and mud flats to traffic patterns and a nuclear test site—and he has exhibited them before as "Changing the Earth." The slopes of Urbino hang pointedly above the dense and crumbling fabric of the city. One can see why he relished the chance to dig into the Morgan's collection. Others, he makes clear, have been here before him.
The Morgan's curator, Joel Smith, in turn had free access to Gowin's prints, with intriguing results. Any doubts that Edith's face, etched with rain or the flight paths of insects, expresses tenderness and not just a science experiment? Her image hangs next to the softness of charcoal and chalk by Odilon Redon, prehistoric gods and godesses, naked flesh from Paul Gauguin, and delicately clothed women from Hendrick Goltzius, Edgar Degas and Degas prints, and Jean Antoine Watteau. The terrors of the Behemoth and Leviathan by William Blake, from the Book of Job, lead to a photo of copper tailings from a mine. A sketch by Sandro Botticelli for an Adoration of the Magi precedes an otherworldly double exposure. Gowin says that it came about by accident, when he left film in the camera after a death in the family.
The artist in him finds parallels to open landscapes in Claude Lorrain and to fallen towers in a Renaissance Apocalypse. The scientist in him finds parallels in the careful observation of Samuel Palmer in watercolor and in a specimen case in Panama. A circle of foliage parallels a decorative border by Giovanni Battista Piranesi, while Gowin's kids in a backyard pool parallel the infant Moses at sea in a basket for Gustave Doré. Color is rare but striking, in the heightened contrasts of an aerial photograph and a red dahlia for Piet Mondrian. Other contemporary photography appears just once, with twins by Peter Hujar. There, too, Gowin is thinking in terms of likenesses.
Yet likenesses can be leveling, like a fifteenth-century court fool next to a nineteenth-century Native American, who might not have appreciated the compliment. At some point, anything can resemble anything—or nothing. A case for illuminated manuscripts, musical scores, and a drapery study by Lyonel Feininger lead exactly nowhere. One could be listening in on a master teacher or just putting up with a lecture. It speaks to the sensibility that shaped the photographer, but it can make the unwary forget that the pairings followed, rather than inspired the photographs. Maybe two impressive exhibitions are dying to break out after all.
Solidarity for suckers
Solidarity forever? Not for Piotr Uklanski. Two enormous banners overhead display the Polish movement's emblem, with human beings as their pixels. As the actors peel away from the shipyards in Gdansk, so does the heart of the image, but why, and does Uklanski worry about details like meaning? Does he celebrate human freedom, like Solidarity itself—or reduce people to analog nonentities? Has the movement dissolved in triumph, with the fall of the Soviet bloc, or succumbed to rampant capitalism? Is the market even an enemy, for an artist able to command the Great Hall of the Met?
For Uklanski, Communism may not deliver on its promises, but his career can match the forward march of history. The banners recreate his "living photographs" from 2007 on a grander scale, as part of a retrospective of his photos. Now based in New York, he is happy to lay claim to his native Poland, as with Solidarity's raised fist paired with a duly kitschy Christmas crèche from 2008. For the 2004 São Paulo biennial, he had already boasted an aerial view and a cast of thousands, all Brazilian soldiers, for the Polish-born pope in profile. Did he care one way or other about that pontiff's thorough conservatism—or only about commanding an army and an art fair? Other photos document Poland's performance scene, but as jumbled and anonymous as everything he touches.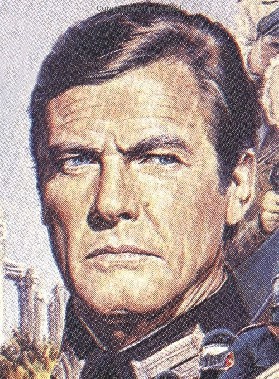 For a bad boy of the art world, solidarity is for suckers. Born in 1968, Uklanski got off to a racing start in 1993, with a spread for Artforum—accompanying text by Alison M. Gingeras, a writer and curator, with a photo of her behind. The Met would like you to know that it derives from the critical spirit of Lynda Benglis, who famously posed nude in the same magazine with slicked hair, a cocked arm, a confident sneer, and a dildo. Yet Uklanski is hardly making a feminist statement, no more than with his skull composed of naked bodies. He owes more to Pierre Molinier and Surrealism, only clumsier. To the extent that he comments on the art world, it is on behalf of networking, for he and Gingeras were a couple.
"Fatal Attraction" looks awfully small for a retrospective—all the more so since most of its thirty works belong to The Joy of Photography. The series recreates an old guide to photography from Eastman Kodak, with a misty waterfall, an ungodly yellow sunset, and more. Still, the curator, Doug Eklund, insists that this is a "labor of love." Uklanski does not just rephotograph stock subjects, you see, like Sherrie Levine or Richard Prince. Rather, he mimics their rude excesses from scratch. No doubt he loved the clichés and shiny surfaces of his 1996 disco dance floor, too.
Of course, he is also deadly serious. One needs a reputation for that, too, to appeal to museums and collectors. And, sure enough, love and death come together at last in a second installation, of works from the Met's permanent collection. The artist's choices, not necessarily photographs, have to do with yet another less than feminist statement—the hoary idea of sexual rapture as a kind of death. The tributes to eros and thanatos (that love fest for Sigmund Freud or Egon Schiele) include some nice objects at that, from death masks that Ralph Eugene Meatyard might have envied to a doll with a gun for a head as photographed by Laurie Simmons and The Accommodations of Desire by Salvador Dalí. If some look embarrassing and overblown, like red-splattered gunk for a beaten and bloodied heart, they are Uklanski's own. And if they are hard to identify in a salon-style hanging, hey, this is his show and not theirs.
He succeeds most at shocking. Yet the shocks treat sexuality and politics alike as fodder for him to show off, rather than subjects their own right for critical attention. Uklanski also contributed to "Mirroring Evil" in 2002, a show about artist responses to the Holocaust with more than enough shocks of its own. His grainy appropriation of actors playing Nazis purported to prove how TV and the movies shape memories of the unspeakable. If one fails to recognize the head shots, though, maybe pop culture did not do such a good job after all. And if one does recognize them, one has seen through the artifice—and belongs, in solidarity with the artist, to the right club.

Emmet Gowin ran The Morgan Library through September 20, 2015, Piotr Uklanski at The Metropolitan Museum of Art through August 16. The latter review appeared in a slightly different form in New York Photo Review.