Lost in Space
John Haber
in New York City
Summer 2007: Irony and Space
Just when the city empties out, galleries have a way of filling up—for those long, lazy summer days of long, lazy summer group shows. A loose, baggy effort might start with the usual gallery artists or just a loose, baggy idea. It will not make perfect sense either way, but it can offer an entertaining window onto a dealer's mind. This summer, more than one curator made it look easy.
Ah, those summer group shows. If anything defines Modernism, it has to take into account irony and a space beyond representation. And Modernism never quite seems to go away. Together, then, irony and space should allow a gallery plenty of room to play.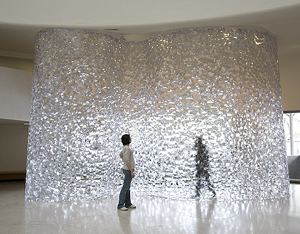 Two group shows, "Ardor and Irony" and "a point in space is a place for an argument," do their best to exhaust the possibilities. Even museums may want to get into the act. A lazy summer group at the Guggenheim calls itself "The Shapes of Space," adapting its name from a silvery curtain of lenses by Alyson Shotz. It could stand a little more shape and a lot more irony.
But seriously, folks
Bellwether adopts perhaps the loosest and baggiest idea ever, irony. The term of endearment can mean anything from satire to skepticism to an embrace of lived experience in all its ambiguity and openness. Prefer the precision of the New Critics? How about deconstruction's distrust of "master words" or the fierce detachment of early 1990s appropriations? You can take your pick—or just leave the question open. Irony means just that, right?
These days one may hear that irony is dead, just like painting not so very long ago. Indeed, it says something about the times that João Ribas and Becky Smith call their plea for irony "In Defense of Ardor." What happened, they demand in opposition to "corrosive cynicism," to the joyful irony of Schlegel, Mann, and Kierkegaard? Or, as Woody Allen put it, how is it possible to find meaning in a finite world, given my waist and shirt size?
Speaking personally, I have no clue what happened to Schlegel, who still never returns my calls, and I find Death in Venice as corrosive and hard to finish as the next person. As for joy, Kierkegaard captured the Fear and Trembling in Isaac's eyes and the knife in his father's hand. Ironically, the very term bellwether derives from the bell around the neck of a castrated ram. And the artists here seem not to be having much fun either. As Julieta Aranda puts it in her painting, "I have lost confidence in everybody in the country at the moment." I feel the same way, and the gallery has still another summer group show to come.
In her past videos, Nathalie Djurberg, like Natalie Frank, has brought naughty sex to fairy tales. This time, pain no longer implies arousal. A child tempts the affections of a cat, before grabbing it by the tail and whirling it through the air. Dana Frankfort's Jewish Star looks equally grim, with the harsh yellow of the ghetto stigma and of German Expressionism. Otto Muehl depicts "military training" as akin to a frat party. Jonathan Meese suggests the Passion as seen through the eyes of Georges Rouault.
Even here, however, one had better attend to the consequences of irony. Aranda's Portable Graffiti could speak for everyone and no one. Frankfort's paint smears could protest the marker of death or intensify it, like the spray can vandalizing a Jew's home. Djurberg's child begins with longing and ends in tears. Her claymation makes them that much more palpable and empathetic. Jessica Stockholder assembles plastic home supplies into a makeshift toilet, as if the art itself were taking a dump.
Still, irony amounts to a hard way to unite a show and a poor excuse for some middling art. Joanna Billing's young people milling about have something to do with a Project for a Revolution, but they make Jean-Luc Godard's "children of Marx and Coca-Cola" look like idealists by comparison. Often, however, the reticence of real irony peeks through, and ardor gives way to ordinary feelings. Colby Bird stacks battered loudspeakers like abstract blocks, but also like castoffs of something that once created shared meanings. It has an odd formal resemblance, too, to his photo of the notorious Queensbridge housing project. When Kirsten Stoltmannn leaves chrome tumbleweed on a rug, it makes a lovely gathering point for sculpture, household objects, the dry rootlessness of desert plants, and the myth of the West.
Location, location!
If irony presents any curator with a suspiciously moving target, Ribas was to return another summer with a look at abstraction's purity. Meanwhile, David Zwirner may have found the loosest and most capacious concept of all. Space even sounds baggy. "Space is the place," and that tall curtain by Alyson Shotz proves it. Who knew that MoMA is planning its own assault on Post-Minimalism after the planes of Richard Artschwager, as "On Line"?
Zwirner also has the baggiest gallery in Chelsea, and the show includes more than fifty works. The concept of space has figured in art from its origins. Like irony, it settled in as a theme for modern and postmodern art. Space figured in Cubism's reconstruction of vision, Surrealism's space of dreams, Clement Greenberg's demand for flatness, the shallow space of paint itself, the viewer's space in Minimalism, or the pretentious gallery spaces of installation art now. However, it also figured beginning long ago—in the illusions of representational art, in the chamber for an altarpiece or the Sistine ceiling, or in the human need to construct a space in which to live. In its latest edition, a popular textbook boasts of color photos that show Renaissance art in situ, while a classic history of architecture insists that every building "belongs in a larger setting."
Zwirner, however, has something more specific in mind—spare work that takes up just a bit more space it needs. Art like this does not so much recreate its environment as elbow its neighbors. As the show's title has it, "a point in space is a place for an argument." That line comes on the very first page of the Tractatus, by Ludwig Wittgenstein. In that great early work, Wittgenstein was straining at the limits of a logical, systematic philosophy, and he probably means argument in the mathematical sense. A function has different values depending on a variable, called its argument, and these values in turn characterize the function. Similarly, a point in space has many different properties depending on what one asks of it, from its location to the local weather, and the more one asks, the more fully one comes to know the space.
At least I think he means that, and one can see the show's title as another indication of its elusiveness. Still, work like this definitely relates to mental maps as well as the physical objects. Wittgenstein, after all, called the world "a collection of facts and not of things." And some of the art does argue back, persistently if not vehemently. Besides, when it does not, one can just overlook the theme and consider the show. As Wittgenstein concludes, "whereof one cannot speak, thereof one must pass over in silence."
Fred Sandback's thread comes closest to the expected transition between Minimalism and pointy elbows, but almost everyone else needs much more elbow room. Some of the maps of space stick to two dimensions, like the eccentric designs of Alfred Jensen and, in a folksier vein, Forrest Bess—or the notes toward a work of work of art by Lee Lozano. Lynda Benglis and Eva Hesse allow painting and sculpture to spill a little beyond the frame, like an extended, fluid body in space. As usual, Bruce Nauman, Paul McCarthy, and Gordon Matta-Clark get more macho, to the point that one had better run before the physical space collapses. Cathy Wilkes gets her own space—or at least her own corridor—for We Are Pro-Choice, a creepy assemblage centered around a naked mannequin on a toilet.
By that time, I really had to give up thinking what holds the concept together other than the list of fifty-six works, in effect the gallery's own function with fifty-six arguments. Like most summer shows, this one mostly offers the pleasure of the familiar, but I liked best when it surprised me most, with an uncharacteristic art object. One knows John Chamberlain for welded sculpture with a lot of arguments—dense, wildly colored assemblages of America's greatest symbol of going places in space, automobile parts. Here he simply carves a resting point into foam rubber, as if reconceiving the shape of an actual automobile as a precursor to a Tempur-Pedic mattress. I had not known either the torn concrete blocks on light pedestals by Isa Genzken or Julien Bismuth's Mineralogues, canvases seemingly encrusted with silt and crystal. A point in space is also the place for sedimentation.
Marketing space
In 1996 Piotr Uklanski created a landmark—not in the history of art, but in the history of the marketing of art. Gavin Brown was pushing at the limits of Chelsea, nearer the foot of the High Line, before the Meatpacking District acquired fashionable clothing stores and the new Whitney. He pushed at the limits of his own gallery as well, with a bar next door. It presaged more than one dealer who drew celebrity for the intensity of after-opening parties, and Uklanski, who later created Nazi wallpaper for the Jewish Museum's "Mirroring Evil," tiled it with his Untitled (Dance Floor). The grid of colorful, pulsating lights must have got artists and their clients moving, and reference to disco in a decade of irony must have made them feel ever so knowing.
"The Shapes of Space" has more to do with marketing than art, too, this time of a museum and its permanent collection. Uklanski's flooring returns right at the start, in the Guggenheim's High Gallery, but now it draws mostly children. Sure, David Zwirner uses space as "a place for an argument." No one at the Guggenheim is arguing, any more than they will when they invite site-specific installations for "theanyspacewhatever" in 2008, and it makes for a bland and diffuse exhibition. Space has rarely looked so empty. Shall we dance?
Space here encompasses anything and nothing. That same video by Nathalie Djurberg as at Bellwether, a nondescript painting by Elliott Hundley stuck in a corner, Banks Violette's white salt and black loudspeakers, or Mika Rottenberg with her fat, sweaty woman squeezing masses of dough seems largely designed to prove the Guggenheim's currency. A painting by Alberto Giacometti, its thin figure trapped in an Existential interior, or an abstraction by Fernand Léger seems designed to prove its antiquity. In between, the usual suspects and period pieces appear, from László Moholy-Nagy in sculptural planes and Naum Gabo's transparent column to Larry Bell's cube on a pedestal, but they look lost in space. Abstract painting looks particularly ill at ease, mixed in almost at random along the ramp. Changing conceptions of light and space by Piet Mondrian, Mark Rothko, and Agnes Martin have rarely seemed so dark and flat.
The Guggenheim selects work precisely for not going out of bounds. Where Minimalism took over entire galleries, here Carl Andre has a small T of tiles against the wall, and an by arc of fluorescent lights by Dan Flavin captures only a spot on the floor. Where Matta-Clark burst through abandoned architecture, here his photograph of an Antwerp interior looks small, elegant, and composed. Where Matthew Ritchie could stand for the hordes of installation artists now crossing media, telling tall tales, and trashing galleries, here he settles for abstract scrawls along the upper ramp. Other work that once demanded viewer participation in a shared space may acquire barriers to entry. Still other contemporary concerns for space in art, such as work that documents or trespasses upon urban spaces, hardly appear at all.
The sequence avoids both chronology and themes, which would work better if it opened at least a dialogue between and across works. Both Sarah Morris and Peter Halley see their abstractions as supplying the "semiotics" of confining or degraded social networks. Roni Horn manages three distinct conceptions of space—in photographs of a women's bath house, in translucent resin, and in gold leaf on the floor—but they turn up on three distinct levels of the Guggenheim. Every so often, an artist's space gains a fresh context from within itself, as when Andrea Zittel supplies a video of the history of her desert Wagon Station or a "bad girl" like Louise Bourgeois strands the mysterious formalism of her cracked wooden spheres amid a cell of used doors. Every so often, too, art addresses the specificity of this museum, like Ritchie's mural in deference to the ramp, Mario Merz's dome of plate glass dedicated to Frank Lloyd Wright, or an incursion by Pipilotti Rist into one of Wright's comically confining rest rooms. If only the exhibition itself had more awareness of the potential of space.
The most truly spacious moments come in the side galleries, each remade by a single artist. Rirkrit Tiravanija recreates a more or less famous modernist home in LA, but without saying much about it. Ironically, he reminds one how little space a show about space has for architecture. But where Rist's toilet video plays against confinement, her Himalaya's Sister's Living Room allows one to meander different spaces as no real apartment ever could—especially one without room for a bar and projections on several of the liquor bottles. One can approach it as a display of sculpture, an environment, or a personal history. It may not hold anything challenging or profound, and yet it includes the space of interiors, of video where one least expect it, and above all of memory. Like the furniture styles, the books piled high, or the magazines scattered about, the contents both belong to this space and open imagined spaces of their own.

"In Defense of Ardor" ran at Bellwether through June 30, 2007, "a point in space is a place for an argument" at David Zwirner through August 10, and "The Shapes of Space" at The Solomon R. Guggenheim Museum through September 5. I return to summer group shows in several years including their baggy themes in 2013 and a step outdoors in 2016.