Post-Post-Black Male
John Haber
in New York City
Hank Willis Thomas and The Brand New Heavies
Now Dig This! Art and Black Los Angeles
Hank Willis Thomas and Mickalene Thomas have crossed paths more than a few times. Both gained attention among emerging artists, at the Studio Museum in Harlem in 2006. Both have solo shows in spring 2009. Their names alone are sure to link them in search engines and alphabetical listings.
That year in Harlem, their work stood at opposite ends of the museum. One used painting to play against and pay homage to perhaps the most respected African American artist, Romare Bearden. The other used new media to appear almost artless. One showed a woman at ease in a bright interior. The other showed young men in action, on a playground at night. While the woman artist's work has grown glossier still over time, the male artist sends even more mixed messages.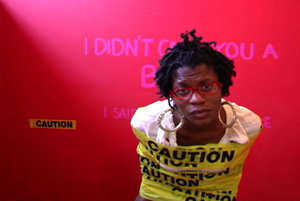 She also curated "The Brand New Heavies," and the show's title is only partly ironic. That group exhibition insists on the diversity of black identity, art, and experience, and both artists have an uneasy relationship to that theme. They focus as much on gender as race—their gender. And speaking of post-post, a related article picks up Mickalene Thomas herself letting her guard down. If the Studio Museum helped popularize "post-black" art, they could stand for a post-post-black art. Are heavies the brand new black?
"Now Dig This!" sounds welcoming but quaint by contrast. Would "Art and Black Los Angeles," this last show's subtitle, once have had white Los Angeles fearing black power and confrontation? How about a little soul from the 1960s and an idiom you had almost forgotten. Sure enough, David Hammons would like to greet you with some LPs, along with soft feathers and pliant wood fashioned into something between arrows and wings. If he has smashed the dark vinyl to pieces, if flight here involves community defense, and if mere arrows facing police would have left the community as defenseless as before, that is the price that both sides have to pay. It might recover, too, a bit of black and art history.
I yam what I yam
Hank Willis Thomas can sure think on his feet. As usual, he races through enough sources, styles, and media for half a dozen artists, as if trying them on for size. As usual, too, he takes care to leave himself out of the picture. He could be denying an identity imposed by others or riffing on it. He could be a shape shifter—or just another young artist with a sudden reputation and a short attention span. Whichever I choose, he might well agree.
Obviously the choices have special relevance for black identity. At the Studio Museum in "Frequency," Thomas's stop-action video had the tensile movements of a street fight. And its playground confrontation ended with a death—that before he took his art to another kind of playground, Socrates Sculpture Park. The artist's career has had the same combination of raw materials and speed, even if it has not yet settled on something as memorable. Perhaps the ideal artist, like Joan Miró in the 1930s, refuses to settle for anything, especially authenticity. When I look back at Thomas one day, will things become as clear?
I Am a Man sums it up twenty times over in black and white. Not for him the stark sobriety that Glenn Ligon brought to the same title—or the comedy and sheer terror that Cy Gavin brings to a gay black male. The text takes off from the sign carried by striking sanitation workers in 1968. Martin Luther King, Jr., came in support to Memphis, where he delivered "I've been to the mountaintop" one day before his death. Thomas in fact appeared in "After 1968: Contemporary Artists and the Civil Rights Legacy," a show at the High Museum of artists born after that date—and hardly the last show about art and civil rights. Here he runs through the text as question (Am I a man?), exhortation (Be a man), and even the boast of a stammering Old Testament god (I am I am)—before ending somewhere between assertion and resignation (I am amen).
Not that anyone will read the Liquitext on canvas from left to right. Other works mime much the same rapid-eye movements in neon. The elements of Pitch Blackness off Whiteness, for one, blink on and off in capital letters and in unpredictable combinations. At the other extreme, Thomas casts transitory or unsettled accounts in stone. He has incised both The Slate Is Clean and Everything Must Go in polished granite. They rest in the center of the floor, like stumbling blocks or tombstones.
These things flirt with identity, like Rashid Johnson and "Black Cowboy," but also with the meaningless. As far as I can see, an appropriated photo of Little Richard is meaningless. At other times, the artist insists a little too obviously on the message. Paired photos of women picking cotton come with the legend It Didn't Jest Grow by Itse'f. A view of the open sea, framed by the cutout of an Absolut vodka bottle, risks both at once. The Middle Passage stares down luxury consumers, like those who hang around with Chelsea galleries and emerging artists.
In the side gallery, John Bankston definitely stays on message. He just has not quite finished filling it in. He paints happy figures in a landscape, with the white spaces of coloring books. The figures seem to belong in the nineteenth century, and so do the stiff realism and the garden utopia. Are they Africans or newly arriving slaves, and how deeply does the irony of their good cheer cut? Perhaps the white spaces need some color by numbers.
Heavyweights
It took a long time to get from "Black Male," the Whitney's notorious 1994 show, to a black president. So what if the art of Charles McGill joins the president on the golf course? Does that leave a black woman to play the heavy? Maybe, but at the very least she can play curator. Thanks to Mickalene Thomas, "The Brand New Heavies" look quite familiar and not even all that heavy. Deal with it.
Jessica Ann Peavy, Lauren Kelley, and Deana Lawson invoke the usual choices—big mamas and invisible daughters, bitches and Barbie dolls, nuts and sluts. Peavy backs her star with the word BITCH, in hot pink on red. Kelley follows a black Barbie on stop-action video. Yet both actors have to look after themselves, without getting up on a pedestal or down in your face. Peavy's may well be bitching, but the soundtrack muffles her words. Kelley's Bay Area librarian has a long day ahead, through a risky male encounter and a troubled sleep.
The videos approach diaries, as with Sophie Calle, but they withhold audible confession. Mickalene Thomas, the curator, compares Peavy to Chantal Akerman. Both use pauses to arrest the progress of vulnerable lives, perhaps their own. Peavy's A Conversation Piece has two channels, intermittently sharing an image. A wall-sized video grid follows another tough woman through a day of obligations and pleasures, and who is to say how one counts cooking, smoking, alcohol, and sex? She stirs her food with a cigarette.
They can look after themselves, but within some serious constraints. That "bitch" is in close up, with huge hoop earrings, but her body is bound in yellow police tape labeled caution. Kelley's heroine has to do a lot of listening—to young men almost as constrained as she by a preposterous stack of books, their own predatory instincts, or her nightmares of revenge. Lawson's photographs come closer still to powerless heavies. Her black women may look surly, but also bruised, battered, and small—dwarfed by the space of a room and a sofa. Her Advertisement looks more like fashion shot, but spots mar the photo's surface.
In just three shows, the gallery has gone for photos that manipulate outsider stereotypes. Aaron Hobson a month before had too many men in cowboy hats and cars, although a yuppie somehow ended up with his tie loose in the East River. Maybe white men think they get to carry on.
Nearly fifteen years after "Black Male," black masculinity still gets more attention than it might well wish—and not just with Hank Willis Thomas. Kehinde Wiley and Barkley L. Hendricks, who appeared in "Black Male," have had the last two shows at the Studio Museum, even as Mendi + Keith Obadike will soon recall another history in Thomas Jefferson and Sally Hemmings. Audrey Flack had to transform herself into Marilyn Monroe for "WACK! Art and the Feminist Revolution." Lorna Simpson has shown women playing house, but as history, as fugitive slaves. This time, black women and black women artists do get a life. They just do not let on for sure whether to call it funny, sad, or defiantly vulgar.
Dig We Must
New Yorkers around 1970 could forgive themselves if they thought that they were the center of the universe. Soho had, barely, begun, and first the New York School and then geometry had made the rules. New York was even exporting itself cross-country, thanks to earthworks. Maybe, but Los Angeles sure did not feel like a footnote after the Watts riot—or, as Melvin Edwards defines it in the other lobby work, the Watts rebellion. Its debris smolders in Noah Purifoy's homey remains of dowels, fabric, a hairbrush, and a shoe tree. Assemblages by John Outterbridge like Ragman, Urban Man, and No Time for Forgiving (with that NO in block wooden capitals) speak of the same streets and of Llyn Foulkes in the burbs or Ed Kienholz up in the Bay Area, as does Raymond Saunders with his waste of news clippings and a flag, and anyway Purifoy worked at the new Watts Towers Arts Center, opened in 1970.
Angela Davis took her post at UCLA the year before, after studying in San Diego and Berlin, and Charles White offers a Love Letter—a lithograph of her afro and bare shoulders above a rumbled field and a rose. White serves as a kind of elder statesman. Ulysses Jenkins devotes a documentary to his influence, while Dan Concholar preserves his suitcase, of magazines and art supplies, as a work of art. Then, too, the Vietnam War marginalized no one of draft age and everyone, and Dale Brockman Davis sets out eight mismatched but life-size warheads as sculpture. So soon after Pop Art, they can hardly help looking like lipstick. John J. Riddle, Jr., paints USA on a cannon and calls it Gradual Troop Withdrawal.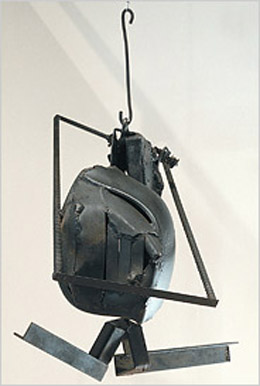 You may know some of those artists, perhaps from "Blues for Smoke" at the Whitney, but not many more in "Dig This!" The show, which began at the Hammer Museum in LA, intends a recovery, with mixed results. At MoMA PS1, it takes just one wing with thirty-two artists and nearly five times as many works, giving every chance to come to know them, despite a less than helpful wall of drawings and clippings. Edwards surely stands out (in the image here, with a different example from the 1960s) for his rough heritage of David Smith and Richard Stankiewicz but in black. The chains in his Lynch Fragments on the wall drive their form and title home. Riddle evokes much the same history when he embeds a scythe—or Davis when his broom makes one wonder what it has swept away.
Others are way more conservative, like White's seeming charcoal. Samella Lewis echoes the folk realism of woodcuts for her migrants, William Pajaud the watercolors of John Marin for his religious yearnings, and Suzanne Jackson both Alice Neel and Georgia O'Keeffe for hers. Others frame their politics with an eye to craft or abstraction. Daniel LaRue Johnson inserts rough faces into a solid field, while Fred Eversley's colorful resin cylinders may look at first like ceramics dishes. Alonzo Davis makes the most explicit statements of race and identity, with Native American forms and a map of Africa, painted in proper national colors. David Hammons naturally does not when he wraps himself in an America flag for one of his "body paintings," not to mention smearing himself with margarine before hitting the surface.
The curator, Kellie Jones of Columbia University, stresses the community itself, where artists simply exhibited each other—way ahead of the DIY of Brooklyn now. She also stresses the role of white or Latino artists in that community, including Virginia Jaramillo with her black canvas or Mark di Suvero (actually, already settled in New York, where he had founded Park Place gallery) in his exchanges with Edwards. Maybe best of all in a show of decidedly mixed memories, nearly a third are women. One expects Betye Saar's collage and her sense of African heritage, as embodied in voodoo, ritual, and a woman. One is less likely to know Sheila Levrant de Bretteville, a nonblack who exhibited others with the slogan Taste and Style Aren't Enough. Senga Nengudi's nylons filled out with sand parallel Yayoi Kusama and anticipate artists like Judy Thomas today.
Maren Hassinger shoots for the present. Besides recreating the slithering rope and chains of River, she lets rebar seem to unravel across the floor as A Place for Nature (and take that Ai Weiwei). Edwards's power seems only to grow, not just with the exposure, but with an unexpected connection to blackness and LA. This, he seems to say, is not the self-conscious oafishness and lack of history in John Baldessari at Cal Arts. And then there is Hammons, younger than one knew but already playing the trickster and the legend. When grease, hair, and shopping bags become the twisting, rippling angel of Bag Lady in Flight, this African American artist has already flown.

Willis Thomas ran at Jack Shainman through March 14, 2009, "The Brand New Heavies" at Collette Blanchard through March 8, following Aaron Hobson through January 19. A related article picks up three shows by Mickalene Thomas, starting that same year. Both Thomases also contributed to "The Bearden Project" in 2011. "Now Dig This! Art and Black Los Angeles, 1960–1980" ran at MoMA PS1 through March 11, 2013.