Walled Out
John Haber
in New York City
Gallery-Going: Sumer 2015
Summer has everyone breaking through walls and into the sunlight. Within the galleries, though, the walls are alive and well. Summer group shows play on walls and real estate, before settling matters in black and white.
Walled in
Hello, walls, and welcome back. It's like you never left. So often these days, as artists freely mix media and messages, painting comes off the stretcher or off the wall—hearkening back to the materials of tapestry and the materiality of Minimalism. "Hello Walls" at Barbara Gladstone instead does without canvas entirely.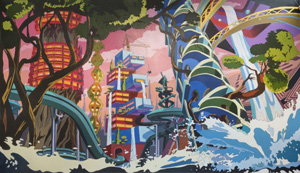 From fresco in the Renaissance to today, artists have always painted directly on the wall. Gladstone stops well short of anything as Modernism or as contemporary as street art. It loosens things up all the same.
Lawrence Weiner votes for Every Which Way + Up. This once, the most austere of text artists admits excess. So does the other more or less straight text, not counting Ricci Albenda's alphabet as color spectrum and Karl Holmqvist's circled letters, like a word game without rules. For Mel Bochner, Forgetting Is the Only Continuum --, set against black that seems to leave off on its way somewhere else. So do lines for someone as tied to conceptual art as Daniel Buren. Even the most rule-driven of Minimalists, Sol LeWitt, lets a crayon shape float nearly free.
Angela Bulloch foregoes austerity within the grid, with colored rectangles that seem to blink on and off like her video art. Wangechi Mutu pictures a planet of flying snakes. Their avoidance of politics runs up against the bitter edge of racial stereotypes for Kara Walker. In the gallery's second space a few blocks away, Ugo Rondonine, Raymond Pettibon, Arturo Herrera, and Michael Craig-Martin tackle the ultimate in Minimalism—the four sides of a freestanding near cube. Pettibon's undisciplined musings on history abut Rondonine's concentric circles, like Ken Noland but more ephemeral. And around the corner from Herrera's abstraction from nature lies Craig-Martin's schematic coffee cup, with that plastic lid that always permits another jolt. Douglas Gordon presides over them all with geometry as the merest shadow.
Andrew Edlin, too, has walls on its mind, as it gears up for a move to the Bowery. For now, it attends to its old space, much like Robert Irwin at the Whitney a few months before the museum's departing Madison Avenue. For "Anthems for Mother Earth Goddess," the gallery asks seven artists to do their thing, one artist to a wall, with work expressly for the occasion. This once a dealer associated with folk art demands a comment on the present. Online, one can see the artists still at work. In person, the immediacy of outsider art and politics enters as well.
Title notwithstanding, this is not a cloying or cultic ritual. The closest one gets to a goddess is with Saya Woolfalk. Her polka dots serve as backdrop to a strangely inhuman woman—arms cut off and laden with what might once have been her fatal attraction. Otherwise this is not an anthem but a smoke alarm, for global warming. Thornton Dial made art about Gulf winds in the same space before. Here only a collective energy saves art from a lecture.
Kevin Sampson's KKK stands for Monsanto, fracking, police killings, and whatever else is on his mind this minute. Rigo 23 changes the subject, too, to nations without maternity leave—the United States the sole in the first world among them. Others are having too much fun to hector, even when Chris Doyle's tidal wave overruns a futuristic city. Rising seas also drive Brian Adam Douglas, who updates The Raft of the Medusa in grisaille for a contemporary disaster. Peter Fend's circles cast their orange shadows as seed pods, and Katerina Lanfranco's garden colonnade overflows onto the ceiling. Like nature, art on the walls may yet prove capable of renewal.
From walls to real estate
Another summer group show says hello to wall painting, but also goodbye. "Over and Under" at Sikkema Jenkins opens with four rectangles and a broad gray border. If you know Kay Rosen from her text paintings, you may enjoy puzzling over her colors, which she identifies as olive grove, red maple, nomad's trail, and buffalo grass—all, rest assured, On Top of Old Smokie. If the look makes you think of Neo-Geo, paint brings out the best in old Chelsea walls, with a texture almost like that movement's Rolotex. And if the irony makes you ready to move on, be sure first to look down, where Rosen has left paint cans. The painting looks neat and tidy, but she is still cleaning up.
Others, too, cannot decide where the wall leaves off. The show takes its title from Matt Keegan's cardboard lattice, which serves as backdrop for other words, his included. They run to sculpture on and off the wall—including a cabinet by Bill Jenkins, a mirrored column of rough cedar by Virginia Overton, and two columns of plastic crates by Tony Feher. Back on the floor, Jenkins has a video of, presumably, his own feet walking, in counterpart to Babette Mangolte dancing. Feher also returns to texture and the wall, with blue glitter. By then, though, you may be craving for space.
Another show, too, features wall painting and then some, but as a solo act. Robin Rhode still treats graffiti as performance, but he also leaves something behind. That includes not just video and white chalk, but also the object that he sketches. In truth, the brash athleticism that separates him from ego-tripping has worn a bit thin, and so has his connection to the politics of South Africa. Still, a skeleton seemingly suspended between coat hangers and barbed wire has a fatal attraction—and so do two giant light bulbs, one black and one white, connected or forcibly restrained by a rope. Apparently his country still needs to set ideas free before it can leave its racial history behind.
Invisible-Exports takes wall painting back to the very origins of art. Adam Parker simulates cave painting in white carpeting, right down to hand prints beside the galloping horse. Between carpet pile and horse flesh, though, the real theme is the body. The rest of "Soft Core" is anything but soft, even when Pinar Yolacan simulates prehistory again, with the lumpen white of a female totem. Anne Doran displays the bullet-ridden torsos of police target practice, Linder treats female nudity to Pop Art and Surrealism, Stephen Irwin converts its scars into slashed canvas, and Naomi Uman strips it bare of everything but a picture tube. Jade Yumang takes it into three dimensions with what could pass for dynamite and Dave Hardy with a stack reaching to the ceiling.
Maybe one can just forget the wall. A small selection at Klaus von Nichtssagend moves easily from the Flatiron Building for Robert Moskowitz to abstraction in the present—with David Scanavino, Michelle Lopez, and Julia Rommel. Rachel Uffner brings a Pop sensibility to both abstraction and representation, as "Old Truths and New Lies." Lucas Knipscher uses African fabrics as the backdrop for playing cards, Ana Cardoso subjects cotton and art history to serious punishment, Wilder Alison gives tapestry as art the look of emoticons, and Mae Fatto (also the show's curator) runs riot right through the twentieth century. Naturally Marianne Boesky has a more elegant take on the shapes of space, and The Hole a disrespectful one, as "Not a Painting." Yet they all have at least one thing in common, New York real estate.
The subject helps unite the artists at Lisa Cooley. "I Dropped the Lemon Tart" speaks overtly only of human error, but some errors matter more than others. As a plaque by Jenny Holzer puts it, "If you aren't political, your personal life should be exemplary." And from Leon Benn's Cop Commander and Sean Landers's legal notice to Todd Bourret's Boarded Up, the errors mount. Fiona Connor offers summer relief with a working drinking fountain, modeled after one in Tomkins Square. Yet that, too, is contested ground.
Summer in black and white
Maybe summer shows are a gallery's way of taking it easy—wrapping up a season of exhibitions with selections from them all for sale. And maybe they are a distraction from the real work of getting to know an artist, by hard looking. Or maybe their sheer proliferation is a mirror of art, with no obvious direction and more entering the market everywhere. (Did you notice that, by now, shows keep opening well into July?) You may find yourself begging for something more urgent and more manageable. Surely someone can spell out what matters, in black and white.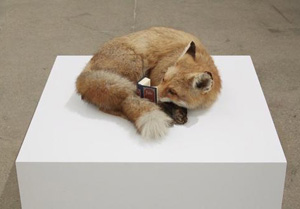 And that, too, is a summer theme, give or take shades of gray. "From the Shadows" at Tyler Rollins speaks to lives fitfully emerging from the pall of globalization. They barely show through Manuel Ocampo's ghostly silkscreen, Pinaree Sanpitak's dark acrylic, and Sopheap Pich's black grid of burlap and beeswax. They do not appear at all in Yee I-Lann's photograph of block housing, corner on, massing behind a dark plain and folded-paper animals. Tiffany Chung translates the urban rubble into an installation, at the spooky remove of more than thirty monitors. Araya Rasdjarmrearnsook's video could speak for them all, Regret Rises in Our Memory Even for Bygone Hardships, and who knows when it is safe to let bygones be bygones?
If black and white more often means print, galleries are happy to go there, too. "The Written Trace" at Paul Kasmin even manages a Renaissance Book of Hours. (It omits the only potentially shocking text, the insurance document to permit display.) Mostly, though, it has trouble making a point at all. As curator, Ariella Wolens mixes the expected, such as R. Crumb and Ed Ruscha, with the peculiar, such as Shaun Crawford's hatchet cutting into the wall. John Baldessari is back in performance, Teaching a Plant the Alphabet, but he stops short of teaching collectors anything new.
"By the Book" at Sean Kelly plays it even safer, but this time the choice pays off. Here safe, in the sense of collectible, also means physical—and that in turn means the perilous gap between words and things. It appears in lead sheets for Anselm Kiefer, crumpled pages in aluminum for Jorge Méndez Blake, binding in stainless steel for Fernanda Fragateiro, a display case housing memories and an open book for Rebecca Horn, flickering phrases for Charles Sandison, and an old-world library for Candida Höfer. Joseph Kosuth, William Kentridge, and Glenn Ligon may try to reduce the gap, but it returns with a fox nestled into a book for Javier Téllez, as F for Fable. Chitra Ganesh indulges in mixed metaphors, like "she of a thousand eyes whose long lost rivers still run through our veins." They take hold anyway, all the more so since her black script in hair, thread, fishing wire, and rubber bands is ever so much easier to read in its shadow.
Black and white have a far less academic meaning in politics, but elsewhere "It's Never Just Black or White." Except for a smear of blue by Norman Lewis, Michael Rosenfeld avoids color, but with a striking mix of black and white artists, both men and women, from the 1930s to today. Jay DeFeo and Lee Bontecou share their ambitions with tall sculpture by Barbara Chase-Riboud and concentric squares by Burgoyne Diller, all of them more direct than in the textbooks. Many of the more modest works occupy a long shelf together, like a metaphor for a biracial America. For Lenore Tawney, the parallel edges of browned paper come out from the wall like razor blades. Maybe art can cut through the garbage after all, even in summer.

These group shows ran at Barbara Gladstone through July 31, 2015, Andrew Edlin through August 15, Sikkema Jenkins through July 24, Invisible-Exports through July 25, Klaus von Nichtssagend through August 1, Rachel Uffner through July 31, Marianne Boesky through August 7, The Hole through July 26, Lisa Cooley through August 21, Tyler Rollins through August 14, Paul Kasmin through August 14, Sean Kelly through July 31, and Michael Rosenfeld through August 7. Robin Rhode ran at Lehmann Maupin through August 21. I return to summer group shows in 2017.