Missing the Madness
John Haber
in New York City
Dennis Oppenheim and Josephine Halvorson
Late in life, Dennis Oppenheim was finally willing to offer admirers a treat. At Storm King Art Center, he should earn new fans as well, with candy, sculpture, and a retrospective.
For background, I look fifteen years back to Oppenheim in New York City. Then, I wanted to say, he truly has lost his mind—and he loves it. One had to learn to handle some sensory overload. In fact, one had to learn when to duck. I then continue back to Storm King. There he shares the grounds with Josephine Halvorson, who takes the measure of its fields and boundaries.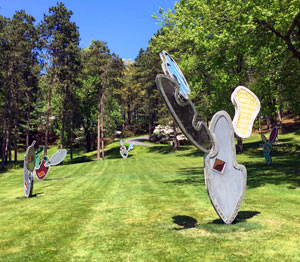 Just a kiss
Right at the entrance to the center's vast grounds, Dennis Oppenheim supplies a greeting in the shape of a Hershey's kiss. Not even Alexander Calder, with familiar outlines nearby, could be more accommodating. Its steel and acrylic resist unwrapping, and anyway they are an acrid blue rather than foil, but this is an Electric Kiss. It also, in his mind, evoked everything from Russian onion domes to teardrops and lips, and one can almost hear an enormous sucking sound, as if sucking the life out of the Hudson River landscape. For the art center, the sculpture recalls plants native to Storm King itself. But then a kiss is just a kiss.
While Oppenheim died in 2011, he would have relished the chance to respond at once to art history, pop culture, and his surroundings. He called sites his "terrestrial studio," a phrase that supplies the show's title. Born in 1938, he left Bay Area Minimalism for New York in 1967. In no time he was making himself part of the action with performance and earthworks—but with a wry or even gentle twist. Where Chris Burden dragged himself across broken glass, he was ascending a dirt hill on his chest, leaving his footprints in earth as the ecstatic leap of Two Jumps for Dead Dog Creek, and recording his steps through Milan as sound. Where Robert Smithson had his Monuments to Passaic, he was creating his own landslide along the Long Island Expressway.
Oppenheim was always arguing back. His messages in billboards and lights by the LIE and Newark included Avoid the Issues and Narrow Mind—and Dead Dog Creek, although a real enough location in Illinois, does not sound any too alive. He nestled into a tree house as an escape from poisoned soil. Past installations melted and exploded. His first turn to freestanding sculpture, a pyramid surrounded by PVC tubes in 1967, looks monumental and minimal enough, and it sticks to organic pigment where it can. Yet it, too, is a bracing turquoise, and Dead Furrow, a term from agriculture, sounds none too healthy either. Watching visitors climb the steps of the pyramid, one can imagine their sacrifice to the gods.
He never got over mixed feelings about both nature and culture. He installed fifty plywood stars on the Montana landscape the year after the bicentennial, in delicate shades of red, white, and blue. Yet he called it Wishing the Mountain Madness, because he missed the madness of the big city. And the stars lie merely at random—as if, he explained, the constellations had fallen to earth. A blue arch in the shape of an empty suit, from 2002, makes a formal entrance to a white pebbled garden. Its intended recipients felt that it came at the expense of blue collar America and rejected the proposal.
Still, he became more sculptural over time. Storm King underscores that drive by pushing to every corner of its vast, hilly acres. It devotes the museum building to documenting his raunchier and mostly earlier work, apart from a room for David Smith and one for Louise Bourgeois and Louise Nevelson. Outdoors it sticks more closely to sculpture, including recreations of the pyramid and stars along with the stuffed shirt and other work from his last decade. There he returned to PVC and other industrial materials, for a cactus grove and an entire landscape. The latter adds actual bushes, red rocks, and trees as "alternative components."
He never could choose between alternatives. Call the work site specific, but he could recreate it anywhere. Call it the postmodern industrial landscape, but not without rocks and trees. Call it critical or an embrace, but above all do not call it Zen. Architectural Cactus Grove first stood outside a police station in Arizona. Go ahead and have a kiss, but you might be in need of water and under arrest.
Conceptual shoot-out
Not everything by Oppenheim is half so decorous. An artist like Sol LeWitt creates conceptual art that focuses on the process of construction. In one of his last major New York shows, in 2001, Oppenheim did the same for destruction. This was art with a vengeance. Can one see it behind the work at Storm King? Consider it more carefully.
Ace gallery no longer has space in New York rather than LA alone, although not because he made an art of exploding it. The market takes its toll on even a big-money player, and so, too, did the artist. Two big wooden shields at opposite corners hid skeet guns, and every minute clay slammed simultaneously against both shields. One room even came with a huge warning to keep out. Oh, really? Really!
The former Soho gallery's long corridor and maze of rooms defeated many an artist, even one as great as Robert Rauschenberg. Oppenheim, though, made the place feel crowded. The noise, a feature as well of his video art, was never less than startling. And the impact littered the entire floor, right out to the doorway, with colored shards. Each day, the gallery swept the floor and changed the color. One could hardly believe that it was not landing on one's lap.
A row of wax effigies stood against another wall—or rather, progressively doubled over. From left to right, they bathed in harsher and harsher sun lamps. The flat figures, like three-foot tall gingerbread men, bear the artist's effigy, so that the work serves as both nurturing and self-immolation. But then, some years before he was stuffing himself with cookies. (Gee, I thought, next he will turn himself into chocolate.) Before that, he suffered severe sunburn himself for hours.
Dada once called a work "object to be destroyed," but it is still around. Here process art involves constant recreation of both the work and the artist. Meanwhile, its imagery mimes that process as a puppet show. All the danger keeps the viewer physically at bay, while the work's humor does the same mentally. Oppenheim and Minimalism might get into a great shoot-out over conceptual art. Maybe more of his Plexiglas Splats will result.
He has something in common with the self-punishment, self-parody, and blatant self-promotion of such intriguing performance artists as Burden or Nayland Blake. Mostly, though, he leaves pain and performance to icons of the artist rather than to displays of the artist's ego. He owes something to elements of chance and experience in what a famous critic termed "action painting." Yet he parodies the whole idea, reducing painterly color to broken fields of clay. Ace did well to stress process and parody over the artist's sculptures. And Storm King does well to bring them back.
Taking art's measure
Probably no one can take the measure of Storm King, in all its trees, hills, horizons, five hundred acres, and well over one hundred outdoor sculptures by the late twentieth century's most formidable names. Some defy measurement all by themselves. Think of Louise Nevelson with City on the High Mountain, Maya Lin with her rippling Storm King Wavefield, Alyson Shotz with the reflections off Mirror Fence,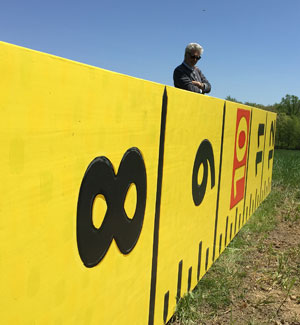 Richard Hunt with the simply titled Expansive Construction, or Andy Goldsworthy with the hundreds of tons and changing course of Five Men, Seventeen Days, Fifteen Boulders, One Wall. Josephine Halvorson, though, creates her own measure three times over. With "Outlooks," she sets out three works that mark out their length and the hours of the day, like rulers for Jasper Johns. Some of their markings are even true.
Each bears the title Measure as well. One looks like an ordinary measuring stick standing on end, counting out its twelve feet with roman numerals in black on white. Sure enough, Halvorson fashions it of wood. Another at twice that length has 24 scrawled casually between the halves of a double-headed arrow running from head to toe. The largest, at thirty-six feet, has the bright yellow of a carpenter's folding tool. As on the original, one of the numbers on each side turns to red.
They take their own measure, although a normal ruler counts inches, not feet, and although the longest sculpture counts only to twelve, too. It says something that the red numerals fall arbitrarily—or that the double-headed arrow follows a loose curve taking well over twenty-four feet. Yet they take the measure of their surroundings as well. The longest lies on its side, echoing a half sunken wall by Richard Serra nearby. The shortest casts its shadow like a sundial over the course of a day. Roman numerals appear more often on a sundial or clock tower than on a ruler anyway.
They come close to taking the measure of the entire art center. One can make out the work in yellow from the main building, on Museum Hill, although just barely—and one could use it to calculate the distance, given an actual ruler and enough ingenuity. Like the concurrent show of Dennis Oppenheim, the three also push to the extremes of the center's varied landscaping, including sites one might otherwise never know. The shortest stands at the center of the outdoor "Maple Room," turning its circle of trees into a larger sundial. The other sacrifices ruler marks for illusory wood grain, mimicking the surrounding dark grove. It takes more than a moment to realize that it is as flat as a yardstick.
Halvorson does not have a reputation as an illusionist, and she paints the grain coarsely, so that one can hardly miss it. She is, though, first and foremost a painter. One can see it in the hand-drawn red curve, shading that makes numbers and tick marks appear in relief, or the white vertical dappled with pale colors. (She speaks of her love for Rouen Cathedral by Claude Monet, someone else who knows a thing or two about marking time in art.) She has not made sculpture before since school, although her paintings depend on such 3D elements as incisions, window shutters and other found surfaces, and embedded frames. She has painted a clock face with roman numerals before as well, in 2012. It, too, stuck to the vocabulary of a found object, and it could not tell time either.
Each Measure, then, takes multiple measures, both literally and unreliably. It functions in relationship to what it represents, to its site, and to itself. Halvorson is always comfortable with conceptual art and always concerned for the handmade. She appeared at her gallery just this past winter, at Sikkema Jenkins through January 23, in a group show with Jennie C. Jones, who uses gray and absorbent panels as an expression of African American voices and white silence, and Leslie Hewitt, who bridges appropriation and what the Guggenheim this year called "Photo-Poetics." It would take an optimist or maybe a sexist these days to announce that man in the measure of all things. Still, art can always take your measure.

Dennis Oppenheim ran at Storm King Art Center through November 13, 2016, Josephine Halvorson through November 27. Oppenheim's earlier show melted and exploded at Ace through February 28, 2001. A separate review continues with summer sculpture in New York City.