The Sinister Sixties
John Haber
in New York City
Sinister Pop and Jay DeFeo
Was Pop Art serious? Sure, America let loose, after the high seriousness of Abstract Expressionism—but once one does, it is no easy trick to keep in check everything but sweetness and light.
If this art has a reputation for lightness, that surely has less to do with coke bottles and Donald Duck than with fears that something precious had slipped away. "Sinister Pop," from the Whitney's permanent collection, tries to articulate those fears. It also makes a striking backdrop to Jay DeFeo, and why not? Feo does mean ugly—but her signature art was still a rose.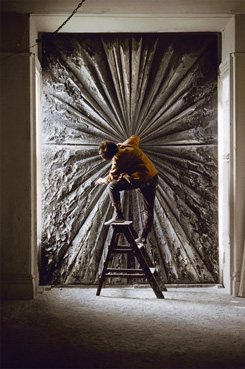 Seeing DeFeo in retrospective is like stumbling on an alternate history. What if one discovered that Eva Hesse had not died so young of cancer or Jackson Pollock in a car crash? They had just been taking some time off, getting their teeth fixed, traveling to Asia and Africa, and puttering around in a studio across the bay. And their greatest work, maybe their only knockout work, had stood for years hidden behind a wall. In DeFeo's case, its entombment for its own protection, until its restoration in 1995, makes a kind of bitter sense, for she called it at first Deathrose and then White Rose. Either way, it was for her a matter of life and death.
Mighty lak' a rose
Her art came to New York for one great show, "Sixteen Americans" at the Modern in 1959, alongside Jasper Johns, Ellsworth Kelly, Robert Rauschenberg, and Frank Stella—although she did not leave the Bay Area for the occasion. Nor did her single famous work, The Rose, a radiant pattern of oil bursting into three dimensions and nearly eleven feet tall. She was, after all, still working on it, as she would for most of her thirties and for seven more years. She built it up, mixing in mica and wood, scraped it away, and built it again. No one knows just how big it grew, although one often hears that it weighed a ton. The Whitney estimates it now at three thousand pounds, half that if one excludes the metal support.
Its radial lines concentrate its energy at its center, approaching a pure white as they reflect light. They trail off into a shallower turmoil of darker gray. Often one encounters it as an earthwork stood on end, in all its mass. Now the Whitney throws one back, to see it as a painting or performance. It gets a black alcove to itself, past a room of work leading up to it, under twin banks of stage lighting from either side. She worked in natural light from framing windows, and she must have seen it very differently, but she would have loved the drama.
Bruce Conner filmed its exit from her studio after she lost her lease, an exit that required cutting through the window and wall. It put an end to her years on Fillmore Street, in a social hub for an arty crowd, and indeed Conner chose a jazz soundtrack. It also left her closer to solitude, until a teaching job in the 1980s finally gave her the financial security to travel. She must have felt, though, that she was putting a burden behind her—not just the painting, but her marriage and a great deal of alcohol as well. It let her start over, as she often had on that painting. As far as art was concerned, though, that was that, at least as people remember her.
Apparently not, or so argues her retrospective, curated by Dana Miller. It kept starting over, until her death at age sixty, in 1989. First she drew and painted, based on her own eyes and that dental work. If the latter looks like a mountain range, so in a sense was The Rose. She also worked in paper fragments, while a real mountain looks like scrunched paper. If her dental bridge also looks like a sacred relic, she liked to save things for her art, like a broken ceramic cup.
Her forties were filled more with relics than much to remember as art, in photographs that dwell on Baroque or penile details of a chandelier, a goblet, or a flower against a dark background. Like early Surrealism and László Moholy-Nagy, they also combine photography with photograms and collage. They also play with scale, as in a wrapped item out of Christo that brings out her sinister reverence of the human body. She started again with images of a camera and tripod, as robotic eyes and legs, before picking up painting again, big time. The synthetic polymer gains from curves and wedges that leave much of the canvas open. Her perpetual starting over is mostly just drift, but she is the kind of artist hard not to love, even when one knows that she is not making history.
Of course, one comes looking for clues to what went into The Rose. She began in the 1950s with abstract echoes of Surrealism and figuration, much like early Rothko. She made pendant earrings that could be creepy or creative, depending on your patience for her, and she started to push painting into sculpture, with plaster or a palette knife. She worked bigger, if not always wisely, on those matters of life and death. The Annunciation could picture an angel's wings, but also a side of beef out of Chaim Soutine. Maybe Bay Area art will always be its own small world, and maybe DeFeo would never find again the power of symmetry or of "Sinister Pop," but this rose is a rose is a rose.
Was Pop Art serious?
If Pop Art meant anything, it meant the desires you recognize, maybe as your own. It meant James Rosenquist with F-111, Roy Lichtenstein with a pistol pointed straight at the viewer or Llyn Foulkes with one pointed at his own children, George Segal with a butcher shop, and Claes Oldenburg with Soft Manhattan hanging like a side of beef. To stick to its founders, it meant for Jasper Johns a Target with Four Faces and for Robert Rauschenberg a seemingly bloodied and unmade Bed. As John Russell wrote, Rauschenberg "sieved the dredged filth of New York City as a prospector sieves the sand of the riverbed: for gold." Where temptations abound, like dessert for Wayne Thiebaud, they can be unappetizing or inaccessible. Where tabloid celebrity still has its aura, like Jackie for Andy Warhol, it comes at the price of a nation's trauma and a death.
"Sinister Pop" has only the last (along with Allan D'Arcangelo's Jackie and Caroline Kennedy as Madonna and Child), but Warhol alone should be enough. As "Regarding Warhol" at the Met made deadly obvious, he kept returning to violence in America, as with cars, electric chairs, and race riots. When he copied an ad for a nose job, Before and After, at least something must have started or ended wrong. When he designed a campaign ad for George McGovern, he anticipated "negative advertising" with an image of Richard Nixon. And Warhol turns up here again and again, as does Ed Ruscha—starting with the word Safety painted in gunpowder. Before that comes only a black wall, wall text, and reduced lighting that turns a wrapped bundle on a hand truck by Christo into a gangland killing.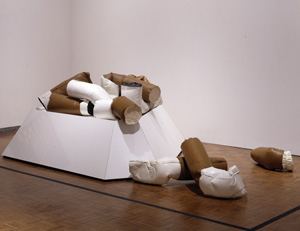 "Sinister Pop" comes in a series of fresh looks at the permanent collection, and each has aimed for something unsettling. "Real/Surreal" dared one to tell the two sides of its coin apart, and then "Signs & Symbols" saw even Abstract Expressionism as neither quite abstract nor quite expressionism. This installment sounds more obvious. After all, Pop Art played out in much the same years as Philip Guston, Louise Bourgeois, and Eva Hesse in all their brutal facelessness or self-exposure. They were the years after the simmering menace of the bomb and the early Cold War—the years of Vietnam, the Kennedy assassination, the escape to suburbia, and a creeping awareness of the raw cultural power of sex. The installation, by theme rather than by artist, focuses on just that.
It has its surprises nonetheless, most often by stretching the meaning of Pop Art beyond Robert Indiana and love, in a nice parallel to the jazzy "Blues for Smoke" or Jay DeFeo on the museum's other floors. It has Paul Thek's dripping resin meat, at least borderline Pop—but also Lucas Samaras, with a tacky chair of artificial flowers from the close of the decade. It has the pat and garish side of Pop that I would just as soon forget, like Peter Saul on the rape of Vietnam or Edward Kienholz's bicycle seat on a bomb painted with the flag. A bit of a stretch now and again has its advantages, too. It invites parallels, particularly to photography, as in setting Segal's lonely Bus Station and Ruscha's faceless diners near William Eggleston, Garry Winogrand, and Joel Myrowitz, who finds the cashier's face at a movie theater neatly obscured by the metal grill that might have allowed her a voice. It brings more women to the table, including Lee Bontecou, Christina Ramberg, Vija Celmins, Judith Bernstein, and Nancy Grossman with her tightly hooded head in leather.
It also stretches the meaning of sinister, as with that nose job—and not always so convincingly. Do Richard Lindner, Mel Ramos, Jim Nutt, and the Hairy Who show the dark side of sex or celebrate their obsessions? What about Peter Hujar with Candy Darling or Robert Frank with the Rolling Stones? Does Bill Owens recall suburbia as a sore spot or a dream? Is Oldenberg's Giant Fagends, Lichtenstein's modern bathroom, Johns's green and orange flag, or Myrowitz's leg dangling casually from a lounge chair sinister at all, rather than funky and fun? Maybe the curators have it backward, and the real lesson is not the pervasive sinister in Pop, but rather how popular culture came to enter everything.
The Whitney's hanging of the permanent collection continues on the fifth floor, but not by theme. Here it treats prewar artists in depth, with at most two per room—in a selection that promises to change. And here the surprise is just how familiar they look, even with such less often seen additions as Stuart Davis on paper or photography by Ralston Crawford, Charles Demuth, and Reginald Marsh, who worked simultaneously in oil or tempera. This, the rooms seem to say, is what museums were like before ugly renovations, blockbusters, and the constant pressure for novelty got in the way. They could be a plea that American art really does need the space of a new building down in the Meatpacking District, just as its frame rises to completion. Or they could be a fond if early farewell gesture to the old one.

Jay DeFeo ran at The Whitney Museum of American Art through June 2, 2013, "Sinister Pop" through March 31. A related article takes up the Whitney's concurrent "Blues for Smoke," for another view of a jazzy era.