In the Light of Minimalism
John Haber
in New York City
Robert Irwin, the Whitney, and Dia:Beacon
As the Whitney prepares to depart Madison Avenue, Robert Irwin is making clear what it will have left behind. His once-in-a-lifetime recreation of an installation from 1977 shows a nearly bare floor of Marcel Breuer's museum building as a work of art.
It is not Irwin's first or last encounter with a major arts institution. In between his appearances at the Whitney, he took over the Dia Foundation for an installation that multiplied its walls while baring its structure. He then served as architect himself, for the foundation's move to what became Dia:Beacon. Since then he has reinstalled the installation for his own new space. It offers a further glimpse not just of Irwin, but also the nature of museum design, site-specific art, and Minimalism. It also brings them all again into the light.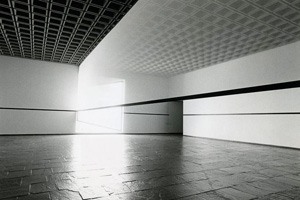 Remember the Whitney?
Barely half a mile from where I stood one afternoon, people were lining up around the block for the Guggenheim. I had an entire floor of the Whitney practically to myself—to myself, that is, and the light. If that sounds like a throwback to an earlier age, before museum blockbusters, it is. Robert Irwin created Scrim veil—Black rectangle—Natural light for a 1977 retrospective and for this space alone. It has not been exhibited since, and with the Whitney's departure in favor of the Met Breuer, it may never be again. For most of us, this will be literally the experience of a lifetime.
Irwin trades in the ephemeral, but in a moment that lasts. New Yorkers still test each other's memories of another installation, at Wave Hill in 1987, much as they might search for used copies of the small book that accompanied it. Sure, people linger at the Guggenheim for the changing colors of an installation by James Turrell—or at PS1 in winter, where Turrell's ceiling cut passes through twilight into night. One lingers for Irwin precisely because nothing happens, beyond a growing understanding of the museum and one's perception. The light through the single window may vary while one waits, but not by design. It is hardly even the point.
As with Turrell, Irwin is not above repeating himself. They are, after all, obsessively pursuing a fixed idea, while responding to the site. Irwin had already displayed Fractured Light—Partial Scrim—Eye Level at MoMA in 1971, and that title describes this work as well, give or take a few inches. At the Whitney a scrim descends across the center of the long room, starting at the trapezoidal window. Its thick bottom border picks up the window's black frame, and an identical line runs along the walls at exactly the same height. The far wall reduces that space to a stricter rectangle, leaving a small room behind it for sketches and plans.
As at MoMA, too, that height is better described in human terms than in inches, as roughly the top of one's head. Irwin has also referred to the Whitney's installation Black Line Room Division + Extended Forms—and at five feet, six inches, some may feel the division as a physical obstacle, while others will sense only the light. (As it happens, both guards one day were shorter.) Most, though, will duck all but insensibly, as part of the process of the sensible becoming conscious. One may see the scrim at first as only light and not cloth, or one may see the border on the far wall as part of an additional division that is not there.
The work marked a division for the artist as well, on his way like Turrell to more public art. Born in 1928, he was the older of the two in the Southern California movement called Art and Light. His 1977 retrospective already covered nearly twenty years. Like Turrell, too, he is hardly above illusion, but his ordinary materials, simple constructions, literal titles, and refusal of events root him more closely in the everyday. Turrell draws crowds for his showmanship. Irwin asks only for individuals, and he asks them to look without rather than to the almighty or within.
The Whitney is taking its own last look at its surroundings, before inviting Jeff Koons to close shop. It has celebrated Breuer before, in walls that move to form a central square for Edward Hopper drawings, but also somehow bear the weight of Jay DeFeo and her two-ton Rose. Is it coincidence that a first-floor alcove, for Stewart Uloo and Jana Euler, includes Euler's painting of two Whitneys—one the building and the other, Whitney Houston, a star? I sure hope that the museum has mixed feelings about what it is leaving behind. Irwin ought to know. Lawrence Weschler called a book about him Seeing Is Forgetting the Name of the Thing One Sees, but here seeing is given its living name.
A maze of light
Robert Irwin cannot remake Dia:Beacon, not even with sixty-four walls and twice that many fluorescent tubes. No more did he remake the Whitney twice with a single scrim and a single black line. He merely allows one to experience the space anew and as an ever-shifting whole. Irwin calls his installations not site specific but rather "site conditioned," and the conditioning works both ways.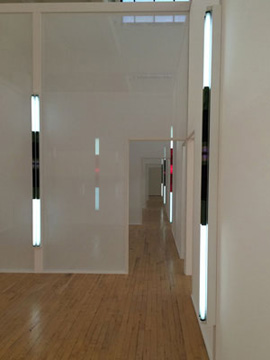 With Excursus: Homage to the Square3 at Dia, a regular design sets conditions for the work and the visitor. In turn, the work conditions the space.
In truth, it would take more than sixteen rooms to remake Dia:Beacon. What once occupied Dia Center for the arts, then in Chelsea, now has to settle for less than a tenth of Dia's galleries upstate. And that counts just one floor, quite apart from a mezzanine of Torqued Ellipses by Richard Serra, a floor apiece for Louise Bourgeois and Bruce Nauman, and the west garden, with its bird calls by Louise Lawler mocking the collection's predominance of male artists. Irwin should know what it takes, too, and he has every right to try. He already remade the former Nabisco box printing factory, as designer and landscape architect. The passages in and out of his current installation serve as a welcome excuse to reacquaint oneself with the enormous space, the detailing of walls and windows, the collection, and his role in one's perception of all three.
People often remember Excursus from 1998 as a maze. If so, it is an easy one to navigate, even after nearly twenty years. Translucent scrims set out a simple four by four grid, with paired lights set vertically at the center of each wall and paired openings at the ends—right next to identical openings in adjacent walls. Feel free to march up one aisle and back down the next, to make sure that you have seen it all. Repeat the process, and you are done, unless you are prepared to turn back. And yet it is indeed a maze, a maze of light.
Plastic looped around the center of each light fixture adds color and subdues the fluorescent white. The colors change from room to room, and so does the natural light in spaces open to the skylight above. Look longer, allowing light to penetrate the scrims from rooms away, and the colors multiply as in a mirror. Look at the corners, with the openings angled away, and they take the very shape of mirrors or a maze. Irwin's subtitle pays homage both to the grid and to Josef Albers, who used it as a title for his seemingly endless series of nested squares. The superscript, as in cubed, then both serves as an intensifier and marks the passage into three dimensions.
If I were a museum director, I might hesitate at this point to ask Irwin for an installation. It might come as a prophecy of doom. He designed for Dia:Chelsea, where Dia is gone and now the whole building is on its way to demolition, driving out the Independent and other art fairs. He designed for the Whitney on Madison Avenue, and now the Whitney is gone, too, to the Meatpacking District in architecture by Renzo Piano. His reinstallation at the Whitney was the museum's way of saying goodbye. Yet it also embodies the very notion of site-specific art as transient, as much of Irwin's smaller, independent works never could.
The artist faces down the trend toward overblown installations of found objects refusing the return to trash. He is open to reception and change as he conditions and is conditioned by space. He parallels Doris Salcedo, whose retrospective reconceives past work for the Guggenheim, much as her career keeps returning to much the same furnishings from everyday life. Irwin had already reconceived Excursus once while still in Chelsea, where it started as Prologue in eighteen rooms before adding lights. For Beacon, he has had to think it through again. And then it will be different after it is gone, but so will Dia, and so will you.
Beyond the maze
I returned to Dia:Beacon for Robert Irwin. No one, though, could stop there. Impressively, he recreates his exhibition at the late and dearly lamented Dia:Chelsea. Just as impressively, though, he occupies only a fraction of the space. I first encountered the site as a new Hudson River School. I could again see why.
Irwin's conversion of the factory opened in 2003. I have been back more than once, including for a retrospective of Carl Andre in 2014. This time, though, I could give full attention to what Dia calls its Reggio Galleries. Not that the installation fails to hold one's attention. Suffice it to say that it is worth the trip, about ninety minutes from Grand Central Station. For that matter, the ride up the Hudson alone is worth the trip.
Still, let me direct you as well to my own visual tour. It includes photos of the collection, starting with "Getting and Being There" and more photos of Irwin's maze of light. Other groupings play with "Grids Within Grids of Light," "Creature Discomforts," "Tight and Mirrored Spaces," and "White and Everything Else." Among the featured artists are Dan Flavin, Agnes Martin, Sol LeWitt, John Chamberlain, Louise Bourgeois, Robert Smithson, Richard Serra, and Gerhard Richter. Think of them as featured rather than selected, not only because one wants to select practically everything, but also because these just happened to survive the cut from among my amateur photography. I admit to not a single selfie within them.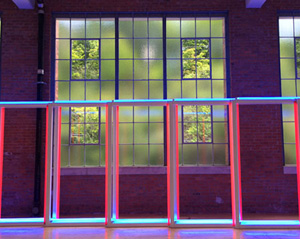 One encounters such surprises as LeWitt's artistry (give or take assistants), Serra's informality, Richter without either a squeegee or the news, and Bourgeois as more personal than mythical. A ponderous exhibition of Michael Heizer in Chelsea showed him as, no doubt, he wishes to be seen at this point in life—with one weighty stone after another, befitting his stature and profundity. Up in Beacon, one sees instead the calm open spaces and rigorous conceptualism of his floor pieces, based on their weight in silver. One huge stone does find space, but tightly bound in a wall niche that brings it closer to direct experience. Old distinctions between expressionism and Minimalism or between conceptual art and the thing itself are worth preserving, but only so long as you remember to look.
I probably learned most from the four rooms for Robert Ryman, beginning with small gestural work and his first in white, one even with the text of its not entirely ironic title, The Paradoxical Absolute. As they become larger and smoother, almost like the polished metal that at times underlie the white, the works also make more and more manifest the rough edges of their making, through bolts and other supports. I probably learned the least from Blinky Palermo, although one room for his simplistic geometry, interestingly enough, claims to respond to the four seasons. He may even mean it. I found the greatest temptation both to overlook very good art with Fred Sandback. The more time one spends with his colored strings, the more one gets to know their surroundings.
From On Kawara at the Guggenheim this spring, I learned to be suspicious of Dia's display of his date paintings without the accompanying news clippings. No wonder they used to turn me off. Yet for others, I learned how well they and Irwin's design respond to one another, even if they did not plan those responses in advance. The floor to himself for Bruce Nauman allows others almost to share in his performance. But you will forge your own connections. Enjoy the show!

Robert Irwin ran at The Whitney Museum of American Art through September 1, 2013, and at Dia:Beacon through May 31, 2017. Stewart Uloo and Jana Euler ran at the Whitney through August 11, 2013. A related article introduces Dia:Beacon after its opening. My visual tour dates from July 2015.