That Smarts!
John Haber
in New York City
Scott Reeder and New Photography 2013
Can art be too smart for its own good? How about too beautiful? Scott Reeder pulls off both, and he is not alone.
He could, in fact, be the new normal. Michael Williams accepts the limits of male fantasies, while relishing every minute of them in paint. A museum overview of "New Photography 2013," including Eileen Quinlan, deals in uncertainties about a changing medium, while hinting that the photographers know better. Anke Weyer and Sophie von Hellermann seem more old-fashioned, in fluid oil on canvas, but the echoes of past abstraction and child-friendly imagery ask for something more. Can there be comfort food for those who cannot afford auction prices? How smart.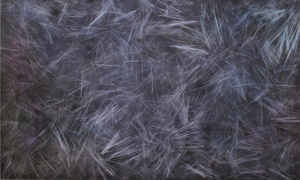 Carbo loading
As Modernism matured, beauty sometimes seemed the easy part. And as Postmodernism took over, cleverness seemed almost a prerequisite. Together, they sound like a comfortable formula for the secondary market—or a Brooklyn restaurant. And that comfortable formula is everywhere. At its best, it simply replaces older comfortable formulas, of tidy realism or untidy abstraction, but its seductions can come all too easily. Reeder, for one, still has the power to seduce, even if I wanted so much more.
It may sound odd to speak of either smarts or beauty, when a show starts with Cops Kiss, stacked against bright purple in full caps and an angular sans serif. Two entire walls continue the barrage of mixed messages and DayGlo colors, in a single, unrelenting row. They are clearly speaking to you. The barrage seems almost to scroll past as one walks beside the paintings, like a crawl screen for news, outdoor advertising, or Jenny Holzer. It helps that the words teeter on the edge of self-reflection or a commentary on western civilization—like Word Jazz, Slow Fade, Bad Joke, Fake Work, and Real Evil. They also cannot help insisting that Reeder knows better, not to mention better than you.
The seduction is even more pronounced in abstractions, which already stood out in a suitably smart and beautiful group show two years before or in the smart and knowing illusions of Helene Appel. They have the same fluorescent whites, but against jet black or deeper, more absorbing colors. Crossing lines glow, in oil and enamel, even as they fade into what one group show has called "The Shapes of Space." One large canvas bridges the two series, as geometry gives way to letters. They recall how Christopher Wool celebrates and undermines text art and abstraction, but with a greater eagerness to please. And still they do know better, for sure enough the lines and letters are the traces of pasta, which Reeder strewed across canvas and painted over.
One can see the carbo loading as process painting, in all its sincerity#8212;or as an inside joke with no one left at which to laugh. One might not notice the sheets of paper scattered on the floor like thoughts cast aside, but Reeder has crumpled much larger ones in the back room. Of course, the sheets are blank, and he has sculpted them in aluminum. Above them hangs a neon phone number, and who knows how many pulled out their cell phone at the opening? The search for immediacy is fine, just so long as one can deny its very possibility. Reeder calls the show "People Call Me Scott," introducing himself personally while hinting that the label is just their mistake.
Even smart critics can let their guard down, as I am ever so grateful I did for Sam Moyer at her weightiest. Jerry Saltz was not the only one to celebrate Michael Williams at Canada on the Lower East Side, reopened at last, for a luxuriant rush of images. The painter can saturate a canvas with fluorescent hues or bury his own subject matter with fresh drawing. He might be a graffiti artist defacing no one but himself. Sure enough, the one consistent image is a full-scale male, reduced to nudity or to a cartoon. If someone can put a restraining order on art's macho indulgence, from Mike Kelley to Paul McCarthy, it may as well be him.
Still, he very much reflects their extravagance, longing for childhood, and self-abasement. Yes, Virginia, there is a Santa Claus, although upside-down. And the praise comes from some of the same writers who regularly denounce the Museum of Modern Art for neglecting women. Contradictions come easy in an unruly art scene, and Williams makes the most of them. Still, artists like these could not persist without a knowing wink. A thorough and creative review of emerging photographers depends on just that.
The new insiders
A survey of "New Photography" bears a heavy burden: it promises to change what one knows about photography, and the Museum of Modern Art does. Take whatever familiar use of the medium you like, as portrait or document, real or imagined landscape, advertising or Surrealism, America the beautiful or America the other. One will not find it here, and one may leave wondering if the medium has opened vast new possibilities—or if there is anything left of it at all. Linger, though, and one may find an oddly oppressive sense of certainty among the unknown. This is photography that knows who counts.
This year's version of an annual tradition has separate sections for its photographers, so that one can get to know their certainties well. It feels smaller than its sixty works, to its credit, because the eight contributors, two of them a team, think in terms of series or of books. The curator, Roxana Maroci, even narrows their vision when she finds it helpful. In Chelsea recently, Annette Kelm dared one to find a point of reference in an urban sea of role models, products, and signs. She leaves cryptic even a German museum's declaration of woman's history—and she leaves its ideal of female identity, like the empty dress on display, all but impossible to assume. At MoMA a very few "typologies" of mass production are there for the taking, if only one could reach them.
One may not. Julian, Italian Restaurant sets an artist apart from the crowd, and the croquet wickets nestling a flower define a pristine course that no one could ever navigate. Up close, the striped ground becomes as dizzying as Op Art. Photography here is starting to disassemble before one's eyes. Similar patterns disrupt cloudscapes, tapestries, and bombing runs for Lisa Oppenheim, who subjects the immediacy of photograms to the artifice of solarization. She takes as one subject "a cataclysmic event" and the very act of photographing it, while leaving the threat itself uncertain.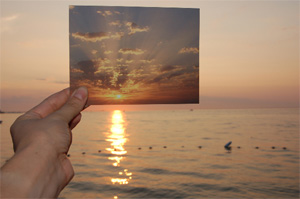 Brendan Fowler makes the medium's destruction, as image or as object, plain from the moment one enters. He stacks his frames against the wall so that they fan out, in at least one case from behind like stretchers for Jasper Johns, Joshua Neustein, or Jane Fox Hipple. He also rips the inkjet prints so that the rough edges extend to their mounting. Fowler's subjects have been on something of a tear themselves. They belong to a music scene that one can never quite make out, apart from its screen doors and security jackets. His humongous titles describe the actions of a moment already lost to time.
Adam Broomberg and Oliver Chanarin recover time, in museum display cases at that, but the results are not pretty. They update Bertolt Brecht's War Primer for today's headlines, inserting their found photos and captions directly over the originals. One can still make out World War II GIs, the ruins of Europe, and the poet's four-line stanzas, but one will have no trouble recognizing the war room on the night of the raid that killed Osama Bin Laden—or the cell phone cameras reveling in death. Brecht's testimony to air power and brutality still has the last word: the Germans were "kind" to the French prisoners of war, in blindfolding them before killing them. One gets to giggle at Donald Rumsfeld riding a unicycle all the same.
The politics of outrage is never far away. Josephine Pryde displays MRIs of human embryos against a desert landscape, as It's Not My Body. Her photos of seriously cute guinea pigs come with reminders of their role as lab specimens and in trade with Guinea—which just happens to have included the slave trade as well. Anna Ostoya's photomontage uses artist portraits from the twentieth century and clips from both popular and censored films to muddle gender and cultural traditions. In the past, Oppenheim's photos, like those of Stephen Shore, came with their own reminders of voyeurism and the Mideast wars, with an American soldier holding his photograph against the horizon. Even abstract photography by Eileen Quinlan takes its names from David Lynch, yoga class, and Judy Chicago to make sure that it is duly "grounded in feminist history and material culture."
Comfort food
Can there be comfort food for those in the know? I, too, am happy to let my guard down. The month after Williams and at the same gallery, Anke Weyer even addresses people like you directly, in a show titled "Du." The German packs her canvases more tightly than Willem de Kooning or Joan Mitchell, but with almost the same colors. Her creamy brushwork never quite pushes the boundaries of painting, but I had found my comfort food for the night. The ripeness is all.
Sophie von Hellermann is still more determined to nurture complexity while denying the pain. The four walls of a room interweave bare faces with a network of trees, like an entire civilization banished from Eden while unable to leave. The faces come close to tears, but in the style of a sophisticated children's book. On canvas, the same lush simplicity applies to people trapped in a lion's den and, literally, the elephant in the drawing room. A woman in white shies away from her own shadow, and who is to say which is a ghost? Yet for all the pathos and the comedy, no one ever gets hurt.
Of course, big-name dealers have their own comfort food, with a harsher and more predictable taste. It includes images that never quite come to fruition, so that they can quote that many more familiar styles. It includes transgressions, to which, of course, the buyer is immune. Yet the temptations may not be so different for those on the margins of the system. It includes the comfort of the familiar alongside the shock of the new. Think of them as two ways of asserting beauty and smarts.
Genre busting is everywhere, between abstraction and photography without a lens, just as for Reeder and "New Photography." Jacob Kassay and Quinlan have shared its strange magic before, the first with chemical changes in response to light, the latter with overlapping geometries. Now Kassay pushes further toward appropriation, with irregular white canvases—along with books seen through lenses that simultaneously amplify and bury sense. The borders of the canvas carry text from clichés and overheard conversations. One can almost hear him, in the royal we: "we have seen your art and heard you speak, and we are not amused."
Quinlan is even more seductive, as ever—in her quest for what a show at MoMA once called "The Photographic Object." Her latest photographs hang as a single series, interspersing images with scarred, stained, and rephotographed traces. A torn billboard echoes Walker Evans. Portraits, too, have the dignity and isolation of his Depression-era photographs, but with a lot more cool. This could be Let Us Now Praise Famous Men for the downtown bar scene. For all the smarts and the beauty, Quinlan's exploration of how photography comes to be is real, but not everyone can pull off the same trick.
Critics have spoken of art now as Neo-Mannerism, and where would Mannerism have been without technical skill and sophistication? Artists are breaking borders in a new eclecticism, and I might have chosen many of the same photographers as the Modern. And yet all these shows go out of their way to recover certainties, whether in politics or a postmodern vocabulary of symbols and signs, much as MoMA recently returned political architecture to deconstruction. Art here knows a little too well where it stands, whether in the club scene or in war and peace, and each artist stands in a particular corner of the action. One can also question whether the galleries and museums are the one drawing the boundaries, under the guise of breaking them. I just wish that they did not work so hard to exclude me.

Scott Reeder ran at Lisa Cooley through December 22, 2013, Michael Williams at Canada through December 15, Annette Kelm at Andrew Kreps through November 2, Jacob Kassay at 303 Gallery through December 20, and Eileen Quinlan at Miguel Abreu through December 15. "New Photography 2013" ran at The Museum of Modern Art through January 6, 2014, Anke Weyer at Canada through January 26, and Sophie von Hellermann at Greene Naftali through January 4. A related review takes up "New Photography 2015."