Think Small
John Haber
in New York City
The Claude Master and Small
A small show can be a special treat—a chance to spend time with a single artist and just one or two works. So what if its centerpiece is only two inches across?
"Miracles in Miniature" is the ultimate in small shows, with two precious books the size of a queen's hand, by the artist known only as the Master of Claude de France. They make the perfect anecdote to an overblown, overhyped art world. (Not that they would fail to command high auction prices.) They insist that books still matter. And their scale did not end with the Renaissance.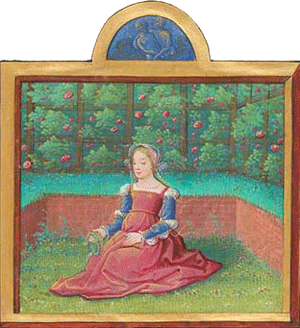 The contemporary artists in "Small" care for detail. They work largely on paper, with little in the way of color. They work small, to the point that one could walk right by at least one work without noticing. Ranging from their thirties to just past fifty, they also defy a scene obsessed with young emerging artists and older established names. Seven of nine hail from Europe or Latin America, and only one works in New York City. And they push at boundaries not solely by working within limits. They also push against the meaning of small.
When it comes to art, it pays to attend to detail. Realism may take on the precision of a photograph and abstraction that of a circuit diagram. A drip can get lost in a sea of oil, and that can be the whole point. And any of these can get along just fine with work the size of a mural. Scale, shows like these insist, is surprisingly hard to pin down, and it does not have to mean size. Think and then rethink small.
A small miracle
Along the walls of a small room at the Morgan Library run a calendar. Each of its twelve pages set the month's labors beneath an architectural lunette, containing the signs of the zodiac. The exhibition centers, though, on the Claude Master's Book of Hours, also in the museum's collection, alongside an only slightly larger Prayer Book, from a private collection in Switzerland. As the museum insisted with its 1999 exhibitions of The Medieval Housebook or coming up with The Crusader Bible, books like these were part of the fabric of everyday life, even when the life was a queen's. One can imagine Claude herself, the first wife of King François I of France, nestling them in her hand and holding them close from day to day. One can imagine her commissioning them in 1517, expressing in her prayers her dreams and anxieties on becoming queen.
I am happy to take the show's word on the last point, regarding her fears that she could never bear healthy children, for I shall never turn their pages to decipher their images. Yet in principle I could, at least online. The museum has scanned every page for the Web, where one can linger that much longer and zoom right in. That, in turn, is part of a still more impressive digital program, most recently extending to the entirety of the Morgan's Rembrandt etchings. Its availability is also only right when it comes to miniatures. The genre has acquired over time the aura of a rare book, beyond even most paintings in public collections, but it was always among the most humble of arts.
The Claude Master acquired an identity, if not a name, only in 1975, when a study of the two tiny books discovered a style in, already, a dying art. They have a distinctive reliance on plain text within broad historiated borders, meaning a weave of images to unfold the narrative. These also happen to include the king's and queen's emblems and her coat of arms, the first clue to their source. They all have the artist's soft but intense palette of lilac and rose, tiny brushwork that rarely lingers over outlines, and gentle spirit. Jesus at Gethsemane prays before a tiny chalice on a hill, as if this cup were the best and the worst that he could do. The apostle resting in the foreground looks well fed and comfortable, rather than reflecting a god's agony in a tormented sleep.
At the Morgan, the Prayer Book is open to the Annunciation, where the angel has entered in long strides rather than descending from the sky before kneeling to a virgin queen. The Book of Hours displays the Trinity, its only full-page miniature. Here Jesus, eyes lowered and facing forward, has a more rounded face and richer beard than the usual passionate sufferer or action hero, as he raises a hand to bless the reader, and both he and his kindly father beside him have a childlike grace. The dove of the Holy Spirit has doll-like eyes and wings spread a tad askew, as if taken by surprise in flight. The figures rest against an orange field within successive red and blue ovals, beneath the king's emblem, a knotted cord. The colors stain the page with their quiet glow.
The stories lack for drama, but not for courtly sophistication. The Annunciation suggests architecture within architecture. Its decorative border creates the illusion of a carved frame surrounding Mary's canopy bed—all within an elaborate interior, with molding in perspective that runs neatly along the picture's edge. In the calendar, a young woman sits humbly within an arbor for May, braiding flowers for her hair, but she has the breadth and calm of a queen. The sheets also give pride of place to simple labor, like feeding and then, a month later, butchering a hog. A man treads grapes for wine as if lowering himself into a warm bath. Still, that happy view of peasant life may well reflect the needs and narrow vision of the upper class.
If the Claude Master's playful innocence is fully his own, it is also a part of his time. The artist worked in Tours, influenced by Jean Poyer (or Jean Poyet) and Jacques Ravaud—and the curator, Roger Wieck, believes that he can document a teacher as well, in Jean Bourdichon. And by 1500 manuscript illustration in northern Europe had gone from leading the way toward the Renaissance to reflecting a new humanism and an ease with representation, in which ordinary people and ordinary feelings can come to the fore. That new spirit is particularly evident in the human comedy of the calendar, for all its courtly biases. Its couple feasting could be having dinner any day of the year, men hawking could be grown-ups playing with model airplanes, and martyrs could be assembling dutifully for an unwanted reunion. Fine art and folk narratives have become inextricable, and old hierarchies will soon be dying away.
A small world after all
At the Drawing Center, it's a small world after all, in the smaller back room at that. Out front, three artists have selected from the Viewing Program, the center's huge digital registry. For "The Intutionists," Heather Hart, Steffani Jemison, and Jina Valentine start with Colson Whitehead's novel of the same name, taking it phrase by phrase like free verse. They then match their found poetry to artist-created metatags in the database, and there you have it—a ragtag but enticing show of drawings, with a cryptic collaboration of their own downstairs, in what looks like a broken circuit diagram on the walls. Are they acting out the limits of critical discourse (you know, "theory") or of digital precision? Perhaps, but the intuitions and connections are their own.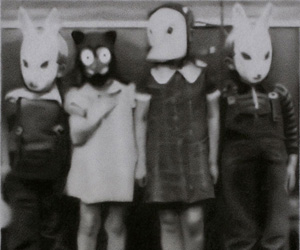 Either way, the cells in a spreadsheet may look small, but they add up quickly, and so does "Small." Its curators, Claire Gilman with Joanna Kleinberg Romanow, challenge the growth and commodification of the art world. No piles of trash or giant puppy dogs here—and yet nothing is as small as it seems. Peggy Preheim isolates her flag and figure drawings on large fields, and Paul Chiappe's group portraits would not look out of place mounted on larger sheets of paper as well. Claire Harvey and Firelei Báez fill entire walls. Rita Ponce de León in ink sticks to the raised surfaces of tapering sticks of wood, which descend through holes in a circular platform. It could double as a table or a collection of baseball bats, except that the associations hardly seem to matter, with the drawings all but incidental.
Most of the artists have a larger history as well. Tom Molloy has made assemblages of torn maps and dollar bills, while Preheim has worked between sculpture, drawing, and photography. Besides, as anyone knows since Sol LeWitt and Minimalism, scale depends on the grid or the project, not just the components. For the 2012 New Museum Triennial, Ponce de León multiplied her smallest drawings to at least a hundred. She has also sketched on larger surfaces laid out like benches. When James Sheehan sets his watercolor the size of a postage stamp into a supporting column, it similarly becomes part of the architecture.
Small in art has a long history, too, reaching to a show today of "this one is smaller than this one," and "Small" breaks with it. The tradition goes back to portrait miniatures and to manuscripts like those of the Claude Master, while models in art have created what another show has called "Miniature Worlds." Emmanouil Bitsakis contributes the only miniatures here, but with an ironic take on their function in the present. He appropriates the Koran and a Gospel, stuffing them with his own drawings. Báez sticks closest to book art, but to splash her images over page after found page. They serve as an atlas of history, sexuality, and wildlife.
For all nine artists, scale matters because it plays against something larger. As in the Studio Museum's 2013 look at emerging African American artists, Báez celebrates her Dominican heritage while questioning its image under western eyes. Preheim leaves her figures out of the past isolated in the present, much like Harvey's Easily Removable People—seen from their back on scotch tape affixed to the wall, at least for the duration of the show. Private lives enter public spaces, but at their own risk. They also become part of a more sinister pageant. Chiappe's fine pencil shows children in birthday hats and Halloween masks, while Tinus Vermeersch's sepia drawings depict a carnival between human and animal.
Transience slips easily from space to time as well, and that means death. Sheehan's watercolor shows Kazimir Malevich on his deathbed, in a well-appointed room stuffed with books and paintings. Molloy sketches the dead on their backs, with a realism that recalls Gerhard Richter and his series on the Baader-Meinhof gang. All nine artists are political in one way or other, while their politics remain elusive. One could imagine a show more truly dedicated to the small and its possibilities, from fine-grained abstraction to bolder narratives and sinister objects. Still, "Small" conveys what the big picture often overlooks, in personal remembrances and passing lives.

"Miracles in Miniature" ran at The Morgan Library through September 14, 2014, "Small" at the Drawing Center through August 24.