Your Own Darn Museum
John Haber
in New York City
The Emily Fisher Landau Center
Tired of museum finances, museum politics, and museum blockbusters? Sick of long lines, rising and falling stars, and curatorial egos? Well, tough. If you have a problem, open your own darn museum.
One woman, already in her eighties, has. The Emily Fisher Landau Center allows a peek at a substantial private collection of contemporary art—but just a peek. It also raises a tough question: where does a private collection end and a public institution begin?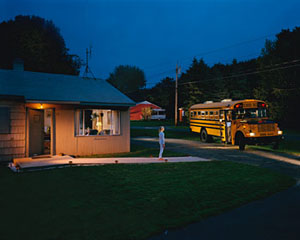 In fact, American museums often began in just this way. In related articles, I look more at the birth of the modern museum, the sale of the Rose Museum at Brandeis, and what these say about commercial pressures on contemporary art. Elsewhere I watch while LA MOCA hands its reins to a principal donor and LACMA adopts a high-pressure salesman. A postscript returns to the Fischer Landau Center a year later, for works from 1988 to 1991.
No man's land
The Emily Fisher Landau Center opened to the public in 2004, after a decade by appointment only. Max Gordon, also architect for the Saatchi Collection in London, had converted the parachute-harness factory in collaboration with Fisher Landau's curator, Bill Katz. Together, they designed a showcase for her holdings of contemporary art, said to number over a thousand pieces. In April 2003, they finally decided to show it, at least in part.
You may have noticed it then on art maps without quite knowing what to make of it. MoMA QNS had begun its brief life less than a year before, and "Matisse Picasso" was creating the unthinkable, lines to see art in Queens. The Center dared one a little further off the beaten track—a subway stop north of Queens Plaza, a couple of blocks from Northern Boulevard, and between Long Island City and Astoria. It occupied another no man's land, too, between private collection and museum. Saatchi alone marks that as scary territory, and it has become more dangerous still. Two bland portraits of Fisher Landau, by Andy Warhol, could provide its logo.
Worse, ordinary museums cannot stay out of it. Renzo Piano has redesigned the Whitney for a new museum by the High Line and LACMA around Broad Contemporary, just in time for Eli Broad to boot out the director of LA MOCA and hire Jeffrey Deitch in the name of a rescue plan. But then whenever donors insist on a separate wing, with their donation intact, they are disturbing a museum's prerogatives and a viewer's experience. I cannot visit the Jack and Belle Linsky wing at the Met without thinking of them as walled up forever inside. The Lehman wing even looks like a mausoleum.
More often, a museum exhibits a potential donation, like the Nasher Sculpture Collection at the Guggenheim or Edward R. Broida at MoMA. In each case, it is putting on a display of money and power as much as art. It is begging more than exhibiting. Even before Postmodernism, critics have focused on what that entreaty means for art. Ad Reinhardt tells its story in his 1946 cartoons, How to Look at Modern Art. While many museums keep much in storage, Fisher Landau's measured exhibitions, too, insist on the power of a single collector.
Others are hoping now that the market crash will produce cracks in the old institutions and some healthy artistic chaos. Contemporary artists have often created fictitious museums, sometimes as installations within existing ones, like what Ilya Kabakov styled as The Empty Museum. They promise a disruption of institutional pressures—or at least a modest critique that could ultimately reshape museums and art. They exploit a promise that has extended in time from Walter Benjamin's "arcades project" in the 1930s, an encyclopedia of nineteenth-century Paris, or André Malraux's Imaginary Museum through virtual reality today. Yet real museums thrive on the very impulse to comprehend art and society. They have their own Web sites, too.
Museums always depend on donors and audiences, though—and plenty, from the Frick through Dia:Beacon, got their start in that no man's land. Broida's gift to MoMA alone filled an immense gap—with a striking history of the 1970s. Besides, scholars have increasingly put art of the past in context of patronage, commerce, and other rituals. Tracking the story through Modernism and contemporary art can add appreciation along with critique. If the Fisher Landau Center looks not unlike an upscale gallery, could it illuminate the requirements of contemporary art?
Screening a museum
Landau has contributed lavishly to the Whitney, where her name appears above one floor, with an additional hefty gift of its holdings in 2011. Reena Spaulings in fact made fun of it in the 2006 Biennial. Would the artist's pretend Chinatown shop awning look appropriate in Queens? At her private museum, she does art the favor of not meddling but welcoming. If a vast collection opens itself to inspection five days a week for free, one might as well take advantage of it, even if the small selection shouts private collection more than museum.
For once, to call architecture workmanlike is a compliment, although a guarded one. The nondescript factory exterior has not had a restoration so much as a paint job. The side entrance adds not a sculpture garden so much as wheelchair accessibility, plus a troupe of concrete sheep as official greeters. Nothing inside hints at an industrial or personal history, as in the basement tunnels of SculptureCenter or the red-brick schoolhouse of P.S. 1. Instead, the three floors offer a reasonable variety of spaces, with lots of artificial light. Side windows add natural light, tastefully subdued by opaque glass and gauze curtaining.
It makes reasonable sense for the collection's holdings. Think of several strategies for a wealthy collector—or maybe temptations. One can hope to map an artist, a time, or a style, not unlike Broida or the Barnes Foundation, at the risk of picking up some trivia. One can try to spot emerging artists, like Saatchi with its Young British Artists, at the risk of playing tastemaker for the tasteless. One can hope for something definitive from the generation before, like the Nashers, at the risk of its pale, pompous shadow. Fisher Landau simply keeps up with the action, with a subdued but fairly recognizable version of recent art.
I say fairly, because it supplies an interesting test—of one's knowledge and of any consensus about art since 1970. Again like a private gallery, the Center has handouts instead of wall labels, so one might first guess for oneself. I made my share of mistakes, and they relate to the collection's liking for quiet, beauty, dignity, and whimsy. I can think of more compelling and disturbing pictures of art right now, but Fisher Landau has a point. Not everyone associates Georgia O'Keeffe with a floating ladder to the moon, but it fits with the barely figurative images nearby from Susan Rothenberg, Thomas Nozkowski, Bryan Hunt, and William Baziotes. I had not heard of that Troupeau de Moutons or the sheep's French sculptor, François-Xavier Lalanne, but I petted them anyway.
Animals turn up elsewhere, too, as if for reassurance, and even sculpture by Lucas Samaras does not look too dangerous to touch. Still, sex and politics percolate below the surface. Jenny Holzer, Richard Artschwager, Donald Judd, and Nancy Dwyer all adopt the solidity of office furniture—Judd's desk sporting a Calder mobile on top, Dwyer's spelling out ENVY, Holzer's polished granite bench offering respite in a stairwell. The painting and sculpture often aspire to grandeur, if ironically. A heroic laborer by Mark Tansey paints over Michelangelo's Last Judgment with a roller, while Neil Jenney adopts the broad strokes of expressionism for his disaster scene. Near a big, rich Cy Twombly and two examples of Homage to the Square by Josef Albers, Sherrie Levine's stripes could easily pass for sincere formalism.
The museum shows its limits in a floor for Jasper Johns screen prints. It charts his transition from his in-your-face breakthroughs to the dense, self-reflexive patterning of late Jasper Johns, but the medium comes off less as darkness and self-questioning than coasting. Propriety appears at its most refreshing downstairs, with a room for photography. I was not that familiar with the nearly abstract colors of Adam Fuss or Barbara Ess, and I did not expect to see Lorna Simpson with so little overt expression of racial tensions. Here Nan Goldin settles for the sordid attractions of love that average people know—or at least Robert Long's yuppies next to them. Still, they all make sense together, as if sharing the staged suburban fantasies of Gregory Crewdson hung beside them all.
Generation Y
Imagine that MoMA PS1 had stepped back only half as far in time as it did in 2010. Instead of "1969," its survey of a single year, it would have found itself in 1989. Instead of asking whether modern art still mattered, it would be thinking about a museum's relevance. Instead of the chaos of the 1960s, it would have seen a stern focus. Instead of art caught between painting and porn, sincerity and irony, it would have found an icy reserve—directed equally at art and at the world.
In fact, it would have found itself at the Emily Fisher Landau Center, just one year after my first visit. Those same months the private collection with aspirations to a museum turned to its founding years. That alone says something about 1989, when collectors had started buying up contemporary art, East Village art had entered Soho, and rebellion became the mainstream. Painting was dead, everyone said, only guess what? Everyone was painting.
At least it seems that way in Astoria. Instead of photographing early Modernism, Sherrie Levine blurs the line between game boards and abstraction. Instead of collages that disassemble cliché, Barbara Kruger blows up the Pledge of Allegiance to magisterial scale—and right to the edges of a blood-red field. Neil Jenney titles his image of a house painter's tools Paint and Painted. One can think of its heavy black frame as "The Pictures Generation" growing up, putting aside anger and humor alike, and becoming collectors. They were creating museum pieces that scorn the museum.
Not that the show includes only work from 1988 through 1991, as indeed with Jenney. Older artists like Ed Ruscha and Robert Indiana supply a precedent. Even then, it is a precedent for a colder eye than most Pop artists ever imagined. When it comes to high and low culture alike, these artists are producers first, consumers last. Abstraction survives in Ross Bleckner's disco glow, Alan Uglow's tape-like disruptions of a color field, and Peter Schuyff's version of Op Art that trades sensual overflow for an illusion that will not go away. Neither Minimalism nor pleasure alone will do.
In the title of a titanic landscape by Tansey, one has entered The Valley of Doubt. Conceptual art drops in from Europe and California, with Joseph Kosuth and John Baldessari, as a thick pane of glass and an off-kilter alphabet. Political art looks grand, grisly, and devoid of protesting or suffering human beings. Fariba Hajamadi photographs guns in museum display cases. Annette Lemieux places cast Nazi helmets on steel pedestals, as Party Hats. They define both art and culture, like Nancy Dwyer's three thick sculptural letters, as a Lie.
To tell the truth, there was more to 1989. Just as for Kruger, the selections amplify scale and iron out conflicts. That is a collector's prerogative. Previous selections at the Center, from more recent years, had much the same cool mystique. And that, too, says something about 1989. A private collector could have museum aspirations—and found art to match.
The context changes more visceral artists as well. Late work by Robert Rauschenberg can look bland, but here it looks detached. A floor piece by Carl Andre has three long rows in three different materials. One does not easily walk between units from Carl Andre, but one has to admire them. Ursula von Rydingsvard look less brutal across from Rodney Graham's photographs of upside-down trees. Installation art was about to become bigger and bigger still than von Rydingsvard's hacked pyramids, not to mention a whole lot messier, but maybe it helps to remember the moment when consensus itself meant crisis.

The selection of Jasper Johns and others ran at the Emily Fisher Landau Center through April 5, 2009. Its selection of work from 1988 through 1991 ran through April 3, 2010.