A New Ordering
John Haber
in New York City
László Moholy-Nagy and Dadaglobe
It takes almost to the end of his retrospective for László Moholy-Nagy to reach America. Much of it dates to just six years, starting in 1922, when he exhibited at Der Sturm gallery in Berlin. Much of it dates, too, to the Bauhaus. Yet he dreamed all along of a "new ordering of a new world."
It was not an overtly political ordering, although the Bauhaus had its origins in Weimar, along with the German republic. Rather, it was for him a "new experience of space," a "new vision," and an "elemental art." It was the work of an artist and essayist. And the Guggenheim introduces it with a small sculpture, suspended above the lobby pool.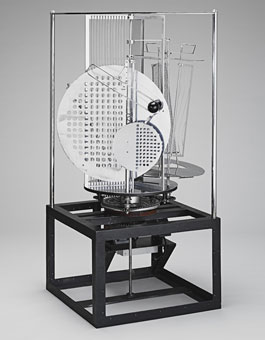 Its chrome-plated rods, piercing a Plexiglas sheet, find their ultimate expression in the museum's spiral. So does their tangle of shadows, from an artist who never disentangled a work of art from the light passing through it.
Moholy-Nagy could not disentangle it either from the technology behind it, including industrial materials and their fashioning. Plexiglas, brought to market in 1933, was still at the time a novel material. He made many more sculptures like it at that, as always with so prolific an artist. Much of his impact is the exhilaration of production rather than of individual works. With some three hundred objects, the show could exhaust anyone. Yet it points to the rootlessness never far from the order, and so do the artists at home and in exile of Dadaglobe at MoMA.
Vision in motion
Just up the ramp comes another joining of the artist, the museum, and the materials of modern life. The High Gallery has become a work of art on its own—a work that in his lifetime never came to be. Kai-Uwe Hemken and Jakob Gebert convert the open alcove into a closed room and a compendium of his concerns, as Room of the Present ("Raum der gegenwart"). At its center, a curved drapery of metal rods gives way to Light Prop for an Electric Stage ("Lichtrequisit einer elektrischen Bühne"), a more intricate construction of metal plates driven by an electric motor. Adjacent shelves hold photograms, or photographs without help from a camera, for a further confluence of objects, their shadows, and their perception. Moholy-Nagy got the idea for both the room and the sculpture in 1930.
The walls hold prints and more photographs. They capture homes much like those that Frank Lloyd Wright designed before taking on the Guggenheim or a mile-high city. Videos pick up the modern world at work and at play, plus pure patterns of light in motion. Throw in a tea canister and table lamps (by Wilhelm Wagenfeld), to complete what Moholy-Nagy called "the contribution of the arts to social reconstruction." All this occupies Room of the Present, because he insists on the particulars of the present, even when he intends his art as a gift to the future. The Guggenheim calls his retrospective "Future Present."
The smaller mobile in the lobby, Dual Form with Chromium Rods, dates from 1946, the year of his death from leukemia in Chicago. He was just fifty-one. His connection to New York came much earlier, though, with an exhibition at the Brooklyn Museum in 1926. He entered the Guggenheim's collection early as well, starting in 1929, on the advice of Hilla Rebay. He photographed Solomon R. Guggenheim soon after. He might have been made for America, right down to his perpetual journeys west.
Was there more to him than a quick hand, an eye for form, and a naïve optimism? The question comes up from the moment a proper chronology gets underway. Born in 1895, where he first studied law, Moholy-Nagy came late to the game, as much as a generation or more after those he admired and knew. He looked for models to Jean Arp and Ivan Punin, but without the conscious illogic of Dada or the revolutionary demands of Russian Constructivism. A sketch in black crayon from 1918 converts barbed wire into an appealing pattern. He seems to have set the terror of war behind him, just when it was transforming politics and art.
Walter Gropius invited him to the Bauhaus in 1923, where the faculty already included Paul Klee and Wassily Kandinsky. Like them, he took part in inventing abstraction, but without Klee's playfulness or Kandinsky's dream of a "spiritual in art." Maybe he believed too much in art's seriousness and the everyday. Maybe, too, he was just too rootless. A Jew from Hungary, he had changed his name and moved to Vienna and then Berlin—as the first of many moves, ending in the United States. He has his formal constructions, the work of "vision in motion," but also the restless vision and the tangle of light and shadow.
He returned to Berlin in 1928, and he was on the move again after the Nazis shut the Bauhaus in 1933 and clamped down on "degenerate art." He passed through the Netherlands and London, where he designed posters for the underground—and the move repaid him by helping him toward a freer spirit and greater use of color. Finally Gropius asked him to lead the New Bauhaus, in Chicago. Yet maybe even that felt too much like settling down. He left to found the Institute of Design, the future Illinois Institute of Technology. It seems only right for someone who found common ground in design and technology.
At the center
Wherever he went, Moholy-Nagy was at the center of things, and his reach extended everywhere. He taught the intro course at the Bauhaus, at both Weimar and Desau, and briefly shared a studio with Kurt Schwitters. He filmed an international congress of architects in 1933, including Fernand Léger, Josep Lluís Sert, and Le Corbusier. He designed film posters and the stage set for Tales of Hoffman, conducted by Otto Klemperer. He collaborated with Herbert Bayer on Bauhaus Books, for which typography mattered as much as layout and imagery. Not even invoices from the Bauhaus escaped him.
As curators, LACMA's Carol S. Eliel, the Guggenheim's Karole P. B. Vail, and Matthew S. Witkovsky of the Art Institute of Chicago peek at collaborations and his students, but so much is his own, because he touched so much. He called a Bauhaus book Painting Photography Film, as if not even a comma could keep his interests apart. Kelly Cullinan, the installation's designer, deserves credit for making the retrospective downright manageable. Works on paper hang on partitions, salon style, grouped by subject. They could pass for single portraits of modern life. Paintings, in turn, hang as few as one to a bay.
With the museum's help, one can divide his career into four bodies of work, with the back and forth helping to sustain them all. The paintings still demand the most individual attention. Their floating arcs and rectangles take Constructivism toward a greater complexity and equilibrium, like Piet Mondrian without the energy of the urban grid. The largest make free use of unpainted canvas, while others often rely on black backgrounds. Experiments with media run to enamel in 1923 (outsourced to a factory at that) and to oil and incised lines on aluminum in 1936. Late Space Modulators and Constructions bring a greater variety of shading, for a greater illusion of objects in space.
One can see his growing interest in sculpture as a translation of the paintings into three dimensions, including plates pierced by grids of circles. One can see the posters and prints as a collapse into two. That leaves the fourth and largest body of work, the photographs. They include faces of those close to him, some as negatives, and montages of found photos against a white background, or "photoplastics." Legs from a chorus line become The World Edifice, while divers stand in for Leda and the Swan. Hands held forward, fingers spread, face the camera as if pushing it away.
Moholy-Nagy did not invent the photogram, but he did coin the term (and he dreamed even of color photograms, although it took Liz Deschenes in 2015 and wholly new technology to bring them to fruition). It reinforces his interest in technology, from an artist who held that literacy demands the "use of the camera as well as the pen." It reinforces his concern for creating and disturbing light and space. It reinforces, too, his ambivalence toward an art of modern life. To the end, he places advertising on a par with industry, with a healthy skepticism about both. A title describes a bicyclist as trapped "between heaven and hell."
He insists on paintings as abstract, while photography can draw on anything. That may sound like late Modernism, for which each medium has its own inherent logic, but for him nothing belongs to painting by its very nature, because art and nature are always under construction. His art is a kind of formalism, but a formalism for the masses. It has room for utility and illusion—the utility of advertising and the illusion of "spatial kinetics." Asks the title of one nearly abstract photo, How Do I Stay Young and Beautiful? You keep moving, restlessly.
Anti-art with style
Not every art movement has a letterhead, especially a movement dedicated to questioning art. Yet Dada did, and Tristan Tzara set out to use it. Tzara, the poet and the movement's founder, and Francis Picabia wrote fifty artists and writers in ten countries, asking for contributions to an anthology, to be called Dadaglobe. They imagined a volume of up to three hundred pages and ten thousand copies, with four categories of art. It never came to be, but a recreation documents some rakish personalities and iconic works. Could Dada have taken over the planet?
The letters went out in late 1920, in German (in typescript) or in French (in truly atrocious handwriting). By then the movement was already torn and scattered, with Surrealism to rise from its ashes. No wonder Dadaglobe succumbed to financial woes and infighting. It was also not all that global, apart from exiles like Marcel Duchamp and Man Ray in New York. Contributors came mostly from major European capitals, especially Paris and Berlin.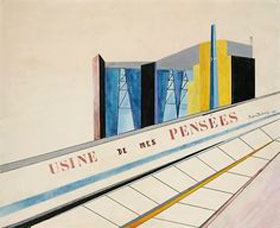 They are nonetheless a litany of modernists—including Constantin Brancusi, who otherwise had little to do with Dada, and Jean Cocteau, the playwright and poet, who often wished that he had as well.
They also had an impressive share of women artists, such as Sophie Taeuber (later Taeuber-Arp), Adon Lacroix, Elsa von Freytag-Loringhoven, Luise Straus, Gabrielle Buffet-Picabia, Hannah Höch, and Suzanne Duchamp (here with her Factory of My Dreams). They included others less well known as well, such as Johannes Theodor Baargeld, who grafted himself onto ancient statuary, and Jean Crotti, who portrayed My Other Me. Some who photographed contributors and their work are lost to history. Throw in the contribution of Dada to book art, even an art that died in the making, and the Museum of Modern Art has quite a historical aside. Samantha Friedman and Adrian Sudhalter as curators can claim some serious detective work in realizing it. Its impact may depend on one's patience with memorabilia. Yet that, too, suits suits the period's argument for mechanical reproduction as an assault on fine art—an argument that resonates to this day.
Contributors were asked for photos of themselves, photos of their work, works on paper in a limited range of color, and page designs. Beyond that, the details were left to them, and they came down very much in favor of art. As revolutions go, this one had style. Few will recognize the artists, but everyone will recognize their care to look dapper, even when Picabia labels himself at once a failure, a gigolo, and a clown. A few photographs take advantage of the medium to submerge the artist in shadow—or subvert it a bit with added drawing or text. Most, though, do not.
The photos of their work have a comforting familiarity, too, and the Modern helps by often setting them beside the original. Duchamp's Bride retains its soft browns, and the glass of his To Be Looked at looks all the more shattered in a silvery print by Man Ray. Photos restore Brancusi's wooden head to its lost figure. All these embody the movement as collaborative, and so does André Breton wearing a placard designed by Picabia. Depuis longtemps, his protest reads, tas d'idiots ("for a long time now, a pile of idiots"). That means you.
Here and there that kind of assault on supposed civilization peeks through. It appears in Man Ray's construction site as The Most Beautiful Sculpture in America or Jean Arp's Laocoön as dog intestines. Mostly, though, they take to the particulars of design and the imagination. Even Schwitters and George Grosz leave memories of war behind. They treat page design as particulars, too, rather than as templates for an artist's book. Maybe a little at a time, they could create a world.

László Moholy-Nagy ran at The Solomon R. Guggenheim Museum through September 7, 2016, "Dadaglobe" at The Museum of Modern Art through September 18. A related review sticks strictly to Dada.