Art's Evil Empire
John Haber
in New York City
Jeffrey Deitch and LA MOCA
After Jeffrey Deitch lived up to anyone's worst fears, I hate to say I told you so. Even after his appointment to LA MOCA, in this article, I tried to see both sides of the story. I did not insist that a museum director need come from academia, and I noted how others have moved between museums and galleries without loss of academic rigor. I would be happy to do so myself.
Still, I noted that Deitch as a New York dealer always placed himself front and center, as much curator as manager and director. I noted, too, that he displayed again and again the worst of today's tangled vision of commerce, art, and entertainment. And both describe what has gone wrong in LA as the story was still unfolding until the announcement of his departure in late July 2013.
Bringing Jeffrey Deitch to LA's Museum of Contemporary Art is like asking Bill Gates to run Google. With street-level cameras and Google books, the company that made a fortune off the promise to do no evil is scaring people. So why not turn it over to the evil empire? As for MOCA, the museum that almost bankrupted itself is finding its way—at the cost of funding and oversight from a wealthy patron and collector, Eli Broad. So why not hire New York's flashiest dealer, rather than a curator or academic?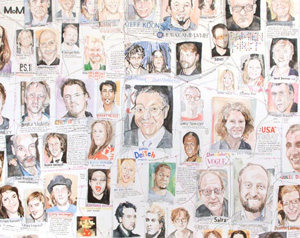 And that is just what the museum has done, and it has polarized people. In fact, it polarized me, and I found myself on both sides. As it happened, the very week that I weighed in, a magazine asked me what some of New York's other dealers think of the idea. This article interviews nine from around the city, and I post it just as Deitch has his last show in Soho.
Money before scholarship?
Deitch does polarize people, almost as much as the art fairs. He does so with Deitch Projects, the Soho gallery that thinks big. This is the gallery where everything seems to blink on and off. This is the gallery that, in 2009, turned the death of Dash Snow into a celebrity event and showcased Kehinde Wiley, with his cross between street art and fashion magazine. Naturally it welcomed in the new year with Keith Haring. With the garish, steamy, seamy, and unsettling Black Acid Co-op covering its three levels, Justin Lowe and Jonah Freeman could have been targeting Deitch himself.
One could hear the hesitation between shock and awe when Jerry Saltz broke the news. "It looks," he wrote online, "like the sacrosanct wall between museums, galleries, and private collectors in the art world is about to come down." And many on the Web welcomed changing the rules of an oppressive art scene. Many in fact associate that oppressive scene more with academic rigor—all that fancy theory—than big money. A sudden promotion from mere promotion is unprecedented, at least since the days when dealers and art advisors helped create the modern museum. Yet I should be the last to insist on the need for a degree in art history or museum studies, except perhaps from Bruce High Quality Foundation University.
One could almost forget to ask just what had changed in putting money before scholarship—or whether anything had changed. Deitch already had his foot in almost every other door. Not all that long ago, William Powhida savagely mapped the 2009 art world in his Relational Wall. Deitch stood at its center, a link away from Saltz, Jeff Koons, and dozens of others. Lisa Dennison, former director of the Guggenheim Museum, moved in the opposite direction when she moved to Sotheby's. Still, she left the door between the museum and the market wide open.
Since Deitch always scares me, this sure does, but he might be fine for the job. He has art and business experience, both of which go into running a museum. A Harvard MBA and a creator of Citibank's arts advisory program, he gets things funded, and even his excess of networking and connections may prove useful. At MOCA, Jeremy Strick actually ran a superb museum on the score of art, just overspent on infrastructure and exhibitions, a common enough recent failing. Deitch could shore up finances while keeping the best of the past. He himself insists that he ran his gallery "like an art center, with historic exhibitions where only minor things were for sale."
On the down side, he could become a West Coast Thomas Krens—another big ego with a taste for lavish, tacky displays. His connections will probably not lead to conflict of interest, or will they? He vacillates on his plans for future dealings, and he even has Eli Broad as a client. As for his business sense, again "only minor things were for sale." He all but begged to lose money, too, when he opened a warehouse-scale waterfront branch in Long Island City. Not that Citibank out there has set high standards for financial management either recently.
Scarier still, so much has not changed in putting commerce first. Think of museum blockbusters or the Met's display of its wealth under Philippe de Montebello. Think of the mainstreaming of P.S. 1 under MoMA or of the New Museum under Lisa Phillips, once a polarizing figure herself at the Whitney. Phillips is in fact turning the joint over to Koons and his collector, Dakis Joannou. Or maybe the whole affair is a New Yorker's ploy to close Deitch Projects and restore some sanity. At the very least, Powhida will now have to update Deitch's place in an evil art world.
What do dealers think?
Is LA MOCA putting a fox in charge of the henhouse? It seems only natural to put the question to other dealers. What do they think of a commercial dealer taking over a museum? What would they do given the chance? And what will be the impact on the New York arts scene of closing Deitch Projects?
I received more and longer replies that could appear in print, although I quit once this grew too long even for me. It was hard work to track people down, harry them, and then select and edit them to a total of 800 words. To be honest, the shorter version in the magazine is probably way more fun. However, I promised everyone I interviewed an unabridged report online.
Start with a dealer who has lived through so much else, with integrity and an unmatched contribution to contemporary art. In other words, she has seen it all. For her, things have changed, but is it really that important? Lower East Side dealers have rebelled against Chelsea, with all its resemblance to a shopping mall. Yet they are part of a trend and depend on a bit of hype, and surely they know it. Naturally enough, they say that Deitch would not be their choice, but he could add something.
Brooklyn dealers have to survive outside the hype. They are appalled, but very funny. Established Chelsea dealers who know Deitch are modest. They think that he is bound to contribute something—something that perhaps they themselves could not. Newer dealers everywhere seem downright afraid to question the decision. Several whom I shall not mention would not answer at all.
In the interest of journalistic honesty, an acknowledgment. I did take some time to smooth out grammar and remove repetitions. Older dealers often prefer talking to email anyway, so a journalist still has to put words into type the old-fashioned way. And everyone needs an editor, I promise. Of course, I tried not to impose my usual formal style—and allowed the dread word gallerist.
It is worth seeing them all, for their points of view reflect real divisions in the art world. Not even Powhida could connect all the dots. In the end, I shall stick to my version. A critical eye has to coexist with acceptance or despair when it comes to outcomes. As Kafka had it, "In the fight between you and the world, back the world."
A pioneer
Paula Cooper opened the first Soho gallery.
It's unusual, but you have a museum director moving to an auction house, so things have loosened up a bit. Museums also face more economic difficulties, and that affects their choices.
Changes I'd make to LA MOCA? It's probably a huge list. Still, it seemed to function very well in the past.
Why would there be any impact? Its closing might affect a few of the artists, but Deitch was too small a niche, and there are too many galleries.
From Brooklyn to Berlin
Leah Stuhltrager is director of Dam, Stuhltrager, the Williamsburg gallery celebrating its new branch in Berlin.
I'm not shocked that LA MOCA, which widely promoted and wildly profited from Lady Gaga as its 30th anniversary gala guest, would cast Deitch in role of director. Why would anyone expect LA MOCA to untangle its definitions of "commercial" and "museum" rather than personify them?
Deitch has a colorful presence that makes the audience smile, and his name is synonymous with past blockbusters. He also has a background in finance. As the story develops, I predict an overabundance of fodder for the media to blow around, more Hollywood clapping, and Deitch's expertise to maximize larger, glittery coffers.
If I had the run of MOCA, I'd build one hell of an administrative team. At this moment, the art world admits it is time to reconfigure and reimagine. That is why I am in Berlin, heading up our new annex.
The arts scene is such a wondrous whore. New York will find another to cover her outrageous rent, pay for her fancy dinners, and drape her in the finest fashions. She'll remember Deitch through snapshots and at parties as someone bigger than she could keep as hers alone. That's all any of us can ask. Deitch's taking the position is akin to dipping his toe in the Fountain of Youth. The seasoned force behind young art is himself reborn. It's a brilliant move in a market that rarely rejuvenates dealers.
Deitch need not worry about New York in his leap across states, nor should his move matter to the New York scene. New York is ours to hold—even if just long enough to get a decent picture and a wider view.
The Lower East Side from day one
Phil Grauer is a director of Canada, the pioneering Lower East Side gallery for years just down the hall from its original location.
Dealers are people too. Deitch has run a gallery for a number of years with much success. He will likely be able to run a museum. Seems like a nice place to retire. I suppose there is a conflict of interest, but museums are full of conflicted interests. At least with the MOCA deal we all know who we're getting. This isn't to say I would have hired him.
What would I do? I would give shows to all the artists I represent (and a few others).
Deitch Projects has had a significant place in New York arts. I doubt it will really close. There are too many people attached to the thing. I suspect names will change and it will shift hands, but not disappear. Probably grow. Get better. Hope they stay downtown.
Uptown
Kim Bourus of Higher Pictures has quickly earned a reputation for rediscovering photographers of the last few decades.
It's an excellent, risky, and creative move. Very few have had Deitch's experience and opportunity, and even fewer can claim his successes.
What would I do? I'm not currently available.
Change is opportunity. After all, New York was the training ground for the current LA Trifecta (Ann Philbin of the Hammer Museum, LACMA's Michael Govan, and Deitch), and that's not going to change.
Uptown and downtown
Lesley Heller has herself just dared a move from classy surroundings, from her Upper East Side gallery to the Lower East Side.
LA MOCA's hiring of Jeffrey Deitch as its director could be an inspired idea. They have gotten themselves into a corner, so this kind of thinking could be what saves them. They have always had cutting-edge programming so maybe a cutting-edge director is the way to go for them. If he is successful, it could shake up the future of museum governance.
The Lower East Side now
Benjamin Tischer is a director of Invisible-Exports, which still pushes the envelope on the Lower East Side. It will participate in a show about tensions on the Lower East Side, "Lush Life."
I approve. Deitch is spectacle. Deitch is money. And I am sure he will navigate whatever ethical quagmires stand between his previous and future incarnations.
Deitch is as much about performance and spectacle as static artwork. I think this will be good for MOCA, and yes, he will be missed.
To be honest, I miss more exhibitions than I see. But when I first moved to New York, Deitch was one of my favorite places to go. It was more accessible than Chelsea galleries. It was more like an art playground than a gallery. I also feel sorry for his artists. I know a number, and while most will easily find new galleries (and some already have), all expect less income this year.
A dealer with nonprofit credentials
Elizabeth Dee has a dual perspective, from her Chelsea gallery and as a force behind the not-for-profit X-Initiative.
It's an exciting announcement. It provides further evidence of a shift in attitudes from labeling and oversimplifying the roles and potential that gallerists can have.
MOCA needs to make a major financial turnaround. I would develop a five-year plan that addresses the different sectors of the museum individually and that brings everything together to achieve, this along with the other goals of the museum. Jeffrey will need to get that message out to the international audience as soon as possible. I would rebuild the board, make it as international as possible, and create a careful distance from the interests of Eli Broad. I'd also buy Michael Govan lunch.
It will be good for the legacy of Deitch Projects if it closes. It will then be part of the history of the downtown art scene, and people will have the space to reflect on its place in that history. If it continues under different leadership, it will have a different role and complexion. We shall see.
Beyond the Brooklyn Bridge
Maddy Rosenberg is an artist and director of Central Booking in Dumbo, featuring artist books alongside other media.
Can we just go back to PhDs rather than MBAs as museum directors? Not that one needs academic credentials, but someone who has actually spent a life in the scholarly pursuit of art might have a legacy to leave. I know it may be quaint to think a work of art might have some value besides how much it can garner in the commercial market, but museums have to be interested in art that doesn't count on the bottom line. They are investing in the cultural future, not building up artists for investment killings.
The Alfred Barrs seem to be long gone, and directors these days are just about fund-raising anyway. The best a director can do is to be prescient enough to be surrounded by curators with a depth of knowledge and unique perspectives. I come by my own gallery as an organic growth from my years as an independent curator, not as a collector. I work with artists because of my belief in the quality of their work, desiring a widening of their audience, and not because I deem them economically viable.
If I had his chance, I would do what I do in my own curatorial program—show substantive work from artists who, for the most part, have careers but have not been given their due and young artists who are truly pushing the edge.
People are hungry for it. I see it over and over again in the eyes of even the most jaded New Yorker who walks into my gallery. They are desperate for challenging art that is also visually stimulating, work with concept and thorough follow through—and in quantity, rather than merely a rare find. They are seeking freshness, rather than institutionalized, empty art. Artists are still making art. Wouldn't it be interesting if we focused on their vision?
I do think the New York art world will survive without him. There are those who make their mark, but dealers come and go, and no one's indispensable. The art world is just too large these days. Besides, it is a rare contemporary dealer who goes for lasting quality rather than the latest trend. Few are confident enough to set trends rather than follow them, supporting artists who pursue their passion with an intensity and obsession.
Soho, Chelsea, and still caring
Andrea Rosen opened her Chelsea gallery, then in Soho, exactly twenty years ago.
I think it's great for the museum. It's a smart choice and an inspired choice. It means that MOCA will have an interesting voice and not just continue. It's going to be a place that not just exists but thrives.
As a gallerist, I adore the construct of a gallery and how it brings you such a huge variety of experience in the context of a lot of personal freedom. I find it compelling that Jeffrey can give that up. But his interest is really to make a contribution. I know he felt that way about the gallery.
Eli Broad brought them back from the brink, and LA's already stepped up to the plate. It's not just one person: it's a community.
It will affect New York, because Jeffrey played a very specific role, one that no one else is playing. There was an immediate vitality around project events like the annual Art Parade. He's a bringer together of people, generations, and places. Hopefully someone else will be inspired by him.

Jerry Saltz broke the news on January 10, 2010, for New York magazine. Portions of these interviews appeared in Artillery magazine. Canada in fact promised a move a couple of blocks northeast in fall 2012, but it seems still a work in progress.