Collective Stardom
John Haber
in New York City
The Bruce High Quality Foundation
Bushwick Open Studios 2013
If you can't beat 'em, pretend that you already have. Or something like that.
The Bruce High Quality Foundation is up to both. With a retrospective at the Brooklyn Museum, it can also claim to have joined the system. All it takes is a little knowledge of art history, some very broad jokes, and attitude. Recognize them on either side of the bar? Remember their founder, Bruce High Quality, who perished on 9/11? Maybe not, but the art world is full of challenges.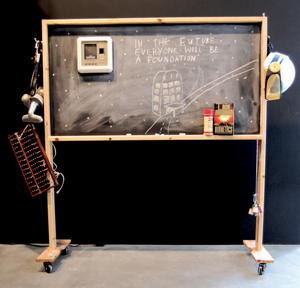 The anonymous artists are so sure of their claim to western civilization, or maybe to undermine it, that they call the show "Ode to Joy." And indeed the last movement of Beethoven's Ninth plays on TV, surrounded by cute stuffed animals and floating in an inflatable backyard pool. It may not be so easy, though, to deflate the art world. Besides, be careful what you wish for. You may end up deflating your own ego. In the end, as with the concerted anarchy of Brooklyn Open Studios, I leave torn between my admiration for the artists and dealers who struggle to survive within the system and those who struggle against it.
A retrospective in quotes
Most artists are probably of two minds when it comes to whether they want to beat the system or to join it. The Bruces never have to chose, because for them everything comes in quotes, including a retrospective. Just eight years ago, they offered themselves as hot-dog vendors outside "Greater New York," the show of emerging artists. PS1 also chose them for the next version, and they soon appeared in the 2010 Whitney Biennial, too. Now their "retrospective" unfolds in two rooms that you may never have known existed, at the back of a museum's first floor. How fitting—for its modesty and for your need to be sufficiently in the know to seek it out.
I know I was, and I was rewarded with some grand opera. It plays behind a mop in an industrial wringer, stained blood red. This could be the stick with which to beat you and the system over the head, and it already shows a flair for overstatement. It also signals a concern for the working class, in and out of museums. In a photo, two people huddle for warmth in the model New York City of the Queens Museum, as their own private Hooverville. Other works carry a rent strike to a stadium, letters raised in unison as if to razz the home team, and the Wall Street scandals to the silkscreened pose of Ethel Scull for Andy Warhol.
Real-world politics comes and goes, though, because it is subservient to the politics of art. The two meet in tributes to the, er, original Bruce High Quality, like grainy blow-ups of the Twin Towers or of the flag at Iwo Jima. Another photo captures the group burying its heads in news of war and 9/11, titled Thank You New York. Of course, in each case the narrative hides the faces, and no myth is more important than theirs. They receive a Self-Portrait, in collages of advertisements, CBGB, and other truly cool places. And always they appear behind the cheerful smear of a painted mask.
Most often, they take over art and its pretensions directly. They remake their studio as the royal one for Diego Velázquez in Las Meninas. They hold a beach party in honor of Théodore Géricault, Romanticism, colonial exploitation, and The Raft of the Medusa. They enact Arnold Böcklin's Isle of the Dead in Brooklyn and leave their penises as fossil relics. They literally tackle New York's public sculpture, in full uniform. The patient among you can watch some of these unfold at greater length on video.
The Bruces thrive on site-specific work—like a film about zombies watching movies in the summer of 2009, in the theater of an abandoned military installation on Governors Island. They also countered Christo's The Gates, in Central Park in 2005, by tugging a miniature gate around Manhattan (in a small boat on display in Brooklyn). They were riffing on Floating Island, an unrealized project by Robert Smithson. And there, too, they left open where tribute ends and taunting begins. Not the Idea but the Thing Itself could mean either one. The title, out of Wallace Stevens, has added irony for a team of conceptual artists.
Have the Bruces gone in no time from gadflies to insiders—or taken both ideas to new levels? Their occasional "Brucennial" (in 2014, purportedly the last Brucennial) need never decide whether to be an alternative to the art fairs, a parody of them, or just a huge pile of junk. Nothing here cuts deeply, and when it comes to politics, cheerfully skimming the surface can be downright appalling. Still, the Bruces have a knack for taking themselves down a peg along with politics and art, with real humor. They also make fun of art class, working away on life studies of Jesus nailed to the cross—all, naturally, with their backs to the camera. And that brings one to the second room of their "retrospective" and the return of Bruce High Quality Foundation University, at what still feels all too much like a party school.
The school for scandal
On a front partition in Chelsea, on the new year in 2010, hung a copy of The School of Athens. An unknown hand had covered each face with white paint and beady red eyes. Evidently Raphael has entered his Mannerist phase—and then some. In a photo in the back room, young men and women cluster on the stairs outside Sufi Books, in Tribeca. For a mask, most wear only a touch of attitude. The main gallery had a whole circle of blackboards, plus some severely mangled desks and chairs. Class has already started, and get ready for competing makeup tests.
The artist collective had indeed opened a "free nonaccredited university," right next door to Sufi Books. It could be an alternative to the stranglehold of top MFA programs—or parodying it. In keeping with their anonymity, the Bruces enroll students based on peer review, although with room for guests. Fall 2009 classes included "occult shenanigans" in art and "art history with benefits." The university may not be quite as democratic as it sounds, but do not despair. As one blackboard in Chelsea had it, "In the future everyone will be a foundation."
Obviously the gallery's extension course does not look much like higher education either, any more than the hoarding elsewhere in "The Keeper." The kindergarten blackboards come with accessories, like a noose and sports equipment. Only some, like an abacus or a paperback by L. Ron Hubbard, have much to do with instruction or indoctrination. They also surround a cross between a red-brick school building, Minimalist sculpture, and a NASA space capsule. Inside, the music that opened 2001: A Space Odyssey serenades mysterious glass vials. Art could be entering a new age or just lost in space.
The thought of half a dozen schoolteachers talking at once, one to a blackboard, sums up the ruthlessly controlled anarchy of art now. So do chalk messages like "You can't always get what you want, but you can always call room service." I am not so sure about the astronomy lessons, which seem more like an inside joke. The Bruces come perilously close to one as well, although a funny one. At PS1, as one of just five contemporary artists asked to contribute to "1969," their piped lectures ignored the surrounding older art and stuck to the curriculum. Even their assemblages, like a Ronald Reagan mask hiding a loudspeaker, can make the 1960s seem like ancient history.
The 2013 class is quieter, more ambitious, and a mess. The Brooklyn Museum recreates a studio in white, as the debris and disarray of plasterboard. Surrounding it are decidedly lumpy antiquities, including busts made up with blue eyes and red lips. And again there are the chalkboards. According to one of them three years ago, "What happens in the art world stays in the art world." Alas, maybe so.
So which is the Bruce High Quality Foundation, the philosophers or the pranksters? And which is the Bruce High Quality Foundation University, the wisdom of the ages or fresh blood for a tired art world? Their crowded and cryptic messages may not hold too many art lessons, but they do say this: "I submitted art for the show and all I didn't get was this lousy tee-shirt." (Actually, I think it was a dirtier word than lousy, but also partly erased.) Just excuse me if I worry more about those who are struggling in and out of art.
People are making art
It was three hours into Bushwick Open Studios 2013 when it hit me: people are making art. I know that sounds self-involved on my part or just plain silly. I had stumbled in and out of fifty studios and a dozen galleries, with more to come—and hundreds more missed. I had seen old acquaintances and faces that I may never see again. I had seen artists bravely sharing space and artists bravely making ends meet on their own.
For all that, one can get so caught up in the logistics of the annual event as to miss the art. How shall I choose from map after map dense with names and numbers? How will I peek in and out of so many, while hiding my guilt? After a full afternoon in sweltering heat, on industrial blocks without a comforting shadow, covering four or five subway stops' worth of Brooklyn (and, in my case, on a stress fracture at that), how will I keep it all from blending together? How, for that matter, can I face this in the first place, and how about you? By now even the building with the largest concentration of galleries and studios is no longer officially a hub.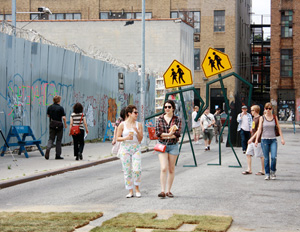 I bet we both look forward to the weekend after Memorial Day while dreading it, much like last year and the years before. I make myself go for a few friends and hang around happily for many more. I take away surprises—abstractions like curtains hiding more, street scenes that the photographer would surely have staged were this not New York, automated flip books that verge on natural life (where already I fear slighting deserving others by naming names). I catch up with galleries, in a neighborhood that staunchly resists coordinated openings as veering on commercialism. This year I could also follow one gallery, Storefront Bushwick, as it moves from a true storefront to four big rooms but a half mile away. Mostly, though, I came away grateful that artists are still out there working, struggling, achieving, and cooperating, and they are.
It is marvelous to see, but also unsettling. There was nothing like it a generation ago, not even in Dumbo, where a developer was hoarding real estate on the way to future condos. There was surely nothing like it a generation before that, when contemporary art was still exotic and baffling, but artists were already priced out of Soho. There was nothing, too, like the audience for art, the hundreds tromping around Brooklyn with me—notably younger on average than in Chelsea and far more native to the city than on the High Line. There is no way around it: even Bushwick is testimony to the growing place of art in ordinary lives.
And that comes with a more painful lesson, about just how hard it is to bring urgency to realism or abstraction—and how rare. After irony, it is okay to make art again, honest, but that does not make it any easier. Complain all you want about the self-indulgence of so much installation art and new media. Go ahead and feel marginalized by big money, although Jeff Koons, balloon dogs, and auction prices are in the end only tabloid fodder and footnotes to the present. Still, something real is driving artists to extremes. Conceptual artists are not so very unlike painters and sculptors after all, because they are looking for ways still to think and to feel.
In the inevitable BS after BOS, Brooklyn artists, galleries, magazines, blogs, and Facebook posts become one big mutual admiration society. Now, that society does its share of good, and again this year Deborah Brown and Lesley Heller collaborated splendidly as curators, this time for a whole block of outdoor sculpture. Rico Gatson, Ellie Murphy, Björn Meyer Ebrecht, Carol Salmanson, and others turned artifacts of their surroundings like Mylar and outdoor seating into site-specific art. (Brown's own paintings at Storefront, with her seeming steel weave against a brushy sky, are moving away from desolate cityscapes and toward abstraction.) Still, that role for dealers, too, points to the limits of populism and resentment. As after Hurricane Sandy, I fear most for midlevel artists and galleries everywhere, taking a personal and financial risk every day.

The Bruce High Quality Foundation ran at Susan Inglett through January 23, 2010, and at The Brooklyn Museum through September 22, 2013. The 2013 edition of Bushwick Open Studios took place the weekend of June 1. I can safely add that the flip books are by Juan Fontanive, since they appear concurrently in the window of the New Museum.