Wait Until Last Year
John Haber
in New York City
MOCA and the National Academy: 2008 Art in Review
As a year comes to an end, people can hardly help looking back. Most years, they want to remember the best. This year, they want to know who to blame. In fact, art is implicated in money in both boom and bust. And the problems that creates for artists and culture will not go away by pointing to anyone's financial irresponsibility.
Those ten-best lists are a little silly anyway. Good criticism brings insight, not good taste, right? This year, though, it seems more urgent to figure out what happened. Between financial meltdowns and departing directors, at least half a dozen museums ended the year wondering what comes next. Gallery owners and artists feel even more uncertain and afraid.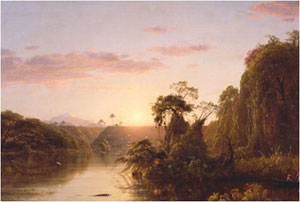 It came as a shock when clever hopes expired, and one could still argue not to worry. Sure, anyone could see the turndown coming in real estate and stocks. And sure, that has to affect art. Still, a looming crisis may actually make it harder to see the consequences for culture. Now you do have something more important on your mind than diamond-crusted skulls, videos of Vikings at the supermarket, and borscht-belt jokes masquerading as paintings, right? The boom also brought a new audience to art, a higher profile for museums, and many, many more galleries, and none of that is going away overnight. Problems with capitalism and art institutions make terrific fodder for art, too, ensuring it a future.
I have to adjust all the same. Last year, I pointed to the best of 2007—or at least joked about it. My fall 2008 preview still got caught up in hype. This time, start with two museums in the red, MOCA in LA and the National Academy here in New York. Could critics and defenders alike have missed the big picture, about the role in art of money and institutions? A summing up then links to lots of past reviews in more depth. (You can now also see year-end reviews for 2009, 2010, 2011, and 2012.)
Old masters of the universe
In good times, anyone can be a master of the universe. In bad times, someone has to take the blame.
At first glance, only that could explain how two very different museums came under fire. One month everyone is celebrating auction prices or grumbling about museum expansions—or was it the other way around? New Yorkers get to make fun of the Museum of Arts and Design in Columbus circle, while still learning to cope with the clumsy boxes and back stairs of the new New Museum downtown. Out west at LACMA, an ever so popular museum architect, Renzo Piano, finishes off an expansion on his way to the Whitney downtown. And, boom, the new layout centers on Broad Contemporary, a wealthy donor's collection of contemporary art. Then all it takes is a crash, and two other museums are scrambling to survive.
The Museum of Contemporary Art and the National Academy Museum and School of Fine Arts surely have little else in common. They occupy opposite coasts and opposite ends of the spectrum of contemporary art. MOCA originates or shares talked-about exhibitions—including in the last three years alone Louise Bourgeois, Takashi Murakami, Marlene Dumas, Gordon Matta-Clark, and Richard Tuttle. The National Academy has just exhibited George Tooker, the enigmatic twentieth-century realist, and Ralph Blakelock, the nineteenth-century visionary. MOCA has long struggled with the limits of its two downtown LA locations. The Academy's Fifth Avenue brownstone, the 1913 Huntington mansion, could stand for its roots in academic training dating back to 1825.
Now MOCA is desperate not to expand but to survive. All of a sudden, everyone seems to agree that that it has mismanaged finances with lavish spending on exhibitions. In a restructuring, "leaders in the field of museum management and finance" will step in, while its director, Jeremy Strick, is on his way out. The National Academy has sold two Hudson River School landscapes for $13.5 million, has put two more works up for sale, and has at one point floated the idea of selling the building. Two members of its advisory board have resigned in protest, writing that "your proposal strikes at the very heart of the Academy's mission." The Association of Art Museum Directors has asked its members to cease any and all loans or collaborations.
Critics do have a case. One should not, I hear tell, live beyond one's means. One does not sell off great works of art to meet operating expenses, as Brandeis University is doing with the entire Rose Museum—or, in this case, to bolster the Academy's research libraries. Curatorial standards forbid it for good reason. It betrays a trust, it discourages further donations from private collectors, and it does not solve the problem of how to meet expenses next year. That is why one speaks of the permanent collection.
Still, the current narrative leaves me at least slightly suspicious. The very policies that have earned these institutions such high praise, and rightly so, now make their directors look like idiots. MOCA was bound to have more or less the same number of exhibitions, and better ones make better use of the money. In theory, they should also attract more income, between new visitors and donors. The National Academy, too, has done much in recent years to bring itself screaming and kicking into the current century—including taking every other National Academy Annual, its juried show of contemporary art, beyond Academy members. Its latest director, Carmine Branagan, could well claim to have walked into this mess anyway.
Staying alive and selling out
Could MOCA's happy ending and the National Academy's new outcast status alone raise suspicions? Only days before its rescue, critics feared that MOCA would find itself absorbed into LACMA, as one more addition along with its newly central Broad Contemporary building. The only alternative, critics and backers alike complained, seemed a direct increase in funding from Eli Broad, again with a loss of curatorial independence. Now the Broad Foundation is MOCA's savior. It will contribute $15 million over five years, in exchange for complicated promises of matching funds, further efforts to build financial reserves, Jeffrey Deitch as director, the appointment of "reputable investment advisors," and a "cultural advisory committee."
And museums do, occasionally and with greater hesitation, "deaccession" works. It can arise as a museum evaluates its holdings, to see which hold up and which it could best sacrifice for new acquisitions, toward a finer and deeper permanent collection. It can arise as an institution revaluates its mission. Three years before, for example, the New York Public Library sold another Hudson River landscape, Asher Durand's Kindred Spirits, to Alice Walton. It judged itself a library and not a museum. The National Academy is out to balance its past with a dedication to contemporary art and to teaching.
For all that, I hesitate to criticize MOCA or to defend the Academy. Thus far, Broad appears to have acted responsibly and generously. Conversely, the Academy is selling work by Frederic Edwin Church and Sanford Robinson Gifford, two of America's finest painters and both in their day Academy members. To rub it in, the sale comes barely two years after an exhibition of work from Church's estate—in conjunction with yet another financially interested party, a private gallery. Among all those other reasons not to sell off the collection, too, it means a loss not just to the Academy, but to the public. When Walton returned to Arkansas with Durand in hand, New Yorkers felt the loss of their heritage.
The Academy cannot keep itself alive with one-time fixes, and that includes any potential sale of its building as well. I still delight in its broad, elegant winding stairs and absurdly narrow halls. This is also not exactly the time to cash in on art or real estate. I hated the sale two years earlier of another Upper East Side brownstone, by the New York Academy of Science. Still, at least NYAS had good timing. Besides, the National Academy will have to live somewhere, and new museums and schools these days do not exactly come cheap.
The Academy has offered clues to a disaster in the making, as in a sale the decade before. MOCA seemed to fall from grace more abruptly. Yet both museums were doing a decent job of what most people think museums do. They were exhibiting art more creatively than ever, and they were bringing it to a broader public. They were just not raising enough money. Financial crises are always like that—where everyone feels the pain, but some find that they can no longer pay the bills.
One can see it all as a lesson in museum management, in macroeconomics, or in public policy. What kind of commitment do wealth and government have to keep the arts—and everyone else—alive? One can instead, however, see a chastening reminder of art's involvement with money and institutions. Postmodernism has properly used that involvement to question art's creative purity, while conservative critics have denounced the circus of contemporary art. Now the problem looks even more inescapable. As for institutional connections, did anyone notice that Frank Gehry, the pricey architect who remade MOCA's "Temporary Contemporary" into its Geffen annex, is also an Academy member?
Forget 2008
So MOCA struggles along with art in a recession, while the National Academy is summarily dumping assets. Each runs in reverse the story of the birth of the modern museum, as told by Alan Wallach or the Emily Fisher Landau Center. For all that, though, nothing memorable happened in 2008. Seriously. Artists insisted on it.
Oh, I know, Chelsea alone must have exhibited several thousand artists, museums for contemporary art and arts and design opened in New York, and the Whitney at Altria has already abandoned ship. But then the passage from boom to bust has everyone reeling. An art fair was taking place somewhere all the time, or at least it seems that way. The scattered remains of Brooklyn galleries pushed south and east, and it gets harder and harder to ignore—or to afford—the Lower East Side. America elected its first African-American president, who may actually care about the arts and sciences, scholarship, and education. Try to think, though, of what else you remember about the state of the art.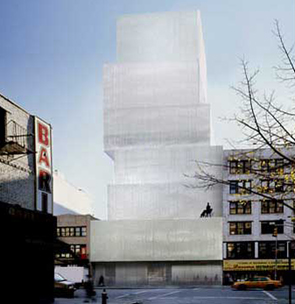 Try to remember the character of the 2008 Whitney Biennial—or the theme of most group shows at P.S. 1. Try to get worked up now over controversies concerning the spring art fairs, especially now that few are throwing around that kind of money. Try not to grow tired of auction prices for Francis Bacon and Damien Hirst, even when they fall. It says something that the Biennial and the opening of the New Museum both had the theme of installations in progress—or falling apart. In an exceptional year for public sculpture, two installations rattled around an empty ferry terminal and an abandoned food market. Well before the market crash, political art was feeling omens of disaster, while such artists as Amy Wilson and Rashid Johnson were turning from politics to cryptic meditations on personal identity.
Key administrative changes seem designed to end the year in a state of uncertainty. Thomas Krens finally left the Guggenheim, MoMA forced Alanna Heiss into retirement from P.S. 1, and Dia changed directors twice in barely a year without recovering a presence in New York City. Philippe de Montebello is leaving the Met after significant renovations—and after far too many shows, as for Rembrandt's birthday, focused less on the art than the museum. Naturally the biggest museum blockbusters looked the most bloated, including the Guggenheim's sorry progression of Richard Prince, Cai Guo-Qiang, and "relational esthetics," plus Murakami in Brooklyn. Even here, though, 2008 resisted generalizations. With three separate exhibitions plus artificial waterfalls, Olafur Eliasson proved that showy art may turn out neither profound nor empty, just reasonably clever and entertaining.
A year-end review is always an artificial ritual with artificial conclusions. Besides, contemporary art may come and go, but at least the past can hold its own. The Frick brought back Parmigianino along with Renaissance bronze, and MoMA had its best show with Seurat drawings. The Met managed to squeeze Nicolas Poussin, J. M. W. Turner, Gustave Courbet, and Lorenzo Ghiberti all into one year, although with Turner's whaling pictures still to come. Exhibitions of postwar American art did even better, lending individuals a critical context. That holds not just for Abstract Expressionism as seen through the eyes of Clement Greenberg and Harold Rosenberg, but also for Jasper Johns and Martin Puryear.
The timing was right for revisiting those years, as the urgency of debate over Postmodernism fades. A lack of urgency also gives fresh relevance to art between painting on the one hand and new media on the other. MoMA put design and architecture in the spotlight, although with perplexing results. Photography had an exceptional year, with William Eggleston, Catherine Opie, Leigh Ledare, and near-abstract photos. Feminism in all its varieties looked best of all, as if bouncing back from the inanity of "Global Feminisms" the year before—thanks not just to "WACK!" but also to Bourgeois, "Feminism and Land Art," Amy Cutler, Beth Campbell, and Cindy Sherman. Uncertainty and confusion do not bode well for the future, but perhaps art will find that it can build more quietly without all the big money and macho gestures.

Of course, this site has reviewed pretty much all this and more at length. I draw on reporting on MOCA and the National Academy Museum in The New York Times for December 2008 as well. You can now also see year-end reviews for 2007, 2009, 2010, 2011, 2012, 2014, 2015, 2016, and 2017.