Sex, Drugs, and Rock 'n' Roll
John Haber
in New York City
Mike Kelley, Michael Smith, and The Horror Show
Justin Lowe and Jonah Freeman
Burning Man has come a long way from a spontaneous gathering on a San Francisco beach in 1986. It has become a week-long "temporary community" of nearly fifty thousand people in the Nevada desert. They know because they sell tickets, at $360 a pop. Of course, attendance remains an estimate, since children under twelve get in free.
But what about adults behaving like children? For Mike Kelley and Michael Smith, that describes the entire festival. It may even describe America. Maybe not, but it definitely describes Baby IKKI. For two and one-half hours of video, Smith's character wanders alone through Burning Man in his nipple and swaddling clothes. Baby IKKI may never grow up, but Kelley and Smith call it A Voyage of Growth and Self-Discovery.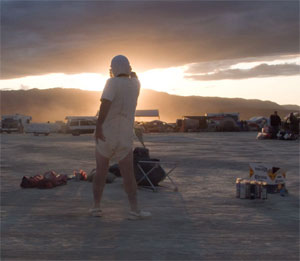 They have traveled far from the art world, but they fit just fine at home. Just a few blocks from their installation, a Long Island City gallery stages "The Horror Show," with a cultural history more familiar to New Yorkers. Everywhere, though, bad boys have been acting up and trashing the galleries. The spare days of appropriation and conceptual art have grown into one big party. Think of it as the American cultural equivalent of London's dead sharks, stained bedsheets, and piss Christ.
Sure, big money talks, but does it have to talk only about sex, drugs, and rock 'n' roll? For these artists, thankfully, the talk can get truly scary. Black Acid Co-op began in still another western desert. However, Justin Lowe and Jonah Freeman convert an entire gallery into entertainment gone horribly wrong. So what if it is also hyperactive and entertaining? Soho's weekend crowds may wonder at their own self-indulgence.
Baby IKKI goes to Burning Man
Mike Kelley and Michael Smith talk of A Voyage of Growth and Self-Discovery, but it is also a voyage into a bad dream. It begins peaceably enough, as Smith meanders past the trailers of Burning Man in broad sunlight, bouncing his beachball and mostly ignored by others, like an experiment in cognitive psychology. His play becomes more ominous back in his trailer, watching bad movies and playing with matches. As for the play of others, the six screens end in night and fire, to the sound of some five hundred drummers surrounding the effigy of a burning man. "This is it," intones a female voice. "This is all there is."
Few will mistake it all for a celebration of the infantile, with Baby IKKI its icky hero. They would have to miss the darkness and thunder the moment one enters SculptureCenter. They would have to miss the monstrous figure at the far end—a cross between the Burning Man effigy and Baby IKKI, but in thirty feet of scrap metal. They would have to miss the half-deflated beachball and carpet of crushed stuffed animals, at the base of a blanketed and less than ideal geodesic dome. They would have to miss the deserted monkey bars nearby. They would surely have to miss how more stuffed animals dangle from the bars like a bear and lion left for dead.
Few will miss, too, the irony of the work's title—or its snide echo of self-help and the American dream. Burning Man calls itself "an annual experiment . . . dedicated to radical self-expression and radical self-reliance." In time, the towering burning man and its charred remains grew bigger and bigger. In time, too, the gathering came to incorporate art and performance, including the invitation to transform one's mobile home into part of a "theme camp." It also added overarching themes, such as "Hell," "Outer Space," and "Vault of Heaven." The year of "The Green Man," Al Gore sent his thanks.
On the other hand, only the simple-minded will mistake the installation for a critique of capitalism. No, guys, this is not all there is, and neither is Burning Man. A festival that bans vending and depends on sharing makes a lousy image of consumer society anyway. Besides, Kelley and Smith have been playing art's bad boys for years, much as Alan Vega trashed art and rock 'n' roll, and they have not suddenly outgrown their parts. Glib or acidic, Kelley's endless sculptures of stuffed animals (now in the galleries, mixed with clowns and porn) and Smith's infant are their art, with Baby IKKI goes to Burning Man just the latest in a series. Their installation parallels any number of extravagant boy toys these days, from Damien Hirst, Mark Leckey, and the Young British Artists to Urs Fischer and Black Acid Co-Op.
They do not mean viewers to stand above it all either. Perhaps all art is a form of play, but Kelley and Smith definitely do not aspire to critical distance. Call their work ugly, scary, or alluring, but at least call it enveloping. Oddly enough, Ken Johnson in The Times makes a point of debunking Baby IKKI's naiveté. Not that the critic with a taste for loosey-goosey art is troubled by self-indulgence. Rather, he praises the work as "institutional critique," only to deride the term as academic.
Kelley and Smith want it all. They want the thrill and the detachment, the self-discovery and the self-mockery, the vision of childhood and the overgrown child. They want the dome to allude to Buckminster Fuller, a playground, and a disaster area. They want a festival to combine the extremes of Woodstock and Altamont. And they pretty much succeed. These bad boys make art for unruly teenages, but at least they linger in the darkness.
The horror! The horror!
When was the last time an artist scared you? No, not the prices, or the reputation, but something more primal. "The Horror Show" only occasionally gave me the creeps. Much of it comes across, not always intentionally, as inscrutable or funny. Yet it gets one thinking about the horror, like my quote from Heart of Darkness. Ultimately, it is about the power of images.
One could almost pass right by the creepiest, in the gallery's small entryway. Melissa Grey continually replays the shower scene from Psycho, with classical music in place of the Bernard Herrmann score. It could show that Herrmann's chilling drone had many antecedents—or that images can transform one's perception even of Bach. It could show how images can create a perception of human screams and human silences. It could show how Alfred Hitchcock can still startle again and again and again. Or it could show how art builds not just fears, but a pleasurable anticipation of every image.
Short, savvy catalog essays, two by artists, take different approaches to the same works. They range from a search for universal fears to the postmodern psychology of Julia Kristeva, the author of Powers of Horror. As with Hitchcock, though, the artists also draw on a shared and entirely banal culture. When Debra Tolchinsky displaces one's face in a mirror, she gives it an old frame, and the substitute that fades in and out is Michael Jackson. Her co-curator, Dave Tolchinsky, and Dan Silverstein take their disassembled hints of walled-up interiors from a Poe-inspired nightmare. Even Jeffrey Sconce's long-winded tale of sexual predators comes from thrift-store images and reality TV.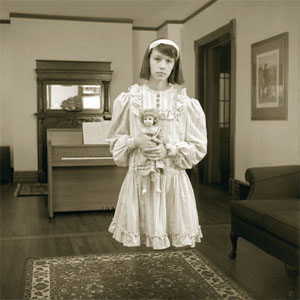 One could imagine the work as a history of cultural horrors. Even then, they have all entered the visual culture of the present. Christopher Schneberger pictures a girl without legs—with a doll, in a slow dance, or trying on fancy shoes before yet another mirror. Yet he gives her sepia tones, in a Victorian dress and Victorian interior. Poe appears again, thanks to Brian Todd, through a thick belt binding his collected works, which emit an almost inaudible sound in response to movements within the gallery. Stephen Nyktas photographs partly enclosed places at night, as the literal underside of the American outdoors, the scene of still more B horror flicks.
Jeanne Dunning photographs more physical fragmentation, in moldy desserts. They have a chilling appeal, like a hybrid between warm animal fur and crisp human desire. Jean Marie Casbarian's woman, in a white dress, balances her own head like an architectural element. Josh Faught drapes black threads from the pale outlines of a man streaked in yellow, The First Person I Ever Came Out to Was a Convicted Sexual Offender. Fears of dismemberment and sexual violence may cut deep, but the shallowness of fancy clothing and blurred imagery does, too.
For a post-9/11 present, Brian Getnick sets out a rotting airplane rotor, with a peephole onto a murky interior, while Craig Yu shows the white streaks of airline disasters. Jennifer and Kevin McCoy project a burned-out suburban landscape from a rotating model of big-box stores. In the back room, Renate Ferro has a commentary on the very power of images to induce horror—and perhaps on the entire show as well. As media clips project on the outside of a shed, interviews within relate all too plausible and all too panicked reactions to nuclear weapons of the 1950s, then to the collapse of the Twin Towers. And in Ellen Wetmore's short, edgy video, a woman's arm combusts, but she seems as bemused as anyone from the high-tech look of her burned-out limb. After all, a "horror show" can also mean more an embarrassment than a shock.
The acid test
Unlike its subject, Black Acid Co-op is entirely legal—and not an extension of the summer of love. Justin Lowe and Jonah Freeman began the installation in Marfa, Texas, as Hello Meth Lab in the Sun in collaboration with Alexandre Singh, and the first thing one sees is a painting of a chemical structure. From that moment on, the site has the compulsive, impulsive structure of a chemical high. Openings smashed through walls lead through a maze of dark and garishly lit rooms, including a filthy, encrusted bathroom and at least two meth labs. Real doors may lead nowhere. Stairwells may seem to lead to alternate universes.
The devil is in the details—and not just the pipes, tubes, and empty Sudafed packets strewn throughout. The gallery compares its parts to dioramas at a natural history museum, period rooms at the Met, or a connected organism. A terrarium mixed with icy debris lies behind a glass pane. Glass jars fill a room illuminated by a ceiling of colored panes, like a failed science experiment overrunning a commune. The jars hold any number of murky, creepy, and mysterious specimens, including a folded smiley face.
Signs of life lie everywhere, but real life is hard to find. The largest room is entirely empty, except for blue paint peeling off blood-red walls. Two rooms suggest the clients for drugs, like the pills in a painting by Fred Tomaselli—or perhaps for art. One contains mostly garish wigs, the other red carpeting, white painted paneling, and smeared black-and-white photos of a leisure class. Its display cases hold gashed Sheetrock and insulation, presumably from adjacent rooms that pleasure seekers would just as soon ignore. It comes as a relief to find two actual human beings downstairs, behind a desk of Chinatown herbal remedies and perhaps nastier substances, like the gift shop for this warped museum.
Everywhere these days, a gallery's destruction as installation stands for the art scene and the larger economy, as with Andy Goldsworthy or Lisa Kirk. Deitch has a special penchant for the hip, overblown, macho, and theatrical, from video games to graffiti. Here one gets the tabloid thrill of spying on someone else's degradation, and a wall of monitors lets one spy on other gallery-goers as well. One room has shelves of three-ring binders, perhaps the formulas or business records for self-destruction. It also has dozens of books, their covers ripped away. The fiendish and funny titles scrawled on their spines could represent the contents of a bad trip.
The work's energy, accessibility, and humor make it more seductive than black or acid. Granted, that mirrors the seductions at its heart. Still, I doubt that anyone leaves more shaken up than diverted. I prefer to remember the wild combination of detail and chaos. One has to work to climb from room to room, and one can take them in pretty much any order. One has to create one's own narratives to connect them.
The twin meth labs, one abandoned and one in action, may represent a sequence in time—but in which order? Or they may represent alternate states of mind, between feverish action and desolation. States of mind may also intrude on one another, like the wall fragments on display in the "museum-quality" exhibition space. Even in the large empty room, some peeled paint may form a pattern, perhaps the mark of another secret society waiting to take shape. Then again, the pattern looks rather like the old plastic circles that used to snap into 45s, so that they would play on a turntable. Here, too, signs of a communal spirit belong to the past.

Mike Kelley and Michael Smith ran at SculptureCenter through November 30, 2009, Kelley at Gagosian through December 23, "The Horror Show" at Dorsky through September 2, and Justin Lowe and Jonah Freeman at Deitch Projects through August 15.