Scary or Golden?
John Haber
in New York City
Gary Hill: Remembering Paralinguay
Drawings from the National Gallery of Scotland
What do a magnifying glass and a video projector have in common? I found the first in the quiet of Old Master drawings, in one of New York's most treasured collections. The projection literally screamed at me, in a dark California room.
One cried out for careful distinctions and a trained eye. The other shouted nonsense. Yet both remind one of the human eye. They make one strain to find art and to understand oneself better for the effort. They also echo a convention, perspective, that dominated Western art for centuries. Best of all, both make one imagine again a place for silence in today's noisy art world. Between a refuge and a scream, silence in art is necessarily scary as well as golden.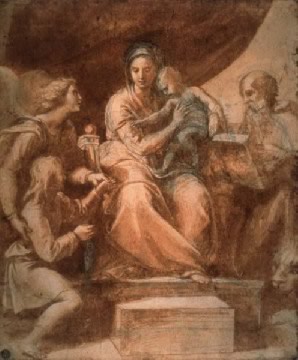 Eye and ear
The art world combines the worst of each from a peep show, a K-Mart, and a postmodern carnival. If only it could also return to the outsider status of the first, the convenience and price of the second, and the entertainment value of the third. Diversity, creativity, capitalism, and confusion are getting along as well as could be expected. Of course, the mix also raises nasty questions about the role of a museum. The conversion of museums into advertising continues apace, whether for Armani fashion or the private collection that a museum hopes to receive in donation. No breach of silence hurts more.
The Frick Collection responds admirably simply by going about its business. A beautiful show of drawings, now on loan from the National Gallery of Scotland, ranges all the way from Leonardo da Vinci to Georges Seurat and Seurat drawings. Meanwhile, Gary Hill's latest video takes one from silence to a scream.
If the Frick seems perfect for contemplation and renewed understanding, San Francisco's Museum of Modern Art may appear the worst candidate for silence. Its showy structure, designed by Mario Botta, lies just across the street from a packed convention center. The museum led the gentrification that turned SoMa, or the neighborhood south of Market Street, into one of the slickest districts in an image-conscious town. And yes, it, too, is showing a private collection, as (ta-dah!) "Celebrating Modern Art."
The façade's trademark stripes and turret leaning diagonally upward, front and center. If they at last serve a purpose, chalk it up to coincidence, for the stripes echoes Sol LeWitt wall paintings newly rising from the lobby. Within, a metal catwalk offers a heady view down from the fifth floor, the grid beneath one's feet weaving into the geometry below. It carries on the museum's overall design—but mainly the sense of sheer fun.
Yet SFMOMA also sits thousands of miles from New York City's tourism and trends. Even that private collection has a personal stamp that serves as more than an excuse for a show, an attachment to a late modern emphasis on form and materials. The Anderson collection gets a jump start with the intense color accents and rippling enamel texture of Lucifer, by Jackson Pollock, before ending with such outsize painters as David Reed and Susan Rothenberg. It has a commitment to individual artists over the course of a career. At SFMOMA, that translates into full rooms for Frank Stella and others.
Besides, the ample spaces throughout the museum have a thoughtful, symmetrical arrangement. Better yet, they do not impose themselves on art—whether painting or a stunning installation like Hill's.
The scary part
More remarkably, both San Francisco's museum and the Frick hold out rooms in which one can actually remain alone with a work. When that happened to me at in New York, I exhaled gratefully and looked again with pleasure. And when that happened to me with Hill's latest installation, I nearly fled in panic.
The room has a startling blackness. One has no idea where to step without bumping into another person, a wall, or the elusive work of art. I stopped still and fixed on a tiny light, at an unknowable distance. One clings to that light for comfort, for any orientation. And it grows—fast.
I had timed my entrance perfectly, for blackness meant the video's start, and the only presence behind me was the projector. But long before I realized either good fortune, I saw that the image has no intention of bringing comfort. The androgynous figure actually centers on the back wall, to one's left as one enters. She heads right at one until finally she fills the wall. She walks slowly enough, casual but determined, as if aware that a mere image has no regard for anyone's presence. One backs away in fear, as if again ready to stumble and fall.
She stops dead with a scream. Her repeated cry must say something, and again and again one strains to hear it. One can make out nothing but nonsense, like the nonsense of one's expectations and fears. One catches one's breath, and then she is gone, and it all begins again.
Almost from video art's birth, Hill has long explored the gap between words—like this foolish critic's—and experience. At times he has put the gap on an electronic pedestal. As he has grown, though, he has reached a bit less hard for the ineffable and more close at hand. Now both sides of the equation seem equally treacherous, text and art, knowing and seeing. It makes a modern museum, for all the marketing and all the crowds, a treacherous place as well. It makes for some vivid, incredible art.
Like the projector, a magnifying glass brings faces closer, into a private domain that one guards closely as memory. Back in New York, however, in the Frick's downstairs rooms for temporary exhibitions, a glass amounts to a welcoming touch. One can find many welcomes in the partnering of small museums.
The finish line
The Frick already is long on creature comforts, starting with free audio tours of its unforgettable collection. One could well revisit again just for one painting, on loan among old favorites from Giovanni Bellini to Rembrandt. In Renaissance Venice, Andrea Mantegna pretty much taught Bellini, his close relative, what he knows. Mantegna's Descent into Limbo shows how realism grew in the service of traditional religious art's emotional depth. Jesus has his back to the viewer, one more soul among the dead. Others turn to him for help, but he bends toward a vast, black pit amid their harsh, glowing color.
Downstairs lies the rack of glasses. A magnifying glass stands for the connoisseur. In effect, the Frick is opening up an exclusive domain. When that privileges the comforts of the drawing room, as in one philosophy of art, it can easily set a middle-brow standard that deadens art. Here, one instead gets more than enough surprises to keep art fresh and alive.
Literally at the center of the first room of drawings, Leonardo's sheet holds nothing but a different kind of realism—dog feet, with seriously threatening toenails. Right as one enters, at the foot of the stairs, Mount Snowdon looks equally formidable. In its precision of color and drama, J. M. W. Turner invents British Romanticism as surely as Wordsworth did in poetry when faced with the same peak, in the north of Wales. I thought of why Joseph Heller took its name for his pilot dying in the snow, the key to too many memories in Catch-22.
The show loses momentum for a while in the 1600s, but that is no more than fair. The National Gallery necessarily has a bias toward nineteenth-century British art, along with the eighteenth-century tastes that drove it. Hubert Robert's carousing soldiers makes a good example. Among the Brits, Robert Adams and Samuel Palmer turn out glowing landscapes, if more on the level than Turner's.
The National Gallery leans toward drawings with a sense of completion. Giovanni Battisti Lusieri's pot has an almost photographic sense of tonal values, because he meant his sketch as a collector's record. He completed it around 1804, on assignment from Lord Elgin, the guy who played with marbles. Yet finish need not mean a presentation drawing or even a premeditated composition. An artist's instinct can make the roughest, most private study into a self-contained page.
Adolph von Menzel does it around 1858, as he packs a sheet with heads. J.-A. D. Ingres and J. H. Fuseli certainly do it in the delicacy of a human profile. With its high finish, the light on Seurat's light seems all the more remarkable in having no logical source apart from the larger composition, his Bathers at Asnières.
Fish or cut bait
My favorite drawing at the Frick owes its finish to a mundane purpose, directions to others. After 1515, Raphael needed a reliable final study, because he relied more and more on assistants for the dirty work of painting. Success took its toll on his art, and as one art historian puts it, "the Madonna paintings were the main casualties." John Pope-Hennessy meant to be hard on paintings such as the Madonna of the Fish, now in the Prado. Thanks to the Frick and Scotland, one can linger over what might have been.
Tobias holds his fish toward the Madonna, dangling from a string like a toy. I cannot say I ever brought my mother a dead fish, even from the supermarket. Still, boys do bring home what they find on the street, at least till they know better. For Raphael the gesture reinforces Mary's place as both charitable figure and human mother. Like Tobias and, in doctrine, all humankind, the pilgrim at his altar looks up to her as mother, as she is to a truly lively Jesus on her lap. Here, have a fish. It is all a boy can bring.
The study's formal grandeur carries the same message. It starts with the line from the boy's outstretched arm and pole, through Mary, and on to the bible behind her. It adds up to a constantly broken but reasserted symmetry at once in two and three dimensions, in the surface with Mary at its center and the realistic, dark space over which she towers. Besides architecture and paired figured, a web of active gazes acts to the same end. Like Tobias to Mary, the figures look toward but just past each other. They may depend on Mary and Jesus, but they live not in a niche together but in a fictive, superhuman space.
The drawing, like the brief instant of the High Renaissance, depends on recognizing and refusing instability. Leonardo made that refusal into the myth of the artist. Yet that very refusal puts it miles away from art it influenced only half a generation later. At the Frick, one sees the change in the twists and turns of women by Parmigianino, known only as Antea and La Schiava Turca.
Over the course of Raphael's short career, his Madonnas increasingly testified to a lifelike relationship between mother and child. His drawing also holds the "tremulous invention" that Pope-Hennessy found in an earlier study for the same altar. Since then, however, Raphael has turned what had once been a driving diagonal from boy to Madonna into the subtle psychological undercurrent in a more majestic and yet more humanly realized space, with a more prominent and dignified place to another mere mortal, Jerome at his Bible. The cool hierarchies of artists such as Piero di Cosimo, barely a decade before, seem a thing of the past.
Tobias reflects an interest in a human weakness anyhow, for sentiment and shaggy-dog stories. In the Apocrypha, as Tobias stopped to bathe, a fish rose out of the river to eat him. With a little help from an angel, he caught it, and its organs had miraculous powers to heal. The boy's long journey, to bring home money for his father, blends a son's devotion with Italy's growing mercantilism, twin pieties underlying the Renaissance. And oh, archangel guiding him at every step? That was Raphael.

"The Draftsman's Art: Master Drawings from the National Gallery of Scotland" ran at The Frick Collection through February 25, 2001, with Mantegna's Descent into Limbo on loan from the Barbara Piasecka Johnson Collection through August 1, 2003. "Celebrating Modern Art: The Anderson Collection" and Remembering Paralinguay (with Paulina Wallenberg-Olsson) both ran at the San Francisco Museum of Modern Art through January 15, 2000, the latter as part of "Double Feature: New Works by Gary Hill and Nick Crowe." A related article takes up ten paintings on loan to the Frick from Scotland in 2014.