An Archaeology of Play
John Haber
in New York City
Greater New York 2000 at P.S. 1
Mick O'Shea's train set snakes around one gallery, through a hole in the floorboard into the hall, and back. Its tiny buildings echo the factories and small homes that still dominate the Long Island City neighborhood nearby. Labels identify them, though, with glossy magazines and other keys to an artist's success.
How fun, harmless, and personal O'Shea makes the art scene. Yet how vast and intricate it appears, too. One should expect no quick exit from P.S. 1 Contemporary Arts Center and a crowded, ambitious view of the art scene.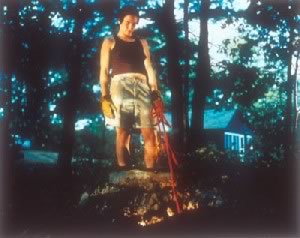 With nearly one-hundred fifty artists, "Greater New York" crawls over every inch of the old schoolhouse. From the fourth-story roof to basement and sweeping courtyard, it weaves through corridors, offices, and bathrooms. If unisex toilets were not enough of a party, imagine lining just up to see them. At least for once men have to wait. Jocelyn Shipley's title, Creep in the Toilet, takes on an eerie double meaning.
Childhood's empire—and art's
One notices that the phrase "Greater New York" holds another meaning, too, aside from artists from all over town. This marks the first show led jointly by Glenn Lowry, of the Museum of Modern Art, and Alanna Heiss, P.S. 1's long-time director. When the Modern took over the city's leading example of an alternative museum last year, it created an empire spanning more than one borough. It reaffirmed the museum's original mission of defining Modernism as part of today, just when that aims runs into obvious doubt.
Their combined resources made this demanding show possible. One hears their ambitions in simply the show's date, demanding attention just weeks before the 2000 Whitney Biennial. Thirty curators supposedly selected from two thousand artists. They invited open submissions, and then they asked widely for yet more names. Unknown critics, too, can try for inclusion in a CD-ROM's ample catalog space. If I make it, you will be the first to know.
The institutional merger has unleashed a publicity machine, too, one much needed and yet pretty scary. Just months ago, I had P.S. 1 almost to myself. Now I had to come early, to avoid the line winding around the block. Every major New York publication put in a wildly upbeat plug. I had to remind myself that the writers had not yet seen the show.
Any large group show, whether in the mainstream or in a ghetto, raises issues of power, much like a day exploring galleries or avoiding museum gift shops. Its diversity puts individuals above simple-minded critical themes. Yet it encourages visitors to stroll quickly past any one work, and it mirrors a world of dealers in tightly knit gallery enclaves. Art has never drawn a wider public, and its supposed insider trends have never broken down so quickly. Yet that, too, speaks of the dizzying circulation of money.
Not too long ago, an infamous Whitney Biennial gave pride of place to political activism. It reflected critical literature that saw through artistic originality as a capitalist phantasm. Now imitation upon imitation, appropriation upon appropriation, itself gets lost in art's diversity, and the upcoming Biennial will have its greatest number of artists ever. Is it a sellout or a triumph? I hardly dare to know, not when P.S. 1 beats the Biennial to the marketplace by one entertaining month.
The result makes any one solution ridiculous, even paranoia. Jesse Bransford's Paranoia Land covers a wall with perspective lines. Critics have used that device to link art, science, and commerce in a single project. Since Michel Foucault, that has meant dominance over nature and ordinary people. Here the lines, like the whole painting, disperse in all directions.
An archaeology of the beautiful
One of Foucault's favorite writers, Nietzsche, loved that word genealogy, and Foucault wrote an "archaeology of knowledge." This show respects and unravels those metaphors. If a toy train maps the art world in mock detail, other works create intricate genealogies of the personal. Mark Lombardi connects loose circles in a web of lines, to trace a bank scandal. Beth Campbell relies on the same kind of handmade diagram, but with each item a personal failing almost out of Cathy cartoons. In opposing ways, they trap private affairs and the art work itself in a chaotic, public matrix.
Other artists evoke an archaeology of the beautiful. Julian Laverdiere uses the basement for a space-age time capsule. In the cavernous, dark hall, its sleek glass reflects the light. Only as one comes close can one see the strange object inside, evoking the first transatlantic cable. It links an artist's supposed project, communication, to the ruins of a decaying world.
Michael Phelan's objects, too, could come right out of Foucault's fascination with old-world scientific cabinets. They could, except that the quaint, vertical stack looks way too tongue in cheek. Its goldfish, though very much alive, owes more to Jeff Koons and Damien Hirst than to biological studies. Certainly Phelan's title, Diamonds Are Forever, reminds me more of James Bond than of the Earth's deep history.
The show kept returning me to the artist, alone at play and caught up in a world of others. Mi-Young Sohn sets up her worktable, but jars of paint have become bottled water. James Siena personalizes perhaps the ultimate art institution, early Frank Stella. Those totemic images have shrunk quite a bit, and the nested lines parallel to canvas have become colorful, freehand spirals.
Poised between personal expression and the art world, the actual artist all but vanishes—and then keeps reappearing. If a single image sticks in my mind, it might be an artist himself. The work was cute, but I prefer thinking of him amid opening-day crowds, still cleaning up. He stood with a power drill in his hand, while a little girl ran up to ask what the work means. Her parents would not allow an answer.
Does art here seem a toy with a curiously unchildlike sophistication? Often enough, but the more one sees, the more one becomes aware of something else entirely. The show's intent chaos reflects an art world torn between public and private, between images of play and power, a battle for babylon in which even the insiders spill out on the street.
Mastering the rules
Has P.S. 1 produced at best a carnival, when it could be stimulating a true artist community and exhibition space? One can easily think so. Like many visitors, I escaped the exhibition on Carsten Mueller's overgrown playground slide. Looping six times on its way to the ground, it marks a leftover from P.S. 1's earlier "Children of Berlin." Next time an artist offers to show you her slides, watch out. You could be taken for a ride.
Yet P.S. 1 approaches the chaos with a refreshing openness and critical self-awareness. Someone really did look at slides and visit studios—and without tumbling three stories in the process. As with the institute's studio program, laminated cards give each and every artist's vita. Contributors all get email addresses for the show's duration, and wall labels let visitors in on the device. I guess two-way communication has not totally decayed beneath the Atlantic Ocean.
"Greater New York" gives even a critic few excuses to feel like an insider, though most reviewers found some way to boast how many artists they had seen before. (Just wait till two hundred artists make it into the Brooklyn Museum's "Open House.") The occasional familiar names appear at their best, too, not their trendiest. Cecily Brown supplies one of her dirty pictures, a woman's legs spread wide in creamy brushstrokes. I shall take it over her recent, more abstract paintings any day. Deborah Mesa-Pelly's staged photos have an ambiguity greater than in her latest imagined horror-film stills.
A show this large defeats any hope of giving artists attention, space, or context. It risks growing into self-parody in future incarnations, especially after becoming MoMA PS1. I cannot claim to have evoked it, summarized it, or experienced it halfway fairly, for that matter. At least, however, halls slowly take on recognizable themes, such as anthropology or optical fantasy. They also challenge one to think outside of familiar genres, such as sculpture or painting. So contemporary a genre as video mostly turns up in installations.
In Rapture, by Shirin Neshat, two scenes face each other in bitter confrontation. One captures an ecstatic flurry of young men. If Neshat does not borrow these wild, steady streams from the Shah's overthrow in Iran, she certainly evokes it for me. Across the room, a mass of veiled women looks silently forward. Freedom and unfreedom, the personal and the political, the spontaneous and the constrained get confusing indeed.
That matrix of confrontations never left my mind during the exhibition, the matrix of art itself. After the train set or slide, I was tempted to joke of hundreds of rides and attractions. P.S. 1 has made a place to take the kids to learn the rules of the art scene. It is a place as well for an adult to leave as a very knowing child.

"Greater New York" ran at the P.S. 1 Contemporary Art Center through May 16, 2000. Later reviews consider "Greater New York 2005," "Greater New York 2010," and "Greater New York 2015."