Did Modernism Have a Choice?
John Haber
in New York City
Making Choices: 1920–1960
Something has changed. Last year, just the title all but made me give up. Or rather, it sounded itself like a shout of surrender.
"People, Places, Things": the first third of an epic survey of modern art, its title claimed to omit nothing. The Museum of Modern Art took its defining collection, from the rash, colorful beginnings to 1920. To celebrate a millennium, the museum reinstalled every floor. It chucked chronology in favor of a dozen or so separate exhibitions, grouped by someone's idea of subject.
Now at last, with the second installment, the museum is ready to start "Making Choices." Or is it? A brilliant set of "mini-exhibitions" turns out to hold some surprising undercurrents of business as usual. Then again, business may look pretty strong anyhow. Postmodernism may even depend on it.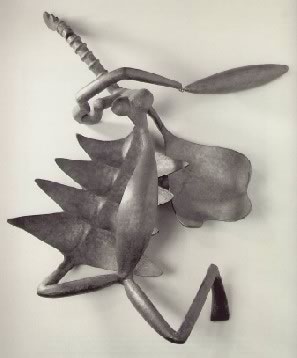 Making a mess
"People, Places, Things": the title asked one to believe that Modernism had left nothing out. Not a person, not a place, not a thing could escape modern art—certainly not a feeling or a perception. No wonder the shows ended in 1920, as if no doubt remained of Modernism's triumph.
The scale of the title meant something else, too, that surrender. It meant refusing to make choices. Nothing was alien to this Modernism, human or inhuman. Lesser-known contemporary artists could appear from time to time, as less-than-telling juxtapositions. Modernism's triumph continues today, they announced—and not as an object for derision by anti-establishment artists. It could take in Postmodern experiments as easily as it handled realism or impulse.
That strategy sounds like a museum in denial. Critics have insisted on Modernism as an institution—and dependent on museum institutions like the Modern for its triumph. Someone had always had the will to make choices. Someone had the power to make them for others, too. The power meant assimilating art movements, from their radical politics to their embrace of decorative arts, into an isolated enclave of high art. No wonder "People, Places, Things," like a show further uptown that reduces Modernism at the crossroads to genre painting, echoes the very subject matter that Modernism had called into question.
With the second third century, from 1920 to 1960, the curators have changed their tune. Once Modernism is here to stay, it and a museum have to choose. At long last, two dozen mini-exhibitions mean to go about "Making Choices." But whose? The artist's? The curator's or the visitor's? Just to ask suggests the inventiveness and the evasions in this provocative, museum-wide exhibition.
The choices make the visitor, like Modernism itself, recast history. It happens in a focus on the utopian project. That tired standby takes on Russian revolutionary art to the Bauhaus and beyond. It lacks the poignancy of the Modern's own recent survey of Alexander Rodchenko, but it fits. Another show does even better. It sees the entire century as a record of war. Modernism would fully approve of that observation's unsettling brutality.
The real payoff, though, comes when the museum asserts connections to late-century and contemporary art. The choices do not casually assimilate everything and anything to Modernism. Rather, they insist that art had a messy side all along. Making choices and making a mess: it sure sounds like a good formula for a century of colliding ideals and institutions, and it works.
War and inner peace
Yes, the Modern does mean to defend Modernism against the bad reports. Forget art as another institution in the service of corporate America. One mini-show title, copped from Frank Stella with his mitered mazes, long before he started to cite Captain Ahab, says it best. This exhibition's Modernism is "the marriage of reason and squalor." (The title work, from the final year of the installation's time span, already helps break down any neat chronology of Modern and Postmodern.) Art could handle profit-and-loss statements, but only by reveling in loss.
In set pieces by Robert Storr, the defense takes the most traditional lines, but not without throwing a few curves. Storr, the curator of painting and sculpture, created the "War" rooms. He also makes a room out of the impulse to simplicity, but without a trace of Clement Greenberg's formalism or the scientism of some German abstraction. He insists instead on a range of approaches and rough edges in monochrome painting. An early Robert Ryman, in sloppy orange brushstrokes, faces down a harshly lit black painting by Ad Reinhardt, as if ready to get over Greenberg's adulation of pure color. The room also throws in slovenly conceptual art, from Lucio Fontana with his sliced canvas to Yves Klein with his trademark blue.
A corner on New York in the 1950s similarly tries to take artists outside official histories. Stella appears again, but before the rigor of his black paintings. Andy Warhol looks young and seedy, too, as he paints his first product logo, apart from Warhol's first display in the windows of Bonwit Teller. Meanwhile, Jackson Pollock turns up allegedly past his prime. He has become old enough to bring back Henri Matisse, with (as in Matisse's bathers and Matisse portraits) his twin love of color and the figure, young enough in his last year to look past 1960 in his own way. His painting here, Easter and the Totem, was to haunt Lee Krasner and Krasner's career ever after.
Still more daring comes when Peter Galassi, the museum's curator of photography, takes over. He springs photography's fondness for documentation and reflections. Painting and other media revel in the connections, and formalist histories may never recover.
In a section on propaganda, Diego Rivera or Alexander Rodchenko only fine-tunes a record of human costs found with Dorothea Lange or Margaret Bourke-White. In yet another mini-show, Edward Steichen even before his time as chief photographer for Condé Nast, Ansel Adams, and Henry Callahan assert a pictorial impulse as driving as any abstract painting. Besides, a century that can range from Storr's wartime to this inner peace necessarily resists postmodern write-offs.
Window dressing
The Modern may not have put off making choices again, as it will when it takes over P.S. 1 for its own holdings. However, its choices may yet give the game away. One feels Storr especially on the defensive, and he knows it.
Naturally, his response puts the brightest face on things that he can. In this day and age, that means anything but formalism. Even so, themes of utopia or simplicity hardly deny idealism. At best, they eat away at art's cutting edges. They welcome Klein's conceptual art into an enclave of inner peace, just as the rooms above take Stella and Warhol at their most gestural.
Even Galassi's clever stratagems come as a grim reminder of institutional politics. Does he make his own specialty into Modernism's driving force? What a surprise. The Modern never escapes the parameters of the art institution after all. And surely this show begins in 1920, with modern art's triumph.
Even at his most adventurous, Galassi mines the textbooks. Imagine Stella's overlays of industrial templates alongside Jasper Johns and his gray numbers? Toss in the intricate mirror reflections in Richard Estes? Fair enough. Johns clearly influenced Stella, and a contemporary like Estes had to share his fascination with commercial technology. Stella's many appearances in "Making Choices" alone sounds like traditionalism.
Now trace them all to Cubism and the photographic lens. That pairing casts the players into a dazzling hall of mirrors, as the lens finds its double in a shop window. Yet it revives half a dozen awful cliches. Remember Cubism as multiple points of view, or Einstein and art's fourth dimension? Remember Modernism as the answer to photography's blows to realism? I want more than bad textbooks and window dressing.
I want out—or do I? "Making Choices" may not manage to reinvent the modern or the Modern. It can, however, make them both pack some wonderful surprises, even this late in the game. Just take that theme of window shopping. In theory, it may sound tiresome and misleading. In practice, it takes the casual glance in a shop window, the cast shadows of day, and a passing reflection, and it makes them as firm and tender as reality gets.
Death by water
The museum's moves come fastest when art past 1960 intrudes. The mini-shows also reach some of their most compelling insights. Take that concentration on multiple reflections. Galassi uses it for Cindy Sherman in her never-ending role-playing and dark clowning. As her body fragments, it becomes a reflection in a pair of sunglasses. In that tiny corner of a photograph, perception amounts to one more fragmented reconstruction, right along with the female body.
In a room devoted to Henri Cartier-Bresson, photography does it once again. This time Galassi introduces narratives, human comedies at that, into Modernism's record of social change. After that, it seems only natural to introduce Sherman's gross-outs.
By then one has seen Hans Bellmer's brutal doll figures, often cited as predecessors. One has seen, too, Man Ray with his behinds, Berenice Abbot's distorted features, and Alberto Giacometti, particularly his Woman with Her Throat Cut. If Sherman emerges as more vital than ever, she does not stand alone. The number of women among the photographers strikes me as definitely no accident either.
The best boast of all for photography comes in the room with the widest time span of all. "Walker Evans and Company" takes Walker Evans in his rigorous plainness as a jumping-off point for more impulses than I can count. It ranges from the documentary of urban life to the symmetry of late-modern painting. It holds a mix of media and dark sensibility far from formalism. I left the show thinking about Robert Rauschenberg's combine, suggestive of a car gone over a pier.
From death in war to death by water. If this show gets its choices, Postmodernism had it right all along. Modernism really did spell trouble. Only that message plays and replays against Modernism, the institution that created the billboard for it. Modernism's dead end comes not as a wall, but an opening onto a dark sea. Or even better, it replaces a formalist illusion, of extending a wall with oil on canvas, by photography's illusion of seeing.
Who will survive intact from all this? I guess I shall just have to come back in the fall for 1960 to the present.

After opening at The Museum of Modern Art in three stages, "Making Choices: 1920–1960" also closed in stages, through August 22, September 19, and September 26, 2000.