Forty Years After
John Haber
in New York City
Forty at MoMA PS1
Vito Acconci and Lucas Samaras
MoMA PS1 celebrated forty years as New York's pioneering arts institution by closing the museum. Well, not quite. It hardly could. Just ask Vito Acconci and an even bigger narcissist at the Morgan Library, Lucas Samaras.
Open and shut case
For that, it would have to date back before 1999, when the evil empire swallowed P.S. 1, two years after a major remodeling. For that, too, it would have to shut a treasured public attraction every Saturday in July, all so that it could put on a concert, in MoMA's one addition to the red-brick schoolhouse beyond a coat room—a sculpture garden without sculpture or a garden.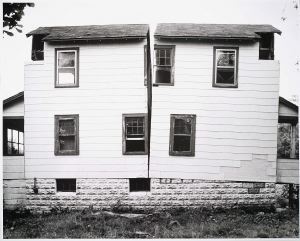 And indeed a floor did stay open, for those willing to pay $25 to see it. They were, after all, paying for a concert. They would not have seen "Forty," an anniversary tribute to Heiss and her creation. They could not, you understand, for art's sake—what with all those rowdy concert-goers.
Ironies aside, the shift from art to entertainment rings all too true for a newly fashionable Long Island City, with construction everywhere. It rings true, too, for the institute's director and chief curator, Klaus Biesenbach, who has given over MoMA itself to celebrity entertainers. At the same time, the alternative space cannot escape its past, when it was decidedly not for sale. Alanna Heiss founded the Institute for Art and Urban Resources in 1971, first exhibiting in the Clocktower in today's Tribeca, and opened in Queens in 1976. And the most recent incarnation of "Greater New York," begun as a showcase for emerging artists, felt positively mired in addiction and AIDS from a decade after. Those memories resound again in midtown as well, with a screening at MoMA of Nan Goldin and The Ballad of Sexual Dependency.
"Forty" looks back to a less desperate era, long before the museum expanded to projects like that of Katharina Grosse at Rockaway Beach. P.S. 1 opened, of course, with abstract painting, but also "Rooms." Or rather, its first exhibition subsumed abstract painters, including the gorgeous silences of Pat Steir, James Bishop, Ron Gorchov, and Robert Ryman. Yet it situated Minimalism just as much between architecture and experiment. "Rooms" came after the certainties of late Modernism and the anarchy of the sixties—the subject of "1969," at the museum in 2010. Its eighty artists had begun to abandon not just canvas, but symmetry, firm boundaries, and closed edges.
Now MoMA PS1 offers a partial recreation of "Rooms"—and, at times, of the very rooms. "Forty" brings back Heiss herself as curator, and it shows how much she contributed in the first place. She had a hand in everything, while allowing artists free rein. They could knock out a corner window, like Doug Wheeler, who then tinted its neighbors progressively darker, bringing fresh colors and fresh air. They could take over the old blackboards, like Marcia Hafif, while withholding a lesson. They could bury meat cleavers in the architecture, like Barry Le Va with his Cleaved Wall.
Richard Nonas confronts the architecture most directly, with a long metal beam connecting two perpendiculars on the floor. They and the intervening doorway become a visual exercise in linear perspective. Others, though, take their business elsewhere, like Mary Miss in earthworks and Gordon Matta-Clark with his Fake Estates—or actual suburban properties the size of slivers and curbstones, photos and deeds included. They take to fluorescent acrylic for Robert Yasuda and John McCracken, text for John Baldessari and Lawrence Weiner, a candle burning in an otherwise empty TV by Nam June Paik, or blue sand and puppet "surrogates" for Dennis Oppenheim, one seemingly dead and the other facing the corner for punishment. They take to performance, like Laurie Anderson, whose account of why she quit her shrink sounds like a Borscht Belt routine without a punch line. Even when Jackie Winsor sticks with a white cube, she chars its wood.
The show contains many of Minimalism's usual suspects, such as Sol LeWitt and Carl Andre. Yet it also has hints of new imagery in sculpture from Lynda Benglis and Joel Shapiro. Even before a more consciously political Postmodernism, Heiss was exhibiting African Americans as well, including Howardena Pindell and David Hammons. At least a dozen artists are women. Together, they bring fresh voices and a welcome silence, especially when the rooms are open. Next time, MoMA might consider a less tawdry and more welcoming anniversary.
All of me
Since that first installation of "Rooms" at today's MoMA PS1, have its rooms shrunk? One might well think so with "Forty," a look back forty years to that very first exhibition in Queens. It sticks to a single floor—and closes altogether Saturdays in July. Elsewhere, though, a room has grown. In his most famous work, Vito Acconci masturbated beneath a false floor at Sonnabend gallery in Soho. For a retrospective of Acconci in performance, rooms claim instead their full size and plenty of activity. Not all barriers, though, fall away.
Seedbed, from 1972, thrives on boundaries. It fits with Minimalism's aim of encompassing more than sculpture as object, to alter one's perception of the entire space, walls and floors included. One could enter and wonder, where is the art? One could, that is, until one heard the sounds of, ambiguously, torture or pleasure. The work thrives, too, on that false floor hiding the artist. Acconci spoke of the work as interactive, because it involves the viewer, but the interchange runs only one way.
It upends the old idea of art as germinative, for his seed falls only to the ground. It also turns self-portraiture into primary narcissism, with the artist invisible but inescapable. It boasts of a man, then age thirty-two and none too athletic, able to repeat the act for as long as you care to listen. Donald Trump should have compared the size of his hands with him. The retrospective does not try to replicate the experience, with a new floor and audio recording, since that could hardly make the same boast. It does, though, have a video close-up of Acconci in action, leaving no doubt that he could keep it up.
Acconci bridges performance as endurance, as for Chris Burden, and as bad-boy art, as for Paul McCarthy, Tom Sachs, and Mike Kelly. Like Martin Creed, he also connects narcissism with its unspoken partner, self-disgust. Other performances involve spit, gargle, saliva, and something shoved up someone's ass (ten to one his own). They often involve genuine interaction in collaboration with a woman at that, Kathy Dillon, who smears him with lipstick and rubs one breast while he stands behind her, miming her gesture. Yet they leave no doubt whose body is on show.
After 1980 he did open his work to his audience, with installations closer to architecture and landscaping. This exhibition, though, sticks almost entirely to six years, ending around the opening of P.S. 1. And those years came fast and furious. Maybe you had heard of Acconci in performance shadowing strangers, tearing out his body hair one strand at a time, and shadowboxing blindfolded with, of course, himself. He turns out to have more, dozens more, which here become their own hyperactive installation. His archives appear embedded in silvery curved walls and, off to the side, a skeletal but loft-like ceiling—all on top of a communal table thrusting out a window, like a springboard onto gentrification. Photos, documents, and small monitors are plentiful, although large projections are few.
A retrospective as installation pays off in spectacle, while reinforcing the narcissism. It ends, to the extent that it has a direction, with sound art and what Acconci called his epic film. Both amount to a voice declaiming about America. One such piece lends its title to the exhibition, Where We Are Know (Who Are We Anyway?). Aren't you glad you asked? Lest there be any doubt, one performance consists of his pointing to himself.
Rorschach test
It takes Lucas Samaras a while to get around to himself for once, but not to worry. He is, as ever, instantly recognizable and instantly alarming. Then, too, he may have been there all along. Just what lies behind the wallpaper beneath his forty-eight pastels at the Morgan Library? Its dark backdrop stands in discomforting contrast to their powdery brightness, its glistening highlights more agonizing still, like a nail scraped across a blackboard. The pattern repeats itself more times than one may care to remember, but then his art is all excess.
The pattern has the bilateral symmetry of a person—or a mirror image, which surely lies at its origins, probably via computer. It resembles a Rorschach test as well, and his art has always been a Rorschach test for the viewer's feelings. Are his portraits a display of spirituality or sex, self-aggrandizement or degradation? Are his brightly striped chairs, with their gaping holes where one might expect a seat, instruments of camp or torture? Samaras never has to choose, and the pastels show him approaching those emotions through a thoroughly conventional medium, one associated more with Edgar Degas, Mary Cassatt, and Odilon Redon than with darkness. They take him from 1958 to just 1983, then in his fifties, with only hints of his favorite motifs.
Be on the lookout all the same. They start innocently enough, with real care for the medium's history. A nude woman introduces sex soon enough, crotch toward the viewer, as if Gustave Courbet had stuck with his Origins of the World into Post-Impressionism. A vase on otherwise uninterrupted red recalls a metronome on a piano for Henri Matisse.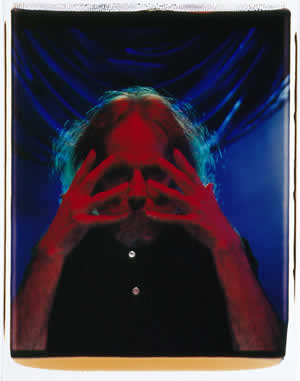 Pink construction paper contributes its texture, as does board later, resonating with the show's title, "Dreams in Dust." The room ends in still life as well, only more tumultuous.
In-between come long necks, faces like dolls or masks, and eyes like those that preside over his creepiest jewel boxes. They threaten to dissolve into a still greater glow. In-between, too, comes another reminder of his constructions, in geometry for its own sake. Their soft surfaces and hard edges parallel those wood constructions, covered in everything from fur to shattered glass. One can see the softness and hardness as the contrasting threats of sex and death, with both a matter of injury. One must take the word of the curator, Isabelle Dervaux, that the pastel geometries derive from the artist's fingernails.
When Samaras does get around to himself, he would look familiar enough from portraits by Chuck Close even without his own adventurous "Auto Polaroids" from around 1970, back in the galleries. He has that black beard and glowering eyes, here slashed with color, and he may take the male part in faceless sex scenes as well. The Whitney called its show of his self-portraits "Unrepentant Ego," but he is punished if not repentant. Another pastel has him hanging naked from his hands as in a crucifixion. As usual, he is glorying in his rebellion against his Greek Orthodox upbringing, while glorying most of all in himself. The parallel to Robert Mapplethorpe, who grew up as a Roman Catholic in Queens, or Acconci, with a Catholic education in the Bronx, should not be overlooked.
The show brings his silliness and discomfort to a notably serious and comforting institution. It accords with the Morgan's new insistence on its role in modern and contemporary art, as with Andy Warhol in the weeks before. It also marks a gift of the pastels from their long-time dealer, Arne Glimcher of Pace. The year after his Whitney retrospective, Lucas Samaras let viewers manipulate his image with the click of a mouse. This show gives up well before the ubiquity of personal computing, and it stops well short of interactive, too, apart from the nature of art. It may rescue his themes and his pretension by linking them to an older medium—or that, too, may be just a test.

"Forty" ran at MoMA PS1 through August 28, 2016, Vito Acconci there through September 18, and Lucas Samaras at The Morgan Library through August 21 and at Craig F. Starr through August 12. Related reviews look at Samaras self-portraits and new media.