Divide and Multiply
John Haber
in New York City
The 2010 Art Fairs
A recession may not help art, but it sure looks good for art fairs. Just when you were ready to give up, they expanded and multiplied.
Art fairs can never convey the state of the art. They help collectors and art advisors cover more ground than they ever could in Chelsea, but they do not change the territory. Even the outsider and independent fairs only nip at the edges. Who expects a new "master narrative" for art these days anyway? They sure tempt one to find it, though. I managed seven fairs in twenty-four hours, with one more the next evening, and here is their story.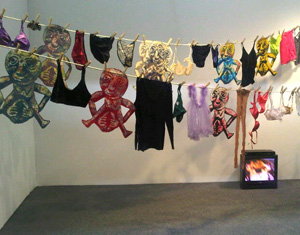 The 2010 Armory Show again has two Hudson River piers and nearly three hundred exhibitors. It also has more competitors than ever, enough for an exhausting, dizzying weekend. The Art Show, as the Art Dealers Association of America calls its classy display, has moved to early March to join in. Pulse, Verge, Volta, and more jockey for position. Meanwhile the self-styled Independent proposes a whole new model for an art fair—and no one can say for sure just how independent that is. A quick tour has me looking for where I fall in the confusion of the art world, and it is not pretty.
Hush hush, sweet Modernism
I started at the top (unless one counts Frieze in London), with the ADAA. Appropriately enough, it takes the actual Park Avenue Armory on the Upper East Side. (To confuse you further, the legendary Armory Show that brought Modernism and Marcel Duchamp to America was two miles south—and almost a century of change ago.) While its gala preview cost a bundle, on behalf of the Henry Street Settlement, Wednesday evening held an eerie quiet. Did the profusion of art fairs have the economy wrong after all, or does this art just create a hush all its own? I enjoyed the space and ease among a largely older and better-dressed crowd, and I am no longer young.
Naturally the first thing one sees, besides the old wood interior, is William Kentridge, who has a retrospective at the Museum of Modern Art. His large sheets of black ink convey at once irony, tragedy, and class. They are also sketches for The Nose, his designs for the opera about to open in Lincoln Center. Across from Marian Goodman, Sperone Westwater has the usual maps by Algheiro e Boetti, just in case one forgot that this is a global art market. I tried to remind myself that I first saw Kentridge, the South African artist, at the New Museum when it was edgy and the Italian artist in East London before it, too, boomed. I also tried to tell myself not to run.
How much art is still for sale—and is that a sign of health? Milton Avery seems all over the place, as if no one can unload his work fast enough. Of course, the ADAA has a strength in prewar American art, with the kind of survey course that an afternoon on 57th Street once offered. It has also-rans from Abstract Expressionism, too, like Michael Goldberg, and they look bold and gripping enough after all. L&M has a whole booth for Willem de Kooning, centered around a lyrical late abstraction. A pale, dark de Kooning from 1970 at Mitchell-Innes & Nash, a standing figure blending into the thinly painted shadows, struck me even more.
Chelsea dealers have joined the club, just as the Armory Show has opened one pier to older art. However, they know how to present themselves. Tanya Bonakdar chooses Charles Long, who hides his naughty bits behind off-white mushrooms like hotel lamp fixtures. (The gallery leaves light shows by Olafur Eliasson to the piers.) P.P.O.W. chooses Julie Heffernan as a contemporary counterpoint to early twentieth-century expressionism, leaving a group display to Pulse. James Cohan's selection of Roxy Paine stresses firm, shadowy drawings rather than boisterous, entangling steel trees or fearsome constructions in wood.
Even the late Nancy Spero at Galerie Lelong looks downright classy, with a clothes line that does not rub the abuse of women in the face of art. Collectors have long absorbed one-liners from Barbara Kruger, but you knew that. Mostly, though, the show depends on delivering history—with just a few surprises. The latter, too, most often involve women. They include April Gornick at Danese, who, I had forgotten, works in charcoal as well as in oil. The white of the paper allows an intense light to penetrate a forest.
They also include Shirley Jaffe, now in her mid-eighties and still at work in Paris. Her paintings share bright color open space with Sam Francis, but with bolder stripes. She sets these against geometric shapes that could at any moment dissolve into Pop Art. She also effaces one composition with a big black X. Still, my finest history lesson came at Galerie St. Etienne, with drawings by Egon Schiele and Gustav Klimt. Downtown, I knew, the messy present was going to make them look clear-eyed and clean.
You are here
Pulse has moved off the Hudson River piers, as the city converts them to a rest home for artists driven mad by the system. (Okay, I made the last part up.) Yet it remains for one more year at the remote end of Houston Street, where cars speed past along West Street and March winds rip across the water. It also remains the largest alternative art fair, and the warehouse interior accentuates its place between class and chaos. It also does more to sum up the art world than the Armory Show or outsiders alone ever could. Pulse exemplifies every cliché about contemporary art—and not a bad thing, too.
It avoids neat rows of white cubes, like a rebuke to Modernism as well as to art's shopping malls. Booths threaten to spill over into one another. As usual, too, it has only a few single-artist booths, but interrupted by selected installations. Piles of used TVs line the entrance, all displaying "snow." Is Julian Lwin (who also lit the entrance to Pulse last year) paying homage to Nam June Paik, is he just too lazy or stupid to get a digital adapter, or did Time-Warner lose service yet again? Either way, nostalgia is not what it used to be.
Installations go for trendy boy toys. Anthony Lister covers a wall with imitation urban graffiti, while Alexandre Arrechea's basketball court by the toilets has sprouted a few extra hoops for short-sighted collectors. Perugi Artecontemporanea from Italy displays Alex Bellan's playground swing, suspended from an upside-down life raft. Boys will be boys, even when lost at sea. More generally, Pulse has the solaces and excesses of a day in Chelsea, right down to two different dealers for Devorah Sperber. It has the most—and most interesting—local galleries after the Armory Show, and its international cast lives up to its share of stereotypes as well.
Not only a cynic will recognize them. A Russian gallery has a parody Soviet monument, a large striding man atop a hefty pile of books—representing perhaps culture or samizdat. Miami has glitter, LA flash (with a blinking sign that spells out Invisible), San Francisco a whimsical realism, Japan cartoons, Europe its heavy content, and Philly a sober boredom. Jennifer Dalton and William Powhida cover a cafeteria wall with a chalkboard, a sharp extension of "#class" at Winkleman gallery. Their pyramid depicts the "hierarchy of art fairs," with ADAA at top and an arrow toward the middle, for "you are here." Yes, I am, and somehow I belong, and is that scary or what?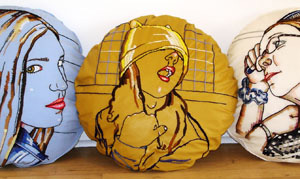 I was less sure about the alternatives. Scope has only one Chelsea dealer, and he gets enough space to hang himself. It also has an alcove for fashion design and otherwise, almost exclusively, painting and photography on a large scale. If anyone wants a rebuttal to Roberta Smith on an artist's "intense personal necessity" and the handmade, come here. Or head for Pool, where artists take to the Gershwin Hotel, cutting out the middleman, like an open-studio weekend without the charm of a tour of Brooklyn. It holds many highlights, but also proof that dealers contribute more than greed and prejudice.
Alternative fairs overlap, too, including Fountain on a rickety Chelsea pier (and I missed Red Dot west of midtown, which also draws from outside the city). Verge spotlights the often overlooked role of private dealers, and I joined a panel discussion there later in the Dylan Hotel lobby. Like Pool, it has three floors, but with furnishings still in the room. Some artists spread their work on beds or imitate pillows. One kept insisting that a bedspread spelled out a love poem in French, although it has plenty of nonsense lettering. But as a soft gray video slowly evolved, I knew I wanted it in my next hotel when I am past hope of rest.
Make tomorrow independent
Volta and Independent are not just alternatives to the Armory Show, but alternative ideas of what an art fair can be. In each case, however, that means something flashy and very recognizable, another part of art in a state of emergency. Just try to find your way out of art's mainstream these days. For its third year, Volta insists on single-artist booths, a determination that has spread to every one of its competitors, although not to every exhibitor. That insistence also reinforces the fashion for big gestures and busy installations. The most eye-catching work looks like something you have seen before, brought down to the confines of a booth—if not always nearly close enough to earth.
Right in the lobby, Mike Andrews's To Your Battle Stations combines video game imagery with the trend for artist tapestries without the feminism, like Banners of Persuasion the month before in Chelsea. Skylar Fein at New Orleans's Jonathan Ferrara nails himself to the floor on video, long after Chris Burden crucified himself, but without the high-toned associations. With Kodak and glitter, Luiz Gonzales gives ordinary folding chairs the otherworldly color of an electric chair by Andy Warhol, for yet another case of Warhol's influence. Marjia José Arjona's rigid but tender stance follows Marina Abramovic in The House with an Ocean View, at Berlin's Anita Beckers, but she shows herself drawing as well. For Invisible-Exports, Mickey Smith again captures library journal archives, including Vogue and (yes) Volta.
I found it overwhelming. Is the market bouncing back after all? Turn to this year's model—and the most troubling confusion of inside and out. It occupies the former Dia:Chelsea, both formidable and abandoned. Was its last inhabitant, the X-Initiative, a utopian collective or a hot dealer's extravagance? Elizabeth Dee organized that collective and Independent as well, with Darren Flook of London's Hotel gallery, and few could have so quickly assembled such a stellar cast. They fill every floor but the roof, without a single partition dividing their "custom spaces."
They pulled it off by reaching out, to class acts from New York and Europe, but also to galleries from Persia to Tribeca and such serious publications as October and Flash Art. They reach out to the public, too, with no entrance fee. By the same token, the process boils down to networking, which sustains insiders. So does lack of labels, which makes Independent rather like a quiz. Even regular gallery-goers may feel excluded by their failure. I recognized a rotating mirror by Jeppe Hein as well as Eve Sussman, who restages her last show, but I kept gingerly approaching others for help.
If Independent has a house style, it is a familiar mix of coolness, irony, and theater. Thea Westrich and Ethan Wagner play directly on the confusion, by pairing art with designer objects—like a fluorescent cross in front of tourists at the Vatican, as photographed by Thomas Struth. So, even more beautifully, does Jiro Takamatsu of the Japanese movement Mono-ha for McCaffrey Fine Art, with photographs of photos and rocks, to immerse one in consciously distant spaces. On a more familiar level, Poul Gernes plays out abstraction as a sign system, much like Daniel Buren, who appears as well. For Elizabeth Dee, Ryan Trecartin plays up the theater, with a rambling, charming assortment of chairs surrounding a hyperactive video. They and Maureen Gallace, as in her landscapes for the 2010 Whitney Biennial, make this a special occasion, but is it a collaboration, an alternative, a true independent, or just another art fair?
The question besets the artists. The Bruce High Quality Foundation has another of its knowing jabs in the lobby, where an inflatable rat falls and rises again. Does the symbol of labor-union protests lampoon art's nonunion shop, or is it literally bowing to power? The nonprofit Artist's Space invites Duncan Campbell to reflect on John DeLorean's idealism and failure, but it brings yet another car into collision with a gallery. Claire Fontaine's neon sign over the entrance could well stand for the entire weekend of fairs, Please God Make Tomorrow Better. And I wanted to believe it.

The 2010 art fairs in New York ran roughly March 4–7, though with varied starting times. Updates take up the 2011 art fairs, 2012 art fairs including Frieze New York, 2013 art fairs, 2014 art fairs, 2015 art fairs, 2016 art fairs, and 2017 art fairs, including Frieze and NADA. Another related review reports on a panel discussion of "Art Fairs: An Irresistible Force?"