Architecture Without Foundations
John Haber
in New York City
James Nares, Jim Hodges, and Leslie Hewitt
Should art reshape the gallery's finance and architecture, reinforce it, or challenge it even to survive? Several artists now are asking much the same question. James Nares brings to a gallery a wrecking ball—and displays it, marvelously, as sculpture. More pretentiously, Jim Hodges gets two of the largest spaces in Chelsea, for work weighing goodness knows how much, hauled goodness knows how many miles. The gallery even jackhammered a gaping hole for him through rock-solid flooring and, I imagine, Manhattan bedrock. Would that the Second Avenue subway proceeded so quickly.
For Leslie Hewitt, the emblems of architecture and destruction are even harder to tell apart, not to mention far less trashy and overblown. They also make it hard to know where her studio ends and a gallery begins. I like her photographs as they are, honest, but she hints at more.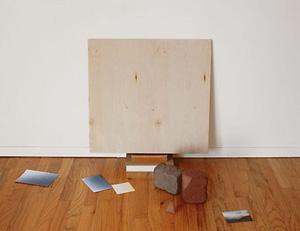 She calls her show "Blue Skies, Warm Sunlight," and one might feel oneself stepping through her photographs to experience just that. They describe not so much a moment in time, she adds, as its "structural foundation." They ask that time become visible as architecture.
Studio foundations
That sounds like a tall order. It also took me by surprise, in work that at first sight seemed so accessible. As an artist in residence at the Studio Museum in 2008, Leslie Hewitt ransacked the place and all but punched right through the floor, like Hodges or Urs Fischer, without help from a posh dealer or a jackhammer. Like any number of artists out to trash a gallery, she seemed in search less of its foundations than their vulnerability. A neutron bomb might have emptied out her contribution to the 2008 Whitney Biennial, leaving only a record of upheaval, the Kerner Commission on race in America that followed the riots of the 1960s. A singer back then had a tacky one-time hit announcing the "eve of destruction," and now in Chelsea it has come to pass.
Or has it? Some of her latest photographs lean off the floor, as if waiting to be installed or, conversely, hauled out with the trash. Even the box frames seem temporary or made on the cheap. Within the photos, bricks and scraps lie scattered, while plywood squares rest on metal cylinders rather than pedestals—like placeholders for unrealized works of art. The one sign of life is a faded snapshot. A book of upheaval returns, this time the 1969 Politics of Protest, so beat-up that I felt sure that Hewitt had handwritten the title across the edges of the pages in lieu of her name, like a high-school student taking textbook possession.
Then again, those frames are truly weighty, so that the photographs become objects as well as images. They parallel the gallery's structure, while stepping apart from weekend gallery traffic. Her studio's hardwood floors reinforce the parallels and the differences. Those reports on violence did indeed demand its structural causes. If this artist cannot exactly erase time, she can at least represent its passage. The snapshot alone attests to change.
In the real world, of course, displacement has human costs, and Hewitt also participated in "Lush Life"—summer group shows on the Lower East Side, where foundations mean private property and change means real-estate values. To a scientist, entropy is a measure time and change. Still, her work has stayed the course, since her appearance in "Frequency," emerging artists in Harlem. Besides, as Minimalism taught, any gallery looks pretty empty once one turns away from the art object or the idea of one. Whatever it means, the combination of photograph, object, and gallery reflects well on itself.
Not so a drop ceiling elsewhere in Chelsea by Jim Isermann. Its "vacuum-formed styrene" already sounds like a real-estate ad, and its translucent grid lit from above supplies a gentle glow. The tile pattern, a greater than and less than sign connected by a horizontal (like a Feynman diagram for my scientist types), alternates tastefully as well. The light's spread by the gallery walls, like the James Turrell ceiling at MoMA PS1 without the winter chill. The prefabricated materials and their geometry echo Minimalism as well. Yet they still decorate the space, rather than pierce it, displace it, or transform it.
Another Hewitt, too, builds, tears down, and leaves the materials along with the wreckage, for their own version of art as objecthood. Corin Hewitt might call it an installation, a representation, an artist's studio, a stage set, or simply the gallery. On entering, one faces what look liked piled cinder blocks, composed rather of caked mud against freestanding partitions. And each turns out to hide the work in progress or the wreckage. To confuse one further, the most obvious sign of progress is an actual Lower East Side pillar, without which more than the art would be without structure or foundations. With it, the performance continues.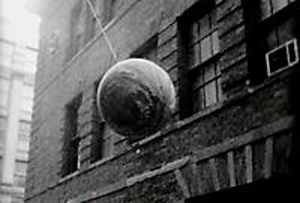 Speaking of danger, instead of industrial flooring, how about bringing in a wrecking ball? James Nares does just that, and one had better stand out of the way. Back in 1976, he swung an enormous pendulum from a pedestrian bridge over a Tribeca side street, and he might well be surprised to find it again in "Greater New York 2015." Yet he leaves not just his New York surroundings intact, but constructs of light and steel. The film now comes with photographs, sketches, and Minimalist objects. A stately row of spheres ascends in size across the floor.
They also offer obvious insight into Nares today, better known as a painter. His huge brushstrokes appears calm and measured, like David Reed rendered in Chinese artistry, but they began with a human act. He swings happily between stasis and motion, just as the drawings and photos leave streaks of white across black. If they seem close to Serra drawings, Richard Serra in performance inspired the pendulum by flinging molten lead. Nares, too, speaks of danger, but less to the architecture than to the artist—or to art. On film, the ball becomes the protagonist, like an acrobat, and one can only marvel at how high he flies.
The seven ages of Chelsea
I keep wanting to lend Jim Hodges some dignity, honest. His dealer certainly does. After the mass of rock and the jackhammer, I do not envy the clean-up task to come. For all that, dignity is not coming easily, but try this: call the show the seven ages of man. Gosh, I feel better already.
For starters, one might encounter a huge plain-wood frame. Given the paucity and scale of the rest, one might mistake it for the work, but for the obvious sound and motion behind it. The far side opens onto not a video theater, but a physical one—a well-lit room, its floor spattered with gobs and gobs of paint. It takes only a second for more bright color to drip through one of several holes in the ceiling and to land with a splat. Hodges has found a way to paint by numbers, only random numbers. Is this a parody of Jackson Pollock, of expression, of a more austere and impersonal formalism, or of finger-paint?
As Groucho said, "A three-year-old child could do this. Run out and get me a three-year-old child." Make that a wealthy and ambitious child. Around the corner, glass fragments form the show's smallest but, strangely enough, least intimate works with just a hint of Ellsworth Kelly. They tile into curved, shaped mirrors that reflect nothing but blackness. And beyond the teenage agony and lust lies an even darker and more mirrored display of young-adult excess.
Watch your step. Moving spots of light cover the walls, reflected off a slowly turning sphere suspended like a chandelier and slowly descending toward that jagged hole, now a pool of water. One can choose between meditation and a dance floor, like a Japanese garden crossed with disco Bill Viola. Next head south a few blocks to room for larger and, if possible, more pretentious work, like that of Matthew Barney only the month before. Here the walls evoke the anxiety of middle age, with heavily scratched prints. They do not, however, give up displays of art-world success and middle-age comforts, in large polished skies out of Andreas Gursky.
The space between could stand for old age, as a set for Oedipus at Colonus, but a dazzling one. Four boulders have colored foil on the side facing one another. As one walks among them, the colors change in response to oneself and to each other. Nothing impressed me as much, but even here the showmanship had me wondering. Michael Heizer just happens to be hauling more than three hundred tons of granite more than one hundred miles to LACMA—just down the road from the master of art as commerce and showmanship, Jeffrey Deitch at LA MOCA. Here in New York, too, has earthwork with its ideals of escape from the museum and surrender to entropy become a museum piece?
I know I have had to skip an age or two, for adulthood is hard to find. Perhaps one could fill the gap with one of those split houses by Gordon Matta-Clark, who truly did remake a gallery as fault zone. I admire Hodge's Chelsea sense of and childhood sense of wonder, but I wonder, too, at so many huge and obvious masculine displays. The disco pond could bring peace, as an elegy to AIDS victims like the upcoming "NYC 1993," but one should not read into it too deep a social text. Its heart is the show and the glitter. It might serve instead as a demand for a politics of architecture—an elegy to an entire age of big-ticket installations.

Leslie Hewitt ran at D'Amelio Terras through December 23, 2011, Jim Isermann at Mary Boone through December 17, Corin Hewitt at Laurel Gitlen through December 22, and Jim Hodges at Barbara Gladstone through December 23. James Nares at Paul Kasmin through February 11, 2012. A review of Ai Weiwei has moved to a fuller appreciation of his career.