Minimalism Without America
John Haber
in New York City
Other Primary Structures and Supports/Surfaces
Was Minimalism quintessentially American? One could argue for something starkly American in the efficiency of repetitive geometries, the can-do spirit of materials from the hardware store, and the "in your face" daring of flung lead and near empty rooms. Minimalism even sounds Puritan.
Spareness also got a boost in painting from a MoMA exhibition called "Sixteen Americans"—and in sculpture from the Jewish Museum in 1966, with "Primary Structures." What, though, counts as primary, in an art that returns to its elements, and who deserves primacy? Now "Other Primary Structures" sees an art that was, literally, all over the map. While the exhibition sticks to sculpture, France, too, had a Minimalism, with such painters as Daniel Buren and Olivier Moesset, the first two letters of what now and again billed itself as BMPT. And that was just the beginning. A movement known as Support/Surfaces briefly turned both painting and sculpture inside-out.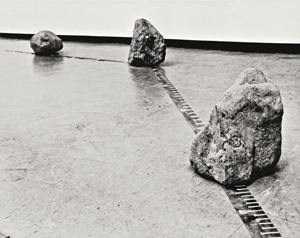 Do they mark a clear break from American leadership or confirma it? Do they attest to a greater diversity or, anticipating global markets fifty years later, a uniformity? Does it matter that the Americans were hardly cheerleaders for nationalism all along—like those who met at Paula Cooper gallery in 1968 to speak out against the Vietnam War? Does it matter that a star of Brazil's movement repudiated it and, to trust her MoMA retrospective, abandoned art? Shows like these have a way of simplifying the story, even as they add to it. But they add a lot.
Primarily global
Minimalism came in a great wave of postwar American movements—and as a clean break with one them, Abstract Expressionist New York. It brought to prominence some of the most recognizable names in American art, from the accumulated weight of Donald Judd and Carl Andre (the one with that copy of the Declaration) to the "light and space" of Dan Flavin or such Californians as Larry Bell, James Turrell, Douglas Wheeler, Anne Truitt, and Mary Corse. Yet this time the Jewish Museum looks well beyond America. In fact, it looks twice, with a first part covering the years before "Primary Structures," as a direct challenge to its priority. It points to Neo-Concretism in Brazil, with Hélio Oitaca and Lygia Clark (the one who repudiated it), as well as Gego's metal grates and black tiling from Venezuela, but also artists from Pakistan, the Philippines, and Eastern Europe. As a follow-up, the second part picks up the story and carries it to Africa, East Asia, and the Middle East.
Wall-sized photos of the original exhibition provide a backdrop—and a nemesis. So does a model of the museum as it looked then, with the works visible in a courtyard and inside. (Maybe every museum should be available as a doll house, with MoMA offering little kids a handy lesson in real estate.) And much of "Other Primary Structures" has a clear parallel in American art. Rasheed Araeen's open blue cube recalls Sol LeWitt and his rusted I-bars Richard Serra, while Noemi Escandell's X or Norberto Puzzolo's inverted V's might pass for work of Ronald Bladen. Later work parallels a more organic Post-Minimalism as well, like Yoshida Katsurō's black pipe bursting with white cotton.
Others go very much their own way—or, when it comes to the minimal, lighten up. Clark's shiny tabletop "critters" in angled metal adapt David Smith, but visitors can fold and refold them to make them their own. Alejandro Puente leans a plank against a wall, like John McCracken, but as a colorful set of three. David Medella goes as far as a bubble machine for his Cloud Canyon. Sometimes, too, parallels run not to America but across other continents. While Susumu Koshimizu in Japan nestled stone in a white paper box, Benni Efrat in Israel encased a steel plate in white foam.
One can also argue for local histories, in contrast to America's abstracted time and space. Mono-ha, the "school of things" in Japan, bridges western concreteness and an eastern stillness. Nobuo Sekine's black tanks of seemingly black water bring heavy industry to the garden—and some have detected a Zen influence on Minimalism all along. The curator, Jens Hoffmann, speaks of those marginalized by the hegemony of the Western canon, but the artists have a few local hegemonies on their mind as well. Branko Vlahović's plaster relief, from Zagreb, has the brutal look of Soviet-era architecture. When Edward Krasinski's spindly metal rod breaks off into fragmented cylinders, one can imagine the Polish system coming apart.
Hoffman notes a global opening of art to fashion and food, although Minimalism in America was very much about a broadening of materials, too. Think of Serra's torn rubber or of earthworks. The entire show comes a little late in the game as well, after museum retrospectives of Clark and Lee Ufan. It also lacks in ambition. Where once art took over the entire building, with the majestic Upper East Side mansion as their playground, these primary structures have to settle for half an exhibition at a time, on the second floor. Amir Nour's polished metal arches could almost be wiggling across the floor, and I only wish they had further to go.
Maybe other nations had to have their own paths, because American art had something to say that they could not. The scale model serves as a reminder of how Minimalism once opened art to its surroundings. Oscar Bony's yellow "sinusoid" and Antonieta Sosa's stairs run up against the wall before trailing away, but much of the art on hand does not. Wood plane and beam by Kishio Suga, held in place by stones at each end, boldly threatens to collapse, but much else stays put. It tends to focus on the sculptural object, whereas the wall photos show an art that engages the viewer well beyond structure. Somehow the global art scene is still struggling with hegemonies of its own.
France on the surface
Probably every curator and every dealer dreams of a rediscovery—that overlooked or forgotten artist who now seems central to the past and newly relevant today. This is not the search for a folk artist or an outsider art, but for someone who can turn recent history inside-out—or, like the Guggenheim's hopes for Group Zero in Germany, reset the count. Not everyone, though, imagines stumbling on an entire movement. Supports/Surfaces, a loose and short-lived group in France, does not appear in the effort to extend Minimalism globally of "Other Primary Structures." It does not, when last I looked, even have a Wikipedia page in English, and I, for one, could not recognize a single name. It looks eminently familiar all the same.
Pierre Soulages had not shifted entirely to black when more than a dozen artists, almost uniformly male, staked out their own ambivalent relationship to the mainstream. They started in the south of France, but they had their signature exhibition at the Museum of Modern Art of the City of Paris in 1969. They cited Clement Greenberg as an influence, but also Chairman Mao. They denied a basis for art in biography or the personality of the artist, but they were immersed in politics. Many, the gallery observes, were veterans of the war in Algeria that redefined the left much like Vietnam for the United States. They denied a basis for art in history as well, but they worked right in Henri Matisse territory, and it shows.
"The subject of painting is painting itself," they wrote in the closest they came to a manifesto, and yet "it is neither a return to basics nor the search for an original purity." Yet they embraced not just bare supports and surfaces, but also color and an assault on painting. Most of the art hangs by only nails at the upper corners, like the pink and yellow vinyl of Jean-Michel Meurice, as surfaces without support. Some amounts to dyed and knotted rope descending to the floor, like that of Claude Viallat, without a surface to support.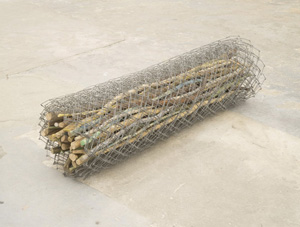 Much looks more like banners than paintings, like Patrick Saytour's violet folds draped from slim white poles and spanning an entire wall. He is not saying what they are cheering on or protesting against, but the catalogue's cover does take its colors from a soccer team.
In other words, it is art at play, although often wrapped in the soft materials and bodily associations of Eva Hesse, Richard Tuttle, and Post-Minimalism. Saytour also bundles material like sandbags, but stained with red and blue lips. Daniel Dezeuze's rolling ladder of soft wood looks pliable metal. It parallels Arte Povera as well, in its frequent strategy of cutting and folding. Louis Cane calls his bold arrangement of red, yellow, and blue Toile Découpée (or "cut-up canvas"), while André-Pierre Arnal titles his geometry in orange and green Pliage (or "folds"). Pierre Buraglio cuts, folds back, and then paints the center of a canvas, for a vertical of deep color against the simplicity of its background and the wall.
Compared to Arte Povera or the more politicized version in "Transmissions" on its way to MoMA, they aspire neither to formal elegance on the one hand nor to violence on the other. Often a white wall or fabric serves as one color field among many, as for Jean-Pierre Pincemin beneath his parallel stripes or for Mark Devade below his red squares and chevrons. Only Noël Dolla approaches all-over painting, although sometimes on dishrags. The closest thing to an overt political gesture came early, in 1968, when Bernard Pagés lay sticks in coiled metal fencing, like a homemade bomb. And the closest thing to irony comes when Cane stencils his name repeatedly, along with his identity as artiste and peintre, both right-side up and upside-down.
With the explosion of markets, the pressure to make discoveries keeps building. And with the turn these days from irony to eclecticism, it makes sense that some of the best discoveries skip back a generation or two to Minimalism, as with Charles Hinman or Phyllida Barlow. Other movements have received fresh attention as well, such as Neo-Concretism, Mono-ha, and the whole of "Other Primary Structures." Supports/Surfaces, too, comes across as very much a movement, to the point that one artist all but blends into another. And the Lower East Side exhibition, in conjunction with the French gallery of the group's consistent champion, Bernard Ceysson, also insists on its persistence past the turmoil of the 1960s, with Buraglio's works from the early 1980s and almost everything else from the early 1970s. There is no mistaking a continuity not just from Minimalism before them, but also through Neo-Geo and what has become a Neo-Minimalism for today.

"Other Primary Structures" ran at the Jewish Museum in two parts, the first through May 18, 2014, and the second through August 3. Supports/Surfaces ran at Canada through July 20. Related reviews look at Lygia Clark, Lee Ufan, and Mono-ha.