Local and Global Color
John Haber
in New York City
El Anatsui, Wolfgang Laib, Xin Song, and Lin Yan
Over the years, paintings by El Anatsui have grown, to the point that a gallery's walls can hardly contain them. With "Gravity and Grace," they take that last step into the air and onto the floor.
Too often, big-ticket displays of raw materials and excess do little more than flaunt their wealth. At their best, though, installations can engage a gallery or museum while bringing painting and drawing full into three dimensions. Like the African artist, Wolfgang Laib, Xin Song, and Lin Yan build on the horizontal and vertical dimensions of their surrounding, as well as each artist's personal and political history on the way to America—with a large yellow square on the floor and curtains across the space of the Flatiron Building. It may not seem like much is going on. Give them a few moments, though. Laib's pollen field alone may grow on you.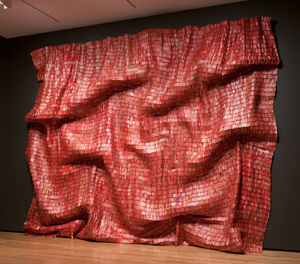 Painting as installation
Paintings by El Anatsui have grown in size, in color, and in mass. Maybe add sheer ambition. In Chelsea just this winter, more than one partly unraveled into skeins of color on the floor. In warmer months, he had already escaped the confines of the gallery to an entire wall above the High Line. It recalled a time before projects like this came west to old industrial spaces to clean them up. It also seemed partly to peel away.
The thirty or so works at the Brooklyn Museum highlight a dozen monumental wall and floor pieces, and he calls them sculpture. Others might say installation, assemblage, or the very fabric of the museum. Some pieces have acquired thick folds, as if rippling across the wall. In one, folds of yellow gold interrupt a largely white surface. In two others, the folds bring single fields of red all but off the wall. Floor pieces take the form of snaking drain pipes, rolling hills, peaked robes, and monumental paper bags. By far the largest, Gli (Wall), defies its title with at least half a dozen huge hangings across the museum's fifth-floor atrium.
Formalists long spoke of art as object, especially in paint on a stretcher. Frank Stella has followed that logic more and more toward sculpture in metal. Rosemarie Trockel makes her colors, too, unravel onto the floor, with weaving in place of linen or canvas. Here, though, the threads are the caps to liquor bottles, held together by wire. The white floor pieces substitute milk tins. Who knows when to stop calling them paintings?
The solid red recalls color-field painting as well as contemporary African art, and the hangings are floating and translucent. They draw one into the work, to see other sheets, other work, and other people behind them. Smaller work, in the alcoves between the larger rooms, shows El Anatsui's evolution from a painter in the 1980s, with splashes of acrylic and blue ink on paper, through black marks in the 1990s hacked or burnt into wood. Occasional spools of copper wire like electrical devices anticipate the wire framework today. The alcoves also hold videos of the artist at work, and of course the process is as massive as the work. One can see him building a work while transforming it into something lighter.
The work also invites real-world associations, only starting with African identity caught between Africa and New York. They move fluidly between local and global processes, as well as between personal, political, and geologic time scales. Their political histories start with the alcohol first brought to Africa by Europeans. Titles refer to funerary cloth, drifting continents, the Earth's skin, and the ozone layer.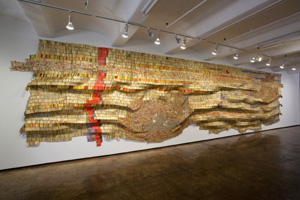 The phrase "Gravity and Grace" borrows from Simone Weil, the French social activist and Christian mystic. As an American, I had trouble looking at white peaks and not seeing the Klan, although the artist was born in Ghana (like John Akomfrah and Lynette Yiadom-Boakye) in 1944 and works in Nigeria.
When El Anatsui finally reached New York in 2010, installations were coming under fire for their display of garbage and wealth, with an obvious influence on another African, Elias Sime. And sure enough, his painting was appropriating junk and bursting at the seams. Work this big demands quite a workshop, too, just when critics were longing for the handmade. Yet the turn to metal caps in 1998 clearly freed up the artist for something more personal. Good political art can do things like that, and it is overdue at a politically correct museum like Brooklyn. In crossing continents and crossing media, this art embraces local and global color.
Growing on you
With Wolfgang Laib, perhaps I should have said the work would not grow on you but glow on you. What may look at first like a gray slab in an empty room glows brighter and brighter. His pollen field is also a field of color—pure color that softens slightly as it thins at its edges. It is to all intents and purposes a single yellow square, although it measures roughly eighteen by twenty-one feet. The light gray is its canvas, the floor beneath its museum wall. It could pass for the world's largest Mark Rothko.
But I did mean grow on you, for Pollen from Hazelnut is actual pollen. Laib has been harvesting it by hand, spring through summer, since his first version in 1977. A film just outside the entrance at MoMA documents him at work, in the fields near his home in southern Germany. He draws it from plants directly into glass jars, and he will retrieve it, clean it, and seal it again in glass when the show ends. (For the record, this version will fill about eighteen jars.) Any dirt and fading over the course of the exhibition is just a part of the process.
I could dismiss it ever so quickly, preferably while smirking. A reductive emptiness has become a tired trope of modern art, and a ritual centered around the artist, as with Joseph Beuys, is usually another name for an ego trip. Laib weighs it further with associations of nature's purity, extending to past and present work in marble, milk, and beeswax. He speaks of his interests in all sorts of eastern religions, to the point of having staged for the camera ancient fire rituals, and one can hardly separate the pollen from its solitary, patient harvesting. Balding, in his early sixties, modest in stature and demeanor, he makes a decent enough monk in the religious order of fine art. With his loose-fitting clothes, soft voice, and even quieter smile, he hardly stood out even at his press opening.
It does not take his degree of discipline to attend to the work. Other than wall text, nothing else interrupts the museum atrium. The concrete raises the yellow off from the floor, while also evoking the materials and geometry of Minimalism. Abstract Expressionism, Rothko included, has accumulated all sorts of rhetoric over the years. One hears of art as object, color as form, form as the spiritual or sublime, "action painting" as process, the process as the expression of the artist (usually a white male), and its expression as part of a language beyond the individual. Laib has a touch of them all.
A pollen field necessarily is a color field. It is also part of the dreadful enigma of the museum atrium and, just maybe, a solution. Ever since the awful 2004 MoMA expansion, the room has functioned as wasted space, like a luxury hotel atrium without the luxury. It dwarfs and reduces the stature of art—which has worked there at all either by stripping down, as with Marina Abramovic in performance, or by piling it on, as with Martha Rosler and her "garage sale." Laib aims for both at once, and one will just have to see how he holds up to museum traffic and repeated visits. It will come as no surprise that this is the project's largest incarnation yet.
Will it seem more overblown or empty as it fades, or will it glow brighter in experience and memory? After Ai Weiwei, with his hand-painted sunflower seeds, maybe art had better start to germinate. Ai's porcelain weighed heavily, and it risked poisoning or choking viewers, even when he had hoped that one could lounge in it and play. Laib's concrete must weigh heavily, too. Then again, Laib is way too disciplined to lie down, and his translation of painting onto the floor turns museum expectations on edge. It is only fair to repay him by standing and looking.
Crouching tiger
The Flatiron Building lit up for the holidays as 2012 came to an end, but one could still look behind the glitter. I mean literally behind, for in this installation the Statue of Liberty faces north toward the intersection, in white on board—not life sized, but certainly your size. Under the lights, it becomes mostly bright blue, not green, although with a red backdrop. And frankly I found it a bit garish, apart from an image with so obvious an appeal. For Xin Song, though, it was just the keynote to her Cutting Dreams. Inside the windowed Prow Art Space, hungry masses could breathe a little freer.
Like the others in the space, the artist works in paper on a large scale, cutting dreams. And at the center of her dreams is a large model of what sure looks like the Brooklyn Bridge—although she prefers to think of it as simply a bridge. Around it, in a tumble of red and black, smaller Statues of Liberty lay every which way. Many rested over the edge of the platform. They may have fallen sadly or multiplied happily, like the end of Planet of the Apes or like confetti. Like the LEDs in the park across the street that month, by Leo Villareal, they were on view all the time but best lit up at night.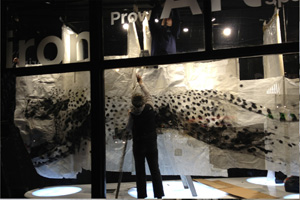 For a Chinese American artist, Liberty and a bridge have to promise something special, but promises are so often fragile. One can think of Cutting Dreams as sustaining them, with the familiar symbols as connections between East and West or as uniquely New York. (And, you know, the edges in Villareal's fullerene, the soccer-ball shaped molecule, are bonds, too.) They stop short, though, of weighty sadness or sentiment. They have a slightly faded if not unreasonable nostalgia for the twentieth century, and they may be best enjoyed rather than deciphered. As it happens, however, the very next installation had to be deciphered to be seen.
Cheetahs do not run wild in Madison Square Park, at least yet, but wait: as Lin Yan entered the Prow, summer was coming, and one was already about to pounce. It was heading that way on the first day of spring, behind the glass, where it had been suspended in its leap for weeks. It is, after all, a work on paper. For all its drama, once again visible from the street, it is in a tradition of inner contemplation rather than external danger. Lin Yan calls it Embracing Stillness.
It is not a paper tiger, but it would not be the same without the texture of handmade paper. Seen as a painting, it derives its breadth and economy from Chinese art. Seen as an installation, it is a translucent curtain dividing a well-trafficked intersection, much as the metal drapery of El Anatsui shrouds a hall at the Brooklyn Museum. Either way, it is just a few sheets among many, most of them blank. Coming at the cheetah from behind, one may see only the paper. Coming at it at night, it is more likely to look larger than life.
I was tempted first by the installation—and what I took for an abstraction. The artist, who more often works on a conventional scale and in two dimensions, has brushed much the same image on sheets covering the floor, and I saw only black dots and curves. And then I walked around the curtains and looked up, and both images took shape. The version on the floor has the advantage of shifting shape as well, as heat rises from vents in the floor, as if breathing slowly in its sleep. Gwyneth Leech, Hu Bing, and Rebecca Riley have all made good use of this space now as well, with Serena Gidwani Buschiand Garret Kane upcoming, for work piled high and suspended from the ceiling. With this kind of potential, I hope its use for art lasts, but I realize that stillness will not last forever.

"El Anatsui: Gravity and Grace" ran at The Brooklyn Museum through August 18, 2013, after his recent work at Jack Shainman through January 19, Wolfgang Laib's pollen field at the Museum of Modern Art through March 11 and documents of his rituals at Leslie Tonkonow through May 4, Xin Song in the Flatiron Building's Prow Art Space through January 31, organized by Cheryl McGinnis, and Lin Yan there through July 21.