Crying for Mercy
John Haber
in New York City
The 2016 New York Art Fairs II
As usual, I left the March fairs crying for mercy, and here they come again in May. So what do I do? As usual again, I head for art. You will see how some fairs head, too, for the parks, just as you should for a New York summer.
Excuse me if this year I offer only a postscript to March. I know they would hate to think of themselves that way, especially now that Frieze from London and Spring Masters lead the pack, but then this year, too, I skipped them. I had had enough enough safe havens for wealth and class like Randall's Island and the Park Avenue Armory, and I wanted to know what that left. For better or worse, it left plenty. First, though, let me wrap up my coverage of March.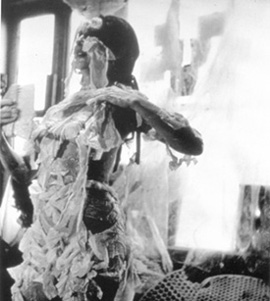 Stick to what you know
Where Scope has slipped, Pulse has its hold on the middle ground. It has the charm of the old Metropolitan Center near Chelsea and a free shuttle to the Armory Show. Its contributors include such nonprofits as the Cuban Artist Fund, the Brodkey Center at Rutgers, and the School of Visual Arts. Jaq Chartier at William Baczek, a Massachusetts dealer, brings her stains that appear to subject abstraction to forensic evidence. Still, its appeal lies in installations apart from the booths, like Erin Garcia's mural of a cryptic but colorful sign system, Richard Vivenzio's loops of rope and their shadows, Yumi Janairo Roth's stacked shipping pallets inlaid with mother of pearl, and an entire "dyke bar" by Macon Reed—complete with a pool table in heightened colors. Maybe that explains why the actual bar was serving vodka at ten in the morning.
Meanwhile the Independent has its hold on its name and its challenge. In departing the former Dia:Chelsea for studios in Tribeca, it has paid a price in convenience—including trial by elevator to the sixth and seventh floor. It has also abandoned its open diagonal layout in favor of rectangles and partitions, and at last one can identify the exhibitors and find one's way. At least two downtown galleries may have more space than at home. The changes mostly highlight the fair's strengths, with such alternative spaces as Artists Space and White Columns alongside such urban pioneers as Paula Cooper—and often provocative art. It includes large abstractions by David Diao at Office Baroque, along with quilts and curls by Joanna Malinowska at Canada, fashionably casual painting by Nate Lowman at Maccarone, a carpet of blackness and salt by Jared Madere at David Lewis, and text art by Karl Holmqvist at Gavin Brown, its undisclosed message disguised as something like eye charts.
That leaves one last way of standing apart: stick to what you know, starting with a medium. The results are modest, but maybe enough to provide something in a long weekend to take away. Off on a Lower East Side pier, Art on Paper presents the exuberant side of its theme, starting with an entire fairy-tale landscape of colored paper by Li Hongbo, with Klein Sun. Richard Estes and others work on the scale of their paintings, while few indeed of the seventy-five galleries are known primarily for works on paper. One may miss the intimacy of the artist's book or the skill of printmaking amid the pageantry.
Moving Image holds more closely to its promise. Its view of new media suits the short attention spans of fair week, mine included, and the tunnel warehouse space in Chelsea. Navigate all the way to the end, and you will find a cluster of monitors among plants, like technological waste or a stubborn growth. Sergio Vega means to invoke the toll of climate change, even in paradise. First, though, you must pass rows of monitors along facing walls, not as stage sets as for Nam June Paik, but as single-channel video, with little interactivity. You may sit with each short subject and take it in.
Several this year seek out the human presence in endangered or war-torn lands—not just Vega, but also Gulnara Kasmalieva and Muratbek Djumalievu in Kyrgyzstan, Olivia McGilchrist in the Caribbean, Marcos Bonisson and Khalil Charif in Brazil, Maija Blafield in Scandinavian skies, Anne Spalter in Macchu Piccu, Saya Woolfalk with a fictive race, Clément Cogitore with the shrouded history of a nuclear submarine run aground, and Jeremy Chandler wiggling under leaves in the snow. Like Chandler, some have a touch of whimsy tempered by hard digital data, like Amalie Atkins with a choreographed musical for mice or Jennifer Dalton training for a standing back flip. Some fall back on kaleidoscope patterns, like Leslie Thornton in past years, while LoVid adds crude digital textures to foliage. Kalliopi Lemos has a greater ambition, with three channels tall as life to show the isolation of age and the passing to another realm. I felt more at home, though, with Perry Bard's view outsider her window and Sarah Choo Jing's slow pan across a stubbornly garish city night. And then I had the choice of three monitors for Erdal Inci's armies of street performers in Turkey, between Busby Berkeley and Jacques Tati.
For all that, these are still the art fairs. They are cultivating not artists but markets, as with Pulse's cocktails for young collectors or the Independent's first floor for first-time exhibitors. They have little room for mixed media or unmixed messages, and the experience of contemporary art or art history all but slips away. They hold out instead the temptations of finding friends and having whatever you like. Next year for sure, I shall make my listicle or sit it out, right? Maybe if you do, too.
No fair!
Strangely enough, even my cutting back in May leaves a mammoth art fair dying to become a pricey alternative. In fact, make that two—Art Miami's new offshoot, now Art New York, and Context New York. They sprawl over the same midtown piers, like the halves of the Armory Show in March but even harder to tell apart. If they have distinct profiles, it escaped me. They have all the trappings of an art fair, including cafés and a shuttle elsewhere, but they still struggle to make an impression. You could say they lack a context in New York.
They also lack, for the most part, New York galleries—although I could wish the signs identifying them were a little less high. While most March fairs combine international visitors and New York stables, they attract mostly other American cities, and they could well make New Yorkers smugger about their own. They tend toward clean, slick painting with a touch of conceptualism or a quote from art history to give dealers and collectors some talking points. Even the Bushwick Collective here has little to do with the raunch you know and love. As is the fashion, they also set apart single works, on the order of a cactus of inner tubes, window blinds opening and closing in rapid succession, a parody of the Starbucks logo, and such safe choices as Peter Halle and Julian Opie. After a long walk back to midtown, it was time to go hunting for the real fringe.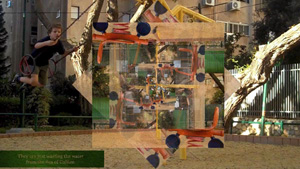 Portal, by the organizers of the Governors Island Art Fair, takes over a different kind of New York landmark, just weeks before the reopening of the south half of Governors Island. If President Washington could be inaugurated at Federal Hall, why not twenty-eight emerging artists? It also opens with artifacts of a stereotypical New York street, including the aging and bewildered (by Will Kurtz), a phone booth (by Randy Polumbo), bright lights (by George Kroenert), used appliances (by Becky Brown), circuit boards (for Taezoo Park), chopsticks (by Megan Suttles), and human hair (for Jayoung Yoon). While the author of the first has a following for his tacky hyperrealism, others display a lush mix of ghostly realism (by Ronald Hall), abstraction (by Alexandra Pacula), video (a delicate triptych by Simona Privas), and photography (3D subway scenes for Maximus Clark). And while Aaron Taylor Kuffner brings his gentle gamelan from the Drawing Center and Laetitia Soulier her fractal interiors from Chelsea, galleries and booths are something else again. Alice Sfintesco's women in colored ink may have the last word, for they preside over the same bronze eagle that watches without regrets as tourists and art fans alike come and go.
As the one actual postscript to March, Zurcher gallery once again styles itself as Salon Zurcher, inviting a Brooklyn nonprofit, A.I.R, along with its largely European cast. It runs largely to elegant abstraction, and I have a weakness for that, from powdered graphite, dye, polymer, and oil on canvas by Timothy Atticus at Long Island's Vernacular, Inc., to blown glass with a coating of powdered glass and stone by Richard Meitner at Mathilde Hatzenberger of Brussels. Further downtown, though, one could finally find something approaching an art fair. Fridge, the most determined fly-by-night, moves from a Lower East Side Holiday Inn to a community center nearby. And at Basketball City, the New Art Dealers Alliance returns to the the East River piers.
Fridge has space courtesy of the Angel Orensanz Foundation, a former church, but do not expect anything too high minded. It does, after all, open with dog pictures, in brushy paintings by Eric Ginsburg. While it has room for at least one gallery and for faculty and students of the National Academy Museum and School, its heart lies in artists selecting artists, with makeshift materials, imagery, and displays. Could there also be an Angel Orensanz? As a matter of fact, yes, with two floors of paintings upstairs. They speak not of church or community, but of free-form abstraction, at their best in the brightness of pastels.
NADA may finally have found the secret to combining edginess and class. Along with its many Lower East Side and international dealers (not to mention Marlborough Chelsea), it gives center space to Printed Matter and Arts Space—plus two rows of what amount to walk-in closets for nonprofits and others on a budget. I missed the pick-up basketball game outside, with equipment designed by Tyson Reeder, but I took heart right off the entrance. There a softly brushed tondo by Pamela Jorden (her Cut Target at Klaus von Nichtssagend) put me in mind of the School of Paris, while laser prints by Marsha Cottrell (sharing 11R with bronzes by Sarah Peters) appear to take their shape and glow from the printer's magnetic field itself. Single-artist booths are few, although individual artists mostly carry the day, like Mira Schor in oil (at Lyles & King) or another ingenious contraption from Yael Kanarek (at Bitforms). With Eleanor Antin, 100 Boots once again line up outside a museum, in a photograph from the early 1970s (among "mall art" at Alden Projects), but perhaps the real lesson of May is that one and all are waiting to enter more upscale surroundings.

These New York art fairs ran mostly March 10–13, 2016, and May 5–7. A first half of this review started in March. Related reviews report on past years, the AIPAD Photography Show, and a panel discussion of "Art Fairs: An Irresistible Force?" I continue separately with "Flux" in Marcus Garvey Park as part of outdoor sculpture in New York.