Twin Cities
John Haber
in New York City
Multiplicity and Monika Sosnowska
Another Look at Detroit
Modernism in America began with a turn from landscape to the city. And what could be closer to Postmodernism than a city's endless starts and disruptions?
Now a three-gallery show boasts of that "Multiplicity," only starting with New York. Yet it does so with the city's infrastructure on everyone's mind. Monika Sosnowska opened only days before the anniversary of 9/11, with a steel skeleton half melted and fallen. Her urban vision owes just as much, however, to memories of Eastern Europe and organic form. Meanwhile two other galleries locate art's energy in an actual city. And it is not New York, but Detroit.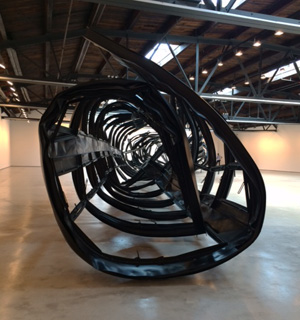 A tale of two cities
Are there are two New Yorks—of crowded streets and immaculate high-rises, of cultural vitality and stifling convention, of a struggle to pay the rent and a gamble on real estate? And are they growing further and further apart, or are they bringing New York closer to a global city? "Multiplicity" cuts across both New Yorks. It extends from Chelsea to the Lower East Side and Bushwick, plus an evening of video in Williamsburg for that hip and tenuous middle ground. Its art hails from around the planet, with a special fondness for vanishing traditions and hidden spaces. It delights in quirks, but it never quite catches urban art's multiplicity.
A tale of two New Yorks goes with fears for art as well—caught between art fairs and auction prices on the one hand, open studios and DIY on the other. "Multiplicity" votes clearly for the latter. In fact, it votes with its feet, with Darren Goins's dance workout under an elevated subway line and Meg Kelly's video tour of the "Broadway triangle" in Bushwick. The dancer's twisted props look salvaged from a playground. This is art that takes to the streets and gravitates to a corner of a gallery floor. On video, a cinder block wiggles, a speed bump spins, and a lifetime of possessions flies out the window.
The show's three parts run roughly to destruction, towering constructions, and fantasy. Is it coincidence that these three impulses appear in turn in Bushwick, Chelsea, and the Lower East Side? Those possessions fly exuberantly out the window thanks to Nicholas Keogh, Michael Hanna plans escape tunnels, and CPAK Studio interviews a maker of neon signs about not just the craft, but also its dying. Construction projects start with Jan Pfeiffer's white cardboard city, Aisling O'Beirn's arenas of brown paper and toilet-paper tubes, and Gigi Scaria's apartment blocks in the shape of a colossal horse. As for fantasy, the Exploration Factory builds toy cars for its Mobile Service Stations, and Irgin Sena's apartment complex is haunted by zoo sounds and images of the open road. A photo by Pfeiffer sums up all their successes, failures, and comic ambitions, as someone suitably heroic aims a bow and arrow at an office building.
Several artists appear more than once, but then cities thrive on confusion. John Duncan's Bonfire photographs, of scrap piles, point to both their heights and their burning. Erik Benson's paintings of plastic bags caught in the trees evoke the unrecycled pleasures of a city night. For all their promise, however, their cities are all but devoid of life. Both Sehar Sha's and Nadim Abbas's composite photos overwhelm real landscapes with monumental forms. Sasa Tkacenko's slow pan through a museum interior finds only a skateboarder.
For all its international cast, the show is also short on specifics, especially for a city. One might never know that Yael Efrati's cracked sidewalk is in Israel, Keogh's "removals job" in Northern Ireland, the neon artisan in Japan, the museum in Serbia, or the bonfires in Belfast, where they commemorate a military defeat in the 1600s.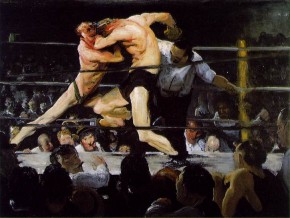 That eradication of borders says something useful about globalization, echoed in Vibha Galhotra's world map of glass beads sagging like a hammock. Alban Muja and Yll Citaku document a Kosovo like that of Petrit Halilaj, so caught up in change that people forget the street names. Yet the forgetting also points to something missing here. It could be race and poverty in America, tensions in the Third World, or the everyday life of a city like New York.
Modernism in America really did coincide with a turn to the city worth remembering. The Ashcan school or New York School anyone? Painting and photography have captured New York streets, its loneliness and its zoos, empty shops and busy theaters, late afternoon sunlight and artificial lights. They have taken in gates in Central Park, fire in the outer boroughs, and scrap wood from the piers. They have spanned multiple art worlds as well, of not just stars and upstarts, but also working artists and midlevel dealers—each and every one with a personal story. In "Multiplicity," Endri Dani's 182 cm poses men whose heads fit precisely below the ceiling. Has he given confinement a human face, or has he run up against city limits?
Is Modernism a dinosaur?
And here you thought that dinosaurs were extinct. One stretches more than one hundred feet across an unbroken Chelsea interior, thanks to Monika Sosnowska. It might have collapsed there just the other day. Its hard black steel seems as pliable as life, only reduced to a skeleton. One end tapers, ready to whip or to snap. The other opens wide, whether as its cloaca or its jaws—and who is to say which is the greater threat?
Actually, the artist has in mind another dinosaur entirely—or maybe two. Does a long steel skeleton suggest a skyscraper? Sosnowska calls it Tower. Born in 1972, she grew up in the Eastern Bloc with its Soviet-style architecture, and she found inspiration walking around her native Warsaw. Yet she thinks of the work as abstracted away from the International Style in America. She sees both styles as oppressive and as a part of her.
Clearly dinosaurs still walk the earth. She constructed the beast in Poland, before reassembling it in New York, with plainly visible sliding bolts. As for the International Style, she refers to Lake Shore Drive apartments in Chicago, completed in 1951 by Mies van der Rohe, once a director of the Bauhaus. She based an earlier work on the glass façade of the Bauhaus itself, in its first incarnation under Walter Gropius. The very idea of a portable, reproducible framework owes something to Modernism. What a pity it had to collapse.
Then again, maybe it never did. Sosnowska's sculpture has become newly site specific, reaching roughly to opposite corners of the room while flexing its strength and shape along the way. A long stretch of the High Line might have tumbled from just above. It looks that much more relevant just three blocks from the latest wide-open tower by Mark di Suvero. Still aiming high at age eighty, he grounds it firmly on the gallery floor while reaching into the skylight. Speaking of natural selection and the dinosaurs, he also gives it the head of twin birds.
Another dinosaur is returning to life at Ground Zero. Shai Kremer, an Israeli who has called a previous series "Fallen Empires," has been watching it take shape since 2011, from a bare skeleton to its approaching opening. Yet his photographs of One World Trade Center emphasize process more than structure. Close-up views encompass workers as well as their work, with barely a hint of sky. In Kremer's computer collages, the building seems to emerge in real time from behind a haze, under what he calls a "post-traumatic gaze." Layered in form and history, it looks all the more vibrant and colorful.
Sosnowska has lived through history, too, but she has a way of effacing differences. It is not just that she seems to have overlooked some of the present and some of the neighborhood. Poland and Chicago in 1951 were a long way away. Besides, if anything here is utterly oppressive, it just might be her large Chelsea gallery and the luxury towers underway nearby. Still, her sensuous skeleton thrives here. She is helping to keep this dinosaur alive.
Can art save a city?
Can Detroit be saved? With pledges of major funding now in place, one can hold out hope for the Detroit Institute of Arts. Now that court rulings have cleared the way, one can imagine a sounder financial footing for the city as well. Still, Detroit intends to deal with decades of abandonment not by reviving old retail and housing stock, but by leveling them. Apparently, this is one exercise in urban planning that does not count on artists and hipsters to inhabit the margins. But can a city save entire communities by destroying them?
Maybe, or maybe it will have to settle for watching them go. One might say the same, too, about the city's art. "Another Look at Detroit" features more than fifty "artists, designers, and cultural contributors," for one of the most provocative 2014 summer group shows. It spans two Chelsea galleries, Marlborough and Marianne Boesky—with a portrait of Boesky's grandfather, in a family better known for a chain of delis, some topless bars, and Ivan Boesky, the center of a Wall Street trading scandal. It has contemporary artists as familiar as Mike Kelley, Scott Reeder, James Lee Byars, Julie Mehretu, Dana Schutz, Cyprien Gaillard, Tony Matelli, Jim Shaw after his "Thrift Store Paintings," Nick Cave, and Jennifer Wynne Reeves, who died of cancer only days before the opening. The funny thing is how how quickly they left Detroit behind.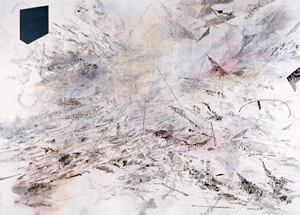 Kelley all but exemplifies LA art and Reeder the Lower East Side. Byars discovered himself in Kyoto and died in Cairo. Mehretu, born in Ethiopia, also has something of a global identity. Diego Rivera worked in Detroit, but on a portrait of the eponym for failure, Edsel Ford. The Cranbrook Academy can count the Eames brothers and Eero Saarinen among its alumni, but their furniture here looks a bit ratty. So for that matter does the show's layout.
The curator, Todd Levin, speaks of "a sprawling tone poem evoking the city where I was born and raised," but he has no illusions about its present or future. Each gallery opens with a pile of Ray Johnson's slim Detroit Artist Monthly, a limited sign of life from an artist who died in 1995. Then comes a dark room with only three works—two markers of a contentious history in one corner and a portrait of present-day decay in another. They include Bill Rauhuaser's photo of a multiracial city in the 1960s and Scott Hocking's New Book of Knowledge from 2010, but the first is barely composed and the other in tatters. Finally, one passes through a second black curtain and into a cluttered installation with little in the way of narrative, chronology, or organization. You decide what survives from the ruins, it seems to say, and you determine the future.
Levin insists that he is out neither to document "a place of perpetual flames" nor to paper over it. He conveys neither a comprehensive history nor the particulars of today. One sees little of its museum, beyond a stiff group portrait of its first board of trustees. One sees an early modern Detroit, in a painting touched by expressionism and the Aschcan school, but nothing of Charles Demuth, Charles Sheeler, and prewar tributes to Ford's Rouge River Plant. One sees techno recordings from Metroplex, but not the classic Detroit sound. One sees old Ford ads and a parody of them by Liz Cohen, but little of the city that the industry produced and left behind.
The obvious question is what that leaves beyond missed opportunities. One can sense a shared intricacy bursting the picture plane, especially in the present. One can look for its roots in a Cranbrook degree—or the energy of a city. One can see, too, the importance of African Americans to that energy, as far back as Robert S. Duncanson, a descendant of freed slaves in the Hudson River School. So can Detroit be saved by its diversity, and can artists count among its saviors? Maybe, but they may not stick around for long.

"Multiplicity" ran at Mixed Greens through August 29, 2014, Invisible-Exports through August 27, and NURTUREart through August 25. Its video evening took place at UnionDocs. Monika Sosnowska ran at Hauser & Wirth through October 25, Mark di Suvero at Paula Cooper through October 22, Shai Kremer at Julie Saul through October 25, and "Another Look at Detroit" at Marlborough Chelsea and Marianne Boesky through August 8. A related article pays a visit the same summer to Detroit and its museums.