Summertime Blues
John Haber
in New York City
Summer of Love: Art of the Psychedelic Era
"Oh, Shirley, this is so nice. This is soft."
Soft is right. Shirley's friend was talking about Phantasy Landscape, Vernon Panton's crawl-in chamber of hot colors and molded furniture. Here a blast of hot pink still signifies day tripping instead of magazines for preteen girls. She could, however, have been describing in its entirety "Summer of Love," the Whitney's indulgent view of the psychedelic age. It all comes bathed in the warm glow of liquid crystal displays and aging memories. But does it have much to do with history—or with art?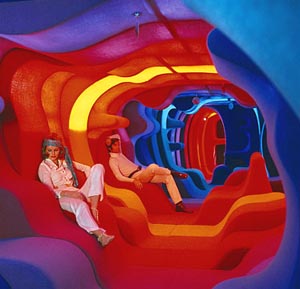 Not that everyone's ideal of art is peace and quiet. Even this long after the 1960s, sensual overload can allow a little rest and relaxation, and that can allow time for surprise as well. Besides, these days a gallery almost has to have too much or too little going on, as at any other fairground or shopping mall. It may sound more like tripping than gallery going.
Did you truly hear birds the other day, see a passing meteor shower, experience an LSD trip, lose yourself in a house of mirrors, or just visit Chelsea this fall? Did you catch new media or old? Sometimes, it gets hard to tell.
Love for sale
"Summer of Love: Art of the Psychedelic Era" offers plenty of creature comforts. Just in time for summer, it presents a sunny travel brochure. Tired of yet another generation torn by a pointless overseas war? Then start 1967 with the "Human Be-In" in San Francisco. Head east, with ample time to catch Woodstock in 1969 and Bob Dylan smiling down from the cover of Nashville Skyline. Evenings on the town offer great acts at the Fillmore.
Some will go for the ultimate creature comfort of all, reminiscence, like "1969" at MoMA PS1. Remember George Harrison hanging out in Golden Gate Park? Remember Mick's wedding to Bianca? Remember Keith stoned, but not yet all but embalmed? They all make an appearance, in photographs by Richard Avedon, Gene Anthony, Robert Whitaker, and many more, both known and anonymous. Strobe lights and rotating disks all but demand a trip downtown later for some vintage clothing.
Those too young to know the decade at first hand can have a hoot strolling and listening. Shirley and other museum visitors supply at least half the fun. "What do you mean you missed Woodstock?" "How could I not have got his obituary into The New York Times?" Does anyone not proudly come up with the witticism that the Whitney should have offered LSD on the way in? If you find someone, you should win a free Tab—you know, the other kind.
Still others will enjoy the warm lights, lulling sounds, and soothing designs. A chamber stands front and center on each of the show's two floors, for Panton and the Joshua Light Show, which once backed musicians at the Fillmore East. Additional light shows by Gustav Metzger, Bill Ham, and others have alcoves at the far corners. Otherwise, the galleries remain undivided—and almost uninterrupted by art. Photographs, paintings, and posters cover the outsides of the two central installations and the long facing walls.
Amid the crowd and celebrity photos, the Whitney has added two or three searing images from the Vietnam War. Painting amounts to the usual suspects—tellingly, some of the worst and least representative works in the period's major movements. Paul Jenkins's gentle waves stand for poured paint and color-field abstraction. Richard Lindner and, of course, Robert Indiana and LOVE sub for Pop Art. For sheer excess, try Isaac Abrams and Abdul Mati Klarwein, better known for the cover to Santana's Abraxis.
Mostly, however, one has memorabilia, including all those concert posters. Their muted tones and swaying lines go back to Aubrey Beardsley. What once seemed so rebellious now seems so determinedly uniform. Even the music within installations goes for peace and quiet, with Soft Machine and a sound chamber by Lamonte Young and Marian Zazeela. Naturally one takes off one's shoes to enter. Aaah!
What's love got to do with it?
This selection has its advantages. Why not relax for a change and have fun, especially since Marta Minujin and Richard Squires a decade later were able to combine a soft chamber of mattresses with intimations of a prison. Why not allow mass culture into the museum, when the boundaries between popular and fine art are under pressure everywhere? Even the anonymity has a point: it defines art and culture as reproducible products of a collective. Forget the "originality of the avant-garde."
However, the show's bland surface has some serious holes. For starters, everyone is having way too good a time. At Tate Liverpool, where the show began, war was the hatred that dare not speak its name. Granted England did not have to survive Vietnam, Kent State, and more than one wrenching assassination. Maybe it could see the 1960s as a fashion statement, a product as much of Carnaby Street as the streets of Detroit. That still skips over anything to do with race, poverty, feminism, gender, politics, and the culture wars playing out even today.
The avoidance of politics has a political message despite itself—and a suspicious one. It reinforces a stereotype of baby boomers. White and middle class, they get their taste of rebellion and a terrific party. Then they move on to bigger and better consumer choices. This narrative lies at odds with the show's own boast of radical experiment. Besides, polls show that older demographics remain better informed and more politically engaged than younger voters.
The show's slant requires way too much, er, "Cherry Cherry" picking. (For post-boomers already fed up with all this, I just made a Beach Boys reference.) One can see it most with the music. Back in 1967, Dylan was recovering from a motorcycle accident, after creating the most scabrous music and lyrics of his career—all of it missing here. Parallel experiments and dissonances in jazz and classical music do not appear either. Within a year of Dylan's pose in the Catskills, the Beatles had broken up, Altamont had come and gone, and Jimi Hendrix and Janis Joplin were dead.
The silence of posters and photographs speaks for itself. Hendrix does not roar, and Allen Ginsberg does not howl. Exactly one film clip of a rock band interrupts the quiet buzz of Soft Machine or Lamonte Young. The Airplane plays "Somebody to Love" over and over, and it is startling. Grace Slick sustains a wavering note to the breaking point, while Jorma Kaukonen's guitar slices across her voice. The lyrics derides anyone at the Whitney who dares to want somebody to love.
Jed Perl slammed the restored Morgan Library this year for its Bob Dylan exhibition. He accused a museum dedicated to art, music, and rare manuscripts of "anything goes." In reality, the Morgan proved that a museum can present creative activity at the nexus of art and culture. One could see the Byrds on stage like a burst of innocence, and one could see Dylan's mean streak along with his rush of words. One could also see his fascination with musical traditions. His music was not born in January 1967, and it did not die in 1971.
World without love
Sure, I might prefer that "Summer of Love" got pop culture and politics right. An exhibition at the New-York Historical Society probably could. However, Dylan's reach across so many traditions underscores the show's biggest problem. It is making a case for the "psychedelic era" as art. And that means it hardly describes art of the era at all, psychedelic or not.
The curator, Christoph Grunenberg from Tate Liverpool, hardly asks what makes the era pertinent to art in the first place. The 2006 Whitney Biennial often quoted the 1960s and 1970s, to recall a period of underground music, dicey films, and political art with resonance now. This year, "High Times, Hard Times" at the National Academy saw abstraction making it through the period by loosening up. The Yerba Buena Center for the Arts in San Francisco displayed Robert Crumb, and Nam June Paik in Chelsea again pursued connections between new states of mind and new media. All these shows had biases, but they drew connections. Art and craft, image and music, painting and illustration, expression and performance, form and installation, sexuality and gender—themes like these are bubbling up everywhere except at the Whitney.
Every so often, "Summer of Love" crosses boundaries, with intriguing results. Yayoi Kusama has me all the more intrigued by her recent ubiquity, including among women in Pop Art. A wildly colored pour by Lynda Benglis brings out her decorative side. Two free-form chairs by Lucas Samaras can now have more of the 1960s and less of his fevered self-obsession. John McCracken's planks leaning against a wall have long stood for LA Minimalism at its silliest. After his psychedelia, one can see instead the counterculture's casual shrug.
Mostly, the Whitney takes the easy way out. As Crosby, Stills, and Nash sang, "Love the one you're with." Too many questions go unasked, much less answered. Sure, Andy Warhol was producing the Velvet Underground, but what else was he doing? Sure, the summer of love had its happenings, but what about performance art? Oh, and John Lennon married an artist, no?
In 1967, the Whitney was hosting its Annual. Among others, Andrew Wyeth and Ben Shan sustained American realism, while postwar abstraction kept coming thanks to Willem de Kooning, Robert Motherwell, Barnett Newman, and Joan Mitchell. Jasper Johns, Roy Lichtenstein, and James Rosenquist got art tangled up in mass culture. Frank Stella, Jo Baer, and Dan Christensen marked a new, stripped-down approach to the post-industrial age. These artists do not sit so easily with the term psychedelic. They do, however, force one to ask what was really happening at the time—and where that left art.
At its best, "Summer of Love" exudes high style and happy memories. More often, it offers a tired, unimaginative show about the youthful imagination. It is like listening to an older relative go on about the good old days. Not everyone will appreciate the invitation. Shirley, I have to report, never went in.

"Summer of Love: Art of the Psychedelic Era" ran at The Whitney Museum of American Art through September 16, 2007. I mention Nam June Paik's 2007 show, which I did not review but ran at James Cohan through April 21.