Fine Art on a Leash
John Haber
in New York City
Herzog and de Meuron: Perception Restrained
Museum Skepticism in Brooklyn
Museums are going up everywhere these days. So is attendance, and so is the price of entry. Every month brings news of a new wing, new façde, or whole new building entrusted to a new and trendy designer.
Already this fall, Paris has unveiled a Frank Gehry design for an arts center, the Bronx Museum has a sleeker skin, Daniel Libeskind has housed the Denver Art Museum in what resembles a model airplane, and the Ara Pacis Museum under Richard Meier has become, The New York Times reports, the "first major civic building completed in the historic center of Rome in more than a half-century." The reviewer, Nicolai Ouroussoff, actually hates the building's scale—but that, too, suggests the course of museum empire everywhere.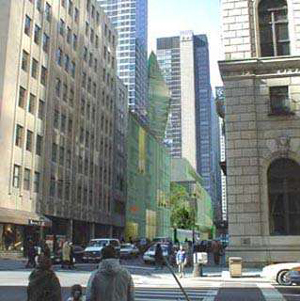 So does a design unveiled in October 2006 for the Queens Museum. The open expanses and sphere of Flushing Meadows could almost suit imperial Rome. Now if only the traffic-clogged highways nearby, the subway over half a mile away, or the sparse contents of the museum itself permitted more sumptuous displays.
How can so much growth comport with the hasty exit of three curators from the Brooklyn Museum? As it happens, even these less visible changes in New York make the course of empire well worth a closer look. Will the breakup lead to what one writer calls "museum democracy"? It makes for a complicated story, so first the players.
Up and coming
Obviously New York has seen a new Museum of Modern Art rising from a virtual archaeological dig of midtown Manhattan. The Morgan Library returned only late this spring, thanks to Renzo Piano and another major investment. Dia:Chelsea, the New Museum, the Drawing Center, and other plans for lower Manhattan are all in transit or up in the air. The Whitney will grow into a new home by Renzo Piano, Central Park threatens to become the world's largest period room at the Met, and so on. All that turmoil makes a telling backdrop for changes elsewhere, behind the scene.
Could Brooklyn, then, really have reshuffled its curators and driven others away? In July, The Times reported, the Brooklyn Museum replaced "traditional departments . . . with two separate teams for its vast collection and for special exhibitions." Within three months, two board members and three curators quit in protest. It may take a combined major in art history, museum studies, urban planning, and real estate to interpret the changes. However, these dealings behind the scenes deserve a public airing.
Oddly enough, back in Manhattan, two architects are not just respecting the traditional curatorial domains: they are erecting thick walls to preserve them. The Museum of Modern Art has always had at least virtual walls between its collections, and not everyone appreciates them. At MoMA, departments occupy separate floors rather than separate neighborhoods, but they may seem like ghettos all the same.
On the one hand, no other museum so quickly accepted film, photography, and design as modern art—or indeed as art at all. On the other hand, it has maintained separate departments to this day, even as the distinction between high art and popular culture have come under serious scrutiny.
Are changes in the air? Jacques Herzog and Pierre de Meuron have ample experience reconstructing museums. The architects lost the competition to remodel this museum just a few years back. (You can see their proposal at right.) "Perception Restrained," their sly show drawing on each of the Modern's departments, puts the museum under scrutiny all the same.
Ironically, Herzog and de Meuron continue the game of museum as celebrity architecture, like the ICA in Boston and so many others. They also share some assumptions with the curatorial card game out in Brooklyn. So does a new book by David Carrier. Together, they reveal a museum trapped between reaching for communities of the future and succumbing to a commercial status quo.
Smells like team spirit
The very day before The Times reported on Brooklyn, the Association of Art Museum Curators raised the obvious criticism: the plan, the AAMC argues, "undermines the traditional vocation of the curator-as-scholar whose commitment to a particular collection renders him or her uniquely qualified to make recommendations regarding its care and interpretation." It certainly sounds plausible, with collections that range from African art to Western painting. Just when critics have stopped seeing other cultures through the lens of "primitive" art or Orientalism, will one size in esthetics once again fit all?
Although the Brooklyn museum had been softening up its staff for months, it is already on the defensive. If one trusts its director, Arnold Lehman, curators "remain totally responsible for their collections and for all related activities." However, the threats to integrity are real—and they only begin with matters of expertise. With its talk of teams, the museum is contributing yet another sad example of what I call martspeak. It suggests that an MBA has taken over the joint.
So does the quest for efficiency. As The Times notes, the AAMC formed in 2002, after the Museum of Fine Arts, Boston, laid off eighteen curators in a single day. The Brooklyn Museum has only eighteen curators . . . for now. Two teams hardly sounds so efficient anyway.
Now, I cannot rule out that Lehman will retain enough specialists. Besides, every museum works with outside curators for temporary exhibitions, and these other artists, critics, and scholars bring something serious to the mix. In addition, curators anywhere may expand on their field of study, as when a scholar of decorative arts became director of the Frick Collection, that marvel of European painting. Two years ago, the Whitney replaced separate curators for prewar, postwar, and contemporary art with such inscrutable titles as "associate director for programs and curator, permanent collection." And the Frick and the Whitney have never looked better or had such robust programs.
Yet a smaller, more focused institution like the Frick may expect collaboration among a handful of equals. Curators at the Brooklyn Museum must think they know something unique, and they do. Compared to their diverse holdings, even half a century of American art sounds like small potatoes.
Quite apart from wanting respect for their work and their field, curators also require independence to work most effectively. The plans here sound very much like a director's taking control—and, if so, he must have something in mind. The Whitney's changes have come with a clear vision, to examine afresh the place of contemporary American art within global trends and the museum's own history. What, then, about Brooklyn? Again according to The Times, a separate staff for temporary exhibitions implies that "ideas for future shows might come not from curators but from the director or from staff members like museum educators or exhibition designers."
For love or money
That means more than a pointless doubling of staff or a loss of power for the old guard. For starters, one might infer that the Brooklyn Museum will increasingly scatter art of the present or of the West in contexts of other centuries and other continents. Thus far, such efforts have led mostly to installations resembling Easter egg hunts or interior décor.
A split between collections and exhibitions means something else as well. It represents the greatest trend of all now—toward art as entertainment. That trend is not going away, not in an era of museums as big business, art fairs springing up around the Armory Show, dealers as idols for Rudolf Stingel, and gallery districts as concentrated as shopping malls. A team approach merely gives that trend a particularly ugly cast.
When I question the Brooklyn Museum's self-image as, increasingly, mass entertainment, I place it in context of other changes. I ask you to consider it alongside the commercial pressures on private dealers as well. Implicitly, too, I ask you to compare it to other corners and mega-blocks of the entertainment industry, from publishing to the movies. When the museum creates two curatorial teams, one for its permanent collection and one for special exhibitions, how would that play out in LA? Should I be thinking of the first as Brooklyn's boutique production company, the second as its studio for summer releases with Johnny Depp? I shall draw back from identifying new media with special effects, although Matthew Barney, Nathalie Djurberg, or Madonna may disagree.
Yet another news flash makes these questions more timely. The Met has raised its suggested admission to $15, although you can still pay what you wish, and it still pales compared to the Modern's stultifying $20. Critics have lined up on both sides. Some have demanded freer access. Others argue that a museum needs money from somewhere, that public funding does not come easily, and that one can consider $15 or $20 a bargain for an afternoon of discoveries. Either way, high admission fees make a visit to the museum a major entertainment "event."
In effect, I am creating a genealogy for displays of the past and for art of the present, much as I have elsewhere for new media. However, what if I also consider the museum in isolation? Plenty of critics have told the story of the modern museum. They have looked skeptically at how its white cubes shape one's very conception of art, often literally placing it on a pedestal. They have seen it as a piece with Modernism's more sterile utopias. They have demanded a greater skepticism—a critique in the interest of art and a broader public alike.
David Carrier's latest book has that critique in its very title, Museum Skepticism. Where curators see lowering standards, the Brooklyn Museum sees community outreach. Carrier might put a still nicer face on the changes. He reviews the history of some grand old collections often subject to controversy today, such as the Barnes Foundation, and he asks for a more democratic approach to art. He concedes that the public might prefer all Impressionism all the time to his own favorites, such as Sean Scully. However, he hopes that a top-down style of decision making can give way to a dialogue between museums and their publics.
Having fun yet?
Democracy sounds wonderful, but Carrier may err about the future because he has a cramped view of the past. As with Isamu Noguchi's furniture and Buckminster Fuller's model home based on a geodesic dome, Modernism's idealism never did ask to squeeze human beings into boxes. Unlike the collectors of past centuries and their heirs in such quirky private museums as the Barnes or the Gardner, museums for at least half a century have had a mission of bringing new art to new audiences, as with Hilla Rebay at the Guggenheim. Gallery names, at least back to Peggy Guggenheim's Art of This Century, also amounted to marketing slogans. You get into the Isabella Stewart Gardner Museum for free if your name is Isabella—unless, of course, you are descending through the skylight to steal a Vermeer.
Conversely, art's immersion in the marketplace may sound democratic. Yet I can think of nothing as top-down as entertainment driven by focus groups and corporate profits. As with Hollywood, it means dictating desires and possibilities to both creators and the public. I see that at the Met, where wall labels profess to educate and to make art accessible to a wider audience. Much of the time, they simply tell one what to think, and they puff up the museum's status or a curator's career. High movie prices reinforce the dictation, since when people go for that special occasion, they demand their money's worth—which means that they take fewer chances.
Museums do draw a greater mix of race and income status on free evenings, thank goodness, but I think something else is at stake, too. Periods of open access allow people just to pop by on impulse, without devoting that special afternoon. They allow young artists to spend time creating their own private dialogues with the past. When I see a split between the old museum and entertainment, I think of the increasingly high prices and big effects in Chelsea. With both, I see art cutting itself off from developing artists, and I wonder if that leads to stagnation in art now and in the future.
When a museum talks about community outreach, it has to mean more than making art fun. That presumes right off that art by itself bores anyone to tears. It also forgets the many kinds of audiences and creative acts masked by happy words like democracy and community.
Since a renovation ended in 2004, the Brooklyn Museum has aimed for more community outreach, but with a seriously demeaning notion of its community. It reopened with a huge "Open House" for Brooklyn artists. It has displayed art that began on the street—Jean-Michel Basquiat and now, through August 2006, the shallow, ego-driven street party of 1980s' graffiti. The graffiti exhibition invites kids to add their own scrawls in Magic Marker, an inadvertent commentary on the art they are invited to imitate. Child portraiture by John Singer Sargent and William Wegman's videos of his dog all but begged for an ad campaign centered on the word adorable.
Still, aside from "Graffiti," these shows mostly worked. Pandering exhibitions at the Guggenheim of fashion, motorcycles, or virtually nothing at all did not. Barring a crystal ball, then, or at least a press release, I prefer not to announce the apocalypse quite yet. But you should start debating now.
Walling off departments
Jacques Herzog and Pierre de Meuron are doing their best to keep the debate alive. When Herzog and Meuron designed Tate Modern, they politely accepted their constraints. They retained the glamour of an old power station and the conventional white cubes of a modern museum. Yet they tell one exactly when and where to look, and they supply the drama. Everything draws one back for yet another glimpse into the cavernous space for temporary exhibitions downstairs.
The new de Young Museum offers much the same measured indulgence toward stodgy visitors like me. The former building's grandeur set it apart from Golden Gate Park, as if demanding a sacrifice before entering. No one would call the renovation modest, not when it resembles an armored tank and has a swelling, nine-story tower, but Herzog and de Meuron again draw one closer. One slips easily between American and non-Western art, without losing track of either. Views from the tower reminded me of the Hudson River School canvases I had just left, a lesson in how artists adjusted points of view in pursuit of the sublime. The pockmarked copper panels, too—all seven thousand of them—skirt the revisionism of brute force on the one hand, postmodern filigrees on the other.
At the Museum of Modern Art, the architects once more start with what one thinks one knows, slip in a few pleasurable shocks, and leave one remembering who is really in charge. As part of the "Artist's Choice" series, MoMA invited them to display whatever they wish from the collection. And they do exactly what they are told, right down to preserving the museum's rigid divisions between painting and sculpture, photography, design, and film—perhaps the very thing that reorganization in Brooklyn is designed to avoid. Do not, however, expect to get too close to any of these, unless you can pass through walls. Herzog and de Meuron could make the obstacles along the Guggenheim's ramp seem downright accessible by comparison.
As in their own museum designs, everything begins and ends with a central space. Here the main room plunges one into near darkness, and one sees first its rows of benches rather than works of art. One has met a work of architecture or of installation art, not a mere installation of art works. One's second view leaves one no less disoriented and no more in control. Ceiling monitors continually display movies, like a Tiepolo dome gone bonkers. They dare one to identify any of the flicks, much less to locate a convenient beginning or end.
The film selection, leaning toward genre classics, comments yet again on MoMA's segregation of pop culture—although film noir sneaks back in thanks to Douglas Gordon four flights up. Mirrors strewn on the benches may parody the magnifying glasses for a collection of fine prints, help one look up, or defeat looking altogether. And just when I was about to give up trying altogether, I spotted narrow openings in the thick, black walls. They lead to partial views of three other museum collections, with an emphasis on postwar America. Dozens of objects pack densely into rooms that one can never enter, like a yard sale on another planet. If the museum wants to place art and design on pedestals, Herzog and de Meuron take things down a notch.
Sure, they lost out to Yoshio Taniguchi in the museum's big design competition, but anyone can understand their critical perspective. The exhibition title, "Perception Restrained," could refer to the architects' intent or to their view of MoMA itself. One senses their self-assurance, too, in a claim that the show's priorities reflect not their tastes, but the objective realities of modern culture. Still, the give and take between egos—architects, museum curators, the works' creators, and maybe even yours and mine—does everyone credit. Barnett Newman or Mark Rothko may not like his spot, shoved in behind Charles Ray and an insurmountable barrier, but I take their inclusion as a sign of at least grudging esteem. Now if only I knew for certain who will find that welcome in Brooklyn.

"Artist Choice: Perception Restrained," by Herzog and de Meuron, ran through September 25, 2006, at The Museum of Modern Art. Changes at The Brooklyn Museum made the paper July 15, 2006. David Carrier's Museum Skepticism was published in 2006 by Duke University Press.