Art as Product Placement
John Haber
in New York City
The 2009 Art Fairs
I went to the art fairs in search of a beer. That and the fate of art in a recession, but the beer seemed ever so much easier to find.
As it happens, that alone shows what has changed since the spring of 2008. Art may not look for big bucks. Once again, though, it looks for new audiences, new money, and safer bets.
Has nothing changed?
Each year, people go to the Armory Show and its competitors to gauge the state of the arts. And why not? Upwards of four hundred dealers from around the world gather in March in New York City, in up to ten art fairs, and global growth in art fairs is even more striking. For those left out, Chelsea artists open their studios. Besides, in 2009 looking for answers sounds a lot easier than looking for buyers.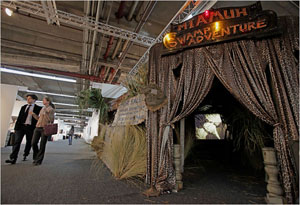 Still, artists and dealers try, and no one can safely name the year's winner and losers. Some of the mightiest dealers cut corners by skipping the Armory Show, including a founder. And yet the show has grown, with a whole new wing for dealers in older art, the Armory Show Modern. Some of the edgiest dealers have already gone under. Yet many of their artists have survived, including Eve Sussman, offering glimpses at her new gallery of a film in progress, set in a former Soviet republic. So has a former principal of a gallery that has gone under, Christian Viveros-Fauné, but in quite another role—presiding with Amanda Coulson over the fair they founded a year before, Volta.
Other dealers are warily watching rents, eying the terms of their leases, and looking for new spaces. Yet still another gallery quickly recovered from a fire with a full roster, including old performance stills by Carolee Schneemann. Rumors swirled of dealers, even surviving dealers, stiffing their artists. Yet most go about their business. One dealer, buoyed by instant fair reviews in The New York Times and The Guardian, sent out email the very next morning. Naturally it, too, included a rumor—a journalist's estimate of an opening-day sale, to within a range of 100 percent.
One could easily think that nothing had changed. Each fair still has its own character, quite apart from an earlier month's Outsider Art Fair. The Armory Show in midtown still commands those instant reviews, with dealers who can afford the chance to receive them. Its idea of an installation is a marquee work out front, by such names as Kenny Scharf, the Starn twins, George Rickey, and Louise Nevelson. Pulse, on a pier off Houston Street, still offers the largest and classiest alternative, including a work by R. Luke DuBois respectable enough to have shown at the Democratic national convention. As I entered past a tunnel of lights, I could swear that it was left over from the year before—but no, Julian Lwin now combines his tubes of color with ecologically correct beds of grass.
Scope still looks tacky and improvised, in its tent to the back of Lincoln Center. Its central booth features an extended take on Disney's Cruella de Vil. Just past the coat check, anyone can enter a combination visitor's lounge, gift shop, and sitar performance, in a shed seemingly left over from a Wild West show. It gives deserved space, too, to dealers from Long Island City and Brooklyn. I joked that one dealer has less space than in Williamsburg—and her artists often look better for it. Like most of my jokes, it did not go over well.
Volta still makes an impressive impact, with each booth given over to a single artist. Many created work just for this space. Bridge, also in its second year, looks like a student show, but with the appeal of space affordable to private dealers or even artists. The displays can easily reinforce, too, prejudices about the different communities of art—Italy as neo-expressionism with more neo than expression, Paris as obsessed with portraits of intimacy, Berlin as earnest even when it is joking, LA as busy and cheesy, Miami as LA squared, the Benelux nations in a time warp. A wall painting, by Krijn de Kooning, looks like a memorial to de Stijl run free. Pulse in fact banks more than ever on globalization.
A beer, a bull, and a dance
For all that much has changed, starting with that beer. Two days before the fairs, I received a press release. Grolsch wants you to know that it has sponsored more than one event, including the Armory Show's opening-night party at MoMA. It also terms the bar at Scope an artist's installation, featuring such found objects as, yes, a certain brand of beer. A year ago at Volta, David Ellis created an enormous bird flapping its wings out of empty liquor bottles. Would Roebling Hall still be in business if he had looked for corporate sponsorship?
So many artists over the years have overlooked chances for product placement. How did Andy Warhol miss a deal with Campbell's soup, although Warhol's last decade and Warhol's influence copped one with a fabric dealer? What gives with his fixation on American icons anyway, when Dutch breweries have a lot more class? Just to ask underscores how much in art has changed. First, globalization is now a fact of life, perhaps even more so under Obama. Pulse, despite the trade embargo, includes a booth from Cuba.
Second, sure the news is grim, and burst bubbles do not reinflate. However, art's audiences have grown—and changed. Art is still a product of its own practices and traditions, including critical practices and esthetic traditions. In economic terms, it is still ambiguously an investment and a luxury consumer good, like a second home for the mind, not something that will suddenly become down-market in a recession. However, it is no longer just appropriating mass culture. It is now also a part of a broader culture, more so perhaps than at any time since the French Salon.
Volta's insistence on single artists has spread. Pulse now has installations interspersed throughout, as well as surrounding the Hudson River Park sports field outside. One could take the spread as a sign of hope. See, fairs keep growing, as well as growing more ambitious. One could take it instead as a sign of desperation in sad times. See, art will now do anything to get attention. However, it also reflects the changing character of galleries, museums, and their public.
One can easily see the down side. Any single-artist booth gives up on other purchases, and it can mean a feeble version of an ordinary gallery show. Then, too, many installations look just plain silly, like two adjacent silver sculptures at Pulse—Yoram Wolberger's Bugs Bunny and Kristian Kozul's rotating Mechanical Bull. Applying her mirror-like ink washes on linen along the floor, Miriam Cabessa had a grim expression beyond dedication to a dark beauty. Last year, critics wrongly attacked Viveros-Fauné for conflict of interest as an arts writer and curator. This year, no one is complaining about what I might call a conflict of lack of interest.
Mostly, though, exhibitors and installations turn up the volume as part of a noisy, global culture. Volta alone includes a gilded locomotive, a floor piled with thread, oversized shopping bags, blown-up cartoon panels, an array of a security wands and other rods, a Texan saga of "America's family prisons," an LA command to "make your own damn tortillas," a room of Chinese soldiers, and a weary drug dealer supposedly sculpted of cocaine. No one, as far I could see, tried to touch the art. The white sculpture, by Fernando Mastrangelo, stands against black walls and a mirrored floor, like a dance club. I felt relief at the humor of Kaoru Katayama's video dancers at a Korean dealer—construction workers in a rooftop ballet and a Spanish dancer weaving about a seriously impassive woman.
Anxiety and imported beer
Even a time of uncertainty has a more certain context. For years now, the operative word was growth. The Armory Show takes only its name from the 1913 exhibition that brought Modernism to America. It even began in a different armory, on the Upper East Side. The show, like contemporary art, is no longer about finding the next big shock. Rather, it is about displaying ever more diverse choices to a privileged audience.
In 2003, its fifth year, its growth took it to twin piers west of the Theater District—with high entry fees, long lines, and a VIP lounge. I compared the Armory Show that year to stumbling into a gallery's back room, where buyers can see it all. The result suited a growing clientele, including new money from Asia, Russia, and beyond. It also suited the increasing frequency of fairs, biennials, and "generationals" worldwide, as part of one continuous, extended shopping district. The sheer cost of a booth makes sales imperative. At the very least, a dealer has to expect future sales, to justify an appearance as a form of self-promotion.
In no time, the growing number of galleries spilled beyond the piers. They also needed lower-cost ways of asserting their presence and legitimacy in growing markets. Finally, they wanted fairs that could accommodate rebellion against fair weekend. They wanted a way to make sales talk into talk about art. Such demands led to shows with more contemporary but indistinguishable names—Pulse, Scope, Volta, Bridge, and more. It led Volta in 2008 to insist that each booth feature a single artist or installation.
What then of art in a recession? Talk about art mirrors talk about the entire economy. Anyone, but especially anyone barely getting by, is in trouble. . . . No, hang on, and things will come back. . . . No, no, art will come back that much stronger, as an end to preposterous auction sales, impressionable buyers, and a confusion of value with short-term prices allows a focus on the fundamentals. And, as with the economy in general, each of these has a fair claim to truth, but no more.
Sure, a crash may bring bloated reputations down to earth, including artists as easy to understand as Jeff Koons, Damien Hirst, Tom Wesselman, and a host of manga-inspired Asians. Yet new money is not suddenly going to struggling artists. In any bad economy, investors retreat to safety. That is the whole point of the Armory Show Modern. Again, some of the most provocative galleries fall first, while others keep going only because they were not earning anything anyway. As museum budgets stall, too, the influence of wealth only grows—as with Eli Broad's makeover of LA MOCA with Jeffrey Deitch or the Brooklyn Museum's shameless display of Hernan Bas, all from the Rubell Family Collection.
Volta calls this year's model "The Age of Anxiety," and the anxiety speaks loudest in the rare quiet moments. Mike Bayne's tiny oils on Masonite from a Toronto gallery evoke the isolation of suburban spaces. Ian Smith's colorful paintings at Leslie Tonkonow suggest unexplained rituals and troubled political futures. No doubt artists will persist, buyers will return, and so will values. They will not, though, come back as they were. They will come back in an age of anxiety, new audiences, and imported beer.

The assorted art fairs ran March 4–8, 2009. Look for updates on the 2010 art fairs, 2011 art fairs, 2012 art fairs including Frieze New York, 2013 art fairs, 2014 art fairs, 2015 art fairs, 2016 art fairs, 2017 art fairs, and 2018 art fairs, including Frieze and NADA. Another related review reports on a panel discussion of "Art Fairs: An Irresistible Force?"