A Museum Out of Fashion
John Haber
in New York City
Reviving the Brooklyn Museum
Look, people may not snake around the block to get into the Brooklyn Museum. But they do know when to party.
The first Saturday of every month, the Brooklyn Museum throws open its doors, and Brooklynites take notice. First Saturdays feature musical events and other entertainment, such as crowd-curated art. The museum's awkward first floor, with mostly empty space, can for once resemble a crossroads. But there is a storm brewing in Brooklyn, well beyond the classic landscape by Albert Bierstadt. What then is a museum's mission—art or attendance? And what can this museum do better?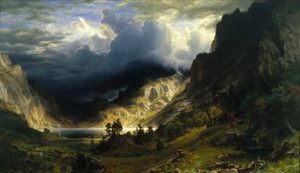 On an August Sunday, The New York Times asked exactly that. Maybe it makes sense to take the summer doldrums to discuss a museum in the doldrums. Maybe it makes sense for the Arts and Leisure section, which targets more of a national audience than daily critics, to worry about crowd pleasing. Regardless, the paper tried to stimulate debate with eighteen voices, including arts professionals and Brooklyn's borough president. In a letter a week later, the museum's director, Arnold Lehman, fired back in defense, but he need not have bothered. The others defended the museum quite enough, thank you—and their answers were predictable indeed.
Art or attendance?
One does not expect leaders of museums and Brooklyn nonprofits to criticize one another in public, and one expects artists to gush a little about their home base. If they play their cards right, they might even get to exhibit there. Kiki Smith was on view this very summer. One expects the Met's former director, Philippe de Montebello, to dissent politely—with a plea to restore the 1893 façade by McKim, Mead & White and to focus more on the permanent collection. He is, after all, entitled to be a little stodgy and very polite. One expects William Powhida to object to art-world commercialism and to ask the museum to make room for more artists, because that is what this Brooklyn artist does.
Most arguments ran a familiar course, too. They debated a museum's mission, but one can hardly get that one wrong. Sure, art is more than a popularity contest, and sure, museums are public institutions. As for defenses, they mostly attacked straw men. What is wrong with diversity, and what is wrong with innovation and "a joyful noise" on weekends? Um, let me think.
They could not disguise that something is wrong, and I mean very wrong. The very need to raise questions testifies to a museum at sea. The fact is that the museum is failing at both teaching missions, quality and diversity. For all its efforts to represent Brooklyn, attendance has been flat—and that counts first Saturdays when, as Peter C. Marzio of the Museum of Fine Arts in Houston marveled, as many as many as 24,000 come out to play. Deduct that, and attendance is taking a nosedive. People do not come out in droves to see lackluster art.
Chances are, a tourist never makes it to the museum. And, chances are, Manhattan dwellers hardly do better. The last show on Eastern Parkway to define a career was of Jean-Michel Basquiat in 2005, and he had an awfully short career. The last show to make headlines was "Sensation," featuring the Young British Artists—and that was more than a decade ago, before a major renovation and a whole new wing. Shows since, of graffiti art or most recently of fashion, positively reek of pandering. Defenders would call that community outreach, but that already sets art against the community.
Take just the summer of 2010, fashion aside. Late Warhol is at best a footnote to a famous career and to Warhol's influence, at worst the spectacle of Andy Warhol degrading himself on TV. It is also suspiciously like a desperate retread of a more popular exhibition, since Warhol worked with Basquiat. Even Kiki Smith has more of an the impact with her stained glass in Chelsea. As for earlier shows or innovations, just try to name one. The last midcareer retrospectives were of Yinka Shonibare MBE (okay, diversity), Gilbert and George, and Jesper Just.
Powhida is surely right, too, about commercialism. Again fashion aside, late Warhol includes sleazy commissions and an attempt at popular television. Another show of a living artist, Hernan Bas, did not reach beyond a wealthy collector, "Sensation" displayed the Saatchi collection, and the title for another contemporary artist, "©Murakami," all but boasted of commerce. The museum builds on TV's reality show "The Art World" for its latest endeavor. Even the commitment to diversity runs skin deep. "The Art World" draws its fan base from, you guessed it, the art world, and the Sackler Center for Feminist Art will always consist basically of Judy Chicago from the 1970s.
Younger than Bierstadt
I can sympathize, too, because the Brooklyn Museum honestly wants to represent Brooklyn. Even in its dilemmas, it is anything but alone. It may not manage blockbusters, but with Gustave Caillebotte it actually came under fire for having one. Conversely, museums everywhere are cutting back during the recession—with shows of the permanent collection, like "Haunted" at the Guggenheim, or budget half retrospectives, like that of Claes Oldenburg at the Whitney. As for commerce, the Joannou Collection at the New Museum, the CCS Hessel Museum at Bard College, or the departure of Jeffrey Deitch, the Soho dealer, for LA MOCA shows how fast the revolving door is turning. On a nicer note, museums everywhere are remaking themselves as public spaces, as with the new atrium of the Virginia Museum of Fine Arts.
Solving the dilemmas will not come easily. Tourists may never schlep that far when New York has so much else, not even to see Fred Tomaselli next month, and subways to Brooklyn have a habit of vanishing on weekends. Architecture itself is an obstacle. The first floor cannot decide whether to serve as atrium or passageway, and renovation was, plain and simple, a disaster. The new glass front is not just an assault on the Beaux Arts but dysfunctional, with stairs that lead nowhere, other than to seating for a sidewalk performance space that does not exist. Inside, one has that long march to the elevators, which open onto blank spaces—and then the long walk back to find the exhibitions.
Start, then, with what Roberta Smith, speaking of MoMA, calls "suicide by architecture." The Brooklyn Museum cannot afford another renovation, but it can scrap that addition to the façade, so that the museum has an identity—and so that visitors will find their way in. It can then create other steps elsewhere for actual performances, as Boston's Institute for Contemporary Arts has by the waterfront. Modest changes can make better use of the first floor as centerpiece rather than commute. Upstairs, repainting and rehanging can tame the maze. Coming off the elevators, one should be close to the art, with a clear choice between exhibitions and the permanent collection.
Next, sure, represent Brooklyn, and that does not mean high fashion, private collections, or cartoon-like paintings from Japan. Powhida is wrong to call for more big group shows of local artists, like "Open House" in 2004, Bushwick open studios, or "Bushwick Basel" in miniature. After another "Greater New York," the Whitney Biennial, "Younger than Jesus," a "Brucennial," and still more emerging artists at the Studio Museum in Harlem, the last thing one needs is another addition to perpetual New York art fairs. Rather, take a cue from the Studio Museum or, say, Rafael Ferrer at El Museo del Barrio—with smaller, focused shows of recent artists and artists in residence. Design a first floor alcove around them, while giving less space upstairs to Chicago's The Dinner Party, so that the Sackler Wing becomes a destination point for viewing women artists. Look for shows of political and cultural issues relevant to urban history, as MoMA has in photography or the Whitney with Jenny Holzer and Jill Magid.
Of course, as de Montebello and others insist, build on the museum's strengths. Its collections are not an obstacle, and neither is art history. Build on them and on partnerships with others for more creative shows. Even in a recession, the Whitney has done that with Christian Marclay before his epic The Clock and with Charles Burchfield just this summer. Above all, fire Arnold Lehman, restore the museum departments that he abolished, and start over. The museum is adrift because its curators no longer matter.
Again, a museum cannot fulfill its responsibilities to the community apart from its responsibilities to art. Publicity like that for "Sensation" does not come often, not even when the museum attempts and cancels a display of street art, and I could live without Damien Hirst and Chris Ofili anyway. It is easy to make headlines with help from dead sharks, elephant turds, and Mayor Giuliani's aggressive stupidity. Yet even then, the show deserved attention because it reflected a wave. The only thing more embarrassing than pandering is failure at pandering. I have seen the simpering courtier in any number of revenge tragedies, and I know what happens to him at the end.

The New York Times solicited opinions about The Brooklyn Museum for August 8, 2010. A related review looks at the museum's June 2011 cancellation of "Art in the Streets."