Taking the Floor
John Haber
in New York City
Sam Moyer, Karla Black, and Douglas Wheeler
Ann Shostrom and Fabric
Sam Moyer is being ironic when she calls a show "More Weight," right? Do not be so sure, in a candidate for the weightiest show ever to come to the Lower East Side. Moyer nearly carpets a gallery in marble—and then has the strength left to lift that carpet off the floor.
Anyone can complain about contemporary art. Is it too cynical or too familiar, caught up in money or lacking in direction? Maybe both, but sometimes artists can still floor you. Karla Black makes her floor not of Minimalism's cinder blocks and steel, but of colored dust, and Douglas Wheeler makes his of light.
Ann Shostrom and others return to fabric as carpeting and hangings, in traditions going back at once to household use and Islamic art. Can materials associated as much with craft as fine art overcome their ambitious scale and the demands of the art world?
Bearing the weight
Just four years past, Sam Moyer was an emerging artist in "Greater New York" at MoMA PS1, and her previous solo show unsettled abstraction, with wrinkled fabric and the illusion of photography. Now everything is right before one's eyes, in some of the lushest surfaces around. As floors go, Sarah Crowner's blue ceramic tiling this winter was impressive enough, but Moyer covers the largest gallery in the neighborhood. Perhaps not even art could bear more weight. One expects that boast of celebrity artists. Could it extend now past the Bowery, and what does that say about the reach of market pressures on contemporary art?
Eight paintings closely line a long opening wall, like a single work. Their absence of subject matter, apart from the application of pigment itself, contributes to the horizontal sweep. Up close, the differences are just as memorable. Two use small, rhythmic spurts like musical notation, while two others use broader strokes, like the marks of a thick brush. Elsewhere blues have the saturated light of a photographic negative. Paint on glass over painted or dyed fabric adds to the play of translucency and opacity.
A casual but deliberate texturing also goes into a drop ceiling in the back room, pierced by light reflected from above. It corresponds in its dimensions to the thick marble slab below—or rather an assembly of white marble, for weight like this does not often come singly. One can walk on it, as on the Minimalism of Carl Andre, although it is raised slightly to cast its shadow on the floor. It is both of the room and within it. More marble goes into compositions hung like shaped canvas, in a greater variety of colors on the second floor. Here pairs nestle into one another like puzzle pieces, but each in its own way.
Moyer's title comes from near the end of The Crucible, Arthur Miller's play about the Salem witch trials. Called to confess, a man remained silent even as "great stones they lay upon his chest," for "he could not be condemned a wizard without he answer the indictment, aye or nay." At the last, "'More weight,' he says. And died." His words bear a grim irony—as Miller's stage direction says of a listener, "a thread to weave into his agony." Yet the dying man also expected to be taken literally.
Like Helene Appel and her loving illusions, Moyer is just as sincere and just as knowing. And that combination describes much high-profile art ever since the purity of the 1960s and the overt irony of the 1980s gave way to the impurity and trickery of today. Adam Henry converts his gallery, too, into a grand hallway, where the right to remain silent becomes a commanding hush. The seven paintings on each wall are close copies, a challenge to the originality of the avant-garde with the dismissively hip title Alien Beatnik Siren. Yet they also revel in the aura of large work, deep color, and a visionary blur. Besides, their imagery amounts to the Stations of the Cross.
Much the same scale, color, and blur carries Victoria Fu into the Romantic sublime. Fu assembles found images of feet, bullets, and a man with a Mac into a cryptic dance—and then she deconstructs her own video in the back. One screen separates out the abstract component, while a monitor focuses on a figure in a landscape, in black and white. Can art be both too beautiful and too knowing? The question gets at the desperation for art to declare its legitimacy after so much well-meaning abstraction, and it is starting to head downtown. This work is at once thoughtful and seductive, if only one can bear the weight.
Soap opera
Should you forget the details of Karla Black's installation, not just your memory is hazy. So is the online image, a mist of pink and sky blue. You could take the virtual rectangle for a painting, as overworked and scumbled as any from fifty or sixty years that you may have chosen to forget. Abstract Impressionism, after all, was girlie stuff, for Philip Guston before he wised up. Sexism and sarcasm aside, however, you would be mistaken. Black does not paint like a woman, whatever that was supposed to mean.
In fact, she does not paint at all, at least not on canvas. She merely reconstructs the space for painting—and then offers the means to clean up after it. One approaches the garage-like interior past a partition, cut by a curtain of cellophane. Scrunched and mottled, it even looks wet from the shower. Through it, one has a view not unlike the online image, only sharper, clearer, and downright Minimalist. Unlike Paul Gabrielli, she does not bring a sponge, but she does cover much of the floor with powder, almost like soap.
The powder even gets pressed into a few stray bars, discarded away or ready for use. The Scottish artist might have exploded Minimalism into dust. Yet she also domesticates its industrial materials, making its firm geometry the language of the everyday. One cannot step on the colored rectangle, but one can walk in the narrow margin fully around it, to treat the space as one's own. As for its state of being, chalked paper of matching colors wraps crudely what look like four crates on their in or out. Similar paper and additional cellophane, scrunched into a grid of six loops, hangs down over top, along with adhesive tape in hundreds of verticals.
The colors do divide into pink and blue, and so does the floor. The front half consists of striped pink and white diagonals, beneath the translucent tape, the back of simply pale blue. Should you conclude that these are delivery areas for baby girls and boys, the two blue crates are indeed taller. Still, you will surely recognize the patterns and their audacious scale from a Sol LeWitt wall painting. The packing tape also bears thousands of Black's fingerprints, a sign of process on the one hand and repetition on the other. Here even a fancy installation can be light as dust.
The translation of light into household terms also offers an appealing contrast to a luminous installation around the block. At the same gallery's newer space, with the pristine architecture of a high-end urban loft, Douglas Wheeler fills a domed chamber with light. It seems to have penetrated from above or to become the sky, but it emanates entirely from light bulbs just beyond the circular edge of the raised floor. Different bulbs ebb and flow differently, in a two-minute cycle that translates into near-constant illumination and a palpable sensation of slow, steady change. One can approach the edge and look down without dispelling its mystery. I just had to look over the edge, and I had to feel foolish for trying.
The Bay Area artist, now in his seventies, wants to recreate the unending sensation of a changing horizon while in flight. One may never have had that experience, but Wheeler immerses one in his environment all the same. It is both pristine in its California simplicity and implicitly high-tech, starting with an entrance corridor narrowing toward the light, like a space station in a scary, futuristic movie. One must take off one's shoes first, and for probably the first time in Chelsea one also needs reservations. (The gallery has learned from its lines down the block in the bitter cold recently for Yayoi Kusama.) As with James Turrell, the controlling nature of a light show has a way of isolating the wonders of perception from thought and feeling, but one can always go back around the block for an imagined shower and a return to earth.
Hanging with the stars
Fabric: it isn't just for carpets anymore—or for clothing, or for Renaissance tapestries, or for art-world outsiders. The change had to happen, on many scores. Shows in recent years have featured "Rags to Richesse," "Demons, Yarns, and Tales," "Bound and Unbound," and "By a Thread"—and no wonder. Abstraction is back, but with nontraditional imagery and materials. Feminism, folk art, outsider art, craft and design, the art of Iran and the East, and more are not just demanding to be seen: they are demanding to be seen as modern and as art. Ann Shostrom, for one, need not apologize for "women's work."
Her free hangings recall Al Loving, with some of the same deep reds and purples. Like Loving, an African American who stretched the definition of shaped canvas, she allows color to billow out and into the gallery, into what one show including them both calls "freak flags." Gravity may help drive the course of color across the field, much as with drip painting or poured paint from the 1950s and 1960s. But then color defies gravity, while dark horizontals mirror a stormy sky. A tiger presides over all, like a collision between pattern painting and nature for Tony Kushner. Kushner's blatantly artificial flora are not all that far from Shostrom's red wax set on a lighter field as well.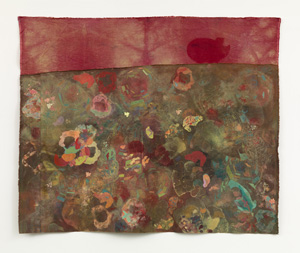 Shostrom is not just hanging loose, though. She makes use of a supporting column to identify a work's three dimensions with the room's, and then she includes a plain white sheet, like a stage curtain, to make the architecture the site of an illusion. The white layer also just happens to lie behind several others. She is also not just imitating men. The gash in a blood-red fabric could suggest a woman's private history. Arte Povera just became a little richer.
If I started by reaching for an ad slogan, this is still the art world. The 2014 Whitney Biennial gains mightily from the rising fabric pillar by Sheila Hicks and Dona Nelson's two-sided paintings pierced by thread and fabric ribbons (with more of both in Chelsea as well). Elana Herzog incorporates found textiles, torn and elusive, along with paper pulp, as a project with the Dieu Donné paper mill in the Garment District right in Manhattan. One might be trying to recover one's favorite clothing and finding nothing but remembered patterns and textures. Michael Rudokas brings those memories even closer to the painterly ideal of art as object, while softening the edges of geometric abstraction. Here a few quiet colors play against black and white, while the textures of fabric stand for different degrees of fineness in the grid.
As usual, though, once one allows men into the picture, fine art manages to absorb every rebellion. Korakrit Arunanondchai boasts less of Southeast Asian tradition than of consumerism and globalization. His flaming screen prints hang next to portraits of Thai youth reduced to their jeans. Some of the same blues soak thick pillows at the room's center, tempting one to find comfort in the artist's transgressions, much as with Mike Kelley. Arunanondchai calls the installation "footage of the artist revisiting his artistic achievements," but his confidence has nothing on Carter. The one-named artist calls his show "Beside Myself," although he hardly sets himself aside.
Reclining chairs on throw rugs, beneath artificial candles, pick up the fabric theme while parodying domesticity. Not that Carter's busy pencil and acrylic are above bourgeois comforts, so long as they involve sex. Threads like hair and holes like lips and eyes leer from behind a mask. A bedroom scene makes even clearer the stylized sexuality at stake. On video, Catherine Keener as an artist of torn and closeted gender meets James Franco as the patient with an unknown malady obsessing on death. In big-money galleries, no trend is altogether threadbare, and this art is hanging with the stars.

Sam Moyer ran at Rachel Uffner through June 22, 2014, Sarah Crowner at Nicelle Beauchene through February 2, Adam Henry at Joe Sheftel through June 15, Victoria Fu at Simon Preston through June 1, Karla Black at David Zwirner through April 12, Douglas Wheeler there through March 29, Ann Shostrom at Elizabeth Harris through May 3, Sheila Hicks at Sikkema Jenkins through April 5, Dona Nelson at Thomas Erben through May 17, Elana Herzog at LMAKprojects through March 30, Michael Rudokas at Denny through April 27, Korakrit Arunanondchai at MoMA PS1 through September 14, and Carter at Lisa Cooley through April 27.