Modernism as Institution
John Haber
in New York City
The Modern in 2011 and an Artist's Estate
Sometimes a writer says most by what he omits. In reviewing Robert Rauschenberg for The Times, Holland Cotter mostly omits the praise. But Cotter omits something else as well, a Friday or Sunday review. The news can fall on a Saturday, because the gallery's profit-sector blockbusters are no longer news.
What does fall on a Sunday, in the Arts and Leisure section, is even fainter praise for an institution even more powerful and pervasive than Rauschenberg's dealer. Roberta Smith begins, if not exactly welcomes, the new year by asking if the Museum of Modern Art has died. Her reassurance comes at a steep price. She all but asks the museum to start over. Whose criticism says more about Modernism's heritage? In different ways, both implicitly ask something of the public as well—to look beyond the most visible institutions to the state of the art.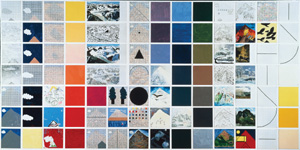 Piano men
It was just a matter of time: when was the Museum of Modern Art going to add a piano bar? And so it did, all in place for late-2010 holiday crowds.
Actually, I could have used a drink, but I had to settle for the piano—and performance art. Jennifer Allora and Guillermo Calzadilla fill the tall atrium with Beethoven. So what if a succession of pianists has to perform upside-down? MoMA's 2004 expansion designed by Yoshio Taniguchi gets a lot backward when it comes to the display of art. It has reached the point that Roberta Smith in the Sunday Times had to begin the New Year with a plea for hope: "Hold That Obit; MoMA's Not Dead."
From the start, the wasted space resembled a hotel lobby. All it needed was a pale mural and a piano bar. The first came on day one, when the atrium reduced Claude Monet to decorative insignificance. Since then, it has held knockouts like Jennifer Bartlett—whose Rhapsody is, after all, the lobby mural to end all lobby murals. Pipilotti Rist even realized the atrium's potential as a gathering place, with comfortable seating, while daring families to overlook digital bare flesh and menstrual blood. More often, though, MoMA has responded to its initial mistake, of diminishing paintings, only by trying to match the space with spectacle, just when the trend for trash has already passed.
A retrospective of Marina Abramovic turned performance into museum piece. For the atrium, that meant long waits to sit across from her, like hotel checkout lines for impassive customer service. Gabriel Orozco suspended a whale skeleton, as in a natural-history museum—but more often, the atrium has looked like a yard sale, as with Happy End of Franz Kafka's "Amerika" by Martin Kippenberger. It even included a professional soccer field. Like Kafka's novel, it was long on charm but short on America. And now, at last, the piano.
Given hotel drink prices and museum ticket prices, I should be grateful that the performance does not come with a bar after all. Smith herself praised it, after summing up the case against the Modern. I am not so sure. The work, conceived in 2008, is long on gestures and allusions, but short on meaning. Allora and Calzadilla note that Hitler cherished Beethoven's Ode to Joy, much as he doted on Neoclassicism in art, but so what? Stop, Repair, Prepare: Variations on "Ode to Joy" for a Prepared Piano invokes John Cage and "prepared piano," but it does nothing to extend or to undermine experimental music.
Instead, it is just familiar enough and just provocative enough for easy watching and easy listening. What museumgoers will not recognize Beethoven's Ninth, even in transcription? Who can resist oohing and aahing at a performer leaning over the keys, facing visitors, while standing in a hole in the piano? Who can resist the mix of high art and low, starting with the ritual sacrifice of a Bechstein grand piano? Even an art critic can overestimate the challenge of performing classical music at an uncomfortable angle. And even an art critic can forget the concert magic of sitting at a keyboard and performing at all.
A museum's suicide pact?
The consensus took too long to grow, but the shine has worn off, and the questions keep coming—including cries for the chief curator at large, Klaus Biesenbach, to step down. Expansion has meant vast public spaces, with more to come in the likely destruction of the former Museum of American Folk Art, but precious little space for the museum's heart, its permanent collection. Temporary exhibitions have strained galleries to the breaking point, and that has special relevance to a museum long criticized for its failure to grow. Critics call it unwilling to see past Picasso and Pollock—and slow to accept women. "Abstract Expressionist New York" and "On Line," they say, merely tweak a narrow vision in the interest of diversity. "Andy Warhol Motion Pictures" documents Warhol's Factory in its glory, but is MoMA itself a mere factory for modern art?
Smith has much the same complaints, despite her upbeat title. She runs from the 2004 "suicide by architecture" through a mixed bag of exhibitions. She ends by demanding contemporary painting rather than performance, an agenda of hers since at least the winter before. Her litany lacks coherence, as if survivors could put a suicide behind them if only the funeral parlor displayed her favorite painting. She makes a serious mistake, too, in trying to impose a curatorial agenda, rather than evaluating MoMA's on its breadth and on its merits. Still, she picks up widespread anxieties about art and institutions everywhere.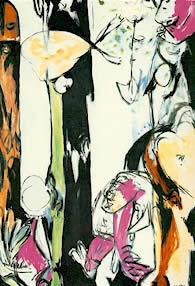 Yet she had it right all along: the architecture is a suicide pact, but reports of MoMA's death are greatly exaggerated. Even its mishaps seem par for the course. Museum expansions everywhere have put a premium on gathering spaces—as with additions to the Morgan Library and the Virginia Museum of Fine Art. As for "suicide by architecture," the Brooklyn Museum and the New Museum took that leap and are still on their way down. MoMA is at least trying to make the atrium a space for art, along with the actual lobby outside.
As suicides go, too, this one is attracting a crowd, as Brooklyn's community outreach has not. Maybe attendance comes too easily for a guidebook attraction with a famous collection and a midtown location, just as it does for the Guggenheim thanks to its Frank Lloyd Wright rotunda. Or maybe it comes at the cost of a piano bar—or the occasional pop-culture pandering. Maybe other museums deserve better, like the Whitney with its active program and much maligned architectural masterpiece. Still, the Modern is very much alive. Even its pandering is small potatoes, unless you hate Tim Burton more than reality TV.
Vital signs extend to a dizzying number of exhibitions, with not a bad track record at all. In 2010 alone, displays of Henri Matisse and the Bauhaus recovered key moments in modern art history, with Matisse and Picasso due to return with the Stein collection in 2012. "On Line" asks that one rethink media and their history, as did a show of photography of and as sculpture only months before. If "Abstract Expressionist New York" builds on the permanent collection, museums in a recession have to do just that—without half so central a collection. If these shows merely recover MoMA's history in light of women, art of the Americas, and other discoveries, all the better. What kind of museum casts aside either its vision or the present?
Contemporary art is all about the conflicting pressures of tradition and diversity. It is getting harder and harder to break new ground, because the present is already a construction site. MoMA's quandaries are real, too, from eating P.S. 1 alive to its architecture. I would like to think that its next condominium expansion will put art first, but I doubt it, and changes are years away. Can the museum take the pulse of contemporary art without spilling the life blood of Modernism, all in an ugly six-story operating theater? If I were in charge, I would focus on that—perhaps over a drink.
Beyond new money
Praise goes without saying for one of the last century's greatest and most influential artists, only recently the subject of a retrospective and an exhibition of his combine paintings—but not this time. Gagosian now represents the Robert Rauschenberg estate, a well-earned coup that supplies the occasion for a show, although Rauschenberg's Canyon arrived at MoMA thanks rather to the estate of Ileana Sonnabend. For all that, it mostly goes to show how little remains on the market and how rapidly the work declined. The review is harshest on the bland and busy late silkscreens, many from the self-financed Rauschenberg Overseas Cultural Interchange. Blame them on workshop projects, which they were—or a generous artist's tolerance for collaboration. They are also an older man's increasingly free associations.
Of course, a good critic also includes a few things. Cotter's short history of one combine, which once held a Jasper Johns in order to bring Johns into an exhibition that refused him, makes the painting much more interesting. The cardboard boxes are fun, too, with their air of improvised stage sets. They serve as a loving takedown of painting and sculpture alike. They might not mean much, though, without the artist's name attached. They make me think of his studio as the shipping department for a big-box store.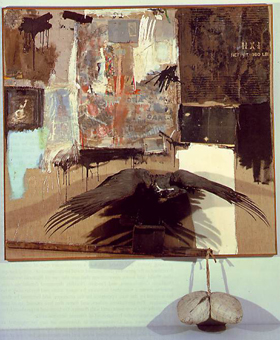 Cotter says more with an aside at the end. He calls last year's exhibition of late Picasso "a puffy display treated as a wonder." It was treated as a wonder not just by those who lined up to see it, but also by critics—including The New York Times. But times have changed. Since then, Smith in the same paper triggered a sensation, speaking out against overhyped installations at the expense of "the handmade." When Gagosian opened this fall with more trashy, expensive objects by Dan Colen, everyone objected, with the anger of a spurned lover.
I could say I told you so. I took on celebrity artists and wall busters long ago, without losing my faith that installations, collaborations, ideas, and mixed media matter. I complained about commercialism at the Guggenheim, objected to MoMA's wasted space and neglect of the permanent collection, and saw the flashy New Museum on the Bowery as inhospitable to art and a rejection of its mission as alternative space. Those opinions are now truisms. I could also, against my better judgment, defend Gagosian after all, although I would rather see early Rauschenberg or great combine paintings like the one pictured here. These big shows take money, at times even guts, and they contribute more than one expects from a wheeler and dealer.
Late Picasso and Rauschenberg's estate taught me about the artists' weaknesses, but also about their creative process, their careers, their disappointments, and their place in today's nasty art scene. A show of late Monet, none of it for sale, did still more. As for Colen, Gagosian is basically a manager of established careers and estates. When the gallery tries to play talent scout, it falls back on past trends, and it is best ignored. Maybe anger grants it more of a role than it deserves. Or maybe the real lesson is that outrage is now safe, because a moment has already passed.
There is a world beyond a few high-priced galleries and auction houses driven by new money, but one has to look for it. There are goods beyond luxury goods, just as in the broader economy. And, again as in the broader economy, outrageous market failures do not mean that ordinary producers and sellers of goods and services are frauds. I know artists who feel spurned and keep harping on big money because it provides an easy excuse. But art right now is less an insider's game than a mess. Everyone, artists included, has a responsibility to look past the money and the myths.

Jennifer Allora and Guillermo Calzadilla ran at The Museum of Modern Art through January 10, 2011, Robert Rauschenberg at Gagosian through January 15. Holland Cotter's review ran in The New York Times on November 27, 2010, Roberta Smith's on January 2, 2011.