To Their Own Devices
John Haber
in New York City
Walter Darby Bannard, Luiz Zerbini, and Max Frintrop
Painting Across Media
Why so much painting right now, including abstract painting? It sounds like a cliché, but artists have me thinking about devices.
Abstraction may not immediately call to mind computers rather than gesture, expression, canvas, and plane geometry. Yet painting now thrives on breaking boundaries. It is at home with both analog and digital devices, like most everyone. Luiz Zerbini and Max Frintrop, to name just two, revel in the digital as both tool and image.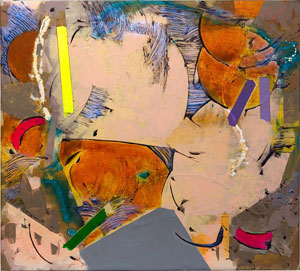 Many others move among more traditional media, including painting, sculpture, and photography. The death of Walter Darby Bannard, though, offers the chance to remember that great painters have experimented with new media all along—only for them that meant experimenting with paint.
Minimalism: before and after
People often speak of Agnes Martin as a link between Abstract Expressionism and Minimalism. The Guggenheim makes a point of it, with her retrospective. Walter Darby Bannard, though, may have a still greater claim to that distinction—and not just by his example. He dove back into gestural abstraction just when his art had become as spare as anyone's in the early 1960s. He never lost his love of paint for its own sake, as material object, and for the glow within. Yet he had a further claim as well, thanks to Frank Stella.
It may be just a footnote to both artists, as well as to Bannard's last work. He was accomplished and prolific right up to his death in October, just eleven days before his opening. Sometimes it seems that a museum retrospective comes as a death sentence, with a show that the artist will never see. In the gallery, though, he seems newly alive, with nineteen mostly large canvases. Martin maintained her studio until her death at age ninety-two, and Carmen Herrera still goes to hers each day at over one hundred. Bannard positively assaulted painting to the end.
Color fields compete with black scars and stains with drips, geometry, and line. Some of his colors defy a name other than his. The gallery makes a point of how much derives from his experiments with different media. He took to acrylic paints as early as the 1950s, and the black of alkyd resin marks the transition to his mature work in the early 1970s. It may outline shapes and colors, or it may drag across them, in near parallel ridges. It helps give stability to his free-form compositions, and it helps create the sense of a canvas as a landscape subject to both geologic and human change.
Born in 1934, Bannard painted freely but simply through much of the 1950s, with feathery brushwork over concentrations of color. By the end of the decade, he had pared back to single squares or, more often, circles. Their clear but soft edges hover against a field of color, sometimes with a second field visible near the borders. He cited as influences such artists as Clyfford Still, William Baziotes, and Willem de Kooning, but the circles more strongly recall the top half of a painting by Adolph Gottlieb. Maybe the later black supplies the bottom half. Gottlieb called his series Burst and Imaginary Landscapes, and both titles could apply to Bannard as well.
They also earn him the label second-generation Abstract Expressionism. His gallery specializes in just that, and it is not often a compliment. And that makes all the more interesting his friendship with Stella, two years younger. Both went to prep school and to Princeton, where they met. Yet even now it sounds odd to think of Bannard as a mentor. Could Stella have seen in those circles the combination of radiance and rigor that he sought in his black paintings—or did they stand for everything that he wished to reject?
The puzzle deepens in that each grew wilder after 1970, but in different ways. Which artist was looking forward, and which was looking back? By the end, Bannard stays closer to the edge between two and three dimensions. He never gives up the sense of a firm ground beneath all the action, even if one can never locate it. He also never gives up paint. In one of his last works, the black ridge outlines a circle, as if to reclaim his past for the present.
Post-digital painting
Of course, clichés thrive in a digital age, under the slightly scarier heading of memes. I am falling for one now when I mention devices. Artists, the story goes, are bound to fall in love again with imagery in an age of images. They are more likely to recycle old ones, too, and old styles. They are also bound to rebel against the digital to leave their mark. So, at any rate, goes the meme—but is it true?
Not necessarily, but Luiz Zerbini and Max Frintrop share the seeming contradiction and the delight in overkill. Zerbini moves easily between a monitor's heightened crispness and fractured resolution. Illusion comes easily, even the illusion of little more than confusion. His very eclecticism connects him to an online world. Yet the paintings are also intensely physical. They fall roughly in series, almost like the work of different artists.
Some take the form of unnatural landscapes, like a desktop overlaid by windows and icons. Patterns cover rocks and trees like filters in Photoshop or human skin. Other paintings divide into squares, like outsize pixels, ringing the changes on triangles within each one. Still others consist of colored dots, each at the center of a small circular haze. One last series consists of slides, boasting nothing but their cardboard shapes and solid colors. Their physical nature is much of the show.
Zerbini came to attention well before his first laptop, in 1984 in Brazil, and the show takes its title, "Perhapiness," from a Brazilian poet. It speaks of possibilities and guilty pleasures. The imagery reflects his neighborhood in Rio and travels along the coast. It also relates to Op Art, Pattern and Decoration, and his work as a musician. The equation of physical objects and the human body appears in Lygia Clark, too, and the giddiness appears elsewhere in Latin American art as well. Apparently not all men live lives of quiet desperation.
Frintrop creates a different kind of uncertainty regarding the analog and the digital—not in the imagery, but in the making. Indeed, his primary source of imagery is the making. At first glance, the smears could arise from spray, pouring, a squeegee, or inkjet printing. They could enlarge a single brushstroke again and again. Up close, though, they show multiple layers worked into one another by hand and a scraping away. They throw in everything from oil to acrylic, but their secret weapon is the very mark of drawing or printing, colored ink.
Memes are nice, but plenty of other factors lie behind what a show has called "post-analog painting"—although one might just as well call it post-digital. A larger market and more graduates of art programs are bound to produce more people comfortable with personal gestures and visual music. Rebellions against Modernism have lost some of their urgency with time, too. Conceptual art and painting could now be just two ways of putting on a show. Can there be too many possibilities and too much happiness? Perhaps, but take what you can get.
Abstraction's new media
The resurgence of abstraction is cause enough for celebration, but also suspicion. It thrives on sheer exuberance and eclecticism—between pattern and decoration, formalism and allusion, geometry and gesture. But if anything goes, why do anything, and how is anyone to judge? I feel guiltier than ever picking winners. Consider some, though, who are going about the old modern or postmodern work of looking hard at their medium. It just so happens that their medium may have elements of painting, photography, and sculpture.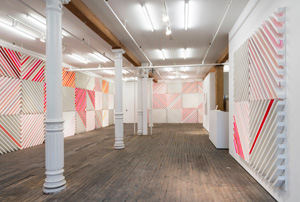 Cordy Ryman is pushing himself further toward painting and sculpture—or art and architecture. The largest work still sticks to the wall, with painted sides that become more visible and less predictable as one circulates. The most impressive, though, leans its slim white planks against a wall, painted only on the back, like steel for his mother, Merrill Wagner. It makes use of a gallery's intense lighting seemingly to paint directly on the wall in shadows and reflections. If its shifting angles suggest a huge wave coursing through the wood, its title refers to Moby-Dick, and a facing work arches outward like a whale skeleton. Its bolts and hinges also have the prominence of hardware in white paintings by his father, Robert Ryman.
Sara VanDerBeek still uses photography for art akin to Minimalism, but with a greater translucency than before and a greater distance from streetscapes. Now, too, she is expanding her practice to the real thing, with simple but successive elements in plaster and wood that ripple upward or across the floor. Kate Steciw, in turn, would rather combine the two practices—to the point of challenging her own identity as a photographer. Her photos now extend beyond stock footage, with images of plants and skies, but printed on cut metal sheets and fabric. The metal's dangerous edges have a presence very different from that of nature, but maybe even more real. The fabric tubes form a colorful monster reaching to the ceiling.
Eve Aschheim finds a closer affinity between abstraction and photography or abstraction and landscape, but she also finds them as different as night and day. Aschheim, who shares the gallery with political art from the Nixon era by Louis Kruger, uses ink, graphite, and gesso on Mylar for layers of sheer white with traces of black. Then come her photograms, with equally short and sudden marks in white on black. For her, both series are rooted in drawing. Both, too, feel as lasting and evanescent as the movements of her hand. It takes time to assimilate the layers and the changing thickness of her marks, just as it took her time to make them.
Others return to late Modernism's shaped canvas, but without the canvas. Reliefs by Rachel Hellman recall Charles Hinman, but in wood. Her bright colors may connect or leap across edges. David Scanavino uses industrial materials akin to fiberboard, but gathering light like resin. His fanciful shapes range from keyholes to speech balloons out of the comics, but leaving the words or the key to you. Stripes out of Frank Stella gather in thickness toward the edge.
New materials keep turning up as fast as they become available. I had not even heard of vinyl-based paints like Flashe until recently, and now they are all over the map. Debra Ramsay uses actual resin. Her multiple panels again recall Minimalism, as for Brice Marden, but with less regular edges, quieter colors, and a glow seemingly from within. They also begin as notes on her walks through the city, rooting their shifting colors in industrial neighborhoods and the light. Eclecticism may have a point, in taking painting both toward its elements and into the world.

Walter Darby Bannard ran at Berry Campbell through November 12, 2016, Luiz Zerbini at Sikkema Jenkins through June 4, Max Frintrop at Lyles & King through June 5, Cordy Ryman at Zürcher through October 30, Sara VanDerBeek at Metro Pictures though October 19, Kate Steciw at Higher Pictures through October 12, Eve Aschheim at Lori Bookstein through October 15, Rachel Hellman at Elizabeth Houston through October 23, David Scanavino at Klaus von Nichtssagend through October 16, and. Debra Ramsay at Odetta through October 9.