Maximizing Minimalism
John Haber
in New York City
Hassan Sharif, Cordy Ryman, and Regina Bogat
Minimalism is becoming maximal. Exhibitions have expanded its reach to Arte Povera in Italy, Grupo Frente in the Americas, and beyond. As with the revival of painting, artists continue to respond to Modernism and the 1960s as well.
They find a maximizing impulse within Minimalism. Bursting the grid involved performance and raw materials for Hassan Sharif in and around Dubai. It involves a corporate tower and its infrastructure for Cordy Ryman now. And his reliance on wood strips to shape a painting has a neglected precedent. Some artists have a color wheel. Regina Bogat in the 1990s had her color line.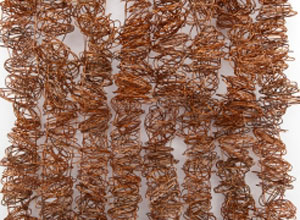 The magic in squares
When Hassan Sharif died in 2016 at age sixty-five, he left behind all sorts of things, and his Chelsea gallery gives pride of place to some of the least prepossessing. Notes or sketches place numbers in small grids, like KenKen puzzles or magic squares that refuse to add up. Nor do the sheets themselves, with the grids falling where they will among still more cryptic marks, crossings out, and blank spaces. Sharif might have been laying bare the logic behind his finished work or throwing logic to the winds. Then again, he could be staking out a place between the two or just killing time. The show does bear the title "Semi-Systems."
Even at his most logical, Sharif might be killing time. He traced the outlines of a small white cube on the floor, shifted it to mark an adjacent square, and shifted it again a few more times until he had completed a larger square, without a number in sight. The gallery displays both photographs of successive steps and a video of their making—leaving others to decide whether to call the work photography, conceptual art, process, or performance. He earned a reputation for them all, counting cars on a road in Dubai or accumulating household items like tools and toys. Other works come closer to Minimalism, like the squares or like beams of partly burnished steel and finished wood. Sol LeWitt, Carl Andre, and Donald Judd might have joined right in.
A confession that he sought variety and richness in simple rules sounds right out LeWitt as well, but for Sharif the rules seem secondary to their execution. Not that he was in search of a greater beauty. His piled plastic, aluminum, fabric, and paper look less like fine art than a scandal. Yet he took pleasure in their rhythms and colors. He sought neither the shimmer of plastic cups for Tara Donovan nor the bad boy stance of trash art for Michael Smith and Mike Kelly. He was older than they—old enough to play by the rules that he was breaking.
He was also enough of a formalist to shy away from making statements. He found the trash near his home in the United Arab Emirates, and he paints one grid on carpet, like far older Islamic art. A wall painting of another grid with one side of each square thickening at the middle might almost depict barbed wire—and so might a twisted rectangle of copper wire. Yet he shied away from political art, whether as nationalism or activism. The piles may have something to say about consumer culture, or they might not. He admired Marcel Duchamp, and his whole work looks a bit like Minimalism through the eyes of Dada.
One floor piece appeared in a 2014 show of Arab art called "Here and Elsewhere," and that label suits him, too. Born in Iran, he grew up in Dubai and studied art in England, but with an obvious eye on Paris and New York. Back in the Emirates in 1982, he lived at first outside Dubai as if ill at ease anywhere near the center of attention. Celebrated at home, he could pass for just another half-neglected westerner—and nowhere near the most pressing. You may think that you have seen this show before. It hardly helps that it must leave out the more colorful performances and displays in favor of the semi-systems.
Still, it illuminates the underlying logic or illogic of other shows past and present. It puts the semiotics in his semi-systems. It comes alive most, too, when it becomes most material. The beams look so weathered or polished and the wire so intricate or threatening that one may never get around to looking for a system. Coiled springs from 2016 take shape under the influence of gravity, but Sharif also arranges them in nine staggered fields like aprons or shields. So what if the squares have lost their magic?
Infrastructure
At the very heart of Manhattan's skyline, Cordy Ryman was not talking up the view. Rather, he was admiring the infrastructure that keeps an office tower functioning—from ducts, platforms, and workers to the freight elevator escorting us to the roof. Its operator did not thank him for the compliment, but no matter. The same spirit guides Ryman's work in the self-appointed Tower 49 in midtown. If you ever wanted to cover the marble and gilding of twenty-first century capitalism with scrap wood, he does, but not as a leveling. Given the run of two floors, he insists on the workmanlike while animating the architecture and defying gravity.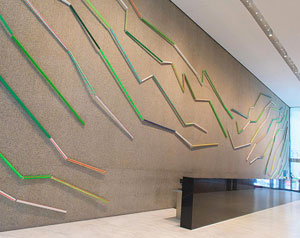 He even calls the installation "Free Fall." Its largest component spans almost a city block, on the wall above the lobby desk. Slim beams, much like the studs of a construction site, run more or less horizontally—starting, stopping, and changing colors and direction wherever they like. More hinged wood hangs vertically and densely on the north and south walls, facing the streets. With the first, Lightning Vines, lightning might have struck fifteen or twenty times over. With the second, Root Vines, the building might have found its roots.
Titles notwithstanding, they do not look much like the ivy-covered walls of a university. Ryman has always made his work purposefully clumsy. The verticals extend to the floor, like limp legs and protruding feet. The lobby's remaining walls have smaller pieces, as Jupiter, as does a "sky lobby" about halfway to the building's top floor. They have painted sides and hollows that bring out their thickness and construction. Unpainted scraps pack into other work, like a poor man's jigsaw puzzle.
Vines or not, they share the refusal of a window onto nature in much of modern art. (So does the abstract art of Ryman's parents, Robert Ryman and Merrill Wagner.) Tower 49 has previously featured Frank Stella, Mark di Suvero, and Jules Olitski, and Ryman has something of Stella's stripes, di Suvero's wide-open sculpture, and Olitski's all-over surface coverage. The guest curator, Thomas Micchelli, also cites Marcel Duchamp, who let threads fall to the ground as Standard Stoppages. Ryman picks up on their linear form, repeated elements, and near randomness, and he incorporates a yardstick into one piece as a further standard. He still defies categorization as painting, sculpture, or process art, but on his largest scale yet.
The inorganic also comes with the territory, an office tower. Other lobbies, too, are trying to shed the image of corporate art, like Goldman Sachs with murals by Franz Ackermann and Julie Mehretu, UBS with changing exhibitions, and Lever House, where Jerry Saltz ranked a show among his ten best for 2017. Ryman, though, takes the lobby as a given. You could almost miss a small panel high on a wall, in pretend marbling like the real thing behind it—or, if you like, the red surface of Jupiter. A rectangle picks up the fire-engine red of an alarm box, while two works nestle into corners, in stacked wood akin to Ryman's past shows. It is tempting to dismiss the smaller panels as trivial or fussy, but the sheer number of them and their placement add up to an installation.
Site-specific art can entail grand plans reshaping the landscape, like earthworks by Michael Heizer. Ryman responds instead in real time, changing his mind as he goes. He is not so much appropriating as recycling. He created a pretend marble wall in his studio, in plywood, to gauge what would work on-site, and then cut it up for use in his art. He paints the back of the wood, too, often in fluorescent colors—leaving it to the last moment to decide which to turn to the front. Like the building's infrastructure, some of the sharpest accents remain invisible to visitors and tenants alike.
The color line
Slim wood strips rest on canvas by Regina Bogat, divided by paint into repeated sequences of colored rectangles or squares. They may appear singly, as if to take the measure of the more freely painted canvas or to serve as its palette. They may appear multiply, in clusters above and below a central field, as if to rein it in. Their staggered squares add a sense of rapid horizontal movement, in contrast to the fixity of all-over painting. They may fan out as well, imparting a cloud-like motion to the underlying paint. They may match the clashing colors on canvas or add color to slashing black brushstrokes on a neutral ground.
Geometry was long a part of her painting, and she makes it hard to know which layer came first. Born in 1928, she devoted much of the 1960s to hard-edge colors, in busy patterns with a predominant vertical, horizontal, or radial design. Their density and often broken symmetry may call to mind tantric imagery or the Op Art of Brigit Riley, but without mysticism or illusion. They may suggest game boards, but Bogat was not playing around. People then were calling for "pure painting," and she had been in the mainstream of abstraction for years without the purity. People were also breaking away from painting, seemingly once and for all, but her mature work was just getting underway.
Wood was part of that breakthrough, too. Her work of the 1970s enters the third dimension with small wood rods or stubs, often in white or metallic paint. They can serve as tiling in place of canvas, like bottle caps for El Anatsui or impasto for Jack Whitten. They can pulse in and out of piled blocks, like clumsy pedestals or robots.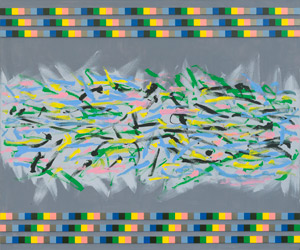 The optical activity has lessened, to the point of stiffness, but the physical presence has not. The blocks might be the discomforting boxes of Eva Hesse turned inside out.
Other nontraditional media include Sculptmetal, also a tool for Hesse or Jasper Johns, and fabric, as seen just recently in "Delirium" at the Met Breuer. Threads hang in clusters like hair, but also like colors worked into one another with a palette knife. They bring Bogat's Post-Minimalism closer to a woman's presence and a woman's presence closer to the core of abstraction. With her return to painting in the 1990s, she is still working paint into the painted surface. Her daughter, Anna Bogat Jensen, points in a catalog essay to the influence of Max Ernst with his frottage and grattage, or rubbings and scrapings. The wood strips cannot fully draw the line.
Not long into the decade she has already discarded them. She has not, though, given up playing surface against object. Her gallery has taken several shows now to track her changes and continuities, roughly one per decade, but she is still hard to pin down. That is not a formula for success in the art world, of course, and she has not often had due recognition. She tends to stand just apart from her contemporaries as well. She was making wild patterns in a time of clarity and painting in a time of detachment, and she is taking its measure at a time when anything goes.
It can hardly have helped that she is a woman. Fortunately, this is also a time of recovering older artists and messy histories. The show is a useful record of growth and fissures. Her very Homage to Max Ernst takes place on paper, with shapes cut and peeled back to leave matching gaps and fields of color. A woman in her sixties is still seeking new beginnings and still rethinking old continuities. The cuts look suggestively like petals or tears.

Hassan Sharif ran at Alexander Gray through February 10, 2018, Cordy Ryman at 12 East 49th Street through April 30, and Regina Bogat at Zürcher through March 2. A related review catches up with a succession of Ryman's past work. I have returned to Ryman often enough to break my own rules at that, but it is hard to resist watching as building materials compete with architecture.