Race as a Usable Past
John Haber
in New York City
Usable Pasts and Rafael Ferrer
The three artists at the Studio Museum in Harlem are from Houston, from Rwanda, and of South Asian descent. The first works in new media—in fact, for Houston public television. The others prefer old-fashioned slide shows and painting. They have very different subjects and sympathies.
Yet they share something, almost like a common family history. The museum calls their show "Usable Pasts." Their pasts have distinct time frames, though, from myth to twentieth-century migrations to women's roles not so very long ago. And they are grappling with how available for use these pasts really are.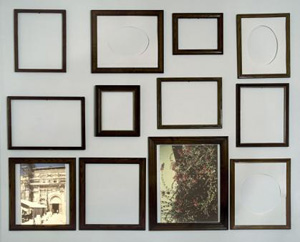 Does that mean that racial identity is a thing of the past? Obviously not, and these days it takes real courage for politicians to deal with it. Other artists have dealt with it more powerfully and overtly as well. At least the Studio Museum does not look past race, so much as leave it an open question.
So does another summer show in Harlem, a retrospective of Rafael Ferrer. A Puerto Rican who made his name in the crazier, activist street art of the 1960s, he went back to painting—of a tropical paradise at that. Amid his artistic conservatism, however, he has some questions, too.
A woman's memory of Harlem
Lauren Kelley, Valerie Piraino, and Mequitta Ahuja have little in common. For three women of color, that already says something valuable, quite as much as would a theme show. New York has endless displays of emerging artists—including one every so often at the Studio Museum. Still, I look forward to its Harlem artists in residence more than anyone's. The museum takes alternatives and emerging black artists seriously. It has a fondness less for the hyphen in African American art, suggesting an amalgam, than a diversity. Here the alternatives begin with the time frame of their usable pasts.
Ahuja takes the long view, as a kind of personal mythology—or, as she calls it, automythography. It also comes with the immediacy of physical sensation, much like her choice of oil on canvas. Her scale is between easel painting and mural, like a woman's body. She seems to have just that moment stepped into one painting, while in others she might have stepped too far in and disappeared. The museum calls them "warrior women," although they do not look all that good at winning wars. Mostly, they seem barely at peace with their place in the landscape.
One woman faces front, palm open, in a gesture of welcome or refusal. She also owes too much for my money to Chris Ofili or Howardena Pindell, although the decorative patterning has elegant hints of realism. She and her red cloak, cracked with white, dominate a lighter field like a goddess trying to keep herself afloat. A similar emphasis on line, in red on black, gives two smaller dancing figures the quality of woodcuts. And it acquires depth and darkness in Ahuja's abstractions. Like the other two artists in the show, she has two distinct bodies of work, and yet the border between them is slippery.
The abstractions have just enough yellow and white to lend them the back-lit gleam of stained glass. Thick black and brown curves layer over deep blue and red, like lead tracery. As with Terry Winters or Julie Mehretu, they give the illusion of depth and organic growth, as in a dense forest. And it is not easy to decide whether the women are still there. In fact, the sole woman in a landscape faces the hardest dilemma of all. Leaning forward and looking back, amid parallel lines of paint and vegetation out of Henri Matisse and his Bathers by a River, she looks alive, wary, and trapped.
Piraino's version of the past connects her to her grandparents, but not without strain and loss. Her African grandfather's travels supply the slide show, a medium that itself signals a generational divide that others like Thornton Dial continue to breach. One slide carousel has ground to a halt, its sole projection turning a corner of the room into a locked interior as The Pregnant Moment (The House Stripped Bare). Another projects both into and across a wall of picture frames. The past cannot stay within its frame, which is the price of its being past. That becomes still clearer with the artist's grandmother, who supplies something more permanent and beautiful—but also quaint and half forgotten.
Framed porcelain ovals look like cameos without a picture. Up close, this museum period room becomes even more cryptic. Some bear etched marks—the shorthand that her grandmother studied for dictation. They do not become more reassuring in Piraino's cursive pencil translation, which has taken on an ambiguous contemporary feminism: "He Sat in Silence," "She would do as she pleased," "Dewey / Discretion," "accommodation." Memories here are signs unmoored from their narrative, with no one alive to tell the story.
A perfect day for a pool party
Kelley remembers quite well, thank you, although her time frame is arrested in early childhood. A felt-covered wood column crosses African art and a really awful tabletop lamp from the 1960s. It and her other pop sculpture as tribal gods might have jumped out of the smaller dioramas of her videos. The stop-motion animations have the perversity and humor of Nathalie Djurberg. However, Kelley's have less sex, less fun, and less obvious self-abasement. They will not casually surrender their innocence.
A stewardess, in the form of Farrah Fawcett, moves from first-class cabin to poolside without losing her insistence that "success starts and ends with a warm smile." Her attempt to mentor a younger black stewardess and to dominate others also ends in tears. A girl ends up isolated and struggling for breath, but "I still believed it was the perfect day for a pool party." Kelley's cellophane water and pink fluff clouds could convince me, too. So what if the soundtrack muffles the girl's voice and makes her narrative a distant, disturbing memory? The third short video tries even harder for paradise, but communication breaks down altogether.
Its hero swims through life and toward the camera. I knew Texas is a foreign country, but he speaks in French, and the "helpful" subtitles bear no relation to what he is saying. His speech evokes a dream of nature, with phrases like Il fait rouge dans mon coeur: "it is red in my heart," but in the grammar of a weather forecast. The subtitles speak of struggles for power (and, gosh, Barbie dolls look gaunt in real-world contexts). Kelley, though, does not simply give up on her speakers.
I wondered if she was thinking of Verlaine's Il pleure dans mon coeur / Comme il pleut sur la ville: "there are tears in my heart / As it rains on the town." She has red (or, later, green) in her heart, but she still has her memories and her Barbies. For Piraino, the house is stripped bare, but the flat white chips shine. For Ahuja, the space and the female body lend one another a sensual presence. Art really can use the past without nostalgia.
Before turning to another artist's memories of home, like that of Belkis Ayón also in Cuba, consider the pressure to produce a contemporary idiom, contemporary sophistication, and a native art. Raúl Martínez, who died in 1995, receives an intelligent gallery retrospective, and it naturally renews calls for a fuller examination of art of the Americas. Yet he himself was searching for one. And his search took him through stale retreads of one postwar style after another. He both repeats and reverses early modern art, with its echoes of "the primitive," but with a greater claim to authenticity. I hope the warning bells are loud and clear.
Martínez boasts so loudly of his Cuban identity that his show, curated by Corina Matamoros of the National Museum of Fine Arts in Havana, feels longer than a speech by Fidel Castro. It features a poster style, after Andy Warhol, for such subjects as Che, baseball, and the garden of Eden. Pop Art collages, too, aim to create icons. Before that, gestural abstraction lies dense and inert. I kept looking for a hint of irony, or perhaps a gay artist's deliberate kitsch, but I came to wrong place. Where Ferrer, seven years younger, rips through New York and tropical memories alike, Martínez is left trapped in his own sincerity and in styles imposed from far away.
Inside out
Who or what is Rafael Ferrer anyway? A 2005 drawing wonders much the same thing. Is he Chicano, Latino, or Nuyorican? Is he an outsider or an up-and-coming star? The choices multiply, filling an ordinary sheet of paper like thought balloons jostling for attention.
If Ferrer does not stop for an answer, he does not seem all that worried. His retrospective opens with sun-drenched landscapes of lucid, placid intensity. Large in scale, from the 1980s and 1990s, they thrive on warm colors and deep contrasts between shadows and clearing. A Caribbean woman in close-up and near silhouette seems equally undisturbed by doubts or onlookers. On first glance, they describe the tropics as a site not of nostalgia on the one hand or poverty and tension on the other, but merely a successful artist's second home and studio.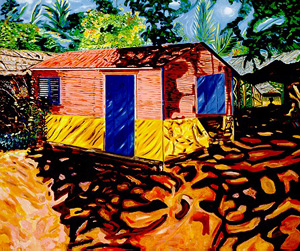 Ferrer, born in Puerto Rico in 1933, has lived through the whole arc from "the primitive" to outsider art, and he fits easily with both without settling for either one. He attended a military academy in Virginia, where not everybody takes up drumming, and his paintings of nightlife often focus on musicians. In college, he summered in Hollywood with his half-brother, José Ferrer, and slipped off to Paris, where he met Wilfredo Lam. His drawings of the 1950s take very much after Lam, a Cuban who straddled Surrealism and Abstract Expressionism. When Ferrer sculpts a woman out of a brightly painted trash-can lid and high heels, he could be giving Lam a Latin beat. He slips easily between painting and sculpture, Europe and America, north and south, outside and in.
He worked the South Bronx years before Jean-Michel Basquiat or SWOON, but then he also worked New York museums like the Whitney, with process art and performance. And this was the 1960s, when it took sophistication to work with blocks of ice, chain-link fences, and fallen leaves. He continued to move between homes in Puerto Rico or the Dominican Republic and a New York apartment, and he has painted on both canvas and garbage bags. Mostly, though, he has turned almost exclusively to painting for some thirty years now, including terribly genial portraits and pretend blackboards, which make me think more of tablet PCs. When he returns to the streets for Abstract, the title puns on a pavement sketch in chalk. Of course, he renders the smartly dressed street artist's chalk marks in oil.
Ferrer gets his due just when the faux outsider, like Nicole Eisenman or Dana Schutz, has indeed become in. In The Times, Roberta Smith offered the style as painting's last hope, faced with installation and performance. Ferrer's mask-like portraits seem newly relevant, but still largely easy-going and indistinguishable. "Retro/Active" can hardly help a tilt toward complacency anyway, when the early risk taking survives mostly as documentary record. The curator, Deborah Cullen, hardly helps by a thematic arrangement that opens with landscape and leaves that record to an alcove. It takes a room of night scenes, at the very back, to hint at sadder undercurrents even now.
They include the artist isolated in his own studio and a fenced-off vortex of industrial chemicals. They put even those tropical afternoons in a different light. Look again, and the shadows on a house and yard form a network of dark tracery. In Conquering Solitude, much the same shadows leave men frozen and helpless. A woman at a strip club is as isolated by the stage as by the surrounding half smiles. Ferrer never again got as ugly and original as in a welded Industrial Heart or a standing figure made of rusted typewriter innards, but he had seen both inside and out.

"Usable Pasts" ran at the Studio Museum in Harlem through October 24, 2010, Raúl Martínez at Magnan Metz through August 20, and Rafael Ferrer at El Museo del Barrio through August 22.