A Year in the Life
John Haber
in New York City
1969 at P.S. 1
It would take a lot of LSD not to take a deep breath before facing "1969." No, not the thought of Nixon's inauguration. Not the fate of the Beatles, who held their parting rooftop concert just ten days later and last shared the studio in August. Not even the prospect of boomers waxing nostalgic.
No, I mean a show at P.S. 1 of work from a single year—and almost all from the Museum of Modern Art. It marks the final stage in MoMA's assimilation of a great alternative museum. It also marks a notably lame excuse for filling an entire floor of the old schoolhouse. Pick a number, find work made that year, and poof: a show.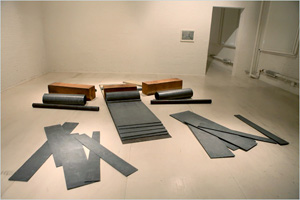 But is 1969 modern or postmodern, and is "1969" MoMA or P.S. 1? In fact, is P.S. 1 still more than just a project space for a bigger and long-established museum? Or (poof) has P.S. 1 all but disappeared into (gasp) MoMA PS1?
Anarchy as office furniture
And (poof) "1969" is impressive, as curated by Neville Wakefield with Michelle Elligott and Eva Respini, or at least entertaining. Another museum might fall back on yet another Andy Warhol silkscreen—or maybe his Esquire cover from that year, disappearing into a can of Campbell's soup. P.S. 1 can instead screen his dark Blue Movie. Anyone who has heard of a movie entirely about sex will marvel at the murky windows, silhouettes, and interiors, like the city of Empire reduced to a long, joyless night. Another museum might have Minimalism's greatest hits. Here Minimalism is struggling to find a sequel.
It is a strangely dour struggle. Maybe you think first of color-field painting, whether you think of it as a promise or a dead end. A gallery recently showed David Novros from that very year, Brion Gysin in England was then giving the form a mod twist, and the Met called its retrospective of Sean Scully "Wall of Light." P.S. 1 offers darkness. Even Helen Frankenthaler appears in monochrome. An ancestor of color-field painting from a lighter, more gestural time, she paints what looks like a sheet of copper.
Maybe you think of a heroic rigor, from the conceptual "statement of intent" of Lawrence Weiner to formal abstraction. MoMA itself long staked its reputation on Frank Stella, who was closing out his most influential decade. (The Museum later noted the break by calling a show "Stella Since 1970.") Here Stella appears exactly once—in miniature and in parody. Richard Pettibone recreates a Protractor on the scale of a child's toy in black and white. Jasper Johns appears only in a lithograph, after his own light bulb.
Maybe you think of the ambition of earthworks, like those of Walter de Maria, seen here in the Black Rock Desert. Robert Smithson appears, but indoors on video. Alongside Nancy Holt, he jokes about organic food while smoking. When Holt takes his fascination with cosmic time as a reminder that artists do not invent themselves, he mutters that he never reads a book. Then comes the question how he knows that he is an artist. Short answer—he does not.
Minimalism, too, seems less here about light and space than darkness and chaos. Carl Andre paves the floor in Plain Magnesium. Richard Serra cannot so much as offer a threat, unlike his scary prop pieces (which in fact began in 1969, as did the heavy metal-and-glass constructions of Christopher Wilmarth). Instead, his scatter piece takes over a room, slowly and almost reluctantly. It seems to echo materials by Joseph Beuys and Mel Bochner, in the latter's Theory of Dispersal. It also looks all the more impressive without Bochner's theorizing and Beuys's mythmaking.
For MoMA, 1969 put an end to something—including the museum's dominance and perhaps even its mission. Women rarely appear, and Martha Rossler protests as much against the Vietnam War as on behalf of feminism. The show's most routine moment speaks to the museum's history. Once one could hardly enter a gallery without stumbling on Larry Bell's glass cube on a pedestal and John McCracken's plank leaning up against the wall. MoMA recreates its acquisition display by curator Kynaston McShine of those works. It could easily be recreating stylish office furniture.
What defines a year?
Call it drab, beautiful, routine, or unnerving, like the "summer of love." Definitely, though, call it MoMA. And that is what makes "1969" such a bad trip. Whatever else this is, it is business as usual, like a cheap sequel to the museum's past survey of the century, "Making Choices." Some of that goes with budget constraints everywhere right now. No wonder P.S. 1 fills the second floor with the permanent collection, right down to small rooms usually left for special projects in contemporary art.
It completes the MoMA-fication of P.S. 1, which with "Greater New York 2010" and "Greater New York 2015" coming up will indeed become MoMA PS1, and it asks whether the latter is "Not for Sale." When they merged, the larger museum promised independence backed by greater resources. It promised an alternative space's commitment to experiment and the future. Here a show lingers over forty years past. A plaque over the main entrance now offers fulsome praise for the founding director, Alanna Heiss, to be forgotten when MoMA celebrates forty years of P.S. 1 in 2016. One might guess that she had died, rather than suffering forced retirement.
Would she have put up with the lamest possible excuse for an exhibition? It is a little like Samuel Johnson's old joke about a dog walking on its hind legs. The wonder is not that the show is pretty good, given the museum's holdings. The wonder is that it is done at all. Laziness aside, just try to think what a theme like this means. A lot happens in a year, and very little defines it.
Should one try to define a year's cutting edge, as "1969" does—up to a point? Should one look simply for the best artists alive, since past generations do not die off abruptly? Willem de Kooning continued to exhibit well into the 1980s, despite fears of senility. Here one gets a taste of Frankenthaler and Johns, but not much else from the recent past. One could try to piece out emerging currents that MoMA itself might have missed back then. This show has very little sense of a different future.
Should one insist instead on a year as a political and societal moment? "1969" does that, too, up to a point, with a time line, props from Sesame Street's first episode, and the last issues of The Saturday Evening Post. Display cases have posters and old issues of Artforum. Or should one could go for revisionism? "1969" has hints of that as well, with Philip Guston and Lee Lozano in painting. It also has John Wesley, Robert Crumb, and Emory Douglas, the "minister of culture" of the Black Panthers.
Even the eccentricities and innovations contribute to the dour mood. That includes Gego, the German Jewish Caribbean artist. Kermit the Frog looks creepily tall and gray, and the letter W lies at his feet like a funeral inscription. For a moment I wondered if a contemporary artist had combined Kermit with a protest against George W. Bush. "1969" sets a strikingly traditional, uniform tone. Where it makes its greatest impact, it is in a reminder of how much late Modernism incorporated anarchy along with form.
Closing Modernism
"1969" is an ambiguous celebration, and that makes sense, too. Consider why that year. Was anything really so special about 1969? If one took 1968 or 1970, would it make much difference? If one went back a full half century, to 1959, one would land in the turmoil of Pop Art, gestural color, and the very first Stella black paintings. If one leapt ahead to 1979, one would have the crisis of all that—with a growing irony from "The Pictures Generation."
In fact, "1969" does have a justification, by asking what MoMA is doing at P.S. 1. Like every display of recent art at either museum, it poses a tough question: where does modern art end and contemporary art begin? What still defines MoMA's mission, or P.S. 1's, and what exactly belongs at either one? This show struggles for an answer, but it would be hard to pick a year that better typifies the question. If it fails, it is because a museum after Heiss is wondering what to do next.
No wonder the show comes most alive at its most anarchic, as with Serra. It also does especially well when it gets away from painting and sculpture, so that the whole question of whether to call them Minimalism never arises. The project rooms hold film and video, plus a wonderful reminder of how ragtag those media once looked. Along with Andy Warhol some three years after the last Warhol Screen Test, they include Michael Snow and Nam June Paik. Bruce Nauman films himself upside down, with only his feet showing, when even Andy Warhol would have shown more. Walking indoors on the ceiling, he could be the antithesis of Smithson's joyful lope along Spiral Jetty one year later.
MoMA all but defined museum photography, and that medium, too, has only grown in importance. Together Diane Arbus, Garry Winogrand, and Lee Friedlander suggest a single body of work. Each looks at people looking, whether lost souls or witnesses to the news looking the wrong way. They turn on the viewer—and, with it, on a documentary portrait of America. Robert Adams in Las Vegas could update Robert Frank. In the process, Adams has stripped The Americans of its people and dismantled their habitations.
As one acknowledgment of the dilemma of past and present, "1969" asks a handful of contemporary artists to participate. Hank Willis Thomas paints over the windows, with people, and for all their blandness they make one aware of the lack of community in art of the 1960s. After its stint on Governors Island and nearing the 2010 Biennial, the Bruce High Quality Foundation continues to update its parent's generation for a very postmodern irony. Reagan appears as a rubber mask speaking for arts funding, while Hell Freezes Over. Will it freeze over in time to stop Woodstock from becoming Altamont? I guess not, but what the collective calls its "portable museum" became a lot more portable after the personal computer.
The addition of the present has a drawback: it makes 1969 that much more somber and distant. P.S. 1, more than any other museum, has navigated between a recent, neglected past and a still uncertain present. Can it still? Can it do so while dragging around the dead weight of a far larger museum? It will need a leader and an identity with which to try.

"1969" ran at P.S. 1 Contemporary Art Center through April 5, 2010.