Who Am I to Judge?
John Haber
in New York City
The 2015 New York Art Fairs I
Who am I to judge the art fairs? How can anyone fairly single out highlights from now more than half a dozen simultaneous New York fairs in March alone—and hundreds upon hundreds of artists? How can one make time, between ogling with friends and posing for selfies, with more to come in May?
Now that fairs run practically nonstop globally, it gets harder to call them a microcosm of the art world. Some dealers setting up shop this March had just flown in from Madrid or were steeling themselves for the next stop, in Art Basel Hong Kong. They could take comfort in one thing: if they had the energy and the money to keep up with exorbitant prices, they could always get enough to eat. Fairs now compete not only for sales, but also for amenities. The Independent has its rooftop bar, Volta sent out advance publicity all about its restaurant, and the Armory Show now features Mile End Deli and craft beers.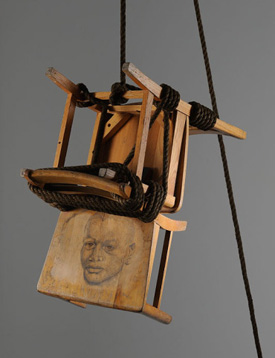 People love to complain about the fairs, just as they love to attend. For all the stories of slack sales, an afternoon was even more crowded than I remembered, and dealers were energized and boasting. Still, the financial pressures are real, including the costs of exhibiting and the harm to "brick and mortar" operations. Artists and dealers can try to lure out-of-towners on fair week with opening receptions, open studios, and a Lower East Side gallery walk, but how many will come? The carnival, which resumes yet again in May with Frieze and now Art Miami New York, is at once all-encompassing and all too exclusive.
Each year I promise to ignore them. I have, after all, a New Yorker's privilege of catching up with their contents in galleries and museums every week. And here I go, lingering over them year after year after year (to give only the most recent links). Picking favorites would only play along with the game, and too many critics do little else. Let me instead, then, again compare the fairs and their roles, starting with the range of alternatives, including those who still dream of a focus on artists, with a feature aside on Travis Somerville, before turning to the big money at the ADAA Art Show and the Armory Show.
More alternatives
Luckily, more also means a greater diversity, and several fairs set out to provide alternatives. They may only show just how hard it is to stand out from the crowd. Scope now parks itself almost directly across the street from the Hudson River piers and the Armory Show. Yet the dealers most in need of relief from the mainstream fairs increasingly avoid it. Inside, the cast is a bit showy, a lot caught up in popular culture, and almost uniformly marginal. Booths practically spill over onto one another, adding to the feeling of a garage sale.
An even scrappier alternative, Spring Break, sets forth an interesting model but an awful display. As I understand it, exhibiting is free, with a portion of sales to the fair. On top of that, it offers visitors a look at abandoned offices in the grand Farley Post Office building across from Penn Station. Still, the divisions by curators makes it almost impossible to identify artists, and the ragtag installations look less like art than the remains of an unforgettably awful party—pills, woolens, papier maché ice cream cones, Styrofoam peanuts, used electronics, sci-fi illustrations, softly glowing abstractions, and (my one favorite) treadmills with brightly painted rubber. At the opening, it also held an actual party, a wedding as performance. The groom gave me a kiss.
The Independent, too, began as an alternative in the former Dia:Chelsea, but money increasingly prevails. Many admire its open floor plan that has one stepping across exhibitors to encounter others, rather than marching in lock step down piers and aisles. Still, the large labels for dealers make a depressing contrast with almost invisible ones for the art, while diagonal walls may have one at a loss to identify either one. Dealers are among the wealthiest out there, and admission is, decidedly, no longer free. Add in books, t-shirts, and vinyl LPs designed for the occasion, and you have a luxury retail operation. It was nice, though, to see a scrappy Lower East Sider like JTT with Charles Harlan's evocative tire on a wheel-like pedestal of stones, Leo Gabin's silkscreens for Elizabeth Dee reminiscent of Robert Rauschenberg, and bright red oil barrels by Jimmie Durham for Kurimanzutto, a Mexico City gallery, topped with clues to a sinister global history.
It still leaves unsettled the problem of how to accommodate Lower East Side and Brooklyn galleries alongside the international community, but Pulse comes as close as any to pulling off just that. Its layout, in the old Altman Building near Chelsea, also makes telling use of selected solo projects. Right on the way in, Rachel Mica Weiss's Metallized Vaultway soars overhead like an extension of the architecture, while Aaron T. Stephan's 28 Columns proceeds to dismantle it. Projects go beyond sculpture as well, to Jamie Zigelbaum's radiant monochrome as interactive touch screen—or The Garden of Emoji Delights by Carla Gannis, which pulls off just what the title makes you think. Among old friends are the sand-castle landscapes of Liset Castillo in photographs at Black and White, Fabriano Parisi's crumbling theaters in photos at Cynthia Corbett, and abstraction as at once wall painting, easel painting, wallpaper, architecture, and environment by Elisabeth Condon at Emerson Dorsch. For a transformation of the familiar into fantasy, Jean-Francçis Rauzier's digital collage, at Waterhouse Dodd, makes Miami into a crowded hill town and the Metropolitan Museum into a mansion for fine art.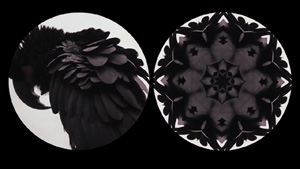 Art on Paper and Moving Image stake out still other alternatives, by media. The first, a newcomer, has a marginally accessible location, a pier well past the Lower East Side, but a rewarding array of midlevel dealers, for who does not handle works on paper? It has such stalwarts of photography as Aperture and Robert Mann, with Julie Blackmon, among others, and her anxious suburban theater. It has Forum's mix of early modern drawings, by Joseph Stella and others, and less than classic contemporaries—including David Mach's portrait collage of Che Guevera in playing cards, for who can spell cheesy without che? It has outsize constructions suspended from above, notably Wayne White's brown-paper "puppets" for Joshua Liner. Yet it also has a thoroughly conventional layout, with aisles for packed rosters of gallery artists.
Moving Image may soon be moving, as the tunnel space in Chelsea gets a new owner, but for now it is delightfully immersive, not to mention free. Dealers trust the fair to take care of visitors, and the fair repays that trust by stressing monitors and elegantly designed seating, rather than desks and paraphernalia. Dare I mention its limitations? Videos run to gently evolving landscapes, as with Sebastian Biskup for Rockelman& and Ricardo van Steen for Zipper, or shifting optics, like the dazzling kaleidoscope patterns by Leslie Thornton for Winkleman gallery and Oliver Bevan's Chromotropics for Jay Grimm. That leaves out broad strains in new media, such as political and urban documentation, unrelenting performance, conceptual art, avant-garde cinema, video gaming, and digital experiment. This once at the fairs, I left wanting more.
Space for a lynching
Moving to the piers west of midtown brought one art fair a newfound dignity. Certainly it brought Volta a lot more space. One could see it from the very first booth no matter which way one entered, for the fair uses that space not for more dealers, but for more room for their art. Those choosing to navigate the considerable length of pier 90 clockwise, starting on the left, found Travis Somerville at Beta Pictoris / Maus Contemporary with a solo show on a scale that many an artist in the galleries would envy. He repaid it, too, with a considered look at America's racial history. It also began with a long row of almost ordinary drinking fountains, but more on that in a moment.
Maybe dignity is the wrong word when it comes to art fairs, where the operative idea is money. A fair means business when its layout exactly matches half of the Armory Show a pier away, only with fewer walls. A covered walkway even connects the two, although out in the cold, as does shared admission for those with a VIP pass. Regardless, Volta was overdue for a little dignity. What began as an effort to break away from the existing business model, in favor of single-artist booths, had been getting tackier and tackier. Now a few booths serve two artists, but still with a focus on their art.
I happened to enter on the right, first encountering Abouda at Ethan Cohen. A large canvas holds the energy of figures in the style of Jean-Michel Basquiat, but also street art and African history in the artist's home country, the Ivory Coast. To ensure that one knows such things, each booth comes with a wall box with folded handouts, another nice addition. Further inside, a similar scale goes well with the similarly glowering faces of Ryan Schneider, a Brooklyn artists at Two Rams. A large space also suits Derek Lerner, whose abstractions at Robert Henry look like aerial mappings of entire cities, and Guillermo Pfaff's sparer marks on translucent scrim—in contrast to the firm geometry of the stretcher behind them. One can almost overlook that, however gorgeous, an exposed stretcher has become routine, with Merlyn James on view in Chelsea the very same day.
As for those water coolers, they and the long pipe connecting them mirror the available architecture. A row of plaques above also assigns each one an ethnicity. So does the less than friendly stereotype painted on a fountain's inner surface, such as booze for a Native American and the threatening face, at least to white eyes, of a black. A fountain for whites takes the form of a Confederate flag. It might remind one of the days when facilities like these were for whites only. For all the low comedy, Somerville targets a deadly serious history.
His art may come off as a one-liner, but it becomes a darker comedy on the scale of an exhibition. It also plainly recalls Philip Guston, as does the imagery. Behind the fountains, Somerville had about ten years of work, including Klansmen absorbed in their awful past. In painting, a hooded figure sinks into water with a cross labeled Jesus Saves, the letters intersecting in blood red. In sculpture, a child's chairs strung up with rope bring state-sanctioned violence before one's eyes. They honor the youngest person ever executed in the United States, a boy of fourteen, so small that he had to sit on his Bible to enable the electric chair.
Scale enters as well with an actual sack for picking cotton. It enters, too, with the breadth of allusions, through the Civil Rights era to the present. Somerville is white, as is his dealer—who last year featured Willie Cole, a black with his own comic self-reflection. They all see history as a tale of ordinary things and real people. Pencil drawings use the space of a wall to create empathy. Just bear in mind that the faces were spectators at a lynching.
The big if
Maybe the one remaining alternative is a touch of class, and the ADAA Art Show is once again delighted to provide it. In the Park Avenue Armory, where the current Armory Show began, the lighting alone is a relief from the glare of more modern arenas. No doubt change comes inexorably, now that Andy Warhol and Nam June Paik are as ubiquitous as old masters. This year's model had room for the coarse likes of Tracey Emin at Lehmann Maupin and Barry X Ball at Sperone Westwater, with her sex life and his blatant copies after Futurism. The show even bows to the upstarts with a mix of solo exhibitions and "thematic" ones—a term capacious enough to permit business as usual. For all that, more than one hundred years after the 1913 Armory Show (actually in the Lexington Avenue Armory further downtown), the Art Dealers Association of America is still bringing modern art to America.
Where else can a dealer, like Galerie St. Etienne, celebrate its seventy-fifth anniversary—or two different booths hold Morris Louis at his largest? Where else can Op Art, with Maxwell Davidson, or a relative outsider like Forrest Bess, with David Zwirner, look sedate and sophisticated? Where else can James McNeill Whistler, for Thomas Colville, still plead for his influence with his grayest and most somber work? I could still find surprises, though, like an accordion book by Etel Adnan, with Galerie Lelong, or Alice Aycock, with Fredic Snitzer, at her rawest and most open. Al Held, with Cheim & Read, turns out to have reached his geometric illusions through gestural abstractions that grow vertically, like marshy landscapes. And a booth for Jan Groover, with Janet Borden, will have to do until a museum gets around to showing how she put color photography center-stage.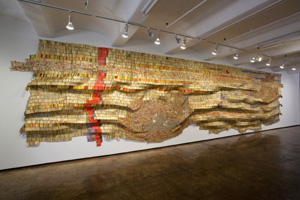 That leaves everybody else and so the Armory Show. One does not cross the four lanes of Twelfth Avenue to learn about art, although it could offer a slightly biased refresher course. No, one goes to learn what is available—that and what has now been promoted from contemporary to modern. For the first, the Armory Modern offers mostly the expected names from the 1960s, as traffic in earlier art shifts to the auction houses. For the second, surprises include Robin Rhode, for his slippery take on street art, and Carrie Moyer, whose paintings literally pour it on. As for what is available on the adjacent pier at the Armory Contemporary, naturally the short answer is everything.
Well, not really, unless you mean everything with a name-brand artist attached. Still, it can sure seem that way, especially in the dense and disorienting passage from pier 92 to pier 94. To help you and art advisors concentrate, the show has set that passage aside for Armory Focus, sixteen galleries united only by the hope of getting your attention. Mona Hatoum caught mine, at Alexander and Bonin, with a gleaming circle of black stones harking back to ancient civilizations and earthworks. So did Kalfayan, an Athens dealer with photographs of Syrian street corners by Hrair Sarkissian, their ordinariness disguised by the title Execution Square. On the facing wall, altered pages from The New York Times, by Panos Tsagaris, only heighten their insistent riot coverage with massive censorship, not in black but gold.
For the rest, let me nominate not the best in show, but merely an if. Does one have to have "zombie formalism"? If so, take Ryan Blodgett at Richard Teller, with familiar but still lovely lines seemingly squeezed right from the tubes over bright color fields. Does one have to have flashy installations? If so, take Berta Fischer at James Fuentes, with rippling walls of Plexiglas. If not, try Andrew Ohanesian at Pierogi, with working slot machines, give or take the absence of a payoff.
If one has to have sculpture that aims not at formalism but at you, take Glenn Kaino at Honor Fraser, with copper-plated arrows converging on a point in space. If one has to have an old standby, take Bill Viola at Blaine | Southern, with a video of two men, one black and one white, walking side by side but alone before dissolving into a landscape. If one has to have the grandeur that announces big money, walk right up to El Anatsui at his largest at Jack Shainman, with the dark shine of his curtain in black on gold. I know longer even look to see whether it comes from the metal seals on liquor bottles. Still, if one associates art with a long attention span, go elsewhere. Thankfully, the fairs move on, but the rest of us remain.

These New York art fairs ran March 5–8, 2015. Related reviews report on past years and a panel discussion of "Art Fairs: An Irresistible Force?" And do not forget the 2016 art fairs, 2017 art fairs, and 2018 art fairs coming up.