The American Royals
John Haber
in New York City
Elizabeth Peyton and Gallery Swapping
Elizabeth Peyton had her first show in the coolest place on earth—or at least in Chelsea. Yet it stuck to an unfashionable style, an old-fashioned medium, and historical subjects to match. She was sketching royalty and their retainers from the past. The few who got to see it left charmed, annoyed, or confused, most often all at once. She may have felt the same way.
Do not, however, focus too much on the confusion. All along, she has wanted to make those contradictions stick. She has done as much as anyone to define an American royalty—and to locate it in downtown culture. Her portraits of artists and musicians describe it, and she exemplifies it. Not yet fifty, she has a retrospective at the New Museum. Like it or not, it captures the contradictions of an art scene with its own seriously overblown royal family.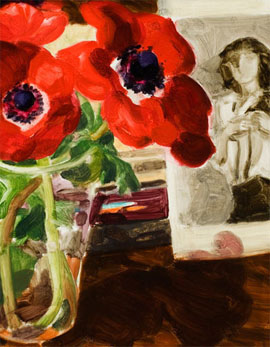 Peyton is not the only one easily blinded by her place in the culture of fine art. One of my favorite dealers and bloggers, Edward Winkleman, has frankly discussed his decision to drop an artist. In turn, a top critic, Roberta Smith, has asked about artists who have dropped their dealer. Yet they, too, may suggest a closed scene all too insensitive to the city's many artists and art worlds.
Becoming royalty
Talk about exclusive. She and her dealer, Gavin Brown, took a room at the Chelsea Hotel. One needed to know about it. One needed to ask for the key. Even now, ghosts of the living and dead hover over the building, from Robert Mapplethorpe and Patti Smith to Holly Solomon, the late dealer, and Peyton herself. Friends and I once started a Dylan Thomas memorial tour there, sat a few minutes in the lobby staring at one another, and left sheepishly in search of a drink.
Six years out of the School of Visual Arts, just across town, the young artist was showing casual portraits, in charcoal and sometimes pen. She took Queen Elizabeth II and Ludwig II of Bavaria. She drew them young, handsome, and not standing on ceremony, like Elizabeth at her writing desk. A quick monochrome accentuates their blandness, but it lends them a greater informality, suited to a more contemporary kind of royalty. They open their intimate surroundings but never, ever invite eye contact. One feels as at home with them as with the heroes of a young adult novel or a New Yorker cartoon, but one recognizes them as stars.
Peyton dropped everything and started over, but then so did Chelsea. That show took place in 1993, when galleries to the west had barely started much less reached critical mass. I reported on one of the first Chelsea art walks in 1994, not long after starting this site. It felt like an escape from Soho's commercialism, but it brought mostly the same cast of characters. Gavin Brown had not opened his first gallery, with a disco dance floor by Piotr Uklanski and a wet bar next door. Painters under thirty, like Peyton, were not yet royals.
She had to leave the Chelsea Hotel to notice the excitement of her surroundings. She took up bright color, in oil on board. She took up musicians, most strikingly in a series on Kurt Cobain well before Slater Bradley took Cobain as his video doppelgänger. She painted things she loved, whether the stage at Roseland or a street scene. Over time, she turned more and more to people she knew, including artists and sometimes lovers. For a while she was married to one, Rirkrit Tiravanija, helping him to settle in the United States.
A certain buzz grew, but royalty took years, much as did Chelsea. People noticed the provocation of realism quite as much as its style or subject. Still, John Currin and Lisa Yuskavage made portraiture the talk of a Whitney Biennial first, thanks to their more skilled, hard-edged drawing, historically informed styles, and nudes that flouted or mocked ideals of female beauty. Peyton appeared in the 2004 Biennial, paired with David Hockney, and again with the emerging artists at P.S. 1 the next year. By 2006, one could see her as the star of an old movie, smoking a cigarette among photographs by Lina Bertucci. It says something about her celebrity that I want so much to dismiss her, less like Currin than like Jeff Koons.
She offers something that Currin or Yuskavage cannot, however, simple pleasures. She does not force one to choose between seeing a portrait as pornography or satire. Her colors never take on an acid edge, whether the deep blue of a man's shirt to amber shadows across a cheek. Even the sloppy drawing works in her favor. As in caricatures or paparazzi photos, the subject can seem to take shape before one's privileged eyes. The whole scene, she seems to say, arose yesterday, and in a sense it did.
Surfaces
In another sense, nothing has changed from the Chelsea Hotel. She still works hastily, with a weightlessness somewhere between a promising student's art and magazine illustration. More often than not, she still works from clippings and other photographs, too, rather than from life. Even when she paints those close to her, she may paint them as children, such as Rirkrit at age three. One can see it as a fond gesture, a need to recover their whole lives. One can also see it as a love of surfaces, a need not to probe too deeply into them now.
She still admires royalty, only now a very American royalty. She sketches perhaps its ultimate expression, Jackie Kennedy walking with John John. Mostly, though, it reflects a New Yorker's cultural canon, going back to Georgia O'Keeffe, Frida Kahlo, and Susan Sontag. This does not equate to ordinary tabloid celebrity. Rather than Madonna, musicians run to John Lennon, Sid Vicious, John Lydon, Liam Gallagher of Oasis (whose song "Live Forever" supplies the retrospective's title), and of course Cobain. The smart circle of rising art stars includes Uklanski, Tony Just, and Matthew Barney.
The same features still define them as royalty as well. They are still young, slim, and androgynous. They still look familiar, and they still look ever so slightly away. Even men have deep red lips, as if posed for a fashion shoot. They end up very almost indistinguishable. Barney's rounder face and beard stubble seem almost an aberration.
Something else, too, defines this as royalty—its exclusiveness. She titles her work with first names, like another realist out of his time, Chuck Close. However, Close means one not to know more, in order to underscore the impersonal artistry behind a subject's charisma. If his image of Philip Glass has nonetheless become iconic, it pays tribute to them both. For Peyton, as with admission to the Chelsea Hotel or with celebrity artists today, knowing matters. Like her legion of fans, I found the guessing game good for my ego.
I also found the display monotonous and trivial. Like Hockney or Alex Katz, she trusts only in surfaces, and her trust never extends to the varied, tactile, and sensual nature of surfaces—or to the puzzle of what they withhold. While Andy Warhol supplies another starting point, she does not share the pathos of Warhol's obsession with surface. She does not multiply an image, obliterate it, or choose it for its associations with violence and death. Warhol's Jackie reflects back to the viewer her appeal and her loss. Hers will always have her youth and glamour, and John F. Kennedy, Jr., will never age or die.
Sometimes this devolves into a serious case of the cutes. She paints two dogs, like a greeting card. It helps that Jonathan Caplan has designed a superb installation, the first to tame with partitions the New Museum's empty boxes. It helps that her light style and appealing color range does not claim more than its due, and it helps, too, that she is sharing her love. Where Richard Prince or Cai Guo-Qiang looks down on his larger-than-life subject, she never stands above hers. Now if only she did not rely on the whole notion of an art world that elevates them.
Divorce Chelsea style
Every artist has a history, and not every history describes a shooting star. A CV unfolds as a record of achievements, but also of lost hopes—the group show that never led to solo representation, the solo shows as a trail of broken relationships. Dealers move on. Artists move on, or at least they can hope.
Every so often, too, the drama has some star turns. In The New York Times one spring morning, Roberta Smith reviewed several artists of note who had traded up. They had found, she wrote, "new management, in a grander setting, with more lavish trimmings." She did not mean this as unalloyed praise, any more than when she pleads that MoMA is not dead. Naturally enough, a Peyton imitator, Hernan Bas, has switched galleries almost as fast as he attained a museum show in Brooklyn.
In his blog that same day, Edward Winkleman, too, wrote about the end of a relationship, but from a gallery's perspective. An artist whom he had dropped, Nancy Baker, had already blogged about her "pink slip." Baker shared her thoughts from that first "inconsolable" moment to at last "looking forward to another walk on the wild side." Winkleman was responding to the uplift, but also to the bitterness. "Where," he asked, "is the humanity in all this?"
Winkleman was questioning himself as much as Smith's star cast. One expects that from a dealer of his integrity, who has addressed as well the growth of art fairs, and his answer aimed to put things in perspective. He noted the corporate world's far more abrupt and pitiless dismissals. He testified to an honest dealer's efforts to ease the artist's sad transition. He admitted as well his own difficulty in making a break with his artists. A business partner had departed, his gallery's roster had shrunk as its vision changed, and it hurt every step of the way.
For all its frankness, however, his account had some glaring omissions. As a rule, whenever you hear, in effect, "this will hurt me more than it hurt you," you can rest assured that the speaker will never have to weigh the experiences personally. To his credit, however, Winkleman invited an open discussion and received more than a hundred replies.
Several of the comments, but especially his own, helped with one of the missing pieces. Smith had allowed herself the tone of a proud but awkward insider, more like a gossip columnist than the reviewer I read so avidly. Her article shed surprisingly little light on an artist's motivations. Currin looked better at his old joint, she thought. The galleries at stake all have duly exalted status, and winners and losers overlapped.
Getting with the program
Instead of "the sundering of a marriage of old friends," as she put it, one pictures an extended episode of Wife Swap. No wonder her invitation to an exhibition opening, like an "invitation to a second wedding" made her uncomfortable. Since then, she has complimented Peyton in print on the painter's loyalty to Gavin Brown. Others, including artists that Peyton has depicted, have traded up themselves—or at least sideways.
Winkleman insists that he bases decisions not on an artist's sales, but on his program. Only a few Chelsea galleries hold out for just one kind of artist. I think of Margaret Thatcher and Elizabeth Harris for color-field abstraction, Bitforms and Eyebeam for digital art, a determined cluster on 25th Street for soft-focus realism, or Mary Boone for sheer attitude. As my tone suggests, they often do so at their peril. Photography may remain a special case, as for Aperture, Bruce Silverstein, and Higher Pictures uptown—as much my teachers as dealers. As the medium enters the mainstream, perhaps even they will appear quaint one day soon.
However, Winkleman argued, a dealer needs a well-defined program. It allows him to support the artists properly by forging a public. Gallery artists, in turn, should know that they support one another. Personal loyalty still matters, and indeed artists often jump ship motivated by just that. Willem de Kooning once followed Xavier Fourcade from Knoedler, where Fourcade had worked, to his own gallery off Park Avenue a few blocks away.
Unfortunately, at the time Winkleman did little to explain what a program, support, or loyalty means in practice. He teased it out on his blog during the summer, when he wrote about conceptual art with physical presence. He aimed to exemplify it with his summer group show, "The Shallow Curator." Then again, maybe if one could fully articulate it, one would have the formula for a successful gallery.
I felt a larger omission, though, in his or Baker's promise of an ending—or at least a new beginning. In the real world, every gap in a CV is a nightmare. That applies to young artists eager to prove they are ready for the spotlight. It applies all the more to older artists, often with an incredible body of work, desperate to prove that the money machine has not churned them up and cast them aside. When they trade up, it is because others have let them down. When they fall through the cracks, they may never surface again.
A player is bound to lose touch, even a player as open-minded as Winkleman or Smith. Peyton's celebrity art about celebrities has much the same lessons. Like her portraits, talk of old friends and wedding invitations evokes a private world that most artists and their dealers will never know.

Elizabeth Peyton ran at The New Museum of Contemporary Art through January 11, 2009. Roberta Smith and Edward Winkleman both published their thoughts on April 18, 2008.